Mercedes-Benz Ponton Photo Gallery
Type W120 (4 cylinder / sedan)
Including models: 180 / 180a / 180D / 180b / 180Db / 180c / 180Dc
---
---
Type W120 180 sedan (circa 1954/1955)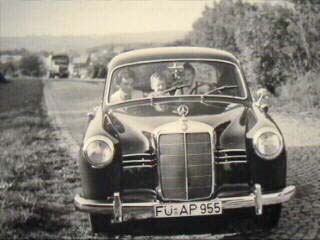 Courtesy: Uwe Medla / May 26, 2003
Here is Uwe (the young man in the middle) in his father's Mercedes-Benz Type 180 sedan at home in Germany in the 1950s. When Uwe was 20 years old in 1976, he bought a Ponton of his own. It was a 1957 Type 190 sedan. At that time, he was in the German Army and drove it many places (including Italy) until he sold it in 1979. Another 24 years would pass before he would discover, in May of 2003, that it was still alive and well in the U.S.A. He located his name on a web page that listed him (in the official Kraftfahrzeugbrief) as one of the former owners. The 1957 Type 190 was found to be owned by Jeff Miller, the editor of this Mercedes-Benz Ponton web site.
---
1954 Type W120 180 sedan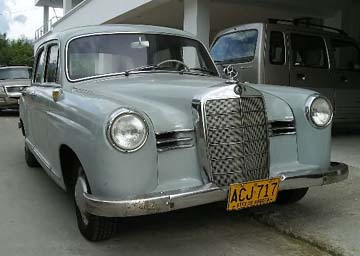 owner: Alvaro Reyes Vega / Cucuta, Columbia
---
1955 Type W120 180 sedan
owner: Bert Verbessem / Bert@verbessem.be / Waarloos, Belgium
Photo submitted: February 3, 2005
---
1955 Type W120 180 sedan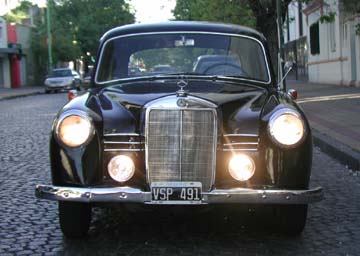 owner: Juan Gonzalo Cordoba Sosa / Argentina
Photos submitted: November 25, 2005
---
1955 Type W120 180 sedan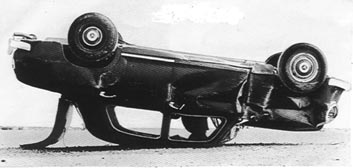 Kaputt / Don't Drink and Drive!
Photo submitted: August, 2001 / Courtesy: Helu Hansen / Mercedes-Benz IG
---
Ponton taxi (W120 or W121) spotted in Vientienne, Laos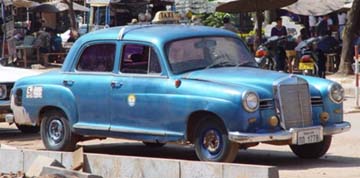 Dear Editor,

On a recent vacation trip to Laos, I spotted this Ponton taxi patiently waiting for its owner to finish lunch in Vientienne, the capital city. It looks a bit worse for wear, but after a while, the owner emerged and off they went in search of customers. It was still running well although it seems that the owner has done some backyard repair jobs.

Thanks for a wonderful website,

Herman Groenewald
South Africa
December 19, 2003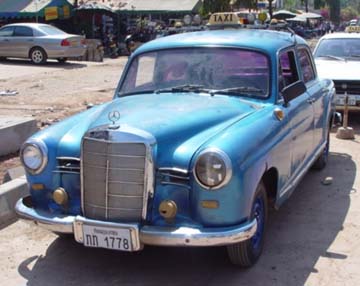 ---
Type 180 Ponton sedan in Cuba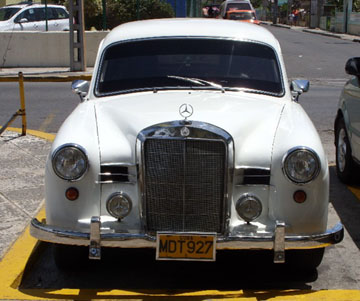 Dear readers,

I saw this Ponton during a vacation to Varadero, Cuba in May 2006, and then again in May 2009. I will look for it in February 2011, and maybe find out what year and model it is.

Regards,

Bond Hardie
Edmonton, Alberta, Canada
sandybondh@gmail.com
Photos submitted: October 27, 2010 / posted: January 13, 2012
---
1955 Type W120 180D sedan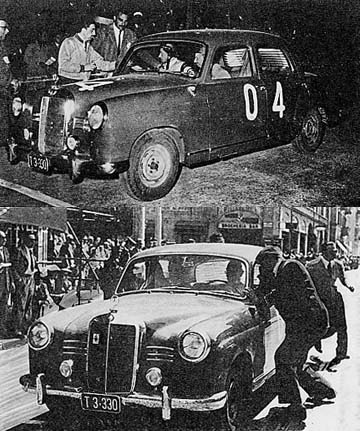 Type 180D Ponton sedan (40 bhp), driven by Helmut Retter and navigated by Wolfgang Larcher, won the Diesel Class of the historic 1,000 mile Italian race (coming in 201st overall) at an average speed of 58.81 mph. The diesel sedan left the start point (Brescia) at 00:04 and thus had the number "04" on the doors. The light colored car (possibly "light gray") had round fog lights, no hubcaps and louvered blinds in the rear window. Photos of the 180D Mille Miglia Ponton courtesy: Larry Hansen / July 15, 2005

A reader of this page contacted the editor on March 29, 2008 and reported that the color of the "04" 180D is "dullish gray" and is still the same color after all these years, and has not been resprayed. It is currently in the Mercedes-Benz Museum in Stuttgart.
---
1956 Type W120 180 sedan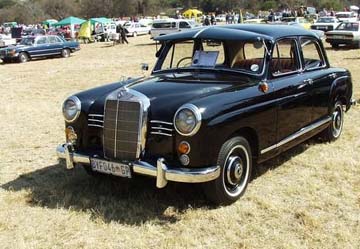 owner: Kobus van der Westhuizen / kobus@vibewise.co.za / Durban, South Africa
Photo submitted: August 2, 2002
"This vehicle belonged to my grandmother and then my father, and now I have it. The front visor is for heavy rain, to increase wiper efficiency, and was fitted in Durban, South Africa." Regards, Kobus van der Westhuizen
---
1956 Type 180 with Right Hand Drive (RHD)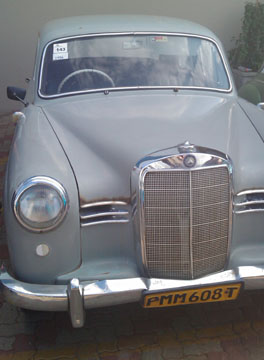 owner: Paul Vorster / paul@mlanjenicapital.co.za / Johannesburg, South Africa
Paul writes, "I recently acquired this 1956 Type 180 Ponton sedan. It is in running condition, and ready to be restored. I am going through the process of understanding the details of the vehicle before the restoration begins."
Photo submitted: March 30, 2009
---
Type W120 180 sedan (RHD / Right Hand Drive)
This Right Hand Drive Type W120 180 sedan belonged to Bakshi Ghulam Mohammed, the Prime Minister of Kashmir from 1953-1964. Bakshi Ghulam Mohammed used this car extensively to tour the Kashmir countryside. He can be seen in the front passenger seat in this photograph. An Internet search on his name "Bakshi Ghulam Mohammed" (1907-1972) will yield more details. Note the license plate reads, "KASHMIR-S11."

Contributed by Dr. Bakshi Jehangir
Photograph submitted: October 25, 2008
---
1956 Type W120 180D sedan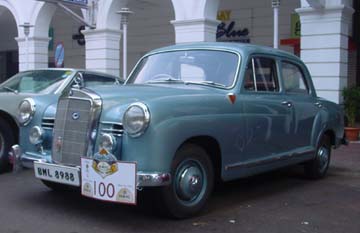 Amol Nayak / Mumbai, India
Dear Jeff,

I am sending a photo of my 1956 180D which won third prize in the best restored classic cars category at the rally held in Mumbai on the 22nd of April 2007. I would be happy if you put her up in the ranks with all our other club member's beauties. By the way, she managed to beat a 300S for the prize. First and second were a Rolls-Royce and a Bentley. I know this would be impossible without all the help and support from International Ponton Owners Group (IPOG).

Regards,

Amol Nayak
Mumbai, India
amolnayak@hotmail.com
---
1956 Type W120 180 sedan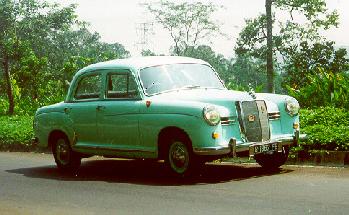 owner: Dino Witjaksono / Jakarta, Indonesia
---
1956 Type 180 Ponton sedan
former owner: Ron Sweeney / West Kirby, England
---
Type W120 180 sedan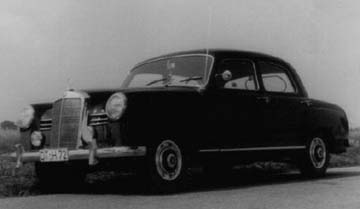 former owner: Steffen Mueller's father / Berlin, Germany
Steffen's father bought the 180D "used" (pre-enjoyed) in 1959.
Note the mirror at the driver's door, and the rear window defroster.
Photo submitted: February 9, 2005
---
Type W120 180 sedan with Webasto sliding sunroof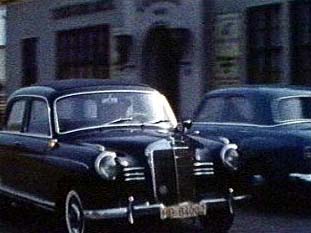 Photos: Hartwig Mueller / Mercedes-Benz salesman / circa 1961 / Bremerhaven, Germany
This photo shows fellow Mercedes-Benz salesman Heinz Piotraschke in front of the Restaurant Schifferklause Lehrke (Bremerhaven) in a used Type 180 Ponton with temporary red tags. Note the modifications made to this example — chrome accent strips on the front fenders and along the bottom of the windows, as well as long, fender-mounted turn signals (normally found on the Type 219 and 220S/SE Pontons). Hartwig recalled, these modifications could be carried out at the dealership at the customer's request after the car left the factory. The Webasto sliding roof can also be seen in this photo.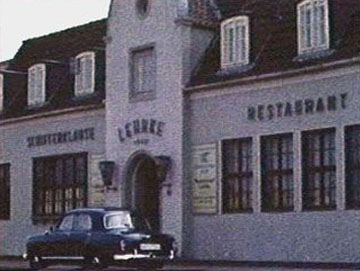 The Restaurant Schifferklause Lehrke was a frequent destination for Mercedes-Benz salesman meals (both lunches and dinners) in 1961.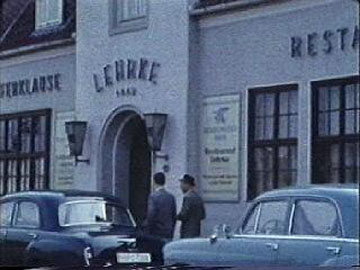 Retrospective: The restaurant owner provided delicious "granatbrot" (a small, seafood shrimp a.k.a. "prawns") for us salesmen in one of his two "chambres separees" so we could eat in relative privacy.
Mercedes-Benz salesman Heinz Piotraschke
Restaurant Schifferklause Lehrke was still in operation as of 2013.
---
1957 Type W120 180 sedan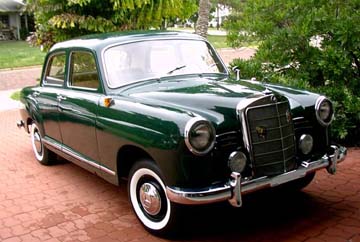 owner: Martin Pitts / pitts251@peoplepc.com / Florida and Kentucky USA
I bought this car in baskets two years ago here in Florida. I saved its soul. I made a lot of good connections for parts and help from your ponton page. I also have a 1957 cabriolet in Lexington, Kentucky, where I live in the summer. That car is for sale.
Photo submitted: May 18, 2003
---
1957 Type W120 180a sedan
owner: Ghassan Hammoud / Beirut, Lebanon
Hi, my mane is Ghassan Hammoud and I live in Beirut, Lebanon. I bought my 1957 Mercedes-Benz Type 180a Ponton sedan a year ago (2007) from a car dealer who shipped it from Germany. It was renovated in Beirut and is in great condition.

Best regards,

Ghassan
Photos submitted: April 14, 2008
---
1957 Type W120 180a sedan with Webasto sliding sunroof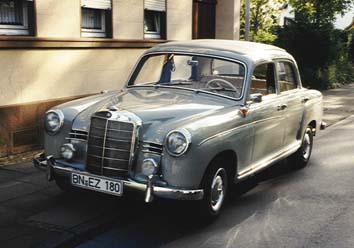 owner: Helu Hansen / helu.hansen@t-online.de / Bonn, Germany
---
owners: Dirk and Diana Cornelis / info@foto-kalender-fokus.com
Stekene (Antwerp) - Flanders, Belgium
"We wish all Mercedes-Benz Ponton owners happy driving in 2002!"

This 1958 Type 180D belonged to Dirk's grandfather.
Photo submitted: January 3, 2002
---
1958 Type W120 180a sedan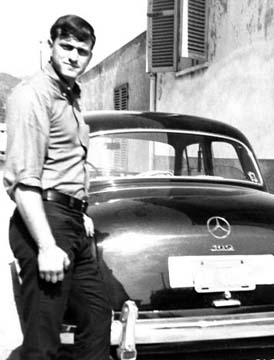 owner: Alan Dubroff / Pompton Lakes, New Jersey USA
---
A Type W120 180D taxi in Athens
Note the Mercedes-Benz buses in the background.
---
1958 Type W120 180D sedan
owner: Manfred von Harten / meavh@aol.com / Allentown, Pennsylvania USA
DB 335 Mercedes Blue / 115,000 miles. Restored by Hatch & Sons in 1999.
My first experience with the Type 180D was when my father picked one up at the Mercedes-Benz dealer in Vancouver, British Columbia in 1958. I was six years old and fell in love with the car. My father used stove oil, diesel fuel, and kerosene in the vehicle and racked up 460,000 miles without any major incidents or maintenance, and it was still running like new when he traded it in 1965 for a Fintail Type W110 190D. I bought back this 180D from Jim Bryant, which I owned before, and the body and paint were restored by Hatch & Sons in 1999. The vehicle is absolutely rust-free including the undercarriage and engine compartment. Original interior is still like new with the exception of a new headliner.

I know a lot about the 180D Pontons, so if anyone has any question regarding maintenance, parts, manuals, service instructions, etc., please contact me and I will be glad to help. I still have not located my dad's original maroon 1958 180D. I would be very interested to know if anyone has it. The chassis number I am trying to locate is: 120.110-8523027. My present 180D chassis number is: 120.110-8520399. If anyone has any Mercedes-Benz 180D built between 1954 and 1959, I would be interested in getting your chassis number because I am recording all the 180D Pontons still existing in the world. Please assist me with this project! It is always interesting to see which vehicles of all those produced are still around. Thanks!

Mardy von Harten
May 16, 2004
---
1958 Type W120 180a sedan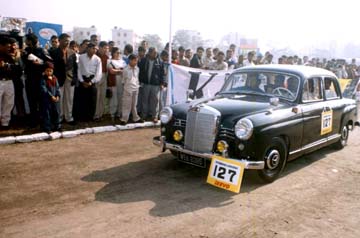 owner: Prithvi Tagore / West Bengal, India
---
1958 Type W120 180a sedan
Hi all,

Here's a photo of a friend's 1958 180a taken during a recent drive in the western coastal part of India. The drive covered 360 km –through some tough roads. It started from the city of Bombay (Mumbai) and headed toward the hills, which gradually turn into a steep ascent onto the Western Ghats – the mountains on the west coast of India. Lots of sharp hairpin bends and twists with trucks and buses occasionally charging at you from the other side!

This car was restored from scrap in 2011. The owner retained the original 15 inch wheels that came with the car (an option for countries with rough roads) and it's right hand drive. He imported a Becker Europa along with one for my car some six years ago from an IPOG member who was selling his entire trove of radios (I forgot his name).

Cheers,
Prithvi Tagore
West Bengal, India
December 18, 2013
---
1958 Type W120 180a sedan / 1960 Type W120 180b sedan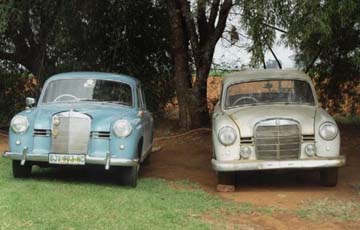 owner: Herman Groenewald / hbgroen2000@yahoo.com / South Africa
The two Pontons in this photo are a 1958 180a (blue car) and a 1960 180b (white car). My father bought the blue Mercedes in 1958 and since then, it was passed on to me. The car is totally original (body and engine) and is still in daily use but will be due, in a year or two, for minor restoration.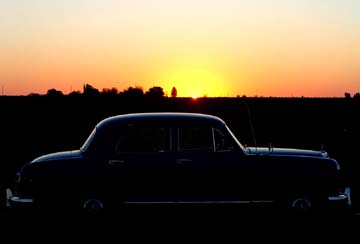 1958 Type W120 180a at the moment of sunset.
I bought the white 1960 Ponton one year ago with the idea to break it into parts to supply my original 1958 Type 180a sedan. After carefully looking the car over, I realized that it is still in relatively good condition and I decided that a restoration job would be the way to go.

Herman Groenewald
December 19, 2003
---
1959 Type W120 180a sedan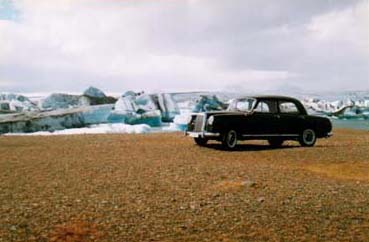 owner: Rúnar Sigurjónsson / Iceland
---
1959 Type W120 180a sedan with Webasto sliding sunroof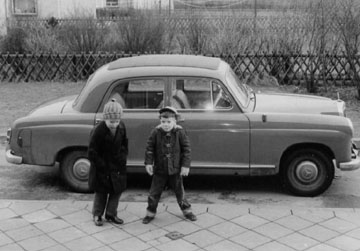 owner, date, location, and children: unknown
---
1959 Type W120 180a sedan
owners: Jeff and Kim Marie Speech / Wisconsin USA
---
1959 Type W120 180a sedan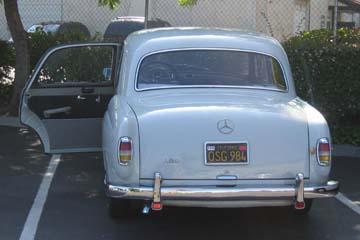 owner: Martin Peisl / San Jose, California USA
---
1959 Type W120 180a sedan
Nizar Shahin / Toronto, Canada
---
1959 Type W120 180D sedan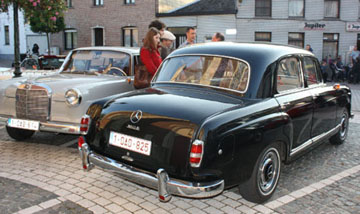 owner: Jean Pierre Vanhooren / Belgium
---
1959 Type W120 180b sedan with Webasto sliding sunroof
owner: David Robertson / Shepherd's Bush, west London
The Ejsmond family in 1965 on the island of Corsica.
Beach photo submitted August 29, 2013 by David Robertson (son-in-law of Mr. and Mrs. Ejsmond)
Wargrave, Berkshire / United Kingdom
More current, second photo submitted: January 29, 2014
---
1960 Type W120 180Db sedan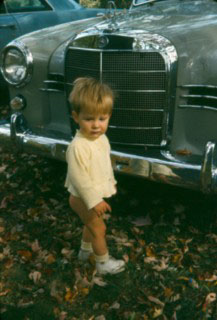 former owner: Simon Pontin / Rochester, New York USA
Simon Pontin hosted the weekday morning classical music radio program The Sunshine Show, and the eclectic Saturday morning show Salmagundy; The Show for Working People at WXXI (91.5 FM) from 1976 until his retirement on May 16, 2009. His absence left a hole in the fabric of Rochester's soundscape, and in the imaginations of his regular listeners. Best wishes to you Simon!
Photo of Type 180Db with Simon Pontin, Jr. (circa 1965) submitted July 31, 2004
---
1960 Type W120 180Db sedan
owner: Charly Denecheau / France
---
Type W120 180b sedan
---
1960 Type W120 180b sedan
owner: Johan Hendricks / Cape Town, South Africa
---
1961 Type W120 180b sedan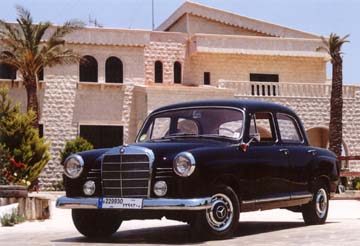 owner: Ramzi Saba/ Beirut, Lebanon
---
1961 Type W120 180b sedan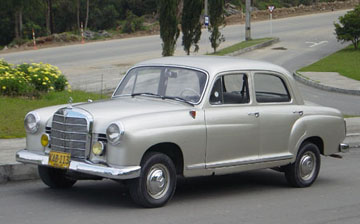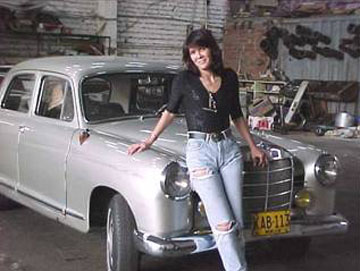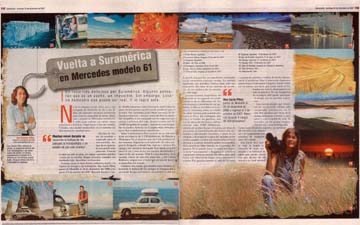 owner: Lucana (Ana Lucia Perez Tobon) / Columbia and Patagonia, South America
Hello. My name is Ana Lucia Perez Tobon. Lucana is my artist name. I have owned my 1961 Mercedes-Benz Type 180b Ponton sedan for 18 years, and I bought another one (a 1960 Type 180b) for my son in April, 2006. I have worked most of this year (2006) on a project in Patagonia, South America from Colombia with my Mercedes-Benz. She is in very good shape because I DO love her! The mbzponton web site, with all of its technical information, has been very helpful to me. That is why I write to you - to thank you. If you have any other advice for my car, please let me know.
Lucana
October 1, 2006

Photo of 180b submitted October 1, 2006
Self portrait with 180b submitted December 10, 2006
Article with 180b submitted December 24, 2007
---
Type W120 180b sedan
Norbert Janssen / Germany
---
1961 Type W120 180b sedan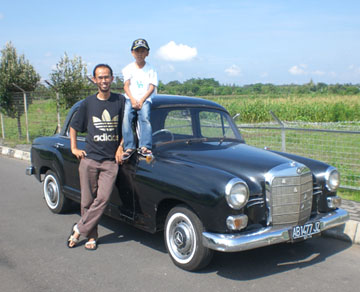 Bambang Widjayanto and his son / Jogyakarta, Indonesia
Dear editor,

I have a 1961 W120 Ponton 180b, chassis number:120.010.20.029247 and engine: 121.923.20.029430. I found the car in a small garage in Jogyakarta, Indonesia in 2009 with heavy dust everywhere (click on the photo to see other photos). Fortunately, the engine still ran even after sitting for three years. The main body parts are original, but the rear view mirror is missing. I bought it and cleaned it and made some minor restorations. After several months of engine "normalization", I tested it and drove with my 8 year son. He was very happy with "a very very old car like you daddy" he said to me.

Next step, I need to fully renovate the engine and of course the body, to make my family and friends smile on this "Kentang" (Kentang in Indonesia means, "potato" because the W120 has a rounded shape. I am not a mechanical engineer and unfamiliar with the old cars, but thanks to the mbzponton web site, with all of its technical information, I will be able to manage.

See you, I will come back after it is fully restored.

Bambang Widjayanto
Jogyakarta, Indonesia
bambang.widjayanto@gmail.com
Photos submitted: October 10, 2010 / uploaded: January 13, 2012
---
1961 Type W120 180b sedan
Piotr Nierzwicki / piotrnierzwicki@yahoo.com / Village of Jezierzyce, northern Poland


Photo submitted: January 16, 2012
---
A Type W120 180Db taxi in Kuwait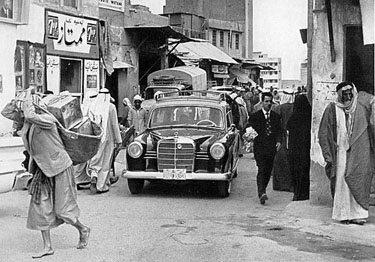 Note the two-tone paint and roof rack
---
1961 Type W120 180Db sedan
owner: Lorenzo Pacho / Manilla, Philippines
---
Type W120 180Db sedan
Tirso Padilla / Bacolod City, Philippines
---
1961 Type W120 180Db sedan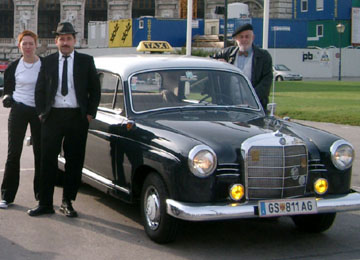 owner: Ratko Radanov / Austria
---
1961 Type W120 180b sedan
owner: Raffoul Traboulsy / Beirut, Lebanon
Photo Submitted: March 30, 2008
---
Type W120 180b sedan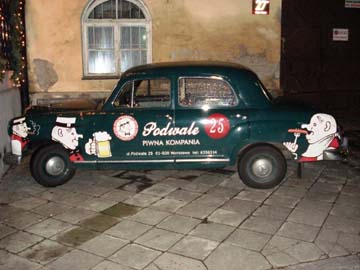 Warsaw, Poland
Photos submitted: January 16, 2007 by Fabian Schoeters / fabian.schoeters@laetare.be
---
1962 Type W120 180c sedan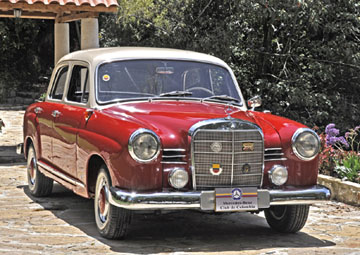 Jorge Alejandro Medellín / Bogotá, Colombia
---
1962 Type W120 180Dc sedan
owner: Ami Fardaraghi / amifardaraghi@hotmail.com / Iran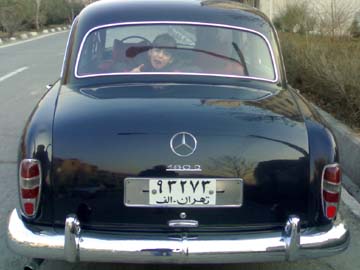 I am a British citizen living and working in Iran. After living in the UK for 29 years, I returned to Iran for business purposes and, upon arrival, found this 1962 Mercedes-Benz Type 180Dc Ponton sedan and immediately bought it. One of the photos I am sending includes my daughter. The car is lovely to drive and I have managed to find many spare parts for it. I found your web site and enjoy reading it very much.

Thanks and regards,

Ami Fardaraghi
Photos submitted: April 18, 2007
---
1962 Type W120 180c sedan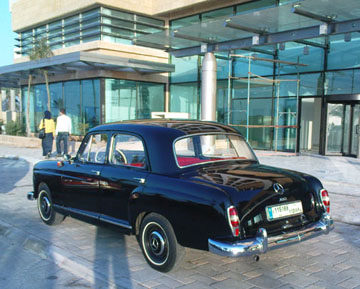 owner: Raeef Mohsen / Tripoli, Lebanon
---
1962 Type W120 180Dc sedan
original owner: Albert Whipple / Grants Pass, Oregon
Dear readers,

My 1962 Mercedes-Benz Type 180Dc (chassis number 029900) was purchased by myself on May 17, 1963 from Dealer Robert C. Martin of Grants Pass, Oregon — costing $3,886.35. It was a dealer demonstrator used to pick up and deliver people having their cars serviced, and had 5,250 miles on the odometer, but came with a full factory warranty. I had to park it in 1987 due to a personal problem, and it was stored until last year. It is now in my new shop building and I have started a restoration to good condition including front-end work, brakes, and paint. It is currently disassembled, and I hope to have it back on the road in 2014. Work is slow as both the car and I are older and slower, however I have done all my own work on it from the time the warranty ran out. I added air conditioning in 1984 and reclining front seats from a W115 series car in 2010. Running at freeway speeds even in the summer with air, the average fuel consumption (with 600,000 miles) is 32 mpg. One vacation trip — driving carefully on the take-offs and going no faster than 55 mph, I got an amazing 43 mpg. The photo is from 1975, as all the fenders, doors, etc. are removed now for the restoration. Also please find enclosed, the original

Owner's Service Policy

with both the dealer's name and mine.

p.s. I still live in the same basic location. I moved about 700 feet north of where the photo was taken. I forgot to mention that I rebuilt the original engine at 520,000 miles. It had a broken ring in the number 2 cylinder. I was a 24 year old single man when I bought the car, and took a lot of razzing over the tractor noise the engine made. I was commuting 50 miles round trip to work at that time, and fuel was 19.7 cents plus 4 cents federal and 6 cents state taxes. Boy, have times changed.

Kind regards,

Albert (at ¾ century mark) and Ponton (at ½ Century mark)
Photo submitted: January 11, 2014
---
Return to the Ponton Photo Gallery
Return to the Mercedes Ponton page
---