Various Mercedes-Benz Type W120 180 sedans
Rúnar Sigurjónsson / runar@doktorinn.is / Reykjavík, Iceland
visit Rúnar's 1955 Type 180 restoration page
---
---
Hello, my name is Mr. Rúnar Sigurjónsson and I'm a Ponton fan in Iceland. I'm adoring your Ponton web page and all those fancy pictures of Pontons from all over the world. My friend Örn Sigurðsson sent you some pictures and I decided to do so also. To make a long story short, I am a mechanic, born in Reykjavik, Iceland in 1972 and I have owned three Type W120 180 Pontons together with some "wrecks" for spare parts.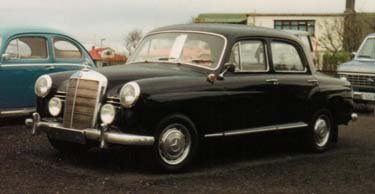 I bought my first Ponton in 1993. It was a 1959 180a that had recently been imported to Iceland from Denmark. This is a photo of the '59 180a when I first saw it.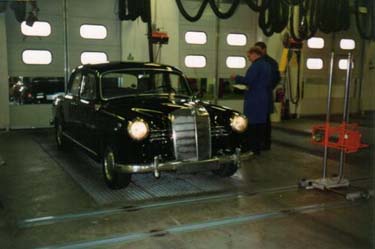 It was in running condition and I took it straight to registration and started driving it.
---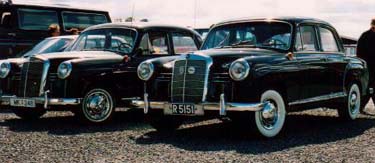 Two Ponton brothers. My 1959 180a (left) and a 1956 190 owned by Mr. Örn Sigurdsson. This picture was taken at the hot spring "Geysir" area in 1994. Geysir is a famous hot spring on the south cost of Iceland that is visited by thousands of tourists from all the world every year. Unfortunately, I do not have a picture of it but maybe later.
---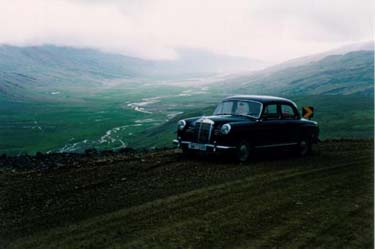 I travel a lot with the Antique Automobile Club of Iceland. Here is my 1959 180a on a mountain road at "Breiddalsheidi" on eastern Iceland in 1994.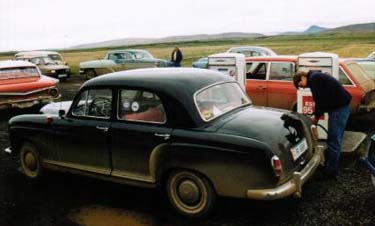 This is me refueling the dirty traveler (the '59) on eastern Iceland. Driving around Iceland road no.1 is around 1400 km. If you drive that route, you have to pass at least 100 km on a very rough and dirty mountain road, with no sign of human life. It is on the east side of Iceland called "Mödrudalsöræfi." This picture is taken on the top of the mountain at place called "Mödrudalur." There are some signs of life and this small gas station.
---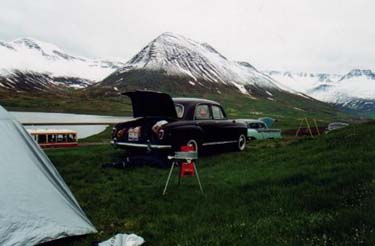 Still traveling. Here on "Siglufjordur" on northern Iceland 1995. Note the snow in the mountains. This picture was taken in June. This does not mean it is always cold in Iceland.
---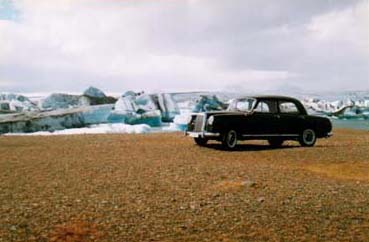 My 1959 180a at "Jökulsárlón" which is a lagoon filled with large icebergs from the glacier Breiðamerkurjökull, on southern Iceland. The biggest glacier in Iceland is "Vatnajökull" on south-eastern Iceland. The south side of the glacier is partially very close to the sea and at the place where it is closest, it comes in contact with water from underneath the glacier and goes into the sea. This picture is taken beside this water who is called "Jökulsárlón."
---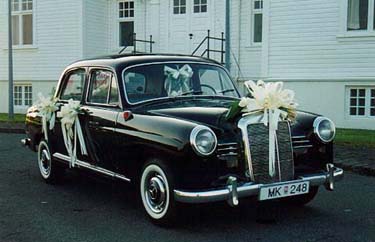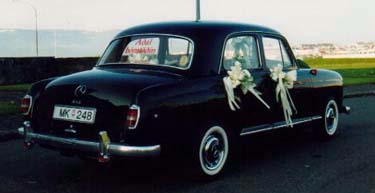 This is the 1959 180a hired out as a wedding car in 1995
---
Later on, I took that car and restored it in full, and changed its colour to (DB-516) red.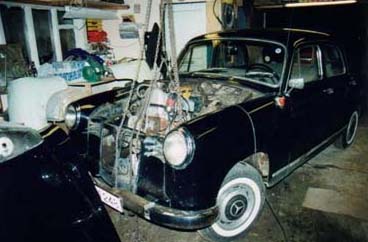 My 1959 180a taken for a restoration in 1996. The pictures with the engine pulled out were taken in the garage at "my mothers home" at the time. Today, this is my garage because I bought my mothers house in 1998.
As you can see, a lot of things had to be done
---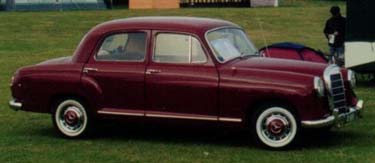 My 1959 180a after restoration. A red beauty traveling on southern Iceland. In 1998, I sold that car in order to by myself a home in Reykjavík.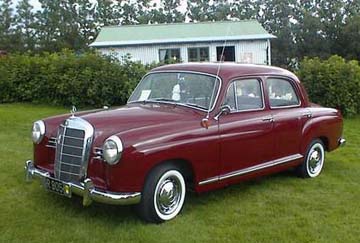 This is how the car looked in July, 2002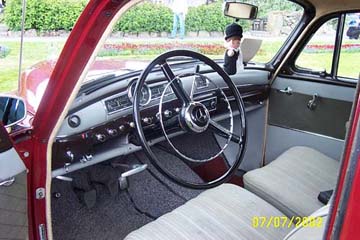 When I sold the car, the deal included a half restored 1955 180. I am now planning to finish restoration of that Ponton before its 50'th birthday. First I have to find and buy some parts needed for it. This is a very rare vehicle with an Icelandic history, owned since new by a handicapped woman who needed the car to be able to live as normal a life as possible. This Ponton gave that woman freedom to travel of her own will which she couldn't do before she got the car.
---
In the fall of 2000, I bought a 1958 180a in "Vestmannaeyjar" (the Westmann Islands in Iceland) that had been standing in a garage since 1984. It was assembled, and not rusty. I painted it blue and fixed it for registration and now it is in good running condition, though it is not restored in full. This is a photo of myself on a "fancy clothing day" this summer (2001). This is the 1958 180a after repainting. You can also see my old '59 there too. The "fancy clothing day" with our club is a special day to me. To tell you more, we do this once a year. We find ourselves some clothes that compare to the age of the car we are driving that day. Then we go somewhere. We can find curious people that think we recently got out of a time machine. Sometimes, this is very funny, especially when you're driving car from the 60's dressed up like "The Jackson Five." Normally, this day is ended with a dinner in a fancy restaurant.
---
My friend Örn and I bought this car for spare parts in 1993. The rusty car (a 1957 190) was in "Borgarfjördur" on western Iceland.
---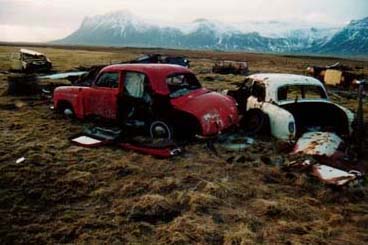 The red and white parts cars were on "Snæfellsnes" on western Iceland. They had been outside for at least 10 years. In Iceland we have to save our classics from the winter winds and snow. On the top of the mountain in the background is a glacier called "Snaefellsjökull."
The winter does not care if your car name is Mercedes-Benz or not
---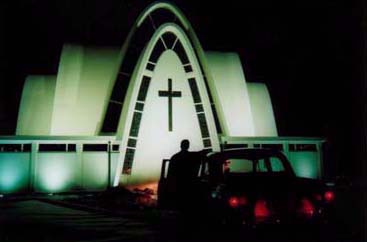 This Christmas picture was taken in 1998 at a church in a town called "Kópavogur." The church name is "Kópavogskirkja" (kirkja = church). This town is just beside Reykjavík, and some foreign people think that this is only a neighborhood in Reykjavík.
---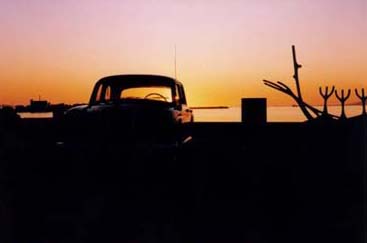 Sunset at Reykjavik Harbour. This photo was taken at the old harbor area close to the city centre.
---
My first Mercedes-Benz — a 1969 W108 280S.
Best regards,
Rúnar Sigurjónsson
Reykjavík, Iceland
December 11, 2001
---
Created: December 13, 2001 / Jeff Miller
© www.mbzponton.org
---
Return to the Type 180 Photo Gallery
Return to the Main Photo Gallery
---