1961 Mercedes-Benz Ponton 180Db
~ former diesel taxi restored to classic status ~
owner: Ratko Radanov ratkoradanov@a1.net / Austria
---
Dear readers, I found the Mercedes-Benz Ponton website by browsing the internet and I would like to add my contact and story about my 1961 180Db sedan to it.

In 1998, a friend of mine (Mr. Gustav Sombori) "donated" (to me) a 1961 Mercedes-Benz Type 180Db Ponton sedan, which he originally planned to restore himself. Due to the fact that he had no time to perform the work himself and the professional shops wanted high amounts of money to do it, he decided to get rid of the car. The first time I saw it, I was not very optimistic about ever getting it back on the road (see photos 5-7, below) but the good thing was that none of the major parts were missing. Also, all original documents were still with the car (photos 1-4).

Photos 1-4. original documentation

The history of ownership is:
08.Feb.1961 to 13.May.1964 - Taxi Company / Grüner, Himberg.
13.May.1964 to 29.Jul.1964 - Private owner: Hugo Ludwig, Waltersdorf.
29.Jul.1964 to 01.Apr.1974 - Restaurant Taschler, Biedermannsdorf.
25.Apr.1974 to 23.Jul.1976 - Private owner: Josef Kellner, Biedermannsdorf.
27.Jul.1976 to 07.Mar.1978 - Private owner: Johann Ferstl, Tattendorf.
06.Dec.2002 to present - Private owner: Ratko Radanov.
Photo 5. flatbed / 1998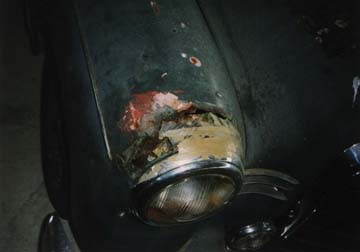 Photo 6. fender rust / 1998
Editor's Note: The polished aluminum "brightwork" accent strip on the fender (visible in Photo 6) was not standard on the 4 cylinder Ponton models (Type 180 and 190 sedans). It was not offered as an "extra cost option" from the factory. This was an option installed at the request of the owner by local Mercedes-Benz agents after the car left the factory. There are several examples of this option on various cars in the Ponton Photo Gallery. Further, the 6 cylinder W180 Ponton models (Type 220S and 220SE) did include this fender trim as standard. The 6 cylinder W180 Type 220a Ponton sedan only had it on the rear fenders, and the W105 Type 219 sedans (6 cylinder engine, Bakelite interior trim, and shorter rear doors) did not include any fender accent trim as factory original. The trim certainly enhances the appearance of the car but purists look down on such modifications. At this point in time, it should be considered a rare period appointment worthy of preservation.
Photo 7. engine bay / 1998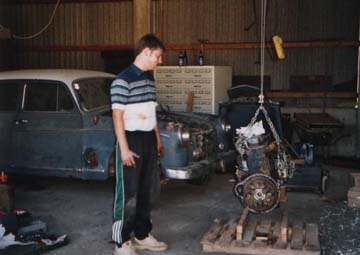 Photo 8. engine removed / 2001
After two years of collecting parts and doing preparation work, in 2001 the engine was removed and the chassis repair work was started (photos 8-10).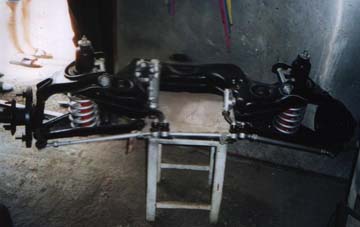 Photo 9. suspension restoration work / 2001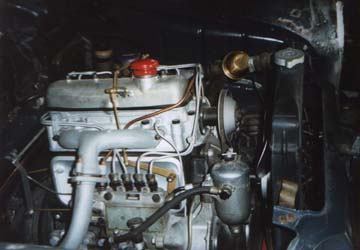 Photo 10. engine rebuilt / 2001
After the restoration, the original diesel engine is in very good condition and running perfectly. Total km = 699, 425 = 436, 614 miles.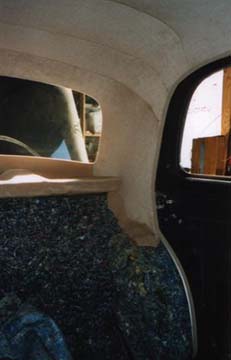 Photo 11. interior restoration / 2002
In 2002, the interior of the car was restored (photo 11) and in March 2003, the first test drive was carried out at the Punitz airport (photo 12).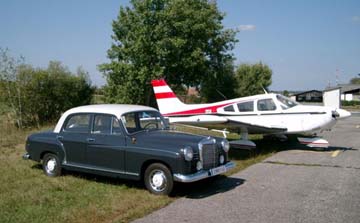 Photo 12. first test drive / 2003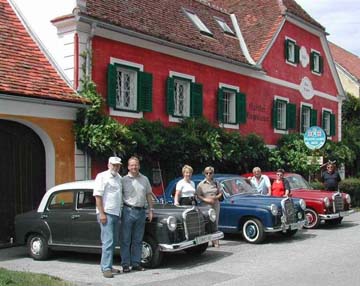 Photo 13. gathering of Ponton friends
Stubenbergsee, GH Rieglbauer, Austria
Since 2003, I have participated in many "oldtimer" meetings in Austria, Croatia, Slovenia, Hungary and Italy without any troubles and/or technical problems (photos 13-23). The average distance I drive during a year is about 5,000 km and I hope that the original engine which is still in the car will keep on working for a long time to come.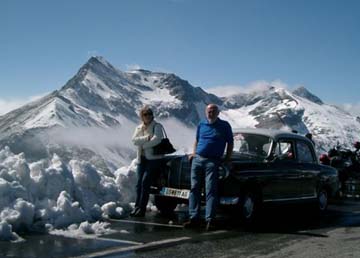 Photo 14. Grossglockner, Austria / 2,847 m
Photo 15. Vrsic Pass, Slovenia
Photo 16. Mali Losinj, Croatia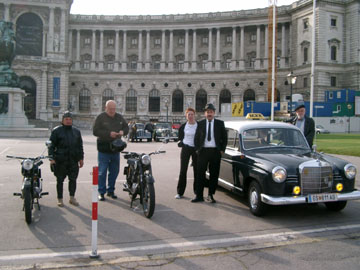 Photo 17. Vienna, Austria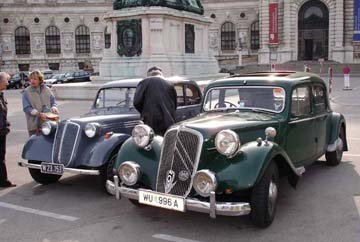 Photo 18. Vienna, Austria
Left: 1950 Tatra 57B, Right: 1949 Citroen 15/6.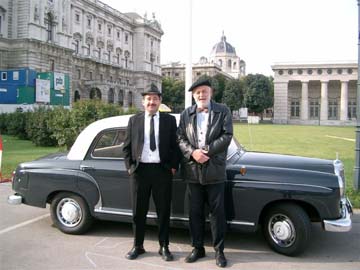 Photo 19. Vienna, Austria
Photo 20. Miramare, Trieste, Italy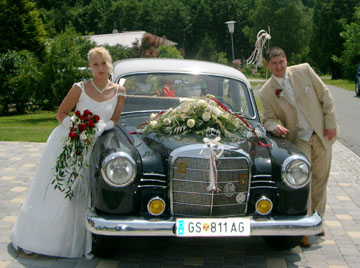 Photo 21. St. Michael, Austria
Photo 22. Portoroz, Slovenia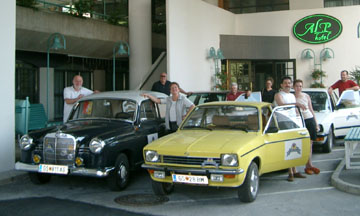 Photo 23. Bovec, Slovenia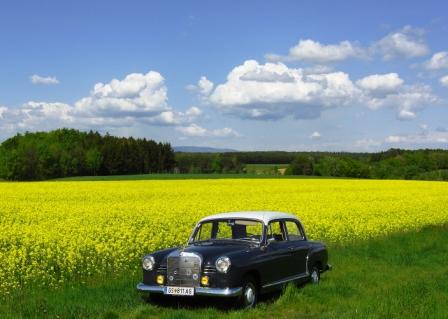 Photo 23. Rapeseed field / July 2008
Editor's Note (source: Wikipedia / July 23, 2008):
Rapeseed oil is used in the manufacture of biodiesel for powering motor vehicles. Biodiesel may be used in pure form in newer engines without engine damage, and is frequently combined with fossil-fuel diesel in ratios varying from 2% to 20% biodiesel. Formerly, owing to the costs of growing, crushing, and refining rapeseed biodiesel, rapeseed derived biodiesel cost more to produce than standard diesel fuel. Prices of rapeseed oil are at very high levels presently (start November 2005) owing to increased demand on rapeseed oil for this purpose. Rapeseed oil is the preferred oil stock for biodiesel production in most of Europe, partly because rapeseed produces more oil per unit of land area compared to other oil sources, such as soy beans.
---
Created: November 27, 2005 / Jeff Miller
© www.mbzponton.org
---
Return to the Type 180 Photo Gallery
Return to the Main Photo Gallery
---