1958 Mercedes-Benz 180D Ponton sedan
owner: Manfred "Mardy" von Harten / meavh@aol.com / Allentown, Pennsylvania USA
---
---
Me with my 1958 180D at the International Ponton Owners Group (IPOG) East Coast Ponton Congress (ECPC)
Photos taken at IPOG ECPC III / Malvern, PA / September 18, 2015 / Courtesy: Jeff Miller / Added September 23, 2015
DB 335 Mercedes Blue / 115,000 miles. Restored by Hatch & Sons in 1999.
I bought back this 180D from Jim Bryant. I had owned it before, and the body and paint were restored by Hatch & Sons in 1999. The vehicle is absolutely rust-free including the undercarriage and engine compartment. Original interior is still like new with the exception of a new headliner.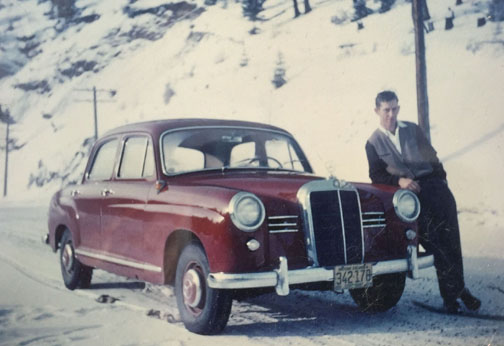 My father, Johann von Harten with his DB 516 "Middle Red" 1958 180D (chassis 120.110-8523027)
Vancouver, British Columbia / December 1958
Photo (of the original photo) taken at IPOG ECPC III / Malvern, PA / September 18, 2015 / Courtesy: Jeff Miller / Added September 23, 2015
My first experience with the Type 180D was when my father picked one up at the Mercedes-Benz dealer in Vancouver, British Columbia in 1958. I was six years old and fell in love with the car. My father used stove oil, diesel fuel, and kerosene in the vehicle and racked up 460,000 miles without any major incidents or maintenance, and it was still running like new when he traded it in 1965 Type W110 190Dc "Fintail" sedan.

My father's first car was a 1958 180 diesel and he purchased it at the Studebaker-Packard dealership, the distributor for Mercedes-Benz, in Vancouver, British Columbia, Canada, in early December of 1958. The photo shows him standing next to the car, and it was driven through snow on its first journey. The motor had to be "broken in" meaning you could not exceed certain speeds in each gear for a specific number of miles so it took ten times longer to get home to Oyama, BC where our family resided. Owners who truly heeded this breaking in process for the engine were assured of greater longevity for the engine, which in my father's case, resulted in 460,000 miles without any issues when he traded the vehicle in for a 190Dc Fintail (a.k.a. Heckflosse) in 1965, desiring a motor with a little more power.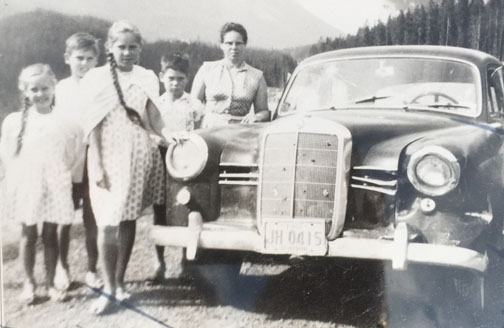 Standing with my family after a 1961 fender-bender on the Big Bend Highway.
Photo (of the original photo) taken at IPOG ECPC III / Malvern, PA / September 18, 2015 / Courtesy: Jeff Miller / Added September 23, 2015
The photo of the accident was taken in 1961 about 100 miles east of Revelstoke, British Columia on the Big Bend Highway, a grueling experience on the long dusty gravel road through the mountains, before the Trans-Canada highway was completed. A woman in a Ford station wagon coming around a sharp curve hit the 180D. My father already saw clouds of dust in the distance and came to a virtual stop to let her pass. There was little room for two vehicles to squeeze by each other on this narrow part of the highway. She didn't see us in time and crashed her Ford into the driver's side front fender of my dad's 180D. My mother, Liesel, sustained a concussion from hitting her head on the windshield from the force of the collision. The car did not have seat belts and were optional as an after-market installation at the time. I (Manfred, nicknamed Mardy) was nine years of age and am standing next to my mother with a sad look on my face, followed by my oldest sister Marlies, my brother Karl, and my sister Rosemarie. We had to wait in the middle of nowhere for six hours until a Royal Canadian Mounted Police officer arrived in his vehicle to record the details of the accident and then place a special sticker on the windshield permitting my father to drive with one headlamp to Calgary, Alberta, our destination that day.

I know a lot about the 180D Pontons, so if anyone has any question regarding maintenance, parts, manuals, service instructions, etc., please contact me and I will be glad to help. As of May 2004, I still have not located my dad's original maroon 1958 180D. I would be very interested to know if anyone has it. The chassis number I am trying to locate is: 120.110-8523027. My present 180D chassis number is: 120.110-8520399. If anyone has any Mercedes-Benz 180D built between 1954 and 1959, I would be interested in getting your chassis number because I am recording all the 180D Pontons still existing in the world. Please assist me with this project! It is always interesting to see which vehicles of all those produced are still around. Thanks!

Update: My father's original 1958 180D (chassis 120.110-8523027) was located in the fall of 2013 as I was browsing a Canadian "classic cars for sale" website. The vehicle was for sale at a residence in Kamloops, British Columbia, after having been restored. The car had been repainted the original color of DB 516 Middle Red and was sitting in the driveway waiting for all the chrome to be reinstalled.

Mardy von Harten
May 16, 2004
New photos and backstory added September 23, 2015
---
Created: September 24, 2015 / Jeff Miller
© www.mbzponton.org
---
Return to the Main Photo Gallery
Return to the Type 180 Photo Gallery
---