Helu Hansen's Mercedes-Benz Pontons
Helu Hansen / helu.hansen@t-online.de / Bonn, Germany
---
1957 Mercedes-Benz Type W120 180a sedan with Webasto sliding sunroof
Helu Hansen has owned this 1957 Type 180a sedan since 1985.
October, 1999:  Helu and his son Mike change the engine of the 1957 180a in their garage.  
Hello Ponton friends,  Many greetings from Bonn, Germany!
Helu Hansen / August 26, 2001
---
Update: November 21, 2004
1954 Mercedes-Benz Type W120 180 sedan with Webasto sliding sunroof
This is a Type 180 Ponton sedan from March 1954, and I restored it myself in 2003. Most of the parts on the car are original, with the addition of new paint in the original black (DB 040) color. In 1962, it had been painted gray (DB 169) by the second owner, who was living in Switzerland. He drove it from 1958 to 1975 and then it was sold to a German buyer, but it was never driven in Germany. I bought it in September 2002 and searched the web for the phone numbers of the former owners in Switzerland. Lucky, I found the son (72 years old) and he told me the story of the car.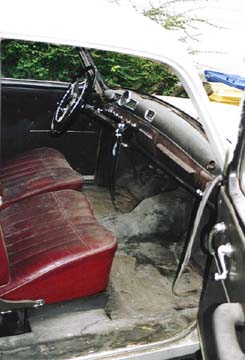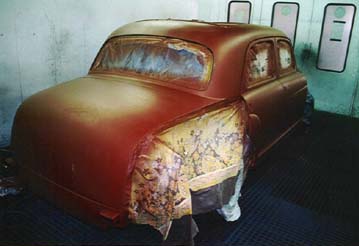 The 1954 Type 180 sedan wearing its original color again after restoration. During 2004 it was driven 5,000 km and it ran quite well.

Good luck to all restorers, and best wishes from Germany!
Helu Hansen / November 21, 2004
---
Created: August 26, 2001 / Jeff Miller
© www.mbzponton.org
---
Return to the Type 180 Photo Gallery
Return to the Main Photo Gallery
---