1956 Mercedes-Benz Type 180 Ponton sedan
owner: Ron Sweeney / thrust123 ]at[ sky.com / West Kirby, England
---
---
Hello, my name is Ron Sweeney. I am retired, and currently live in a little seaside town called West Kirby, on the tip of the Wirral Peninsula in north west England. I am the former owner of a 1956 Mercedes-Benz Type 180 Ponton sedan and currently own a 1961 Type 190b Ponton sedan. The 1956 Ponton was purchased in Cologne (Köln), Germany in 1960 and was previously owned by the managing director (m.d.) of the famous 4711 (pronounced "four-seven eleven" or "Siebenundvierzigelf") Eau de Cologne brand.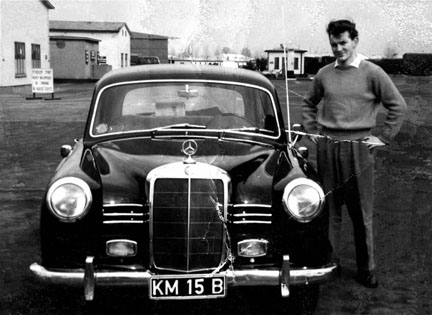 1956 Mercedes-Benz Type 180 Ponton sedan in 1961
In this photo, I can be seen standing by the car right after I bought it, when I was aged just nineteen years. This shot was taken at RAF Butzweilerhof where I was stationed. At this time the car had a British forces registration plate later changed for a UK plate shown in the other two photos.

I called it a "b" model (Type 180b) because every body used to refer to it as that. The car was built in 1956 and the add-ons such as fog lamps, rear tail lights, extra side trims, and wing top flashing indicators were my own additions. When you're young you crave for the extra shiny bits. The engine was the old side valve engine. I fractured a valve seat on one occasion and tried to buy one at the local Mercedes-Benz dealer. They had never heard of one failing before and had to order it special. I came home one day from work to find a guy in pristine white overalls under the bonnet. He had come from Mercedes-Benz headquarters to verify my claim and my mum had given him the keys to the car. A few days later he hand delivered the insert with a second spare declaring that I was likely to break one, and he was correct. I had the insert in the fridge overnight and gently warmed the block with a paraffin blow lamp. The first one shattered, they are extremely hard and brittle. I was successful with the second seat but took two days to re-cut the seat by hand. I didn't have the courage to admit that I had been mixing 140 octane petrol from the local airport where I worked with regular grade. I think this caused the failure. I used to save the aviation fuel that was gathered from the water drains collected during the pre-flight cheques on the Douglas DC3s (Dakota) and DC4s (Argonaut) we used to service.
Note the UK registration plate in this photo
The two photos of the Type 180 parked on the street were taken in 1961 outside my family home in Speke south Liverpool, England just down the road from where Paul McCartney lived, and incidentally, he was a boyhood school mate of mine.

Regarding Paul or "Macca" as he was nicknamed, I have many recollections. The first and most specific was that it was he and another class mate who offered me my first and last cigarette behind the bike shed at the Liverpool Institute Grammar school for boys. I never got past the giddy and sickly feeling from inhaling the smoke. It was at this fine school that he first showed his musical aptitude. At the end of term and on the last day when everyone was winding down for the holidays our history master one "Cliff Edge", a kindly soul, used to allow Paul and George Harrison to pick out tunes on their guitars. George, who was a year younger than Paul and I, was in a form below us but turned up for the impromptu jam sessions. Coincidently John Lennon attended the Liverpool College of Art which was annexed to our own college and could often be seen in the play grounds.

I can also probably claim to have attended the groups first "gig". We had been told that they would be allowed to play at a dance for the kids in Speke Secondary Modern school. My pals and I duly turned up at the school and were directed to the gymnasium were the band were setting up. This was my first contact with the opposite sex whereupon I spent the rest of the night frozen to my seat watching all the pretty girls and too timid to ask for a dance. The band at that time included John, George, Paul and a class mate named Eddie Lowe who never persisted with the group. Paul's mother was the local midwife in Speke. I never would have thought in those early school days that The Beatles would be formed and end up where they did.
Note the later Type 180b style tail lights
I loved the car and had it for many years but eventually gave it to my cousin. It had no real re-sale value in those days being left hand drive and with 256,000 miles on the clock. My cousin took this mileage to over 400,000 miles and eventually sold it to a guy who only wanted the Blaupunkt automatic signal seeking radio!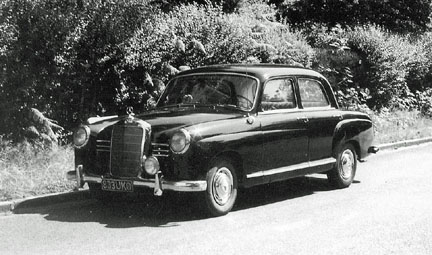 I mentioned that I passed my 1956 Type 180 on to my cousin Paul Barrett with whom I recently spent my holidays in the south of France where he has lived for the last 30 years. I asked him if he had any photos of the Ponton and he sent me these three shots. This would have been in the early 1970s. Note the single round fog lamp.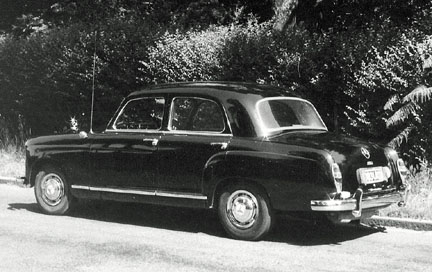 My 1956 Mercedes-Benz Type 180 Ponton sedan in the early 1970s
Note the two rectangular fog lamps
---
1961 Mercedes-Benz Type 190b Ponton sedan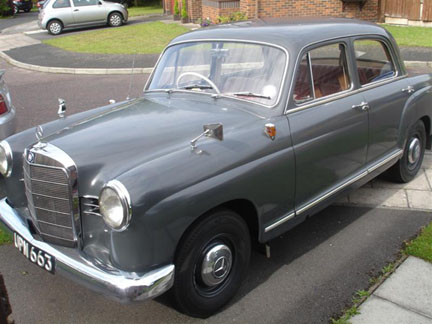 Here are some photos of my "new" 1961 Type 190b sedan taken in July 2009. I just returned from a five and a half hour drive from south London up to the Wirral Peninsula in north west England (250 miles) with my new 190b Ponton. It didn't miss a beat. My son is garaging it while I clear out 30 years of junk from my own. The car was as advertised, "totally original". What you see in the photographs is how it has been since 1961. I could not believe it. I tried to find rust, but there wasn't any. I have some good observations regarding my memories of driving the car 40 years ago and the shock of driving the car now, having driven some quality cars in between.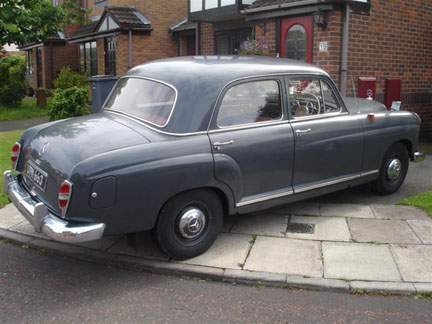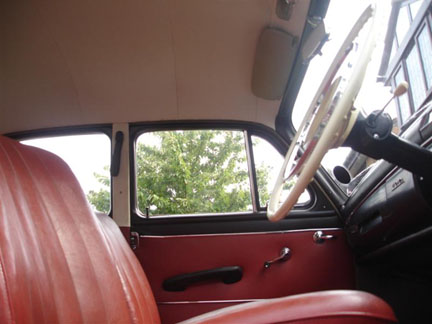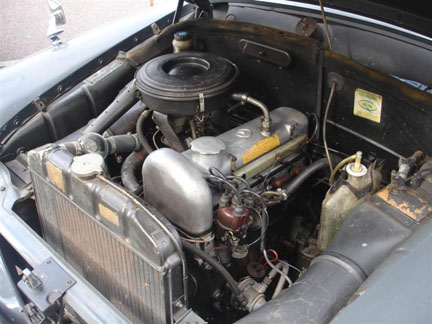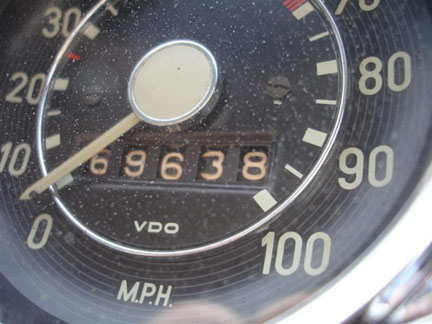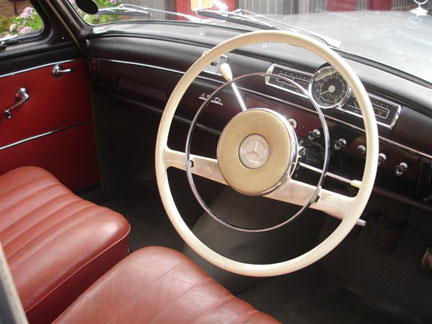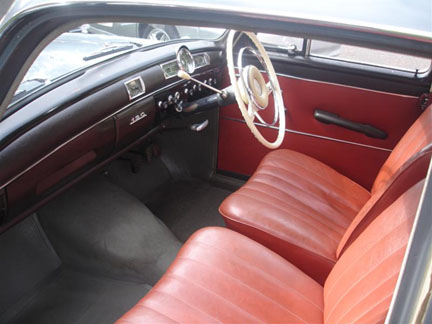 Regards,
Ron Sweeney
---
Created: May 27, 2009 / Jeff Miller
© www.mbzponton.org
---
Return to the Type 180 Photo Gallery
Return to the Main Photo Gallery
---