1959 Mercedes-Benz Type W120 180a Ponton sedan
owner Martin Peisl / Martin.Peisl@infineon.com / San Jose, California
---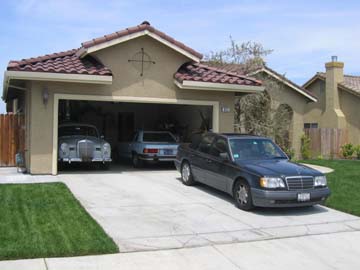 Mercedes-Benz Car Park. The 1959 Type 180a (W120) (164,000 miles?), 1978 450SL (R107) (205,000 miles), 1994 E500 (W124) (270,000 miles).

Here a few photos of my 1959 180a Ponton sedan together with the others, a 1978 450SL (removable hard top) with 205k miles and a 1994 E500 with 270k miles. The reliability of these cars (none of them needs oil refills between the changes, all first transmissions and engine) is the reason I like the brand. The 180's odometer shows 64,000 miles, but my estimate is more like 164,000. It still starts eagerly and is a pleasure to drive overland (100-200 miles a weekend), preferably in flat terrain in the central valley byways. To cross the California mountains I will have to work on the clutch (which seems to be original and has a tendency to slip under heavy load). It was registered in California in 1963 (according to the license plate stamp) and all of the original manuals, etc. suggest that the car was always running in the U.S. It had been stored during the 1980s and partially restored in the 1990s. My jobs for this car include the renewal of seats and the interior, all mechanics are okay, the carburetor is new. The body has been repainted but some of the window rubbers are in various states of dissolution. The mats in the trunk as well as the jack (which looks like it could handle trucks) are original. I admire the soft change of gears and the never failing A/C unit (i.e. front vent windows turned backwards). My grandfather had a 190D in the exact same color (the sassy Stone Grey, could you imagine a car painted in this color nowadays?), I practically grew up in the back seat. Nice return of memories.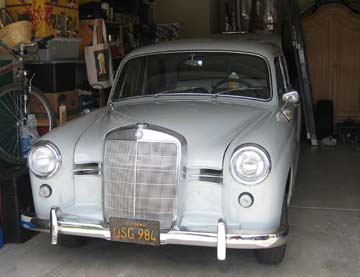 Registered in California in 1963.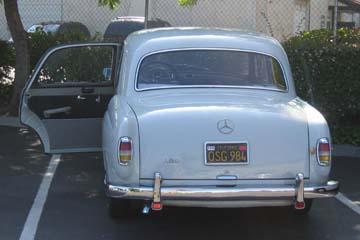 Note European style tail lights (red-white-amber). USA specification lenses used red-white-red. It appears to have only one Ulonite reflector (right side). The Ulonite 105 reflectors were a USA specification.

Thanks to the Ponton website, great content and photos!

- Martin Peisl / June 1, 2005
---
Created: June 1, 2005 / Jeff Miller
© www.mbzponton.org
---
Return to the Type 180 Photo Gallery


Return to the Main Photo Gallery
---