1957 Mercedes-Benz Type W121 190 sedan
owner (1976-1979): Uwe Medla / uwe.medla@web.de / Fürth, Germany
---
In 1976, Uwe Medla became the fifth owner of this 1957 Mercedes-Benz Type 190 sedan by registering it in Fürth, Germany. In 2003, Uwe discovered that the car was in New York, and sent these photos to the owner, Jeff Miller. Uwe's name was listed in the Kraftfahrzeugbrief (official/legal owner log book) that Jeff posted on his webpage. Uwe sold the car in 1979, and it changed hands one more time in Germany before being exported to the USA. More details on Jeff Miller's Type 190 page.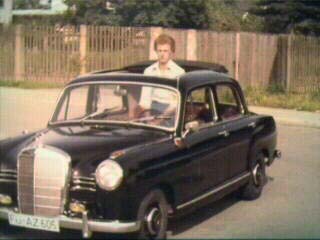 Here, Uwe demonstrates conclusive evidence of the spacious Webasto sunroof. It was just a few weeks past his 20th birthday when he registered the car on July 12, 1976. Note the black hubcaps, and the rectangular Type 190SL fog lamps — still mounted and functional today.

Also shown are the "controversial" fender-mounted, combination driving/blinker lamps with chrome "spears" above each head lamp. Their originality and authenticity on the four cylinder Ponton models has long been a topic of debate, and the truth may be that they were never factory-installed on the four cylinder Mercedes-Benz Pontons, but could be added at the customer's special request at any authorized Mercedes-Benz agents of the day. They were standard features on the six cylinder Ponton models such as the Type 219, 220S and 220SE.  
The license number (Fü AZ605) designates the city (Fürth) where it was registered. The large license plate frame is still mounted on the car today. The D badge (Deutschland) was not on the car when Jeff Miller found it in 1989, but he placed a large D sticker in the same location – not knowing (until seeing this photo) – that it wore a similar badge in Germany! The specific placement of the D is important because the right-side license plate lamp also has an outward facing lens, which illuminates the D badge/sticker at night. This photo also shows the car had its original style tail lamps at this point in time. Sometime later, they were replaced with Type 190b (6/1959-8/1961) style lamps, which include a reflector beneath the lenses.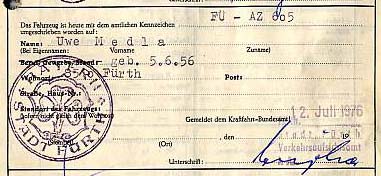 This section of the Kraftfahrzeugbrief identifies Uwe Medla as one of the former owners. It also lists the license number (Fü AZ 605), the registrant's birth date 5.6.56 (June 5, 1956), the city of registration (Fürth), and the date of registration (July 12, 1976). This document still exists with the car today.
Uwe's girlfriend in 1976 — she later became his wife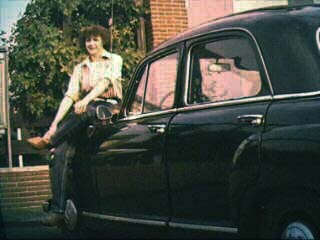 This photo shows unpainted hubcaps. This is how they appeared when Jeff Miller first saw the car in 1988 in western New York state. It was nice to exchange a few emails with Uwe Medla from Germany when he unexpectedly discovered that his old Ponton was still in good running condition in the USA!
---
Created: May 28, 2003 / Jeff Miller
© www.mbzponton.org
---
Return to Jeff Miller's Type 190 page
Return to the Type 180 Photo Gallery
Return to the Type 190 Photo Gallery
---