Hands Across the Ether
~ Vintage Radio Collection ~
Introduction
This page provides some background and insight to how I originally became interested in radio, as well as a brief overview of selected radios in the collection.

My primary interest in vintage radios became centered around the European shortwave sets from the 1953-1972 era. In the late 1950s to mid 1960s, there was a major technology shift away from vacuum tubes to transistors, but I appreciate the design esthetics of both periods. The European table-top sets almost always included shortwave bands as well as the standard broadcast AM and FM bands. The inclusion of shortwave in American radio sets during this period was less common, but there were certain markets (amateur radio, and general shortwave listening) for which specialized radios were produced and sold.

The autobiographical section, "Enduring Association with Radio" was included because the radio listening experience changed significantly since the time I first became drawn to the medium. In the first decade of the 21st century, music radio programming had become mostly niche-oriented, and generally sounded quite bland. When I realized that the great radio formatting I grew up with during the 1960s and 1970s was gone forever, I decided to document some of what that early listening experience, and the personal connection to radio was like for me.
---
---
Contents
---
Quick Reference Table
---
Enduring Association with Radio
Growing up in the 1960s, my maternal grandparents owned a 1948 RCA Victor model 77V1 AM radio-phonograph console. The top of the cabinet was divided into two separate hinged sections. Raising the right side revealed the AM radio tuner – with illuminated dial, and dark brown Bakelite knobs. Under the wider, left side, the turntable was accessible. The famous RCA logo with the dog (Nipper) listening to "His Master's Voice" was on the inside of the phono cover. I spent quite a few afternoons and early evenings laying on the dining-room floor listening to various types of music – admiring the colorful record labels. I would focus my gaze on the small red pilot lamp at the base of the console as the sounds drifted through the room. I have a photograph of this set, but need to un-earth it from the archives.
1948 RCA Victor model 77V1 (Chassis RC-615) - AM broadcast radio and phonograph
Left: Advertisement from May 17, 1948 LIFE magazine (page 50) / Right: Sam's Photofact Set #38 Folder #18 (cover only)
---
In our own home, we had a circa 1956 RCA "Orthophonic" (model SHF-8) phonograph. It had a contemporary dark wood cabinet, and was supported by thin, tapered, metal legs that were fashionable in the decorative arts such as interior and furniture design (see photo). The legs were removable, so it could be converted to a table-top model. That system was in service until 1972 when we got a Denon AM/FM (stereo) tuner/phonograph. I am not sure what happened to the RCA Orthophonic set. Household favorites played on the RCA system included The Village Stompers (Dixieland Jazz), Louis Armstrong, Oscar Peterson, Herb Alpert and the Tijuana Brass, to name only a few. My parents were members of the Columbia Record Club and received regular shipments of new music. I have since inherited all of those 12 inch vinyl LP ("long playing") gems, and believe they stood the test of time rather well. The Village Stompers albums are still in excellent condition, and sound great, but I am getting ahead of myself.
RCA "Orthophonic" (model SHF-8) phonograph (no radio)
Photos Courtesy: Susan Manning / December 6, 2006
---
My original "Hey Jude" 45 RPM from Jay's Record Ranch
I started to realize that I had a growing personal interest in radio, music, and recorded sound in 1968 when I was eight years old. It began to take shape when my mother drove me to "Jay's Record Ranch" (long gone) in Henrietta, NY to buy my first 45 RPM vinyl record. It was the Beatles "Hey Jude" (B side: "Revolution"). The tune was hugely popular at the time, and through tight Top 40 play-list rotation during the nine weeks it spent at the number one position in the U.S. charts, it became permanently engraved in my mind. That day was to me what the "Big Bang" was to the Universe. A moment in time that marked the beginning of an enduring, ever expanding appreciation for music, as well as buying, collecting, and trading recordings, making audio tapes, radio announcing, and having a general interest in and technical understanding of audio and radio communications equipment.
---
Sometime in the late 1960s, I was introduced to a local radio personality called Nick Nickson. As I recall, Nick was a tall, outgoing, charismatic guy with a thunderous baritone voice that was a natural for radio. He also happened to be a business associate of my grandfather's, so I was invited to visit the WBBF (AM 950 kHz) studios, where he worked in downtown Rochester. WBBF was a popular Top 40 hit music station at the time and it was exciting to see the station from the inside. As a souvenir of my visit, I was given the promotional LP (12 inch vinyl) album, "Past Powers", which featured some of the most popular tunes of the day. I memorized that record, and the tour of the station left an impression. Nick passed away in January 2016 at the age of 93.

WBBF's "Past Powers" oldie album (circa 1967-68). These portraits made up the back sleeve of the album; featuring WBBF radio personalities (clockwise from top left): Jack Palvino, Tim Griffin, Matt Rinaldi, Larry White, Ferdinand J. III, and Art Gibson.
A year or two later, I was also given a follow-up album called, "WBBF 22 Golden Oldies", and I still have both of them in my collection. I later learned that Nick was one of the charter employees of WBBF, and also found a photo of him (on the internet) interviewing Elvis Presley.
---
Around 1970-1971, I became fascinated with cassette tape recorders – in part because of a neighborhood school-mate (Scott Vandusen) who shared an interest in recorded sound (radios, music, etc.). The first unit we played with was his Channel Master model "6305A" 3 – a small, portable, AC/DC unit, which was purchased new at Rochester Radio. We spent many afternoons calling local radio stations (primarily WBBF AM 950) making spontaneous requests, and trying to win prizes while recording the antics to enjoy later. Unfortunately, none of the tapes were known to have survived. Update: On February 19, 2016 Scott gave me the old Channel Master and wall wart. I cleaned and lubed the internal parts, and used DeoxIT on the volume control pot and wall wart connector, and it sounded as good as ever (see video). Click here to see a 1981 self portrait of Scott Vandusen at WMJQ.

I discovered that when people listen to their own voice recorded for the first time, they may be surprised by what they hear. Experimenting with tape recorders made me develop an opinion of what a good radio announcer should sound like. As I listened to myself (and others) on those early tapes, I began to modify my own speaking style so that I was comfortable hearing the voice played back. This experimentation period proved to be essential later on, when I hosted my own broadcast radio programs.

When I was about 12 or 13 years old, I got my own portable cassette tape recorder with an integrated AM/FM radio. The brand may have been Lloyds, but the model number is lost to history. I remember it had a black plastic body and an imitation wood-grain speaker grille. I would sequester myself in the basement to paint and draw while listening to my favorite stations. One of them was WCMF 96.5 MHz (FM). This points out one of the great features of radio, which is that it allows one to perform other activities while listening. The station had a slightly "underground" format in 1974 and sounded quite different (less corporate) from the last time I scanned the FM dial. It also included a broader, more eclectic musical mix than one generally hears on any given station today. In general, the radio programming was more flexible back then, and still included more than one culture per station, unlike today's state of affairs where big business management and program directors (who may be far removed from the station and the listener community) seem to make programming decisions based on faulty assumptions, or marketing research that the listeners have an extremely limited range of musical tastes. For me, a good radio station would be able to play classical, jazz, news-traffic-weather, funk, heavy metal, folk, sea shanties, klezmer, blues, gospel, grunge, rhythm & blues, polka, bluegrass, rock, fusion, oldies, world, soul, alternative, reggae and ethnic all in one day, but I digress.
---
Let me rewind to 1974 and WCMF again. The disk jockeys seemed real to me because another wonderful thing about radio is that it enables the listener to use their imagination to fill in the gaps. If someone is telling a story on radio, and 10 people hear it, the story will be visualized in at least 10 different ways. The DJs I remember at WCMF from that period are Bernie Kimble, Suzanne King, and Roger McCall (a.k.a. "Unkle Roger"). Roger would normally work the late-night "graveyard" shift and quite often play complete album sides or even entire albums. To a large extent, the music play-list and formatting was left up to the individual announcers, which gave the programs (and the station) a unique personality and provided the listener with more variation. For an example of what can happen when a station does not have enough program direction, search the internet for WSAY 1370 kHz (AM) sometime. Anyway, one particular album Roger McCall (murdered December 2003) played that I remember is Edgar Winter's "Entrance" (1969 / Epic AL34858). One entire album side is devoted to a collection of jazz, rock, funk and R&B compositions strung together to make one interesting larger piece. Bernie Kimble (died March 2017) had the weekday show during the afternoon. He was a good announcer, and every Friday afternoon at 3:00 he would play John Hartford's "Boogie" (...hey babe, ya wanna boogie...). One could set their watch to it and it also signified that the end of the school week (and/or work week) was approaching. Suzanne King had a lovely voice, and as I recall, favored the folk-rock end of the spectrum and many of the British bands of the day. I developed an abstract, imaginary idea of what she, and the other jockeys might look like based on their distinctive and intriguing voices.
Radio Interview with a British Gentleman
Sometime around 1975, on an uneventful, late, Sunday night at home, the weekly King Biscuit Flower Hour (WCMF) was interviewing a polite, articulate, soft-spoken British gentleman. Having tuned in late, the guest's identity (presumed a Rock musician) remained a mystery until the announcer went to a commercial saying, "we will talk more with Jimmy Page right after the break..."

The unforeseen revelation that it was Jimmy Page pulled me deeper into the program, because previously, I had only seen the album covers, and dramatic, larger-than-life posters of Led Zeppelin, or magazine photos from concerts with the double-neck guitar – his face partially obscured by long hair and glaring stage lights. Having collected all their albums (on 8-track tape), I was well acquainted with their music, but never gave a thought to how a conversation might sound. Indeed, prior to hearing the interview (this part is difficult to explain), I didn't even know if he was "capable of speaking" because, his "voice" had been channeled through his guitars, and song writing ability. The genteel British accent lent an air of sophistication, and ultimately added a surprising, new dimension to the mystique. The awareness that a radio could bring me closer to people whose paths would probably never cross mine was captivating.
In 1976, when I was 16, I took a summer semester driver's education course through my high school (Gates-Chili). I persuaded the instructor, Mrs. Oehlbeck, to let me drive the students (in the school's brand new, dark blue, 1976 Pontiac LeMans four-door sedan) to WCMF in order to see the studios and meet Suzanne King. At the time, the station was located at 129 Leighton Avenue across from East High School. It was a really big moment for me. I guess for lack of interest, nobody else came up to the studio, which was fine. I rang the buzzer and entered. I seem to recall climbing about 25 steps leading up to the studios and offices. When I got to the top, Suzanne was there to greet me in casual and friendly way. I took a quick look around the studio (and the rest of the station) while she continued to do her show. At that time, they were still playing 12" vinyl LPs. It would be almost another 15 years before CDs replaced vinyl in the studio. During that visit, I also met Roger McCall who was hauling stacks of records around the station. It was interesting to meet these people in person because they did not appear anything like I envisioned! This is partly why radio is such an engaging medium – it naturally invites the listener to use their visual imagination.
Heard it First on the Radio

The King Biscuit Flower Hour (weekly radio program) was where I unexpectedly first heard the promotional copy of the forthcoming Genesis album Seconds Out (released October 21, 1977). The following day at school (with head held high, and floral tie), I informed fellow Genesis fan (Matt Steubing) that the double-album had been played on WCMF in its entirety. In those days, for a culturally starved teenager in a backwater suburb, the radio was an oasis – the primary source for new material – when the hard copy wasn't in stores for days or sometimes weeks after reading a magazine review or seeing an advertisement making you aware of what was available beyond your own zip code.
---
In 1978, my first car (1968 Oldsmobile Delmont 88 convertible with a 455 cubic inch engine) was equipped with a factory installed AM-only radio, so I bought and installed an "FM converter" to listen to the frequencies that were becoming the "stations of choice", and recall feeling quite technically savvy about doing that! My third car was a 1969 Chevrolet Malibu, which sported a bumper sticker that read, "Radio in Rochester Insults My Intelligence." The source of the sticker was The Record Archive – then located at 1394 Mount Hope Avenue.
---
It was also during this period (November 20, 1978 to be exact), that I bought my first "serious" audio system, the main component being a 20 watt per channel Harman/Kardon "hk 340" AM/FM stereo receiver. About a year earlier, I looked at the Harman/Kardon "hk 330c" receiver (an earlier model) but by the time I saved up enough clams, the hk 330c had been dropped from the Harman/Kardon program, so I got the newer "hk 340" instead. The system also included the small Advent speakers known as the "Advent 1" loudspeakers. The tab for the "hk 340" and the pair of "Advent 1" speakers came to $431.21. Incidentally, Advent was a company started by Henry Kloss, originally of Acoustic Research and KLH fame. I have provided more detail about Henry Kloss along with the overview of the Tivoli "Model One" radio. In order to spin the 12" vinyl records, I also purchased a Dual "504" belt-drive turntable for $199.02 the day after the Harman/Kardon receiver - November 21, 1978. I bought the "hk 340" receiver and "Advent 1" speakers at The Sound Chamber, which was located in Buckman's plaza at 2584 Ridge Road West, just west of Long Pond Road. I learned that a store's "lifetime warranty" was only good for the lifetime of the store and not the length of time I owned the equipment. When they went out of business a few years later, the warranty vaporized along with them. Finally, to complete the system, a Pioneer "CTF-500" stereo cassette recorder was purchased at "Sounds Great" (Jefferson Road) on January 13, 1979, for $145.52. As of this writing (August 16, 2006), the Harman/Kardon receiver and Advent 1 loudspeakers and Dual 504 turntable are still in service as a system, although several cassette tape recorders have come and gone, and now, there is also a remote controlled, five disk CD changer. The Harman/Kardon has never needed any repairs, with the exception of the occasional application of contact cleaner on the "function" knob. The system has served me well through five moves. The Advent 1 cabinets have picked up a few small scuffs, but still perform to my satisfaction. The woofers were replaced around 1999 when I discovered the foam suspension material had disintegrated. I went to a local store called The Speaker Place (in the same plaza where Jay's Record Ranch once stood) that had the correct size OEM (original equipment manufacturer) woofers in stock.

This photo was taken in July 1981 and features the Harman/Kardon "hk 340" AM/FM stereo receiver with the Dual "504" belt-drive turntable, and a Pioneer "CTF-500" stereo cassette recorder with the "Advent 1" loudspeakers. The RCA radio-phonograph console (1948 model 77V1) at the extreme left of the photo was handed down from my grandparents. I believe the desk (on the right) may have originally been part of a radio set. The space in the center is too small for a chair, but it could have accommodated a floor loudspeaker. I have seen similar desks with the radio and speaker. Anyone with more information on this type of desk, or the RCA console is encouraged to contact me.

Harman/Kardon hk 340 update / 11-mar-2007:
The Harman/Kardon hk 340 needed a signal strength meter lamp. There are five identical "fuse lamps" illuminating the tuning dial and meter. Lamp (original specifications): 8V, 300 mA, fuse type, incandescent, 1.2" long (30 mm) 0.25" Ø.The bulbs, known as "fuse lamps", look like Type 3AG fuses and are socketed in fuse holders. I bought a set of eight replacement lamps (8V, 250 mA) from Vintage Electronics via ebay. www.vintage-electronics.net Price was $0.75 per lamp. Shipping was reasonable ($4.15). Total was $10.15.

Harman/Kardon hk 340 update / 15-mar-2007:
The Harman/Kardon hk 340's signal strength meter stopped working about 10 years ago, so I finally began to investigate. I will disconnect the meter and apply a small current to the two pins of the meter to see if it is faulty. If the problem is with the meter, then no further troubleshooting will be needed. I have located a source for a good meter from another hk 340. I borrowed a Smiths d.c. millivolt source Type 5100 (England) for this job. Most meters have a 50, 100 or 150 µA movement. The Smiths power source is in millivolts. With a 1500 Ω resistor in series connected to the output, set the vernier to zero and the coarse millivolt control to the 10 millivolt range. The meter should move a little. From that point, increase the coarse setting in steps (10, 20, 30, 40, 50 mV) while watching the meter. At about 50 millivolts I should see between 1/3 and full scale deflection depending on what the meter is is rated for. No need to peg the meter at full scale. If it will move to half scale, it is OK. Starting low and working up is the key to not destroying the meter with and overcurrent surge.
---
Radio Shows at WRUR (88.5 FM) and WITR (89.7 FM)
In 1981, I hosted the first of two distinctly different college radio shows. The FCC issued my "Restricted Radiotelephone Operator Permit" (for broadcast radio) on June 12, 1981 in order to meet the legal requirements of hosting a classical music program (Beethoven, Mozart, Ravel, etc.) on Saturdays (11:00 a.m. - 1:00 p.m.) at WRUR (88.5 MHz) at the University of Rochester (U of R). The format featured classical music all weekend long. My first show was around May 16, and it repeated every Saturday for 11 weeks – until August 1.

Entrance to the WRUR studios - July 1981

This photo shows the entrance to the WRUR studios at the U of R – taken by myself (aged 21 years) in July 1981. Overall, working at WRUR was both technically, and musically enlightening. It gave me the on-air and studio experience I was seeking, and I became more familiar with classical music. Most of the shows were planned about 30 minutes before the show began by pulling records from their vault. Regrettably, I did not take any photos inside the studios, or make any recordings of the show.


Mysterious Request from a WRUR Listener

One of the more peculiar things that happened at WRUR was when I agreed to cover for a fellow D.J. called Duncan. He was feeling ill, and asked me to cover his Monday night "dance show." I really had no idea what his interpretation of dance music was, but I obliged by showing up that night with a stack of records from my personal collection, which included (favorites at the time): Joni Mitchell, Genesis, Charles Mingus, and Weather Report – to name just a few. It was a hot August night, and I received one or two calls from the listeners (possibly Duncan himself) asking about the dance music, but of course, continued playing selections from my private cache.

In those days (i.e. before music CD players), the next tune had to be queued up on a second turntable. I was already playing a selection from the first turntable, and queued up an obscure track called American Tango from the 1974 Weather Report album Mysterious Traveller.

Cover of the 1974 Weather Report album Mysterious Traveller [sic]

It was all ready to go – when the phone rang. The caller said, "Are you taking requests tonight?" to which I replied, "Sure, what would you like to hear?" The voice said, "Can you play American Tango by Weather Report?" I said, "You're not going to believe this, but it's already queued up."

An illustration from a Mysterious Traveler [sic] comic book


That's the truth, but to this day, I am still unsure how it could have happened. Nobody else visited the studio that night. Maybe it was The Mysterious Traveler himself. Who knows?






---
Nine years later (from 1990 - 1995), I hosted a jazz music program at WITR 89.7 MHz (FM) at the Rochester Institute of Technology. The station format was all jazz from 6:00 p.m. until midnight every Sunday night. I should also mention that I recorded most of my WITR shows on cassette tape while at the studio.

Self-portrait made in the WITR (89.7 MHz) studio (January 1991) while hosting a weekly jazz program on Sunday nights. The mixing console in the photo was relatively new at the time. My involvement with WITR lasted from 1990 to 1995. The WITR station motto was, "Modern Music and More", so it is interesting to note that it was during this period that I met my future wife, who was hosting an "alternative" music show on Wednesday nights.
Also note Shel Silverstein's 1959 album, "Hairy Jazz" (Elektra EKL 7176). The liner notes for Hairy Jazz were written by Jean Shepherd (July 26, 1921 - October 16, 1999 / formerly K2ORS). At that time, Jean Shepherd was virtually unknown outside New York City.
---
Radio Shows at WYSL (1040 AM and 92.1 FM)
WYSL (1040 kHz on the AM dial, and 92.1 on the FM dial) is located in the rural community of Avon, New York and has a 20 kW (20,000 watt) daytime signal that covers Rochester and much of the western Finger Lakes Region of New York state. The format is news, talk, weather, live sports, and programs of regional interest.

Friday January 15, 2010: WYSL added a 99 watt translator (W221CL) on Pinnacle Hill in Rochester – for an FM signal at 92.1 MHz.

March 31, 2009 (Tuesday) — Met with the WYSL staff to discuss the possibility of filling a Sunday morning slot. I was invited back Sunday April 5 to start learning the ropes, which included engineering three live church services, and two live talk shows featuring Toronto Life, and New York state wines.

September 28, 2013 (Saturday) – Seized an opportunity to engineer the Saturday morning talk shows, including "The Tom Hamilton Show" (financial chatter, etc.), "Naturally Green" (gardening), "For The Love Of Food", and "Discover The Finger Lakes." The Saturday gig began October 12, 2013. Also started covering week-nights for various programs on an ad-hoc basis.
N2AWA Operating History at WYSL Radio

Row 1 (left to right)
WYSL master control / Sunday, September 6, 2009 / 12:20 p.m.
Self-portrait (LG "Rumor Touch" cell phone) / WYSL master control / Sunday, January 10, 2010 / 8:12 a.m.
Self-portrait (LG "Rumor Touch" cell phone) / WYSL master control / Sunday, February 27, 2011 / 11:09 a.m.
Self-portrait (LG "Rumor Touch" cell phone) / WYSL master control / Sunday, March 4, 2012 / 6:29 a.m.
Self-portrait (LG "Rumor Reflex" cell phone) / WYSL master control / Sunday, May 6, 2012 / 10:55 a.m.

Row 2 (left to right)
Self-portrait (LG "Rumor Reflex" cell phone) / WYSL master control / Sunday, January 20, 2013 / 10:37 a.m.
Self-portrait (LG "Rumor Reflex" cell phone) / WYSL master control / Sunday, January 12, 2014 / 8:17 a.m.
Self-portrait (Apple "iPhone 6" cell phone) / WYSL master control / Saturday, December 20, 2014 / 11:34 a.m.
Self-portrait (Apple "iPhone 6" cell phone) / WYSL production console (restored 1954 Gates CC-1) / Sunday, July 26, 2015 / 5:27 a.m.
Self-portrait (Apple "iPhone 6" cell phone) / WYSL master control / Sunday, September 27, 2015 / 8:57 a.m.

Row 3 (left to right)
Self-portrait (Apple "iPhone 6" cell phone) / WYSL master control / Saturday, April 9, 2016 / 10:52 a.m.
Self-portrait (Apple "iPhone 7" cell phone) / WYSL master control / Sunday, November 20, 2016 / 9:14 a.m.
Self-portrait (Apple "iPhone 7" cell phone) / WYSL master control / Sunday, April 16, 2017 / 10:34 a.m.
Self-portrait (Apple "iPhone 7" cell phone) / WYSL master control / Sunday, February 11, 2018 / 10:37 a.m.
Most of these photos were taken in the "master control" studio where I engineer the Saturday and Sunday morning shows. Notice the blend of new and old technology: International Tapetronics Corporation (ITC) cartridge tape players, and contemporary computer automation working in concert! The microphone is an Apex model 210 ribbon style. The General Electric mixing console was built at Electronics Parkway in Syracuse, NY in 1971. A dual Numark "CDN35" CD player and various timers are on the shelf above the console. In the 2009-2012 photos: over my left shoulder (left to right) is the telephone, the Comrex "Hotline" (HL 3004) digital encoder / decoder (red box) and a Comrex "Nexus" ISDN codex digital line (black box).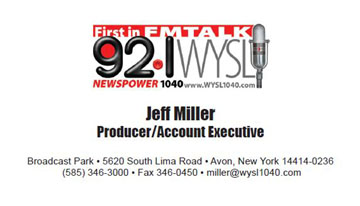 Attention business owners: contact me today to enhance your marketing strategy! Advertising = Customers = Revenue! Advertise with one of the most powerful AM stations in the Rochester and western Finger Lakes region of New York. The broadcast footprint covers 3,000 square miles – and 1.4 million potential new customers. The FM 92.1 signal (via translator W221CL) is centered in Rochester atop Pinnacle Hill so you will reach your target audience.
---
The Electronic Shop Years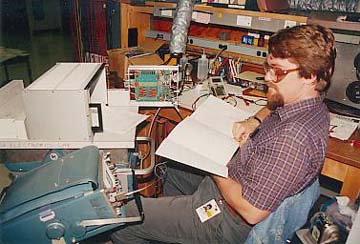 Working on the bench (circa 1992). Not a vacuum tube in sight.
I have an A.A.S. degree in electronic technology, and for about seven years worked at a large factory (Eastman Kodak Company) fabricating, repairing, and maintaining electronic and computer equipment both on the bench and in the field. By the time I began studying the subject (circa 1984), vacuum tubes were only briefly mentioned in the textbooks as a historical footnote. Silicon microchips were the modern building blocks of electronic design. So, until I became interested in vacuum tube radios, I never studied vacuum tubes, or radio theory as such.
---
Developing Interest in Vintage Radios
Somewhere along the way, I developed an interest in "older" (circa 1953-1974) European multi-band shortwave radios, so between 2003-2004, I began watching swap meets, garage sales, and on-line auctions in hopes of finding one of those illusive and intriguing sets. I will confess that the impetus for my interest in European radio styling of the 1950s may have been kindled by the magazine advertisements for the

Grundig "Classic 960" (50th anniversary reproduction)

radio. I searched the internet to find out what people thought of it, and discovered that when compared to the original, it was not well respected, and anyone with a genuine interest in old radios would be better served by finding a true survivor from the past.

When I look at these old radios, I don't just see an antique sitting on a shelf gathering dust. Rather, I glimpse a piece of history, culture, style, artistry, electronics, engineering, technology and mechanical craftsmanship all combined into one entity. That is even before it gets switched on! One sad thing is that most of the factories that produced some of the famous German and European radio sets no longer exist. AEG, Blaupunkt, Braun, Emud, Graetz, Grundig, Imperial, Kaiser, Kuba, Lowe Opta, Nordmende, Philips (Holland), SABA, Schaub-Lorenz, Siemens, Telefunken, Tonfunk, Wega, and who knows how many others are all gone. Grundig, Telefunken and Blaupunkt are still producing radios today, but not in Germany. The craftsmanship and technology has changed and the manufacturing takes place in other parts of the world. As an example, in 2006, Grundig was a mere coordination center of overseas manufacturing and assembly facilities. Nothing much was left, except the brand name and its sales network.

1 2

The digital readout radios of today are nice to have because if the frequency of a particular shortwave station was difficult to locate on an analog tuning dial, the digital readout removes the guesswork from the equation. One only has to enter the frequency into the radio keypad to receive the station. On the other hand, something essential is lost with these new sets by eliminating the need to visually scan the dial for stations. With digital radio tuners (both at home and in late model automobiles) the tendency is to save one's favorite stations into memory and never bother to "scan the dial" for new stations. When I use a shortwave radio with digital tuning readout, I loose that visceral sense of "where I am" on the dial. So, I still prefer the old style tuning bar on the horizontal face plate so that I can visually know where I am in the spectrum. I hereby request that a manufacturer produce a modern digital tuner with an interface to the old style face plate and tuning bar. Grundig, are you listening? Note that the

Sangean PR D2V "Q"

AM/FM tabletop clock radio features an illuminated LCD readout with both digital, and analog style ("slide rule") tuning. Bravo Sangean!
---
Antique Wireless Association (AWA)
I joined the Antique Wireless Association (AWA) on Wednesday, August 18, 2004 – primarily to take part in the swap meet being held at the Thruway Marriot hotel. The swap meet began on the opening day of the (43rd annual) AWA Annual Conference. AWA membership dues were $20, while it cost another $28 to gain access to the outdoor parking lot where the swap meet was being held. My first visit to the AWA Museum was Sunday, August 22, 2004 during an open house for the AWA Conference. In addition to the great collection of early radios, television sets and other electronic communication equipment, the kilowatt spark-gap generator was one of the most memorable things there.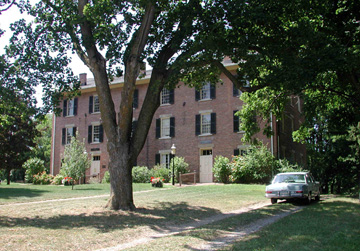 Antique Wireless Association (AWA) Electronic Communication Museum in Bloomfield, New York (August 11, 2007 / 1345 [UTC -4]) with my 1966 Mercedes-Benz Type 250S in the driveway. This was the first day I volunteered as a guide at the AWA Museum.

In 2007, I was doing a "leisurely" restoration on a 1958-1959 Grundig 2066 PX radio and e-mailed the AWA Museum curator, Ed Gable (K2MP) who said I could test some vacuum tubes at their facility. I live nearby, so on Saturday July 28, I paid them a visit, and one of the docents, Roy (W2IT [formerly W3RLW]) explained how to use the tube tester. Since I was already an AWA member, it was suggested I visit the Annex (about three miles from the Museum) to meet some other members, and perhaps even work on my radio. I took the advice, and on Tuesday August 7, 2007, took the day off, and dropped in on the legendary Annex for the first time.

Every Tuesday there is a "gathering of the faithful" at the Annex where AWA members perform various activities and do a bit of socializing. Initially, I received some technical advice about my Grundig "2066 PX" radio, and then a group of us went out for lunch. I was also asked to staff the AWA Museum on Saturday August 11 from 2:00 - 4:00 p.m. Of course, I gladly accepted the invitation. I also accepted the offer to staff the Museum on Thursday August 23, 2007 from 7:00 - 9:00 p.m. during the upcoming annual AWA Conference "open house."

During my first shift as an AWA Electronic Communication Museum docent, I was teamed-up with AWA veteran, Ron (W2FUI) who made it an informative experience. The scope and depth of vintage radio knowledge in the AWA is truly amazing. Anyway, we had approximately 15 visitors, ranging from about 10 years old, up to about 70+ years of age. I shared some of my knowledge of early radio history with them, and they taught me a few things too.

For the remainder of the "official" 2007 season, I volunteered two more times at the Museum. Once for the AWA Conference "open house" on Thursday, August 23 (7:00 - 9:00 p.m.) and again on the last day the Museum was open for the season. Sunday, September 30 (2:00 - 5:00 p.m.) was the last day, and a visitor took a photo of me behind the counter of the "Replica 1925 Radio Store."

Sunday November 11, 2007: I gave private tour to approximately 20 members of the "Western New York Chapter of the Wooden Canoe Heritage Association" (2:30 - 3:30 p.m.). Although the official AWA Museum season was over, I conducted another private tour (to about 20 members of one family) on the Friday after Thanksgiving, November 23, 2007 (11:00 a.m. - 12:00 p.m.).

In the summer of 2008, I organized the donation of amateur radio equipment from the Eastman Kodak Company to the Antique Wireless Association. The contents of the Kodak Amateur Radio Club rooms in Building 28 (Kodak Park) and at Kodak Office included many vintage radios, including, but not limited to:

Astro model 103 xcvr, Astro antenna tuner, Yaesu FT-101ZD xcvr, Robot 80A camera, Robot slow scan monitor, Kenwood TM-2550 xcvr, Mirage B108 RF amplifier, Yaesu G5400 AZ-EL rotor, Bird wattmeter, Ten-Tec Corsair 561, General Radio 1650A Z bridge, Ham IV rotor NIB, ICOM 251A xcvr, Swan WM-2000, Tek 465, 466, 2465 series oscilloscopes – Qty 7 as new, 12 – 4 drawer file cabinets, 7 office chairs, Drake R4B, Drake T4XB with AC-4, Drake MN-2000, Viking Matchbox 250 watt, EV638 microphones, Heath SB-630, Heath SB-401, Heath SB-220, Heath SB-303, HAL ST-6, Cush-Craft A-4S tri-band yagi NIB, etc.

2008 AWA Museum Guide and Volunteer Schedule. See: Events
2009 AWA Museum Guide and Volunteer Schedule. See: Events
2010 AWA Museum Guide and Volunteer Schedule. See: Events
2011 AWA Museum Guide and Volunteer Schedule. See: Events
---
Workbench
Here is my radio repair workbench (November 2004) with a 1961 Grundig "2440U" AM/FM/SW radio in the process of having a bad power resistor and two paper capacitors replaced. I rescued this radio at the Kutztown, Pennsylvania vintage radio swap meet on September 18, 2004. View the Grundig 2440U Restoration for more information. I also made a minor repair last week (November 2004) to my Grundig "Satellit International 400" but the "2440U" was the first antique tube radio I opened up down here. It was satisfying to find the problems and be able to repair them.

The Bakelite VOM (volt-ohm-milliameter) in the photo is a Triplett model "630 APL" with input impedance of 20,000 Ω per Vdc and 5,000 Ω per Vac. A beautiful classic in its own right, the Triplett 630 milliameter takes a D cell and a 30V Eveready Type 413 cell. The 30V cell is also known as a NEDA 210, and looks like an oversized 9 volt transistor radio battery. The Triplett Model 630 analog multimeter was in continuous production for over a half century, but it may not be the best choice for working on vacuum tube radios. With the low input impedance of 20,000 Ω per Vdc and 5,000 Ω per Vac it may act as a voltage divider and load the circuit under test and throw off the measurement. A better choice for vintage radio work might be a VTVM (vacuum tube volt meter). The input impedance on VTVMs is typically around 10 M Ω per volt, and thus less likely to load the test circuit. Popular VTVM models were made by Heathkit, Eico, RCA, and Hewlett-Packard. See Equipment for more information.

In late 2005, I got a Sears Craftsman "82139" DMM (digital multimeter) to check the values of the paper capacitors in a Grundig tube radio. An added benefit was that it also had a much higher input impedance than the Triplett VOM. The input impedance on the Craftsman "82139" meter was 7.5 M Ω per Vdc and Vac, so it made a much better tool to use with vacuum tube radios. Cost was about $25 in 2006. It takes two AA cells.

In November 2004, I was able to get an HP "606A" signal generator (USA Army surplus) for $25 plus freight (another $13). It needed a little work to get the switches and dials working smoothly. I was unable to verify and measure the HP 606A until October 29, 2006 when I got a B&K (B+K) Precision Model 1460 oscilloscope. The circa 1970 model 1460 scope has a 10 MHz frequency response (bandwidth). I have the original Instruction Manual for the B&K 1460 oscilloscope (also shown here in .pdf form).

I found a Stancor model "GIS-1000" isolation transformer (1000VA / 8 Amps out) for $25, and a Powerstat 10A variable transformer (Variac style). The variable transformer is powerful enough to drive the 8A Stancor isolation transformer.
In October 2005, Bill (WA2LVP) gave me an untested Hickok model "TV-10B/U" tube tester (USA Navy surplus). It was missing the bias fuse and fuse cover. Nothing else was known of its condition at the time.

July 12, 2011: Located a replacement neon bias fuse and cover (courtesy: Roy W2IT). I inserted the new neon fuse, and found another bad fuse (1.5 A), but fortunately had some spares (same value). Also had to replace the Type 81 bulb (also used as a fuse). Bought several of the Type 81 lamps from Antique Electronic Supply (AES) for $1.50 each.

When I turned the unit on, and tried to "adjust the line", the Type 81 bulb (acts a fuse) started to burn bright; like it might blow, but the meter never moved at all. I was also pressing the Line Adjust button at the same time.

I lifted the faceplate out of the unit (the screws were all missing, which might have been a bad sign that someone thought it was not worth putting back together) and the underside of the unit looked clean and complete with two big tubes. I did not look closely at them. Was not sure how many there were supposed to be. Had not located a schematic for it yet. More information on the TV-10B/U tube tester will be posted here as it becomes available.

March 3, 2009: Traded a Kenwood model PS30 power supply for a Tektronix model T922 dual trace oscilloscope. This scope has a 15 MHz bandwidth and is used in the ham shack to monitor the Viking "Valiant" AM transmitter output waveform.

July 12, 2011: Purchased a number of things from Karl Horst (British Columbia, Canada). He found this page in October 2010, and asked if I would be interested in them. I thought about it for a while, and on July 11, 2011 – struck a deal.

12 ceramic replacement 9 pin tube sockets

See Equipment for details on the workshop and test equipment.
---
Zenith "B511-B"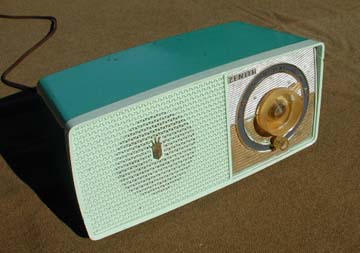 Zenith (Chicago, Illinois, USA / circa 1959) Model "B511-B"
Serial number: Z-50519
This 1959 Zenith B511-B is a small tube radio, with a plastic body, that has been in my family since new. It receives AM broadcast only. It was first used in the kitchen, and finally in the basement of our family home from the early 1960s up until about 1980. I always considered it to be just an old, uninteresting radio, but somehow managed to take ownership of it around 1980. With the passage of time, it finally began to look like a classic. It still works well, without restoration work – as yet. Note the patina (a.k.a. wear) around the volume control knob beneath the tuning dial. An authentic survivor!
---
General Electric "IC" (?)




General Electric (USA) AM/FM radio (monaural) and cassette player
Made in Japan (circa 1976)
Received this radio as a Christmas gift in 1976. Here is a Polaroid (model SX-70) snapshot of myself that Christmas morning (aged 16 years) fiddling with the tuning dial. I got quite a bit of use out of this radio and cassette player through the late 1980s. I brought it on vacations, and it also made it through five moves. I remember carrying it along the beach on Cape Cod, Massachusetts in 1977.

It has a black plastic body with a brushed aluminum handle and trim. Telescoping and rotating antenna. The knobs for tuning (vertical slide-rule tuning dial), volume, tone-control are all located on the right side of the unit. The cassette deck is on the front. The combination switch for Record / Play / Stop / Fast-Forward / Rewind is located on the top of the radio. Has a jack for an external microphone on the left side. AC/DC power.

Between 1992 and 2005 the radio was stored in the attic. When I was writing this article, I went up to take a closer look and noticed that General Electric did not give it a model designation. On the front is printed, "FM / AM Radio Cassette - Automatic Level Control." Also, "Three-Way Power" and, "IC." The "IC" may be the closest thing to a model designator since it is printed in a bold font. This was my only portable radio between 1976 and when it was put into semi-retirement around 1989. When I retrieved it from the attic in 2005 and plugged it into the AC mains, it still worked, but the controls were a bit scratchy. I applied some contact cleaner and lubricant to the switches and it sounded like it did twenty nine years earlier. In other words, not the best radio in the world, but not the worst either.
---
Grundig "Satellit International 400"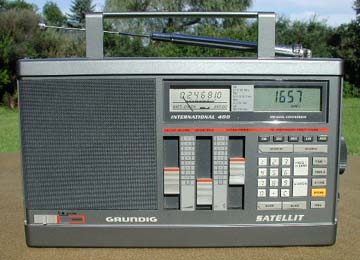 Grundig (West Germany) "Satellit International 400"

Tuning Range:
LW/AM/SW: 148 kHz - 30 MHz
FM: 87.5 MHz - 108 MHz
more specifications
I bought the Grundig "Satellit International 400" dual conversion radio (made in Portugal 1986-1989) on May 22, 1989 from Rowe Photographic in Rochester, NY. The price was $399 (plus tax), which was (and still is) a lot of money for a radio. The Satellit 400 may have been one of the first radios designed for the public to feature digital PLL tuning, and a digital frequency counter. Less expensive radios did not begin to include these features for another 10 years. Digital tuning readout is nice because the desired frequency is simply entered with the keypad. One negative thing about the digital readout is that the operator tends to loose the sense of where they are within the band spectrum. The old-fashioned "slide rule" tuning dials allow the listener to "see" where they are in the band. The Satellit International 400 also has a frequency scan mode and a thumbwheel tuner on the right side. The radio is surprisingly heavy (about 5 lbs.) for its size. Note that the Satellit "Professional 400" (not made for export) only covered up to 26.1 MHz.

In 1989, the top of the Grundig line was the "Satellit 650", which seemed to be more radio than I was looking for at the time. Search the internet for photos, and you will see that the Satellit 650 is about three times the size of the Satellit 400. I have been quite pleased with the Satellit International 400, and it still gets a fair amount of use.

Notes

Dual Conversion: A type of receiver that converts the incoming frequency through two intermediate stages. This offers higher gain and tends to eliminate the type of interference known as "image." With high-precision components, it also allows the receiver to be much more precise (selective) in selecting the incoming channel it accepts. This is what helps the receiver to be very narrow-band. Also known as a "Double Superheterodyne" receiver.

When changing the three "AA" clock and station memory batteries, leave the AC power plugged in. Otherwise, the station memory and clock times will be lost.

31-aug-2008: Replacement 3 AA cell battery holder (due to mild, greenish-blue corrosion - again).
Mouser (www.mouser.com) part number: 12BH331-GR ($1.06 each).
Electronix (www.electronix.com) part number: 34-250-3 ($0.39 each, but they require a $10.00 minimum order).

Update / 20-apr-2005: I replaced the antenna. The antenna fits the Satellit 400, 500, 700 models from 1986-1996. I purchased a new antenna from German eBay (ebay.de). Price was €28 EUR plus €10 EUR for shipping. The total (€38 EUR) converted to just less than $50 USD. Bought from "Norbert" (postine ]at[ gmx.de). The www.ebay.de.com description was: "Teleskopantenne Grundig Satellit 400,500,700.

Here is a link showing the various Satellit antennas. The web page states that the Satellit 400 takes "Type F" antenna.
www.classic-worldband.com/pages/info/projects/parts_info/antennas/sat_ant_inf.htm


Update / 18-apr-2006: External antenna connection: The external antenna jack for the Satellit International 400 is a "PAL" (also known as: "KOK") type connector. It is commonly used for TV antenna connections in Europe but is unusual in North America. Radio Shack sells a PAL to F adapter. PAL connectors can be purchased on eBay (plastic body) or from MCM Electronics (metal body) for those who want to make their own antenna cables. Universal Radio sells a nice adapter consisting of a in-line SO-239 (female) connector and female PAL (KOK) connector joined with 10 inches of coaxial cable. This permits using the common PL-259 (male) connector and the short length of cable takes the strain off the antenna jack. Universal Radio part number: 1052. Universal Radio is selling the part as an accessory to the Eton E1 radio (originally announced as the Grundig Satellit 900). I ordered the antenna connection cable with PAL connector (European specification) from Universal Radio on 18-aug-2006. Price was $7.95 plus shipping. Received: 21-apr-2006.

References
universal-radio.com/catalog/portable/0101.html
universal-radio.com/catalog/portable/1052.jpg

Aug 23, 2006:
My review of the Grundig "Satellit International 400" is on eHam.net at: www.eham.net/reviews/detail/6082
---
Blaupunkt "Frankfurt"


Blaupunkt "Frankfurt"
Blaupunkt Werke GmbH (Germany)
Serial Number: K150607
Push-buttons labeled: U U M M L

U (Ultra Kurz Welle = UKW = FM)
87-100 MHz
M (Mittel Welle = MW = AM)
550-1500 kHz
L (Lange Welle = LW = Long Wave)
150-290 kHz
Blaupunkt "Frankfurt" AM/FM/LW automobile radio. This is the original vacuum tube radio installed in my 1957 Mercedes-Benz Type 190 sedan. The escutcheon is made of Bakelite. The radio was refurbished in 2011, and works well. Keeping it tuned on one station while driving a 50+ year old vehicle is not as difficult as one might imagine. View the Mercedes-Benz Ponton Radio page.
---
Panasonic "RF 680 D"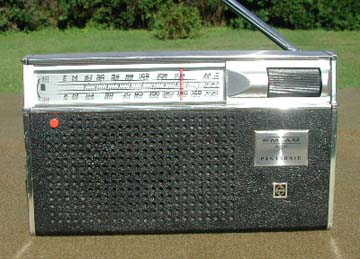 Panasonic (Japan) "RF 680 D"
The Panasonic RF 680 D is a portable AC/DC AM/FM transistor radio, but I do not have the AC transformer for it. DC power comes from (4) 1.5V AA batteries. This compact radio was left behind when one of my wife's co-workers at the University of Rochester retired, circa 1999. I would guess the radio dates from the mid 1970s. It works well, but the AM-FM selector switch on the back of the set can be tricky to get on one band or the other. The correct placement of the switch is actually somewhere between the two settings, so I have to play around with it. What it boils down to is that the switch contacts are probably due for a cleaning. The red push button on the speaker grille is for dial illumination. This radio is quite good for AM DX-ing (long distance listening) with clear reception and little background noise.
---

Ross "2776"


Ross Electronics Corporation (Japan) "2776"
Ross model 2776 (multi-band, circa 1970s). Black vinyl case, AC/DC, great good condition with just a small dent on the metal speaker grille. I bought this from a co-worker around 1999 for $20. It needed a new antenna (he was using a coat hanger as an antenna), and knob insert, which I found on a similar model at a garage sale. The FM band reception works well, but the AM reception is quite poor.
---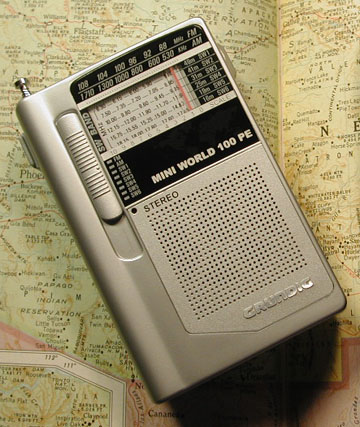 Grundig (West Germany) "Mini World 100 PE"

Tuning Range:
AM = 530 kHz - 1710 kHz (broadcast)
FM = 88 MHz - 108 MHz (broadcast)
SW1 = 49m (5950 to 6250 kHz broadcast)
SW2 = 41m (7100 to 7300 kHz broadcast)
SW3 = 31m (9500 to 9900 kHz broadcast)
SW4 = 25m (11650 to 11975 kHz broadcast)
SW5 = 19m (15100 to 15600 kHz broadcast)
SW6 = 16m (17550 to 17900 kHz broadcast)
I bought the Grundig "Mini World 100 PE" world-band radio on December 21, 2001 at Staples office supply store on Jefferson Road for $29.95 (plus tax). Its primary use was to replace the Becker "Europa" (AM/FM stereo cassette) in my 1982 Mercedes-Benz 240D while it was being exchanged for a rebuilt unit from Becker of North America. This Chinese-made Grundig is nice for the size and price, with decent sensitivity. It picks up distant and/or low power stations fairly well with the antenna fully raised and pointed in the right direction. However; there can be ghost images of strong signals at various locations in the FM band. It has acceptable sound quality considering its small size. It fits nicely into a pocket or briefcase, and for this reason, I take it with me when I travel. It has FM stereo when used in conjunction with stereo ear buds (included). It features a five element telescopic antenna measuring 370 mm (14.57 inches). It has an LED tuning indicator for stereo signals, a removable belt clip, and a soft black leatherette carrying pouch. The tuner is the slide-rule type, not digital. Powered by two AA batteries (included). The package also included a useful shortwave listener's guide. Overall, the Grundig "Mini World 100 PE" is a handsome, miniature radio that performs reasonably well considering its price and size. I can not objectively comment on its durability, because I tend to be careful with my radios.
---


Zenith "G730" (Chicago, Illinois, USA / circa 1959)
This Zenith G730 AM/FM tube radio was performing in the summer sunshine outside an antique barn near Lake George, NY on August 6, 2003. The place was Lonergan's Red Barn Antiques on Route 9N, three miles south of Ticonderoga, New York. I think he was asking $70, but I got it for $50. It was in real nice condition in and out. Only needed a little elbow grease on the wood cabinet to bring it up to snuff.

Schematics

The G730 was the first vintage tube radio that I "consciously" added to the collection; the previous two were "inherited" (the Zenith "B511-B" was in the family since new, and the Blaupunkt "Frankfurt" came with the 1957 Mercedes-Benz Type 190 Ponton sedan). Once it was home, it seemed like a good value, so I began to look at other old radios.

After buying the G730, I have noticed quite a few of them. On September 20, 2006 in Philadelphia, "The Book Trader" (7 N 2nd Street) had one playing classical music amongst all the books and clutter. They also show up in radio flea markets occasionally. There are wide variations in the cabinet finish. Most of the other examples I have seen are dark brown.

On Saturday March 24, 2012 the cat knocked the G730 off the dresser. Cosmetically, it was unscathed, but the FM band was not working. Turned out, the tuning rod got knocked out of the core. Left it at Radio Daze on Tuesday March 27 and got it back Thursday March 29, 2012. The cost was a half hour of labor.
---
Grundig "2066 PX"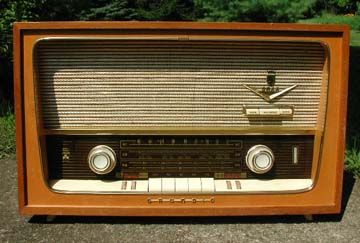 Grundig (West Germany) "2066 PX"
Years manufactured: 1958-1959
Valve (tube) line up: ECC85, ECH81, EF89, EABC80, EL84, EM84
The EM84 tube is the "Magic Eye" (signal strength indicator) on this set
View the Grundig 2066 PX Restoration Page
Tuning Range
Broadcast (AM): 510 - 1620 kHz
Shortwave: 5.9 - 16 MHz
Frequency Modulated (FM): 88 - 108 MHz
Tuning dial pilot lamp (one required) is Type 40, 6.3v, 150mA (0.15A) miniature screw base, cylindrical bulb, clear glass. The pilot lamps are typically sold in packages of 10 at vintage radio swap meets and by the usual on-line sources. See Links

I purchased the "2066 PX" on August 18, 2004 at the AWA Conference swap meet in Rochester, NY. It was working, but had some static noises, and low volume. The seller (Phil Clayton of Syracuse, NY) was asking $125, but after getting familiar with the details, and plugging it into an outlet in an empty conference room, I offered him $75 and he accepted. It was quite dusty inside but completely functional. The volume dial was almost impossible to turn, but applying some light oil on the volume potentiometer shaft freed it up. I cleaned it up inside and out, and it looked great. The performance was not quite up to original specification, but I replaced some capacitors and it sounded a little bit better.

Note that "PX" means Post Exchange (store) in the U.S. military. Some Grundig radios were sold in the PX (for U.S. Army personnel) The items sold through the exchange could be identified with the model number followed by the suffix PX.

Grundig "2066 PX"
I was not able to pick up any SW stations until I plugged a long (almost 2 meters) length of #18 AWG wire fitted with a 4 mm "banana plug" into the single external antenna jack on the back of the set. Note that the two FM antenna (8 Ω style) jacks, the single external antenna jack and the single ground jack are all 4 mm Ø (diameter) (close to a #8 screw size in the USA). The banana plugs were a perfect fit for the external (SW) antenna jack. I began restoring the radio in September 2005 and it took until August 2007 to get it back to its former glory.
---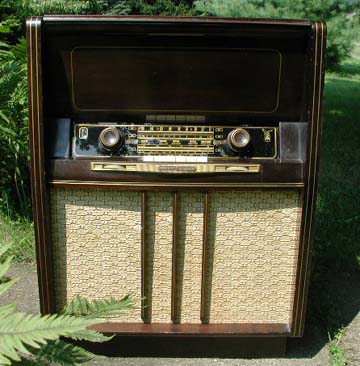 Grundig (West Germany) "Majestic 7061W/3D" console
Years manufactured: 1955-1956
Valve (tube) line up: EC92, ECH81, EF89, EABC80, EL84, EM85
Grundig Majestic 7061W/3D Magic Eye tuning tube = EM85
Tuning dial pilot lamp (one required) is Type 40, 6.3v, 150mA (0.15A) miniature screw base, cylindrical bulb, clear glass

The pilot lamps are typically sold in packages of 10 at vintage radio swap meets and by the usual on-line sources. See Links.

Tuning Range
Broadcast (AM): 510 - 1620 kHz
Shortwave: 5.9 - 16 MHz
Frequency Modulated (FM): 88 - 108 MHz

Price: 595 DM (German Deutsche Marks)
Weight: 30 kg / 1058.2 oz (~66 lbs)
Width: 24.62" Depth: 15.75" Height: 32.375"
Three Loudspeakers
Grundig 7061W/3D schematic

Refer to the Glossary for notes on reading German schematics
This Grundig console was also at the AWA swap meet on August 18, 2004 and was going for $100. I paid full price because I thought it was in both good cosmetic and working condition. I had seen console sets like this on eBay, but never thought I would actually own one. Well, now I do. It really sounds nice. I just need to find some old polka records to play on the turntable. It was a top of the line set manufactured in West Germany for the American market. One of the key differences between radios made for German domestic duty and the ones produced for export (to markets such as the USA) is that the original European FM band (VHF or UKW for "Ultra Kurz-Welle") was from 87.5 to 100 megacycles (MHz). In the mid 1960s this was expanded to 104 MHz and then sometime in the late 1970s to early 1980s was expanded even further to the current 108 megacycles. The portion of the band between 100 and 108 was used for Police radios (the French police in particular). For this reason, I understand that in Germany (perhaps other European countries as well) it was illegal to sell FM radios that could pick up the full FM broadcast spectrum. At the same time in the USA, the FM band went from 87.5 MHz up to 108 MHz. Again, the German radios made for export included the extra cycles in the FM spectrum, radios made for domestic usage (inside Germany) did not.

The gentleman selling the Grundig 7061W/3D console radio was former McIntosh audio engineer, Richard Modafferi (K2ICO) of Vestal, NY (Richard's website is: www.audioclassics.com). Note that Vestal is near Binghampton. After I got the console home, it worked perfectly for about 24 hours before it unexpectedly quit. The tubes (including the tuning eye) and tuning face plate were lighting up, so it was getting power, but I could not tune to any stations on any band. So, I e-mailed Richard to see if he had any suggestions, but before he could respond, I cleaned and re-seated the tubes and it began to work fine again. The automobile trip home from the AWA swap meet may have caused one or more tubes to wiggle loose. Another thing that might have contributed to this anomaly is that the piano key selector switches may have been a little dirty and hence been caught in between the various bands. One time since then, I found that by pressing the piano key selector switches slowly, the circuitry can be engaged as it is supposed to be.

Richard Modafferi later replied,
"If the "magic tuning eye" tube is dark, it would appear to be a B+ power supply failure. The radio uses a selenium rectifier, which may have died. I can send you a replacement (McIntosh silicon bridge). If you are able, test for B+ voltage in the chassis. You say "tuning eye does not move", which I could interpret as, it lights, but no movement. If the eye lights green in radio mode (it goes out in phono mode), then B+ and the rectifier are OK. Try the record player. If this works, the B+ and audio are OK. Then there is RF failure. The most likely cause is a bad converter or IF tube. Do these light? The converter is ECH81, IF is EF89. Detector, EABC80, is OK if phono works. If not, then everything will not work. Check if all these tubes light and are seated correctly in their sockets. The radio worked here for about 15 years next to my workbench, although I played it not too often. Rather, I used my stereo or old mono audio system on the other end of the room. The Grundig originally belonged to my brother-in-law's father. When he died, the radio went to my sister. When they retired (circa 1985) I got the radio. A neighbor down the street had a radio shop, retired from it, but had basement full of N.O.S. stuff, including a Grundig replacement phono cartridge, which I put into the radio you now have. The radio may benefit from a full set of new tubes. The output tube you referred to earlier as 6BQ5 is the same as European EL84. 6BQ5 is the American clone for the EL84. The EABC80 has an American clone 6T8. The American clone for the EF89is 6DA6, for ECH81 it is 6AJ8. The FM converter tube is American 6AB4."

The "A" voltage is the filament voltage, "B" voltage is the plate-cathode potential and "C" voltage is the grid or "screen" voltage. The grid is what controls the flow of electrons from the cathode to the plate. If the grid is negatively biased, it can reduce the flow from the cathode to the plate. The B+ voltage is measured with all tubes in the sockets and with the radio operating, as voltages are derived from a bleeder-decoupling system. B+ voltages from this system are dependent on all tubes in the sockets and with the radio operating. If you remove a tube, the load on the system changes, and voltages on other tubes will be wrong. Typical voltages in this radio would be about +250 on plate and screen (grid) of the EL84/6BQ5 audio output tube, and lesser voltages on the others. Measure from tube electrode to ground. On the Grundig 7061W/3D console the chassis would need to be removed from cabinet to do this. On smaller table cabinets, the typical German radio has a removable plate on the bottom of the cabinet so you can make these tests without removing radio from cabinet.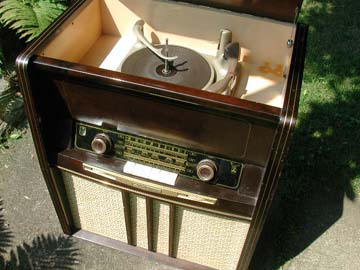 Grundig "Majestic 7061W/3D" console
The Grundig 7061W/3D is an AM/FM/SW console with a phonograph for 33, 45 and 78 RPM records. The model was made for export to the USA. It also has a N.O.S. (New Old Stock) Grundig replacement phono cartridge. The audio is rich; with full bass and treble controls, and the SW (shortwave) frequencies are easy to pick up.

Cleaning and polishing the wood cabinet of the Grundig Majestic 7061W/3D

When I first got the Grundig 7061W/3D console home, I cleaned and detailed the exterior as best I could. It was looking real sharp. However, after looking at the cabinet for several more days, I decided it needed to be cleaned and polished a little further. Note that the cabinet probably has a lacquer finish. First, to remove what may have been candle wax drippings, I applied linseed oil to loosen the debris. Then after letting it sit for five minutes, I used my fingernail to scrape those spots, which seemed to cover most of the cabinet top. I then used "rottenstone" (a powdered form of weathered and decomposed siliceous limestone used for polishing) and paraffin oil, as the cabinet top also had some fine scuffs, swirls and light scratches from what appears to be 50 years of normal usage. Unfortunately, there was also evidence of what appeared to be two cigarette burns in the wood. I first sprinkled some rottenstone powder on the top of the cabinet and then poured out a little bit of paraffin oil to go along with it. I mixed this into a slurry, and used a cotton cloth to hand rub it into the areas needing the most attention first. Once I was confident this was working, I also used a variable speed electric sander (set to the lowest speed) fitted with a buffing pad to go over the entire surface (with the slurry of rottenstone and paraffin oil) to put the finishing touch on it. Then, I wiped it all down with a clean rag and used buffer's polish to bring out the shine. The combination of the rottenstone and paraffin oil removed the small swirls and scuffs as I had hoped, but of course, the mixture did nothing for the two cigarette burns and the scratches that penetrated the lacquer surface. I bought the rottenstone, paraffin oil, buffer's polish and the Dewalt electric sander at Woodcraft in Henrietta Plaza on Jefferson Road (August 23, 2004).

Notes for Future Reference

To remove the remaining fine scratches in the lacquer finish, another thin coat of lacquer may be needed
Shellac may be applied and removed numerous times if desired, but polyurethane should be considered a permanent finish when it involves the cabinetry such as an old radio. Therefore, polyurethane is not recommended for use on radio cabinets.

Updates

Ordered new EM85 "magic eye" tube from tubesandmore.com / $36.70 / 09-sep-2005
---
Kutztown, Pennsylvania / September 18, 2004
The next two radios (Realistic "Globester4", and Grundig "2440U") were from my trip to Kutztown, Pennsylvania on Saturday, September 18, 2004. The unfortunate part about the Kutztown antique radio swap meet was that the northern remnants of Hurricane Ivan were passing through, making things extremely wet – with 35 mph winds. Fortunately, the show was under a pavilion, but even so, the winds were blowing so hard that everything (even in the center of the pavilion) was getting wet. Not an ideal situation for old radios, electronics, books, ephemera, (and people). Regardless, I was able to find a couple of bargains amidst the chaos. I made it back to Kutztown again in September 2005 and 2006, and it was much warmer and drier both times. Did not make the trek again until September 2011 (another nice, dry year).
Realistic "Globester4"
1971 Realistic (Radio Shack / Japan) "Globester 4" (also see "Astronaut 4") transistor, word band radio
Tuning Range
Frequency Modulated (FM): 88 - 108 MHz
Broadcast (AM): 540 - 1620 kHz
Marine Band: 1.6 - 4.5 MHz
Shortwave: 4.5 - 12 MHz
The Globester 4 appeared in the 1971 Radio Shack catalog for $39.95.

September 16, 2008
May 16, 2010
September 12, 2011
Adirondack Mountains
Near Long Lake, NY
South Lake Room
Taughannock Farms Inn
Trumansburg, NY
North Woods Inn balcony
Fourth Lake
Between Old Forge and Eagle Bay, NY
Canon AE1-PROGRAM
LG mobile camera phone
Canon AE1-PROGRAM
Kodak ASA 200 film
1s and 0s
Kodak ASA 200 film
Regardless of any preconceived notions (stereotypes) of Radio Shack's "Realistic" line of products, this portable world band radio is quite respectable. Judging from the style, I originally presumed it was made in Japan (for Radio Shack) in the early 1970s. In 2013, I found it listed in the 1971 Radio Shack catalog. It was in real nice, original condition, although I gave it a thorough detailing (cleaning) when I got back home. Unfortunately, tiny flecks of white paint on the vinyl case were impossible to remove. Sensitivity was good on all bands as it picked up distant AM and SW stations easily. I got it for the nominal fee of $15.

This robust little radio was meant to be a close personal companion, not a "boom box." It sounds great when twiddling the tuning dial to explore the bands. It does not perform as well when trying to fill a large space with sound, like when sitting by the pool, or washing the car.

The styling is classic, early 1970s. The case is finished in black vinyl with a carry handle. It has chrome accent strips and a metal speaker grille. The tuning dial background is black with an orange slide rule indicator. The face plate tuning scale is printed in the following colors: FM = orange, AM = yellow, MB = green, SW = blue. It also has a "log scale" printed in white at the top of the face plate.

This radio has been a steadfast companion on road trips and has provided many hours of late-night shortwave DX listening pleasure. On a sad note, some of the traditional shortwave broadcast stations (BBC, Radio Netherlands, etc.) have stopped aiming their signals at North America.

April 2, 2005: Did some AM (Medium Wave) DX-ing and easily picked up Washington, D.C., Boston, New York City, Connecticut, Toronto, Philadelphia, and Chicago – all in one night! From western NY state, that was quite reasonable reception. I have also listened to Radio CBC "Sunday Edition" on 9515 kHz from 13:00-16:00 UTC. I started a DX log to keep track of the distant stations I picked up.

Features

AC/DC operation switch (uses 4 "C" size batteries)
Telescoping antenna. Extends 30½". Tilts and rotates
Headset / Earphone jack: 3.5 mm Ø (roughly 1/8" diameter) *
External Antenna jack: 2.5 mmØ (roughly 3/32" diameter) **
Tone control knob
Fine-tuning dial for both SW and MB bands

When this radio was made (in Japan) there were two standard jack sizes: 2.5 mm and 3.5 mm. The 3.5 mm is roughly the same as a 1/8", and the 2.5 mm roughly corresponds to 3/32."

* Radio Shack "Stereo-to-Mono Adapter" (part number 274-368) enables the use of a stereo headset with the monaural output jack allowing the mono signal to be sent to both channels of the headset.

** Radio Shack refers to the 3/32" jack size as "sub-mini." The Radio Shack part number for the correct 3/32" connector is: 274-290 (phone plug / red / 2 conductor / fits 3/32" mono jack / comes in a package of 2). A wire can be soldered to the center terminal of the connector to be used as an external shortwave antenna. Use shrink tubing around center terminal after soldering.

Update / March 7, 2005:

The sound quality of the Realistic Globester 4 degraded quite suddenly in February, 2005. So I ordered a replacement speaker from Mouser Electronics (See

Links

). Price was $3.96 plus shipping. Mouser part number: 25SP035. Speaker is 3.5" Ø, 8 Ω, 0.8 W. The original speaker (a Pioneer) was rated for 1 W. Mouser had a .pdf file that illustrated the dimensions and this one looks like it will fit well. I replaced the speaker on March 12, 2005 and it fixed the distortion problem. The speaker from Mouser was exactly as their on-line .pdf file illustrated and fit perfectly into the tight space of the radio.

Update / March 17, 2005:

After replacing the speaker, the tuning dial squeaked a little bit. I discovered that the tuning dial string was rubbing against the insulating foam behind the speaker (which I replaced due to the original foam disintegrating). I cut the foam down to size and the tuning dial was silent again.
Realistic "Astronaut 4"
1974-1976 Realistic "Astronaut 4"
Update / April 6, 2007:
I discovered a similar radio known as the Realistic "Astronaut 4." The shortwave tuning range on the Astronaut 4 is significantly different from the Globester 4 (two bands covering 4-22 MHz). The Astronaut 4 appears in the 1974-1976 Radio Shack catalogs for $44.50 to $49.95.

Tuning range for the "Astronaut 4" version of this radio:
Frequency Modulated (FM): 88 - 108 MHz
Broadcast (AM): 535 - 1605 kHz
SW1: 4.0 - 12 MHz
SW2: 12 - 22 MHz
---
Grundig "2440U"


Grundig (West Germany) "2440U"

Years manufactured: 1961-1962
Serial number: 1322604668
Valve (tube) line up: ECC85, ECH81, EF89, EABC80, EL84, EM87
3 loudspeakers: 1 large, 2 small. All behind front grille

Tuning Range:
Broadcast (AM): 510 - 1620 kHz
Shortwave: 5.9 - 16 MHz
Frequency Modulated (FM): 88 - 108 MHz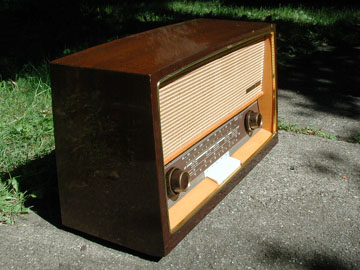 The Grundig 2440U is the second radio I found at the Kutztown, Pennsylvania swap meet (September 18, 2004). This admirable little beauty set me back $25. It had a small water stain in the bottom left corner of the grill cloth, and two small chips out of the top edge of the cabinet, otherwise, it was in fine cosmetic condition. As of 2011, I found several internet sites selling this model for $350 - $400.

Having been built for the 1961-1962 season, the Grundig 2440U tuning dial still bears the CD (civil defense) symbols for the AM band, which were required until 1963. In case you have forgotten, CONELRAD was the emergency radio broadcast system that was supposed to provide civil defense instructions in case of a nuclear attack by tuning to 640 kHz or 1240 kHz on your AM radio dial. As if your local radio station would still be broadcasting after they dropped the big one. CONELRAD stood for CONtrol of ELectromagnetic RADiation.

The schematic and "PhotoFact Folder" (Howard W. Sams Company / June 1965) for the Type 2440U was available from "Just Radios." The Sam's PhotoFact Folder includes the English schematic, annotated layout photos with part numbers indicated, and a complete parts list. The cost of the package was $5.00.

Refer to the

Glossary

for some notes about reading German schematics.
---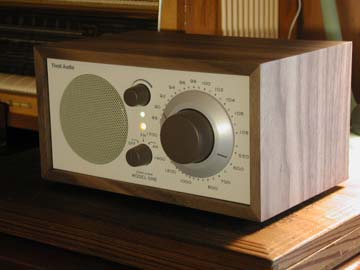 Tivoli "Model One" AM/FM (mono) table radio
Designed by Henry Kloss
This small, classically (retro) styled, monaural, analog radio was originally released in 2000 as the first product sold by Tivoli Audio of Cambridge, Massachusetts. Allegedly, the famous Henry Kloss came out of retirement in the 1990s to design this handsome, uncluttered unit. As of October 16, 2004 it retailed for $99 USD. I found a local Tivoli Audio agent ("Soundworks" on Monroe Avenue) through the Tivoli website. It is surprisingly heavy for its size, and appeared to be well constructed. This particular example has the Classic Walnut (M1CLA) wood veneer cabinet and off-white faceplate. It also came in other wood (both veneer and solid wood) and color combinations such as Hunter Maple (M1GRN) and Cobalt Cherry (M1BLU). The green pilot lamp on the front indicates the power is on, and the yellow tuning lamp varies in intensity depending on signal strength - a modern "magic eye" tuning indicator! The tuning dial has a 5:1 ratio so that stations can be tuned with greater accuracy. The first test I give any radio after bringing it home is to find out how well it picks up the low power college and community stations on the left end of the FM dial. The "Model One" pulled them in without any problems. I used the external wire antenna that was provided with the radio. The first two hours of listening was impressive because of its ability to pick up these marginal FM signals. I imagine it must be a common desire among radio listeners (living well outside metro areas) to want the benefits of cultural and eclectic programming that certain low power community and university stations can provide. The radio "must not realize it is small" because the undistorted amplification of these marginal FM signals was quite good. It is interesting that no external tone adjustments have been provided. As someone who listens primarily to jazz and classical music, I found the fixed audio quality of the speaker to be quite acceptable. When tuned to modern "progressive / alternative" stations, the bass response was also good.

My older Grundig vacuum tube radios have varying degrees of success picking up the weaker FM stations. On the other hand, my 1989 Grundig "Satellit International 400" picks up these weaker signals without any difficulty whatsoever, but the sound is not quite as good as the Tivoli "Model One." So, I will use the "Model One" to do my "alternative listening" while the local NPR affiliate goes on their tedious pledge drives. That is (of course) after making a pledge to the local NPR station.

As I wrote this overview, I had the Tivoli "Model One" radio tuned to a 3,000 Watt FM college station (WRUR) during a classical music program and had the volume turned up about ¼ of the way. I am located about 30 miles from the station's transmitter. The radio was sitting on a shelf – behind, and slightly above me in an 11'x14' room. During one of the louder selections, it was really filling the room with sound. As I looked over my shoulder at the radio, I was reminded of how small (slightly larger than a brick) it actually was. The sound seemed to be coming from a much larger enclosure. Sensational!

From what I have read, the "Model One" uses the same technology that enables cell phones to produce clear audio even with weak RF signals. According to Tivoli, the designers of the Model One used GaAs MES-FET technology to increase both sensitivity and selectivity. Sensitivity is the radio's ability to pick up weak distant stations. Selectivity is the radio's ability to reject signals that are close to the desired frequency. As far as what GaAs MES-FET means, I can tell you by looking at the Periodic Table of Elements that "Ga" is Gallium and "As" is Arsenic. Further, "MES" stands for Metal Semiconductor and, "FET" is a Field Effect Transistor. Referring to an electrical engineering glossary, I found this definition for GaAs MES-FET: Gallium Arsenide Metal-Semiconductor-Field-Effect-Transistor: A transistor, built with gallium arsenide semiconductor material, with a conducting channel positioned between a source and drain-contact region. Search the internet for more information, applications, and trade-offs regarding the use of this technology. Further discussion is beyond the scope of this page.

Update: July 15, 2006: After nearly two years of enjoying the Model One, the radio still looks, sounds and feels like new. I have not used it to listen to many AM stations, but it does pick them up when I want to focus on the broadcast band programming. Also note that the price has risen to $119. An increase of $20 in less than two years. The "Platinum" Series (solid wood cabinet instead of veneer) sells for $199 as of July, 2006. As of August 2014, the price of the Tivoli Model One was $149.

Update: January 10, 2007: Bought a new Tivoli Model One (as a gift for my wife's mother) in December 2006 and the combination switch for "OFF/FM/AM" also included a new postion for "AUX" to select auxiliary input. My original Model One did not include the AUX position (see photo).

History about the Designer of the Tivoli "Model One" Table Radio...

In 1954, Henry Kloss dropped out of MIT to start Acoustic Research (AR) in Cambridge, Massachusetts where he and Edgar Villchur developed and had a lot of success with the first acoustic-suspension (sealed cabinet) speaker, the Type "AR-1." It was relatively smaller than what was in use at the time, and cost only 1/3 the price of other contemporary high end speakers. The AR-1 speaker paved the way for high fidelity audio for the masses. Later, at KLH a company he formed in 1957 with partners Low and Hofmann, he designed the famous KLH "Model Eight" (circa 1960), which was a tabletop FM-only high fidelity tube radio and the "Model Eleven", the first compact portable stereo. Another interesting radio designed by Henry Kloss is the Advent "400" (FM mono only). He designed that while at Advent, a company that he formed in 1967. The Advent company became famous for their loudspeakers but it was initially set up so that Mr. Kloss could pioneer the development of projection television. Curiously, the Braun Type "SK22U" tube radio (late 1950s to early 1960s) may have had some influence on Henry Kloss' work simply based on its pure, functional, minimal exterior styling. There is also currently a Tivoli "Model Two", which looks almost exactly like the "Model One" but has an extra cabinet for the second stereo speaker. Henry Kloss was born in 1929 and died in 2002 at the age of 72. According to Kloss, the quality of many radio receivers had declined because people did not think in terms of buying something that would last them twenty years. "It's the times. Things are so cheap that I will buy it, and if I like it, then okay. If I don't like it, I can always get another one. There is no consideration given to a purchase that would be satisfactory for use over a long period of time. People are not asking for good radios. There is no demand for such because people do not know you can get them," he said. Incidentally, Henry Kloss drove a Mercedes-Benz diesel, which he bought new, 17 years prior (circa 1985) to his death. More references to Henry Kloss can be found on the AR-2a loudspeaker restoration page.

Update / August 1, 2005:
Ordered a new AC power cord directly from Tivoli Audio for $5.00. Dealt with the Customer Service Manager, Brian Lewandowski to make the transaction. My original power cord became damaged due to my own negligence.

Brian M. Lewandowski
Customer Service Manager
Tivoli Audio
451 D Street, Suite 902
Boston, MA 02210
t: +1 (877) 297.9479 x102
f: +1 (617) 428.0088
Brian Lewandowski
blewandowski ]at[ tivoliaudio.com
---
Grundig "Transistor 1005 Automatic"


Grundig "Transistor 1005 Automatic" ("Concert-Boy Automatic 210")
Years manufactured: 1970-1972
Fürth / Bayern, Germany
I bought this radio from an eBay auction on March 6, 2005. The "buy now" price was $169 plus $15 for shipping. Probably a bit more than it was worth, but the seller assured me it was complete and in good working order. He was right. I was attracted to the period styling, with lashings of chrome and brightwork, along with the black sides and handle. This was a popular style from the late 1960s through the 1970s. This may be one of the last Grundig radios actually manufactured inside Germany. I am not sure when Grundig production shifted to other countries (Portugal, Great Britain, Austria) but my guess is that it was by the mid-1970s.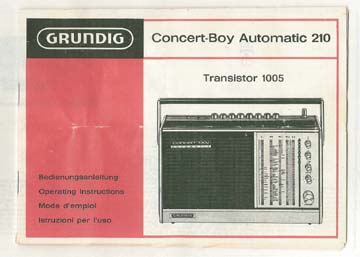 The seller included a color photo copy of the Operating Instructions manual. If you know where I can find a hard copy of the original manual, please contact me. Note that the Service Manual is available from the "Manual Man" (See Links).

Tuning Range / Bands / Features:
LW (145-400 kHz), AM (510-1620 kHz), SW1 (5.9-6.2 MHz), SW2 (6.1-16 MHz), FM (87.5-108 MHz).
Double extension telescoping antenna; tilts and rotates. Raise it with the lower knob to 31½" for FM reception. For SW, raise it by the upper knob to its full length of 45½."
Illuminated tuning dial with sliding dial markers for station designation.
Bass, treble and SW fine tuning rotary controls and AFC switch for locking in those FM stations.
Phono button for playback of external source through rear panel jack.
Battery test button and meter. Battery case holds six D cells.
Rear panel jacks for external antennas and earphone/speaker.
Rear panel earphone jack is 3.5 mm Ø (DIN 45318) (1/8" Ø).
Measures approx. 14"W x 8¼"H x 4¼"D.
Weight: 10 lb 1 oz.
Build date: 1970.
Build location: Grundig - Werke GmbH - 8510 Fürth / Bayern - Kurgartenstr 37.
In Grundig's "Satellit" series it most closely resembles the "Satellit 210" – made from 1969-71.
The European version of this model is called, "Concert-Boy Automatic N210" and only differs in appearance on the faceplace with the labels being in German instead of English.
Grundig "Transistor 1005 Automatic" – Getting Out of a Rut

Photo 1. nice fall day (63°)

Photo 2. orange dial pointer

Photo 3. peek inside
Photos taken October 27, 2017 / iPhone 7

Update / October 23, 2017:

Problem Description

Talk about getting stuck in a rut. On this particular radio, the band switches and control knobs were rarely changed or adjusted. Everything (band, volume, bass, treble, AFC) were pre-set to one functional specification. The power button occasionally saw some action, but other than that, it stayed on one station—year after year.

Went out on a limb the other night and attempted to change the station, but the tuning knob would no longer move the dial pointer or change the frequency. The knob turned reluctantly, but not much else happened. It felt like it was slipping, so the orange dial pointer and frequency were both stuck on the station it was tuned to about 10 years earlier.

Solution

The journey to the bottom of the radio began. First, removed all front panel control knobs. Next, removed the hinged, back panel (revealing the battery compartment, AC transformer and power cord–with original, inline on/off switch). The back panel had two sliding, plastic latches at the top (see Photo 3) and two metal hinges at the bottom – each with two tiny screws. Noted the batteries (six D-cells) were replaced September 1, 2008 (see red sticker in Photo 3) yet still measured 1.5 volts. Did the easy stuff first (cleaning, dusting, vacuuming out the cruft) while mentally gearing up for whatever seriousness lay ahead (perhaps a broken dial cord or corrosion). Then, from the back, removed every screw in sight (six or seven total). Carefully lifted the top panel off (where the various push-buttons are located) and simultaneously removed the innards, including the circuit board, tuning section, etc. Finally gained limited access to the large tuning potentiometer near the top left side (looking at the back of the opened radio). Set the radio on its right side (looking at the back) to aid in the examination of the dial cord and tuning pot. Discovered the dial cord was intact.

The tuning potentiometer had apparently seized from lack of use. At first, it was difficult to move by hand, but eventually, I managed to start working it back and forth (with thumb and forefinger wedged into a narrow opening) while adding a few drops of light oil (hobby shop / model train variety) with a needle-nose applicator. After a few minutes using this technique, the rotation became free and easy. DeoxIT may have been a better lubrication choice, but it didn't occur to me at the time. Cleaned everything up, put it all back together, and it was good again. Noticed a tiny bit of slack in the dial cord, so when rotating the front knob to change tuning direction, it would move just a skosh before grabbing and pulling the pointer up and down the dial.

The objective was met, and the little German shortwave receiver could once again perform active duty. It was placed back up on the shelf, surrounded by books and other radios. Even if the tuning knob wouldn't be touched for another few years, it was good to know it had the capability to surf the globe.


---
General Electric "T128H"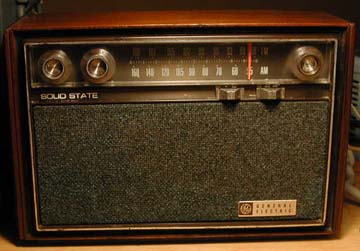 General Electric (USA) "T128H" AM/FM
This AM/FM radio was found at a garage sale in May 2005 for the price of $1.00. Wood cabinet, and cloth speaker grille. AC only with FM antenna jacks at the rear. Decent reception and sound quality. It needed a complete cleaning and detailing. I used "rottenstone" on the wood cabinet (rottenstone is a powdered form of weathered and decomposed siliceous limestone used for polishing) and paraffin oil, as it had some fine scuffs, swirls and paint from what appears to be 30 year's worth of normal usage.
---
Grundig "Classic 960"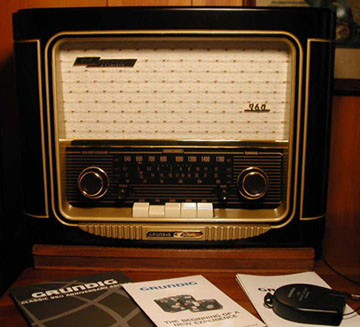 Grundig "Classic 960 / 50th Anniversary Edition" (second edition)

Tuning Range / Features:
AUX: Auxiliary
FM (Frequency Modulated): 88.0 - 108 MHz
SW2 (shortwave): 12 - 22 MHz
SW1 (shortwave): 4.5 - 12 MHz
MW (AM): 530 - 1710 kHz
This retro-styled radio features a dark wood cabinet with brass colored accents, and five ivory colored (piano style) push buttons for AUX (auxiliary inputs), FM, SW2, SW1 and MW (AM). It has a multipurpose "on-off-volume" switch and knobs for bass, treble, and frequency tuning. There is one large (102 mm 8 Ω 5W) speaker in the front covered by a period grille cloth design and also a speaker (102 mm 4 Ω 5W) on both sides of the cabinet behind the same style grille cloth. The front grille also has two brass labels affixed to it. One says, "HI-FI Sound" and the other says, "960." The back of the radio is made of the traditional particleboard, which includes model designation, technical specifications and serial numbers. Curiously, the back of this solid-state radio also includes a series of small round holes for heat dissipation, as if it were using vacuum tubes. When I first looked through the holes there appeared to be the faint glow of tubes, but it was only the tuning dial lamp. At the bottom, there are two RCA connector AUX inputs marked "R" (red) for right channel and "L" (white) for left channel (for CD or tape player, records or VCR). An FM/SW ANT. input (for the external FM/SW antenna wire, which is provided), an ANT. selector switch (toggles between "AM ANT." and "FM/SW ANT.") and screw terminals for both GND. and ANT. connections. The dimensions of the radio are: 15.25" L x 6.5" W x 11.25" H. The weight is: 4.2kg. Even though the top of the tuning dial says, "Grundig Germany", this radio was made in China (by Tecsun). It is interesting to note that in China, this radio is also known as the Tecsun model "1959." The Tecsun model 1959 was superseded by another style of antique (reproduction) radio, but they kept the same name, so both style "Tecsun 1959" radios will turn up in an internet search.

This is the radio responsible for raising my awareness of older European style radios several years ago (circa 2004). When I saw the Grundig Classic 960 advertised in catalogs, I began looking on-line to see what other European AM/FM/SW radios from this bygone era were like. Prior to seeing this style, I was primarily familiar with the ubiquitous American brands such as Zenith, Philco, General Electric, RCA-Victor, and the like. The on-line technical reviews for the first edition of the Grundig "Classic 960" were only marginal to fair, but the second edition, released in March 2002, was reported to be technically improved. So, after several years of reading reviews, and debating the pros and cons of ownership, I finally bought the updated version of the 50th anniversary edition of the Grundig Classic 960. I purchased it at The Source By Circuit City in Bracebridge, Ontario, Canada, July 26, 2005. The price was $149.00 CAD plus Canadian taxes (the base price worked out to $126 USD with 0.85% exchange rate). The package included a useful beginner's shortwave listening/reference guide, an owner's manual, and a retractable external FM/SW wire antenna (10 meters long).

There are several ways to visually distinguish the first and second editions of the Classic 960 from each other. Click on this link and examine the lower portion of the tuning faceplate. The first edition included rectangular blocks with country names (located between the treble and bass tuning knobs). On the second edition (the one I purchased) the same area features horizontal lines with no text. The speaker grille cloth pattern is slightly different as well. There are fewer dark threads in the pattern of the second edition (see the link). Also note the position of the "HI-FI Sound" label on the grille cloth. On the first edition, it is lower and farther to the right than the second edition, which has it affixed close to the top left of the grille cloth. Another way to tell them apart is by the original box (if available). The first edition Grundig "Classic 960" came in a white box with pale green accents, an illustration of the radio, and a portrait of an urbane young woman in the style of mid-1950s advertisements. The second edition box is black, and features a photograph of the radio as well as photo of a bearded man in a black tuxedo holding an orchestra conductor's baton. The box that my radio came in (the second edition) says, "2518 02/03" suggesting it left the factory in February 2003. The "2518" is probably an internal factory code, not a specific serial number. There are two serial numbers on the back of the radio. Both editions came with the retractable external FM/SW wire antenna (10 meters long), the owner's manual, and the shortwave listening/reference guide.

The reception was not quite as bad as some of the on-line technical reviews seemed to suggest, although I have radios that can pick up distant FM stations (75 miles away) that this radio does not seem able to hear at all. With the external antenna, the reception of these distant and/or low powered FM stations was only marginal and sporadic. Fresh out of the box, night time AM DX-ing was interesting in Ontario, Canada. I was able to pull in most stations from the Georgian Bay region while I was staying in Bracebridge, Ontario. Of course, Bracebridge is part of the Georgian Bay region, so this would be expected. Some of the stronger stations in Canada seem to be run by the CBC (eg. CBC1 and CBC2) and they were easy to pick up. I also picked up WHAM (50 kW from across Lake Ontario in Rochester, NY) with no problem. Other than a simple one night test in the hotel to see if the radio was basically functional, I did not attempt to tune any more distant stations.

The sound quality of the Classic 960 is unfortunately not as good as the old Grundig units. The bass response is not as deep and full as on the original models. Even with a wood cabinet, the sound quality (when tuned to FM stations) is average at best. They probably should have used better speakers. The tuning dial action was reported to have been improved in the second edition, and I can report that tuning shortwave stations with the Grundig Classic 960 (second edition) is no more difficult than with old vacuum tube shortwave radios. However, I found that once I tuned into a station, I did not find it necessary to repeatedly fiddle with the dial to keep the signal clear. The shortwave beginner's guide (provided) goes into some detail about how to tune shortwave stations. The guide suggests tuning slowly and deliberately to grab the signal.

Because the numbers on the tuning faceplate are painted, the dial lamp is not capable of back-lighting the numbers at night. How could such an oversight be allowed to happen? Photographs of the faceplate will mask this problem because the numbers are painted gold, and appear to be illuminated from behind. Also, on my radio, the front of the cabinet has raised bumps where (presumably) nails or tacks were used from inside the cabinet. This amounts to a quality control problem. The bumps are smoothed-over, and painted as the rest of the cabinet, but are quite noticeable in direct sunlight. If the radio is kept out of direct sunlight, the bumps are not noticeable.

Intriguing (and useful) enhancements might have included a stereo signal indicator, and a signal strength indicator similar to the old green "magic eye" tubes. At this late date (2005), several years after the initial release of the Grundig Classic 960, I doubt there will be a third edition to make up for the shortcomings and quality issues mentioned in this review. Grundig (actually, Tecsun) made a nice effort to resurrect the model 960, but I wish they would have paid more attention to details.

I will close this review by saying it was definitely a fun moment to open up a brand new pseudo-vintage Grundig radio from the box. Imagine how thrilling it must have been to bring home a new, high-quality vacuum tube radio in the 1950s and 1960s. Overall, the Grundig Classic 960 looks nice on the shelf, but only performs as an average AM/FM/SW radio.
---
Telefunken "Bajazzo Sport"
In Germany, this is known as a "kofferradio" (suitcase radio) because of its small size and portability. By today's standards, it seems heavy (2.8 kg / more than 6 lbs), but in 1964, it represented the latest in modern styling, portability, and high quality. At that time in Germany (and other European countries), automobile radios were rare. This Telefunken was designed to function as a car radio using the 12 V car battery as a power source. An exterior antenna could also be plugged into the radio. The "automobile" (graphic symbol) push-button enables the radio to run on 12 Vdc. It also may have been capable of being inserted into a mounting bracket under the dashboard. However, the exterior of this model suggests its primary function was a hand carried portable because it is finished in relatively delicate vinyl, with chrome accents. If the radio were to be mounted into an under-the-dashboard bracket, damage may occur to the finish. So, it may have been placed on the passenger's seat or foot-well while it was plugged into the battery and antenna. If any readers have OEM facts for this radio showing how it was to be used in a car, please contact me.



Telefunken Bajazzo Sport
High quality portable transistor radio, which was designed to also be used in an automobile

Tuning Range / Features:
KW (shortwave) 6 - 12 MHz
MW (AM) 520 - 1600 kHz
UKW (FM) 88 - 108 MHz
Kanal (Channel) 5 - 55

"AUS" (On / Off / Volume) knob
Separate "UKW" (Ultra Kurtz Welle) (FM) tuning knob
Separate "M-K" (Mittel Kurtz) (Medium shortwave) (AM and shortwave) tuning knob
"KLANG" knob (tone adjustment)
"UKW" push button switch
"MW" push button switch
"KW" push button switch
Automobile (graphic symbol) push button switch (12 Vdc automobile power input)
Arrow or Envelope (graphic symbol) push button switch (AFC / Automatic Frequency Control for FM )
12 Vdc input jack on lower left of radio body
Antenna input jack on lower left of radio body
Telescoping antenna. Extends 26½." Tilts and rotates
Weight: 2.8 kg (98.8 oz = 6.18 lbs)
Powered by (6) 1.5V C-size cells or 12 Vdc (automobile)
The handle pivots to support the radio at a low angle, which affords a convenient view of the tuning dial

I found this modest looking radio at the annual Antique Wireless Association (AWA) swap meet on Wednesday, August 24, 2005. Its size and understated Teutonic styling belied its strong performance. It looked quite undistinguished sitting amongst the other radios on the table but I noticed it because of a "sixth sense" that enables me to identify European radios from great distances! With a borrowed set of batteries, the Bajazzo Sport played wonderfully and strong, which was remarkable for its age and a true testament to the quality of its design and construction. It was 41 years old at the time.

The tuning dial is annotated with German designations for its various controls because this particular radio was built for the German domestic market (not for export) and somehow found its way to these shores. What impressed me (after an obliging vendor loaned me 6 C-size batteries) was that it was able to receive a French speaking AM station from Montreal, Canada - some 250 miles away, as the crow flies - loud and clear at 10:30 in the morning (conditions were clear and sunny). Also, the reception of a low powered FM college station was clear and strong without having to raise the antenna at all. A friendly fellow by the name of Paul Hyman (of German heritage, from Johnstown, PA) was behind the vendor's table and said that the Telefunken "Bajazzo Sport" was quite common on the German eBay on-line auction site (www.ebay.de). Sure enough, when I searched www.ebay.de, there were six different Bajazzo radios being auctioned at the same time. He also informed me that there was a more "de luxe" model of the Bajazzo radio, which features separate bass and treble controls and a few more bells and whistles. I later verified that the Telefunken "Bajazzo de luxe" (also a portable transistor model) includes a few more features as well as being enclosed in a teak wood case. In 1967 the "de luxe" model sold for $125 in the USA. Another model from the same series, the Bajazzo "TS 201", also features a teak wood case. There is also a similar model called the "Banjo."

During its first year of production (1964), the original price for the Bajazzo Sport was 399 Deutschmarks. That was a lot of money. I paid $35 for the radio and all it needed was a little detail cleaning and a fresh set of batteries. I could also factor in the "price of admission" to the swap meet. AWA membership is $20 and the AWA Conference registration fee (at the door) was $28. I missed the chance to pre-register, which would have knocked $6.00 off the registration fee. Several weeks prior to the conference, I sent an email to the club asking about the early registration fee and whether or not it applied to vendors only, or included general admission to the entire conference and/or the swap meet, but my message went un-answered. So this radio actually cost me $83 – if you will – not including the day off from work, the price of diesel fuel to drive 30 miles to and from the conference and the $5.00 spent on lunch.

Update / July 29, 2006:
I received a nice e-mail from Steve Birch of London, England, regarding his own Telefunken "Bajazzo Sport" radio...

To: Jeff Miller
From: Steve Birch / London, England
Date: July 29, 2006

Dear Jeff,

"I still own the radio (Telefunken Bajazzo Sport) that my dad won in a raffle in 1964 when I was 7, living in Germany, with my mum and soldier dad. It is in excellent condition apart from missing the top of the (slightly bent) aerial, and the small plastic inserts that protected the three side sockets. I realize, having glanced through your site, that there was of course no way we could have ever afforded to buy one. The original price (399 Deutschmarks) is four times what my mum paid for the car she bought (for my dad as a surprise on his return from a longish military exercise).

From memory, the radio used to sit on the floor, in the foot well of my mum's seat in firstly, our old Ford Prefect (registration no NU 92 B - isn't it amazing what sticks in your memory from childhood?) and then in the same place in our Ford Anglia, when it was ever used in the car. The car aerial lead would stretch that far, but I don't recall a power connection and assume it was running on batteries. I never knew of one to be fitted to a car.

We also used it for camping trips and it used to attract a lot of attention from German campers, but I never knew why at the time. Probably because 399 marks was more than a month's wages for a lot of people back then. I also remember the only time any of us saw another Bajazzo Sport in England. It was in a TV advertisement for DIY (Do It Yourself) equipment (I think) and it was sitting on a garden table playing away while somebody painted their house or fence, something like that. I should also mention that I have never seen a similar radio in real life outside of Germany."

Regards,
Steve Birch
Update / October 21, 2009:
I received an e-mail from Martti Peräaho of Finland, regarding his Telefunken kofferradio ("suitcase radio"). This section of the page is turning into a nice collection of international correspondence about the Telefunken Bajazzo radio!

To: Jeff Miller
From: Martti Peräaho / Finland / martti.peraaho ]at[ utu.fi
Date: October 21, 2009

Hello from Finland!

When Googling for information, I came across your site, "Hands Across the Ether", which I found very interesting. Your description of the Telefunken Bajazzo was of special interest, as I own an example that is in very good condition.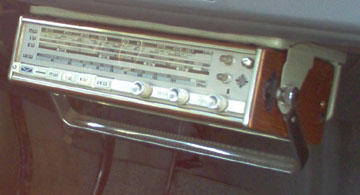 Since you requested information on how this type of radio was used in a car, I enclose a photo of my vintage 1969 Saab model 96, which is equipped with an original Telefunken mounting bracket under the dashboard. The exterior antenna is plugged into a hole in the radio, and it can be easily removed by unlocking the two screws holding the handle.

Hope this bit of information is of use to you.

Regards,
Martti Peräaho
More about the AWA swap meet and conference on August 24, 2005:

I also found a couple of interesting books at the AWA book fair, which was part of the annual conference and swap meet. One was "Seizing the Enigma" (David Kahn / 1991), the story of cracking the German U-Boat code during World War II. The other book was "Prime Time" (Alexander Kendrick / 1969), the life story of Edward R. Murrow.

I also attended the 2:00 p.m. (1800 UTC!) lecture by Bart Lee (KV6LEE) about a radio experiment scheduled for December 2006 to verify (as much as possible) if it was really possible and probable for Mr. Marconi to hear what he claimed in December 1901 in Newfoundland. Factors such as the time of day, and the frequency of 833 kHz (in the middle of the broadcast band) has cast a shadow of doubt on what Mr. Marconi could have actually heard. On the other hand, Bart Lee thinks that other parameters may have been quite favorable for Marconi such as the winter solstice and the sun spot cycle as well as the terminator line (the cutoff point for sunlight at a given point on earth at a given time). The sun spot cycle was at an 11 year low in December 1901. At the time, they did not know about ionospheric "skip" either. Well, the sun spot cycle will be at its lowest point again in December 2006 and so there are a number of people and radio clubs intending to find out if a CW beacon signal at 833 kHz (Marconi's original frequency) originating from England can in fact be heard in Newfoundland or in other places, if at all. Search for the Poldhu Radio Club's website for more information.
---
Telefunken "Opus 7"




Telefunken (West Germany) "Opus 7" Superheterodyne Hi-Fi System
Years manufactured: 1956-1957
Model 2 - "modern cabinet, dark walnut, highly polished, dark dial, light buttons"

The term "modern" (above, for Model 2) refers to the fact that "Model 3" (simply a cabinet variation) used an earlier cabinet design. Model 1 also had a modern cabinet, but featured a

blond finish, green dial and light buttons

.


Valve (tube) lineup: ECC85, ECH81, EF89, EF89, EABC80, EC92, EL84, EL84, EM80 (magic eye)

Tuning Range / Features:
AM: 515 - 1620 kHz
FM: 88 - 108 MHz
SW: 5.9 - 18.5 MHz (50.8 - 16.2 m)
Separate bass and treble control
Rotary ferrite rod antenna for AM
Separate tuning controls for AM and FM/SW
Size: 25.5" x 16.5" x 11"
Weight: 15.8 kg (34.8 lbs)

Highly polished dark walnut cabinet
"Selectovox" (pre-set tone modulation) push buttons for Intim, Bass, Orchest., Jazz, Solo
Six-speaker system: 2 perm. dyn. bass 8.5", 2 perm. dyn 4", 2 electrostatic tweeters 2.8"
Two dial lamps 7V/0.3A (per owner's manual). Probably a Type 40 bulb

Made by Telefunken for the 1956-1957 season. The original 1957 price was $299 in the USA. I found this beautiful example when I visited Ross Hochstrasser's radio and clock repair shop in Whitman, Massachusetts on September 1, 2005. He had already done the overhaul, replacing old capacitors and the selenium rectifier, etc. and planned to keep it for himself, but he eventually agreed to sell it to me for $500.00. He included an original owner's manual, an original schematic (enclosed in an envelope inside the back of the radio) and a photocopy of the numerous Telefunken service sheets and parts list (NLA from Telefunken of course). He also put a new EM80 "magic eye" tuning tube in it before I left the shop. Meeting Ross was informative and inspirational as he graciously spent almost five hours discussing various aspects of collecting and restoring old European radio sets. I tried to absorb as much information as I could during that time, as well as took some brief notes. I guess expected my visit to last 30 minutes or maybe an hour at best. He was generous with his time and knowledge for the purpose of keeping these old radios alive.

The radio plays strong and sensitivity and selectivity both seem to be quite good. The sound quality is as good as it gets with radios like these. The "Selectovox" (preset push buttons) enable the listener to tailor the sound to the type of music they are listening to. The EM80 tuning eye tube glows brightly.

Refer to the Glossary for some notes about reading German schematics.
---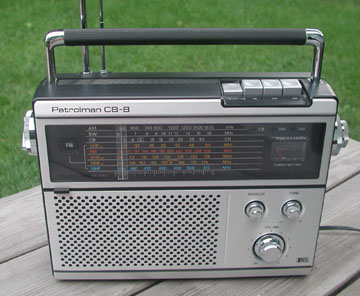 Realistic (Radio Shack) "Patrolman CB-8"
8 band portable AC/DC radio
Catalog number 12-763
Coverage:
AM - Standard Broadcast (520 - 1620 kHz)
SW - shortwave Broadcast Band (6 - 18 MHz)
CB - Citizen's Band (26.965 - 27,405 MHz)
VHF LO - Public Service Band (30 - 50 MHz)
FM - Standard FM Band (88 - 108 MHz)
VHF AIR - Aeronautical Services Band (108 - 136 MHz)
VHF HI - Public Service Band (144 - 174 MHz)
UHF - Public Service Band (450 - 512 MHz)

This radio was introduced in the 1978 Radio Shack catalog. Classic 1970s styling! Only needed a cosmetic detailing. Works well on AC. Have not verified DC operation. Included the original Owner's Manual (excellent condition).
The 1978 Radio Shack catalog introduced the Patrolman CB-8
DC operation: 4 C-cells.
AC operation 110 Vac mains.

Features two tuning dial lights and a signal strength meter! Separate antennas for UHF and FM. Internal AM antenna.

Purchased at Winterfest (amateur radio ham fest) in Horseheads, NY.
Date: February 25, 2006
Price: $20.00
---
Realistic "DX-160 Solid State Communications Receiver"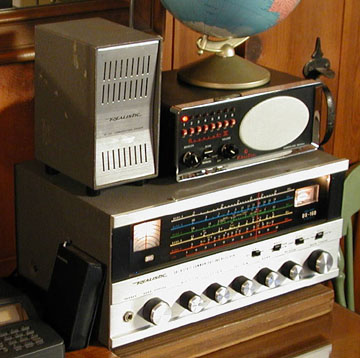 Realistic "DX-160" / Made in Japan (1975-1980) for Radio Shack by General Research of Electronics, Inc.
This photo includes several radios. The centerpiece is a Realistic (Radio Shack / Japan) "DX-160 Solid State Communications Receiver" with original, model "SP 150 Communications Speaker." Also shown (on top of the DX-160) is the Electra "Bearcat III" 8-channel crystal controlled scanner. The removable power cord of the Bearcat III uses a 4-pin "Jones" plug. I got the Bearcat III scanner for $2.00 (mint condition) at the Antique Wireless Association (AWA) Spring Meet at the Bloomfield elementary school on May 5, 2007. A Grundig "Mini World 100 PE" is leaning against the DX-160. In the larger photo (click photo above) there is also a Radio Shack "PRO-2014" 50-channel programmable scanner. Photo: January 20, 2008.

Tuning Range:
Range A = 150 - 400 kHz (coverage gap between 400 kHz - 535 kHz)
Range B = 535 - 1600 kHz
Range C = 1.55 - 4.5 MHz
Range D = 4.5 - 13 MHz
Range E = 13 - 30 MHz
Log scale = 0 - 100

Modes: AM or SSB/CW (adjustable BFO pitch for SSB)

Features: ¼" headphone jack, ¼" remote speaker jack, standby switch (mutes audio output, but keeps power and dial lights on), fast/slow AVC selector switch, RF gain, antenna trimmer, BFO pitch control. Adjustable band spread (left hand meter in photo). Can be powered by 12 Vdc or 120 Vac. The combination switch for power (on/off) and volume is labeled, "AF Gain." Has a signal strength meter calibrated in "S units" (right hand meter in photo). Has 1 IC, 5 FETs, and 6 Transistors. Original price in 1975 was $160.

Purchased the DX-160 on eBay / 18-may-2006 / Arrived 02-jun-2006 from Tennessee / $66 + $20 freight. Both the radio and speaker were in "less pristine" condition than I was hoping for. They were completely functional and intact, but the gray metal enclosures were scuffed up just a bit. The audio is "communications quality" (similar to a police scanner). High fidelity was not a feature of many SW radios. They were only made to listen to the broadcast coverage bands. The DX-160 is quite common today (June 2006) and there are several being sold on eBay at any given point in time. Wait for one that includes the speaker, and original owner's manual. Sometimes, well maintained examples also include the original box. Be prepared to scrape a little extra coin together for those.

One of the reasons I was interested in this radio was the retro styling. I was a teenager in the 1970s, and remember when they were new. I also admire the quality of vintage SW radios made for Radio Shack. They may not be the absolute best, but for the price – they have a fair amount of value. The owner's manual and service manual are both readily available on-line in .pdf form.

With a 30 foot random wire antenna (#20 AWG), the sensitivity is adequate. It is a decent shortwave radio with stylish retro looks. A good choice for those wishing to become familiar with the ham bands and international shortwave broadcasts.

On February 23, 2008, I picked up a DX-150 (1969 - 1971) at the 27th annual Elmira Winter Hamfest. Price was $45 but there were "birdies" (heterodyning) up and down the AM (BC) band. The DX-150 has 30 semiconductors. I sold it at the Rochester Hamfest that following June.

DX-150 / DX-160 References and Resources:
---
Telefunken "Jubilate de Luxe" Type 5461 W
Telefunken (West Germany) "Jubilate de Luxe" Type 5461 W
Years manufactured: 1963
Serial number: 699115
Alternate photo / November 28, 2007
Valve (tube) line up: ECC85, EABC80, ECH81, EL95, EF89, EM84
Magic Eye tuning tube = EM84 (6FG6/EM84).

AM/FM/SW table-top radio with push buttons and Type EM84 "magic eye" tuning strength indicator. Wood cabinet, plastic controls, glass faceplate, illuminated by one (slightly off center) Type 40 bulb.

Tuning dial pilot lamp (one required) is Type 40, 6.3v, 150mA (0.15A) miniature screw base, cylindrical bulb, clear glass. The pilot lamps are typically sold in packages of 10 at vintage radio swap meets and by the usual on-line sources. See Links.

Purchased at the Batavia Hamfest on July 29, 2006. Located on Route 98 about ½ mile south of Alexander, NY. Price was $40.00. This turned out to be a 100% original radio that appeared to have never been opened. Cabinet and controls were in excellent condition. Played quite well, and smelled good when it played too! Must have been all that dust heating up inside. It was amazing that this 43 year old radio was in such good condition.
---
General Electric "Superadio III"
General Electric "Superadio III" Model 7-2887
Date / Factory Code: 5610 RA
Photo: January 6, 2007 (less than two weeks out of the box)
Tuning Range:
AM: 540 - 1700 kHz
FM: 88 - 108 MHz
The GE "Superadio III" is a portable, solid-state, analog, AM/FM, monaural radio, with above average AM reception, slide-rule tuning, and unconsciously outdated 1980s styling. It is a cult favorite among AM band DXers (long distance listeners) because the performance is high and the price is low. Even so, it gets mixed reviews ( internet chat groups) because some owners have reported quality control issues. There are some useful on-line support networks, and technical web pages to aid the Superadio III owner, should questions or problems arise. Grove Enterprises (Monitoring Times) sells it for $54.95 (down from $59 six months ago) and once in a while, an eBay vendor will present the radio brand new, and in the box for $32, so it pays to shop around.

This GE Superadio III was purchased by my wife on September 13, 2006, at the hardware store in Old Forge, New York and given to me on December 25, 2006. My initial impression was that it appeared to be well constructed and "substantial", especially with the six "D" cells installed. In addition to its reputation for good AM reception (due in part to the internal, 200 mm, ferrite rod antenna), I also found it to be quite attractive because of its traditional, somewhat outdated styling. Happy to report that it passed the AM/FM "weak station test", but the act of tuning was more akin to an analog shortwave receiver, meaning, the tuning dial had to be turned back and forth with a certain amount of finesse to capture both the weak stations, and stations close to each other. The audio quality is acceptable, and there are separate bass and treble adjustments so it can be tailored to each listener and/or type of programming. Overall, the GE Superadio III seems like a good, traditional AM/FM radio for the money, with the ability to receive distant AM stations with relative ease. My only complaint was that it had minor, yet permanent scratches on the top, front, right corner when it was first removed from the protective plastic wrapping. The handlers at the factory need to be more careful.

GE Superadio III References:
---
Blaupunkt "Sultan"


Blaupunkt (Germany) "Sultan" (Type 20203) AM/FM/SW table-top radio
Serial number: 001261
Years manufactured: 1960-1963
Photo: July 24, 2007

Valve (tube) line up: EABC80 (6AK8), ECC85 (6AQ8), ECH81 (6AJ8), EF89 (6DA6), EL84 (6BQ5), EM84 (6FG6) (magic eye)
Tuning Range:
Broadcast (AM): 520 - 1600 kHz
Shortwave Broadcast: 6 - 18 MHz
SW Bands (16 m, 19 m, 25 m, 31 m, 41 m, 49 m)
Frequency Modulated (FM): 88 - 108 MHz
Blaupunkt "Sultan" / Radio-Phono Fernseh Katalog 1960-61 (radio-phono television catalog 1960-1961). 4

This radio was in fine, un-restored, original condition. Features included: classic early 1960s European styling, with a mahogany cabinet, plastic grille, annotated glass face-plate, and "piano key" push-buttons. The main speaker is at the front, while smaller electrostatic speakers are at each side of the cabinet (see photo). Separate bass and treble controls, and three push button switches ("HI-FI", "SOLO", "SONOR") for selecting different tonal contours. To facilitate better AM reception, the internal ferrite rod antenna can be rotated via a thumbwheel at the back of the unit. There are separate AM and FM tuning dials, and in shortwave mode, the FM tuning dial adjusts the shortwave band-spread.

On close inspection, the

tuning face-plate

has the letters "CD" at the 740 kHz and 1240 kHz frequency marks. This stands for "Civil Defense" and was required by law on all radios made between circa 1953 and 1963 so that in case of local or national emergency, listeners would know where to tune for pertinent information. For details, search the web for CONELRAD (CONtrol of ELectromagnetic RADiation).

This radio actually found me! The previous owner, John Pavlica (

W8WJW

), visited this web page, and sent an e-mail to see if I was interested in purchasing it. It was originally owned by his great-aunt in Toledo, Ohio and had been in the family since new. After exchanging a few more messages, I decided to take a long weekend (July 20-22, 2007) and drive out to Toledo (with my wife) and take a closer look. At first glance, it looked nice, and performed quite well on the FM band. I was also able to get WBCQ on 7.415 MHz (shortwave station out of Monticello, Maine) without using an external antenna. How is that for sensitivity? The AM band reception was another story, as there was a lot of static noise on certain AM stations. It was not affecting all AM reception, just the most powerful signals. After scratching our heads, re-seating the tubes and doing a quick visual inspection, we finally decided to move the radio into "Studio K" (kitchen) to see if there was possibly some interference coming from the television or other electronic device in the living room. Sure enough, that solved the problem, and we agreed on a price of $175. In 1960-61 the original price was listed in the "Radio-Phono Fernseh Katalog" as 279 DM.
---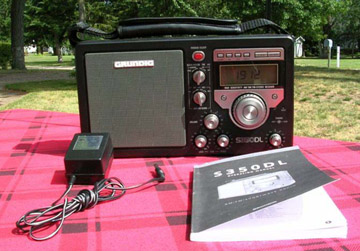 Grundig "S350DL"
Years manufactured: 2003 (S350) - present (2007)
Photo: eBay screen capture from 2007
Tuning Range:
Broadcast (AM): 530 - 1710 kHz
Shortwave Broadcast: Continuous coverage from 3 to 28 MHz
SW Bands (11 m, 13 m, 15 m, 16 m, 19 m, 22 m, 25 m, 31 m, 41 m, 49 m, 60 m, 75m, 90 m)
Frequency Modulated (FM): 88 - 108 MHz
Features:

Digital LCD tuning display
Clock (12/24 hour) with alarm and automatic shut-off (sleep) functions
Fine tuning control knob
Rotary volume control
RF gain control
Separate bass and treble controls
Low pass filter for AM and SW
Stereo / mono switch
Stereo earphone jack
Left/Right line level outputs (RCA type jacks) (stereo in FM)
Carrying handle (adjustable strap type)
Telescoping antenna (5 section - 44" length) for FM and SW
Internal Ferrite bar antenna for AM
Jacks for supplementary AM/FM/SW antennas
Powered by 4 D cells or 4 AA cells (batteries not included) or AC adaptor (included)

Notes:

The 11 meter band is also known as the "Citizens Band" or "C.B."
There is no Beat Frequency Oscillator (BFO) or Single Side Band (SSB) capability. See Glossary for more detail.

I got the Grundig "S350DL" at Radio Shack (Eastview Mall) on Saturday August 25, 2007 because of a SNAFU with returning a 350W AC/DC power inverter. They would only give me store credit, so I chose this radio. The price was $99. I had been watching this radio since it was originally released as the S350 (no "DL") a few years earlier. It enjoyed minimal respect in on-line forums, but it picked up the weaker signals in my region without difficulty, although the large tuning dial felt like it might come off in my hand.

29-aug-2007:
I had trouble with the tuning dial. It felt like the dial cord was loose and it had a bit of wobble. Sometimes the frequency would change as soon as the dial was touched, and other times it would not do anything. This annoying problem seemed like a quality control issue, so I returned the radio just four days after getting it.

Review of the original Grundig S350:
www.radiointel.com/review-GrundigS350.htm

Yahoo group for the S350:
groups.yahoo.com/group/Grundig-S350

Another Review of the Grundig S350:
www.eham.net/reviews/detail/3112
---
Zenith "Super De Luxe Trans-Oceanic Portable"
Model B600 / Chassis 6A40
Years Produced: 1959-1962
View the Zenith "Trans-Oceanic" B600 Restoration Page
Barn Find

Found the Zenith Trans-Oceanic model B600 on Thursday September 13, 2007 in a "junque" barn near Bar Harbor, Maine. Condition was undamaged and complete, but extremely dusty with some serious surface grime. Nothing a little soap and water could not remedy. The brass colored trim was in nice condition. There were only two apparent physical problems with the radio and those were: 01) a broken tuning dial cord, and 02) the red "ladder line" to the Wave Magnet antenna (for broadcast bands) had been nibbled by mice. Fortunately, there were no leaking batteries inside, but there were remnants of a mouse nest (copious sunflower seeds and floor carpeting) in the battery compartment. I discovered more wire damage and a missing tube (50A1) later. The barn mice really missed this radio when it was gone.

The B600 Trans-Oceanic includes a nice fold-down log book and a telescoping, seven section, 52 inch (132 cm) Waverod antenna (for shortwave) with a fluted cap and retaining clip. The historical significance of the model B600 is that it was the last portable vacuum tube radio made in the USA The model B600 was produced from 1959-1962 and was a high-end radio in its day.

The history of the evolution of the Trans-Oceanic is interesting. There is a book called, "The Zenith Trans-Oceanic - The Royalty of Radios" that is an excellent chronicle. Authors: John H. Bryant, AIA and Harold N. Cones, Ph.D. See the Essential Vintage Radio Books and Literature page for details.

Details

Model: B600
Chassis: 6A40
Zenith Service Manual: Vol. 7 - Page 73
Sam's Photofact: Set 381 - Folder 16
Cabinet style: "Black Stag"
Original cost: $139.95
Dimensions: 17" x 8" x 11", Weight: 17 lbs. (without battery)

Tuning Range
Seven switchable bands provide the following coverage:

Standard Broadcast: 540 - 1600 kHz
Weather Band: 4.0 - 9.0 MHz
Weather Band: 2.0 - 4.0 MHZ
16 meter Band: 17.40 - 18.20 MHz
19 meter Band: 14.80 - 15.60 MHz
25 meter Band: 11.40 - 12.20 MHz
31 meter Band: 9.30 - 9.90 MHz

Valve (tube) Lineup
1U4 (RF amplifier)
1U4 (IF amplifier)
1L6 (Converter) (rare tube)
1U5 (Detector / AVC / First audio)
3V4 (Audio output)
50A1 (Current regulator / ballast) (rare tube)
---
1946-1949 Hallicrafters "S-40"
Single Conversion Superheterodyne General Coverage
shortwave Receiver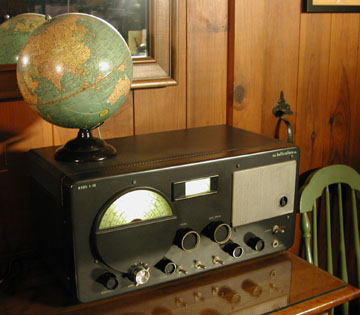 Hallicrafters (USA) "Model S-40" Receiver
Years Produced: 1946-1948
View the Hallicrafters S-40 Restoration Page
Tuning Range
Band 1 (broadcast): 550 - 1700 kHz
Band 2 (shortwave): 1.68 - 5.4 MHz
Band 3 (shortwave): 5.3 - 15.8 MHz
Band 4 (shortwave): 15.3 - 44 MHz

Manufactured in the USA by the Hallicrafters Company of Chicago, Illinois.

Tuning dial pilot lamps (two required) are Type # 44 (bayonet base, 6.3 volt, 0.25 amp, bead color: blue). The pilot lamps are typically sold in packages of 10 at vintage radio swap meets and by the usual on-line sources. See Links. Ordered a box of 10 Type # 44 lamps from AES (Antique Electronic Supply) on October 2, 2007. Price was $2.95.

I discovered this antique receiver on Saturday September 29, 2007, at the Elmira Hamfest. I was attracted by its mysterious, and slightly sinister (if possible) appearance. It looked like it was from an old science-fiction movie. The real mystery of course, was how well it performed. The asking price was $145. The selling price was $125, manuals not included. Vendors were John (KF2JQ) and his wife, a familiar team at regional hamfests and radio swap meets. Overall, the cosmetic condition was superior, and they assured me it worked well and had decent audio. So, I took the leap of faith and bought my first Hallicrafters set.

Incidentally, the 8" Terrestrial Globe on top of the Hallicrafters "S-40" was manufactured by the Geo. F. Cram Company of Indianapolis, Indiana. It is a Model "80", and includes the country of Italian East Africa, which only existed from 1936-1941. It also includes shortwave radio stations around the globe and their call signs. The symbol for the shortwave stations is a red antenna tower.
---
E.F. Johnson "Viking Valiant" AM Transmitter
(Amateur Radio Bands - 160 to 10 meters)
E.F. Johnson (USA) "Viking Valiant"
Years Produced: 1955-1962

Purchased at the annual RARA auction on Friday November 2, 2007

View the Johnson "Viking Valiant" Restoration Page
Specification Overview

Modes: AM/CW
Bands: 160 - 10 Meters
Input Power: 200W-AM, 275W-CW
Final Tubes: 3 each 6146 parallel
Modulator: 2 each 6146 push-pull
---
Radio Shack "AM/FM Digital Tune Headset Radio" (Model 12-932)

Tuning Range:
AM = 530 kHz - 1710 kHz (10 kHz step)
FM = 87.5 MHz - 108 MHz (200 kHz step)
Output power = 15 mW + 15 mW
Two AAA batteries
Alkaline Battery life = "about 28 hours"
Catalog # = 12-932 (same as model number)
Retail price = $49.99

I received the Radio Shack headset from my wife on my birthday in 2008.
---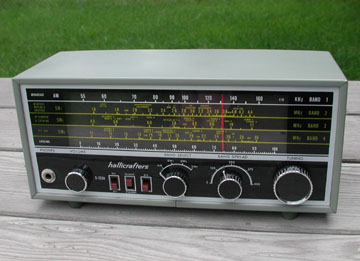 Hallicrafters (Japan* / 1967-1969) model "S-120A" / Serial Number: 120100002095
Four-band, solid-state receiver with nine transistors
Tuning Range: 550 kHz to 30 MHz
Band 1 "AM" = 550 kHz to 1.600 MHz
Band 2 "SW1" = 1.6 MHz to 4.4 MHz
Band 3 "SW2" = 4.4 MHz to 11.5 MHz
Band 4 "SW3" = 11.5 MHz to 30 MHz

Front Controls: Phone Jack, Volume, On/Off, Receive/Standby, BFO, Band Switch, Band Spread, Main Tuning. The rear has an auxiliary 12 volt DC power socket.

IF (Intermediate Frequency) = 455 kHz
Dimensions 13.5" wide, 5 7/8" high, 8.75" depth
Weight: 11.75 lbs.
Made in Japan
Production years 1967 - 1969

Purchased this little gem on Saturday August 9, 2008 at the Keuka Lake Amateur Radio Association (KLARA) Hamfest in Howard, NY. The asking price was $40, but I got it for $25. Back in the shack, it worked beautifully. The cosmetic and electrical condition were both excellent.

*Hallicrafters was originally based in Chicago, but production moved to Japan in the late 1960s after the Halligan family sold the business in 1966. The company finally closed their doors in 1975.
---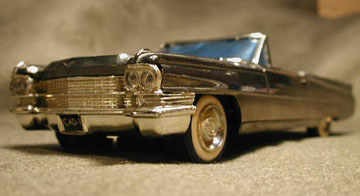 Plastic replica (1:18 scale) of a 1963-1964 Cadillac convertible. Made in Hong Kong (China). Date unknown. The automobile itself was 19 feet (228 inches) long. This solid state AM-only novelty radio measures 11.75 inches long, which makes it approximately 1:18 scale. The radio controls (On-Off-Volume and Tuning) are on the undercarriage. The radio is powered by a 9 volt battery. It works well and the model is in presentable condition. The front and rear license plates read, "CAD-1." Color is dark gray, with chrome accents, black interior, and a blue tinted windshield. It has clear plastic headlights and red plastic taillights. Price was $8.00 at the Elmira Hamfest on September 27, 2008.
---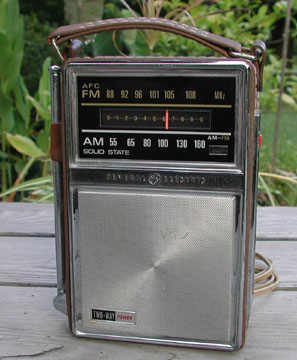 AM/FM AC/DC portable radio
Tuning Range:
AM: 550 kHz - 1600 kHz
FM: 88 MHz - 108 MHz
This GE radio was the same model as my sister's when we were both in our teens. I used her radio quite a lot when we were at our grandparent's cottage on Conesus Lake in the mid 1970s. It came with me on motorboat and fishing trips when I would anchor the boats and soak up the sun and generally kill time. I found this example at the Antique Wireless Association (AWA) Spring Meet on the first Saturday of May, 2008 for the price of $1.00. It worked fine and the battery compartment was clean.
---
Sony "ST-80W" AM/FM Stereo Tuner
Sony "ST-80W" AM/FM Stereo Tuner (Japan / circa 1973)

Tuning Range:
FM: 87 - 108 MHz
AM: 530 - 1605 kHz
- Analog tuning
- Solid state design (16 transistors, 19 diodes)
- Intermediate Frequency (IF): 10.7 MHz (FM), 455 kHz (AM)
- Analog, backlit tuning dial (Type 40 lamp)
- Rear mounted Line Out sockets (RCA)
- Rear mounted variable output level controls (L and R)
- Mono / Stereo selector switch
- AFC On / Off selector switch
- Adjustable, ferrite, AM antenna
- Antenna connections: FM (300 Ω), AM, and ground
- Rear mounted "fixed level" DIN, record output
- Walnut veneer cabinet
- Weighs 2.6 kg (5 lbs., 12 oz.)

Purchased this AM/FM stereo tuner Saturday September 27, 2008 at the Elmira Hamfest for $2.00. Made by Sony (Japan) circa 1973 with an original price tag of $90.00. It was a bit yellowed from (presumably) tobacco smoke, and neither the tuning dial lamp (Type 40) or stereo indicator lamp were working. It is "only" a tuner, and originally had a separate amplifier and matching speakers. I use it with a pair of amplified Klipsch computer speakers with good results.
---
Philco "Tropic" / Overseas Model B3101B
Philco "Tropic"
Overseas Model B.3101 B (B3101B) Code 123
Manufacturer: Philco Radio & Television Corporation of Great Britain, Ltd.
Purchased at the Antique Wireless Association (AWA) Conference August 22, 2009 for $40. It worked on all bands, but may need some new tubes and/or other care (capacitor and resistor replacement). Otherwise, it was in excellent cosmetic condition.

References:
The Philco Tropic B3101B was an export version of the British domestic model B23101. The .pdf file is the service information for the B23101, which includes some details about the export version. It is unlikely that a B3101 schematic will be found. The schematic is drawn in the British fashion, which you may find strange at first. Although it was made by British Philco, most models of this manufacturer were loosely based on typical US designs. So hopefully you should not have too much difficulty working on this set. Within Britain, only domestic (non export) schematics tend to have survived, which makes sense as dealers would have only held schematics for sets they were likely to encounter.

Regards,
Keith Staines
August 28, 2009
---
Battery Tester (pocket volt meter)
Battery Tester (pocket volt meter) made by Leader
Working condition. Purchased for $10 on August 22, 2009, at the Antique Wireless Association (AWA) Conference. Pre-1927 radios used three batteries. This would have been an essential tool if you owned a radio at that time.

This is definitely a radio battery tester. It is commonly called a watch case battery tester, for obvious reasons. This version will test "B" batteries of 22.5 volts and 45 volts. When new, they were quite accurate, but did not age well. As such, today they vary greatly in functionality. They also tested the battery at no load so the user should have known to test the battery under actual conditions with current being drawn by the radio in use. They are quite collectible as they were manufactured by many different companies in the mid to late 1920s. As such, it is fun to collect many different varieties and they do not require an arm and a leg to acquire. Enjoy your nice example.

73,
Ed Gable (K2MP)
August 26, 2009
---
Battery Tester (pocket volt meter)
Volt meter (0 - 3 volts)
Made in Germany by Kiesewetter
Purchased this meter at the Elmira Hamfest on September 28, 2009. The vendor was originally asking for something crazy like $75, but I did some haggling, and finally got it for the "walking away price" of $20. It also had a nice leather case with a belt loop. One screw was floating around inside. In the spring of 2011, I removed the crystal and put the screw back in place.

On the meter display, "Knopf" means "knob" or "control knob", and "gedr." stands for "gedrückt", or "pushed" (push down). So, if the button is pushed, there is a load of 15 Ω in parallel with the meter. The battery voltage can now be measured with a load. Take an Ohmmeter and measure between the contacts. Normally, there will be some hundred Ω measured, and with the knob pushed, only 15 Ω. The "K" stands for Kiesewetter; a manufacturer of tube testers and metering instruments.

July 26, 2011: Thanks to Heribert Jung, Dietmar Rudolph, and Reiner Scholz for the explanation of the text on the meter display.
---
Photo: October 24, 2009 / Nikon Coolpix 990
Sony Corporation (Japan) "ICF-9550W" FM/AM 2 Band Radio
Serial Number: 144383 (sticker on bottom)
Made in Taiwan / Republic of China (1976)
Tuning Range:
FM: 87.5 - 108 MHz (IF 10.7 MHz)
AM: 530 - 1605 kHz (IF 455 kHz)


Front View
Rear View
Dial Light
Service Manual
9-950-345-81
Dated: 1976
Photos: October 17, 2009 / Nikon Coolpix 990
Purchase Date: October 17, 2009
Location: Ithaca Antique Center / 1607 Trumansburg Road / Ithaca, NY 14850
Price: $23.76 ($22 plus $1.76 tax)

Radio Features
Walnut veneer, Wood cabinet, Off-On-Volume control knob, Frequency tuning dial, AM/FM band switch, Loudness switch (boosts the bass about 9 dB at low volume), Separate bass and treble controls, Illuminated tuning dial, External antenna connection points. Performed well; with rich, full, transistorized sound! All controls were static-free and operated smoothly. Needed only minor detailing with Murphy's Oil Soap and a toothbrush.

Period Styling
The Sony ICF-9550W exudes contemporary 1970s styling. The package includes a handsome wood cabinet covered by a walnut veneer. The controls have a highly polished chrome-like finish that was typical of the era. By this time, many radios were made entirely of plastic and looked cheap, so the Sony model ICF-9550W represents the tail-end of the heavy, "living-room-furniture" period styling.

Historical Context
The ICF-9550W is a pre-Walkman Sony product. It was produced just prior to a wave of trendy personalized electronic audio devices that began flooding the market. The forthcoming products would ultimately change the soundscape of contemporary culture, and turn the quaint 1970s table-top radio styling into a faded memory. Other radios on this page attest to the robust design, classic styling and durability of transistor and integrated circuit (IC) radios imported from Japan in the 1970s. When this radio was produced in 1976, it would be another two years before the ubiquitous Sony Walkman launched the beginning of what would become the personal electronics revolution, which continues to this day (witness the iPod, iPad, iPhone, the multipurpose cell phone, the PDA, Blackberry, etc.).

Collectible Status
These radios were made in high volume, and are still largely overlooked as true collectibles. They turn up at flea markets, antique stores and garage sales, but are no longer being made, so supplies are limited!

Service Manual
The main Service Manual (9-950-345-81) is 16 pages, dated 1976, and contains technical specifications and component values. There are two supplements to the main manual; both have the same reference number (9-950-345-81). The first supplement (12 pages) is dated December 1976, and contains electrical adjustments for serial number 127,501 and later (applies to this radio, having serial number 144383). The second supplement (eight pages) is dated July 1977, and contains an exploded parts diagram, and more. The manuals (printed in Japan on very thin paper) were an eBay purchase on October 24, 2009. Price: $10.00 plus $3.00 shipping. They arrived November 2, 2009 from a vendor in Salt Lake City, Utah.
Parts Diagram / Dial Lamps
Update / October 6, 2014: In response to reader, Mike (KD8LUI), I referenced the main Service Manual to find the type of dial lamps used. According to the ICF-9550W Manual, the dial lamps (PL1, PL2) appear to be in-line, "fuse" style (Sony part number 1-518-124-00), and the Dial Pointer lamp (PL3) is listed as Sony part number 1-518-071-00, but the illustration precludes positive identification. It may be integrated with the dial pointer assembly. No lamp/bulb values or cross references were provided in the documentation.
---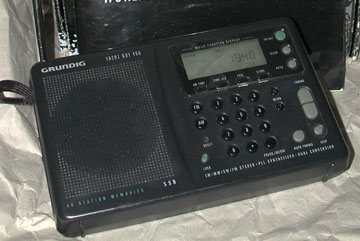 Photo: March 8, 2010 / Nikon Coolpix 990
Grundig "Yacht Boy 400" G RD 30-51
Serial Number 326171 / Color: Black Grey (Schwarzgrau)
General Coverage Portable Communications Receiver
Tuning Range:
FM: 87.5 - 108 MHz
SW: 1.711 - 30 MHz
MW: 520 - 1710 kHz
LW: 144 - 353 MHz
On Saturday March 6, 2010, during the 23rd Annual "SWL Fest" in Kulpsville, Pennsylvania, I bid on this "original incarnation" of the Grundig "Yacht Boy 400" (as distinguished from the later, "PE" [Professional Edition] model). The "Yacht Boy" name has been used by Grundig for decades, and the model 400 went through several iterations throughout its six-year production run (1993-1999). The SWL Festival (a.k.a. "International Broadcasting Conference") was sponsored by the North American Shortwave Association (NASWA). After making several bids in the silent auction, I ended up paying $45 for the radio, which included an AC adapter (by SONY; obviously not OEM equipment), the original vinyl storage pouch, the original box, and owner's manual. It was all in fairly good condition. During the lively auction, it was plugged into the AC mains adapter, and working fine. The package would have originally included a "Shortwave Listening Guide", compact antenna, and "Passport" guide to shortwave stations, but they were missing.

After the auction was over, I walked a couple of blocks to the Walgreen's convenience store to get six AA size batteries. Back in the solitude of my hotel room, I read the owner's manual, and checked out all the functions, and it seemed to be working quite well. I was able to pick up the various pirate radio stations that were operating "in the vicinity" on 6.900 MHz, 6.926 MHz, 89.1 MHz, 89.7 MHz, etc.

I also learned the radio was donated by NASWA member Joe Buch (N2JB / joseph.buch ]at[ dol.net) who said he purchased it from Universal Radio as a re-conditioned unit. There was indeed a sticker on the box that indicated the original speaker did not work.

Update: On Friday May 20, 2011, at the Dayton Hamvention I found a copy of the "Passport to the World of Shortwave Broadcasting Stations", the "Shortwave Listening Guide", and the Grundig compact wire antenna. It was part of a complete set (including radio, box, AC adapter, owner's manual), but the vendor was willing to separate these three pieces for $20. This turned out to be my most extravagant purchase at the 2011 Dayton Hamvention.
Photo: March 6, 2010 (camera: Sprint / LG "Rumor" cellphone)
This photo shows the probable location of one of the pirate stations (WBNY and others) that were operating during the SWL Winterfest. Note the Jolly Roger, and the long wire (just barely visible) coming out the window. The random wire was terminated in a pine tree across the parking lot. There was also what appeared to be a dipole set up on the roof.
References for the Grundig Yacht Boy 400

Grundig "Yacht Boy 400" General Coverage Portable Communications Receiver
Made In: People's Republic (PR) of China 1993-1999
Voltages: 9 VDC 6 x AA batteries
Coverage: 144 - 30000 kHz with FM Stereo (with headphones or ear buds)
Readout: Digital LCD
Modes: AM/SSB Selectivity: Two-Position
Circuit: Dual Conversion
Physical: dimensions: 8 x 5 x 1.5", weight: 1.4 lbs

Features: Mini Headphone Jack, S-Indicator, Battery Indicator, Tone Switch, 40 Memories, Dial Lamp, Sleep, FM Stereo, Lock, Local/DX Switch, Keypad, Antenna Jack, Tuning Steps: 1, 9, 10 kHz (MW), 24 Hour Clock-Timer

Optional Accessories: AC adapter model "400ACA". 9 volt, negative tip. Available from Universal Radio (as of March 8, 2010) as order number 3672 for $14.95.

Comments: The original Yacht Boy 400 sold for $170-250 when new and included a vinyl storage pouch, wind-up (spool) antenna, stereo earplugs, an owner's manual and a shortwave listening guide. The AC adapter (model "400ACA") was optional. The later model YB-400 PE "Professional Edition" ($200-$270 when new) featured a titanium colored case and was supplied with the Grundig AC adapter. Both units have enjoyed wide acceptance.
---
C. Crane "CC Wi-Fi internet Radio"
Photo: August 7, 2010 / Nikon Coolpix 990
Station on LCD display: North Country Public Radio (serves northern NY, and the Adirondack region)
Stock Photo (includes remote control)
C. Crane CC Wi-Fi internet Radio (China)
Serial
Service Pack
Firmware
Application
Helix
Kernel
00083c8b
v257-a-865-a-407
03
v600-a-311-a-560
v026
v24091104+01
Sunday July 18, 2010
Took the plunge into the world of Wi-Fi radio by ordering the C. Crane "CC Wi-Fi internet Radio" from www.amazon.com. Saved $29.96 from the C. Crane list price ($139.95). The Amazon vendor (J&R Music and Computer World [www.jr.com]) was asking $109.99 (plus $8.55 shipping and $8.89 tax). I had a balance on a couple of Amazon gift certificates, which knocked the package down to $100.03.

With increasing numbers of shortwave radio transmitters going dark, a Wi-Fi radio is a logical alternative for listening to your favorite global programming. On Saturday July 17, 2010, I had the opportunity to enjoy a friend's C. Crane Wi-Fi radio, and although the audio quality was not superb (the best stream-rate is going to be around 128 kilobytes/second), the ability to select stations from around the world based on location or genre made it seem quite attractive.

Radio arrived July 22, 1010. Opened the box, plugged it in, and it found and connected to my router in about five seconds. I was listening to stations from around the world in two minutes.
The C. Crane Wi-Fi radio uses the Reciva portal for its stations. Reciva is a UK-based company that makes modules for most of the Wi-Fi internet radios that were on sale in 2010, and it also provides an internet radio portal that lists over 10,000 stations and over 20,000 on-demand streams. One good feature of the Reciva portal is that it allows you to search by location as well as by genre. However, one downside of Reciva's portal is that it does not list the bit rate levels the stations are using, so it is not that great for discovering new stations, as it does not provide any indication of what the audio quality is likely to be.
---
"Aqua Guide 705" Radio Direction Finder
Photo: August 20, 2010 / Nikon Coolpix 990
Tuning Range:
FM: 87.5 - 108 MHz
AM: 535 - 1605 kHz
Citizens Band (CB): 26.8 - 27.8 MHz
VHF FM: 145 - 174 MHz
Beacon Band (LW): 150 - 400 kHz
This intriguing radio was in the flea market at the Antique Wireless Association (AWA) Conference on August 19, 2010. Price was $50, and included the original (copyright 1977) manual, which gave a good indication of the year of manufacture. I am still trying to figure out what to do with it. Maybe now I need a boat? It is powered by either an external 13.6 volt DC source (11.0 volt minimum, 16.0 volt maximum), or eight C cells. Interesting to note the radio includes the "Citizens Band" due to it being manufactured during the height of the 1970s C.B. craze.

A good resource for locating beacons heard on the longwave band is worldaerodata.com
---
Mid-to-late 1950s German style radio (wooden replica) with
tinplate model of Mercedes-Benz Type 220Sb sedan (circa 8/59–8/65)


Photo: August 20, 2010 / Nikon Coolpix 990
Miniature replica of a 1950s European style table-top radio. Purchased for $5.00 on August 20, 2010 at the Antique Wireless Association (AWA) Conference flea market. The vendor (Walter Buffinton / Willimantic, Connecticut) had an interesting collection of miniature radios made from tin, lead, and wood – some dating to pre-WWII.

The car is a 1:18 scale Mercedes-Benz Type W111 220Sb "fintail" (heckflosse) sedan. The color is black, with a red and amber striped (lithographed) interior. This tinplate vehicle has an opening trunk lid that reveals two levers – one is used to raise either the left or right side clockwork motor-driven "jacks" under the car. This feature simulates changing a tire. The other trunk lever toggles the side of the car that gets raised. The wheels come off by unscrewing the hubcaps. This toy was distributed in 1962 by Shioji Shoten & Co. Ltd. (a.k.a. SSS) of Osaka, Japan.
---
Grundig "Satellit 750" and Grundig "G6 Aviator"
Photo: July 23, 2011 / Nikon Coolpix 990
Stock Photos: Front / Rear / Left Side / Right Side
Grundig "Satellit 750" (a.k.a. Tecsun "S-2000")
Yahoo! Group: groups.yahoo.com/group/Satellit-750
Universal Radio: www.universal-radio.com/catalog/portable/0750.html
Owner's Manual: Grundig_Satellit_750_Manual.pdf

The Grundig "Satellit 750" was originally scheduled for release in March 2008, but did not appear until early August of that year. The initial price was $299. The Chinese company, Tecsun manufactured this radio (known in China as the Tecsun "S-2000"), and it was distributed for Grundig in America by Eton. It had great retro looks, but unfortunately, first technical impressions in the on-line (Yahoo!) chat group were not favorable. I monitored the traffic on the chat group for two years before deciding the bugs had been worked out.

Received this radio as a gift from my wife on November 16, 2010 to acknowledge my graduation from Rochester Institute of Technology (R.I.T.). Universal Radio also shipped a new Grundig "G6" radio as a promotional deal. Photos and details of both to follow.

Waited to opened the box until "Black Friday" November 26, 2010 – the day after Thanksgiving – because it was the first time I was able to enjoying the process of reading the manual while also becoming familiar with its features and controls. This was an event to be savored!

Contrary to the cavalcade of naysayers in the Yahoo! Group, the radio was quite impressive. The controls were tight, and there was an overall feeling of top-notch quality. There were no disappointments whatsoever. I was surprised the owner's manual did not include a diagram of the front, rear, and side panels. Programming the radio was straight-forward while referencing the instructions.

One gripe might be that the radio does not detect which shortwave band it is on, and automatically set the correct sideband (for listening to SSB amateur radio conversations). Instead, the operator needs to have some knowledge of which shortwave bands use the Upper Side Band (USB) versus the Lower Side Band (LSB). If the operator has no prior knowledge of the band plan, they have a 50-50 chance at getting it right the first time. Of course, since the radio does not automatically detect and set this parameter, it allows the operator to listen to conversations by amateurs who are not following the band plan.

If the frequency is 10 MHz or higher, use the USB setting
If the frequency is lower than 10 MHz (eg. 40m, 80m, 160m) use the LSB setting
REMEMBER: To locate and scan through saved memory/frequency channels, press the PAGE button and turn the tuning dial to "Page 0". Then toggle the "VM/VF" button (Memory/VFO) to the Memory mode, and use the tuning dial to scan the saved memory stations/frequencies.

The Tecsun-created Owner's Manual seems to suggest that "V" is intended to mean "mode", thus VF = frequency mode, and VM = memory mode.
Due to its great retro styling, performance, and ease of use, the Grundig Satellit 750 stands to become a another highly sought-after Grundig classic in years to come.
---
Grundig "G6 Aviator" (Buzz Aldrin Edition)

Grundig (assembled in China) "G6 Aviator" tuned to WBCQ 7.490 MHz

Tuning Range:
FM: 87.5 - 108.1 MHz
AM: 150 - 29999 kHz
Air: 117 - 137 MHz
Owner's Manual: Grundig_G6_Aviator Manual.pdf

Features

Dual conversion
Digital, PLL tuning
Tuning via Thumb-wheel or direct keypad entry
BFO (for tuning SSB signals)
700 memories (100 pages [0 - 99] with seven memories per page)
Illuminated (backlit) LCD dial light
Powered by two AA cells
AC adapter
Black carry pouch
Ear buds (stereo output capable with line out)
XYL Kitchen Radio Review (# 20120808)

Grundig "G6 Aviator" (Buzz Aldrin Edition)

"It's a versatile little radio"
August 8, 2012: Finally "unboxed" the Grundig "G6 Aviator" – nearly two years after receiving it (promotional incentive with the Satellit 750). It compared favorably to other similar radios in Youtube videos, so I broke it out from the bottom drawer. The Owner's Manual (.pdf) facilitated quick programming (it was different from other radios, so the documentation had to be good). The package included a black, vinyl storage pouch, ear buds, AC adapter, and a hard copy of the Owner's Manual. Powered by two AA cells (not included). Extra points for having an illuminated LCD display, and a thumb-wheel tuning dial. Reception was good on all bands. It was still being sold new at that time, and the going price was $89.95 – so getting it for free was not a bad deal.
---
Vintage Mercedes-Benz Grille / Novelty Radio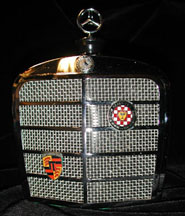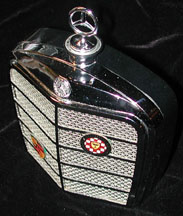 Photos: December 27, 2010 / Nikon Coolpix 990
Six transistor / AM-band / novelty radio
Tuning Range: 540 kHz - 1600 kHz
Made in Japan (circa 1975-1985?)
This novelty radio came by way of Dennis Schauber of Harrisburg, North Carolina. It was found in an antique shop in Black Mountain, NC, and I received it on December 25, 2010. The grill is modeled after Mercedes-Benz passenger vehicles from circa 1953 to 1968. Rotating the star clock-wise turns the radio on, and adjusts the volume. The frequency is selected by turning the dial directly below the star (see photo on far right). The grille badges include the text, "INTERNATIONAL", and "GRAND PRIX"

The back of the radio features a jack for headphones or ear plug. There is also an oval sticker with, "Stellar® / US REG'D TRADE MARK". Other markings include, "6 TRANSISTOR" / "MADE IN JAPAN" / "NO. 803". The bottom has three green, felt, table protectors. It is powered by a nine volt battery. Performance is similar to other novelty radios. Overall condition is excellent.
---
Blaupunkt "Granada deluxe 3D 2330"
Photo: June 29, 2011 / Nikon Coolpix 990

Additional Photos of 1958 Blaupunkt "Granada deluxe 3D 2330"


July 1, 2011, 10:01 a.m. (UTC - 4)

July 1, 2011, 10:04 a.m. (UTC - 4)
Lower case "h" for Hirschmann

Blaupunkt (Germany) "Granada deluxe 3D 2330"
Years manufactured: 1958
Valve (tube) line up: ECC85, EC92, ECH81, EF89, EABC80, EL84, EM80 (magic eye)
Height: 15", Length: 22", Depth: 10.5"

Tuning Range:
LW: 150 - 400 kHz
AM: 520 kHz - 1600 kHz
SW: 16 meter band - 49 meter band
FM: 88 - 108 MHz
I noticed this Teutonic beauty at Radio Daze on Tuesday, June 28, 2011 during a nice morning bike ride. I got thinking about it and decided to inquire. The next day, I ended up bringing my Zenith Trans-Oceanic "B600" to Radio Daze (to re-assemble), and bought this fine example of mid-20th century craftsmanship at the same time. The purchase date of the Blaupunkt was June 29, 2011 and the price was $235.00 plus $18.80 tax for a grand total of $253.80.

It had accumulated a layer of grime, which needed some attention, but all bands worked well, and nothing was broken or missing. Surprisingly, most of the grime cleaned up with some spray-on furniture polish, a dust cloth, and a little elbow grease. I hit it again later with my patented slurry of "rottenstone" and paraffin oil (search elsewhere on this page for details), which was topped off with an application of buffer's polish.

In my experience, finding a good sounding vintage Blaupunkt table-top radio in excellent cosmetic condition is somewhat unusual, so this was an exciting discovery. The grilles were often made of plastic, and can be easily damaged over time. The piano style push-button selector switches are also plastic, and are not as durable as they appear. Fortunately, this radio was all original right down to the power cord featuring the lower case "h" on the plug, which signified the Hirschmann brand – most commonly known as the German supplier of traditional and automatic (motorized) antennas on Mercedes-Benz automobiles.

The reference to "3D" (in the model name) may refer to the loudspeakers at each end of the cabinet as well as the one in front. This was pretty high-end stuff back in the day.
---
Nordmende "Transita DeLuxe"
Made in Bremen, Germany for the 1963-1964 season
Tuning

Band

Frequency Range

MW
550 kHz - 1600 kHz
SW
49 meters (5900 - 6200 kHz)
SW
41 meters (7200 - 7450 kHz)
SW
31 meters (9400 - 9900 kHz)
SW
25 meters (11,600 - 12,100 kHz)
FM
88 - 108 MHz
Purchased this portable, Nordmende transistor radio on Thursday, August 18, 2011 at the AWA Conference flea market. The seller, Lewis Bodkin* of Toronto, was looking to get "fifteen dollars." This was my first foray into Nordmende radios, and I pounced on the opportunity to take one home. The cabinet was a little dirty from what appeared to be 50 years of normal use (resplendent with tiny paint splotches), and there were some dents to the metal trim, but the internals and battery compartment looked clean and complete. In Germany, this style of radio is known as a kofferradio ("suitcase radio") because of its small size and portability.

*Lewis Bodkin made an unscheduled presentation at the AWA Conference showing a silent film made in 1932 by Rogers radio (Toronto, Canada).

The radio required an odd size 9 volt battery (Eveready No. 266 [a.k.a. PP7], NEDA 1605). Distance between terminal contacts: 19 mm. Fortunately, they were still being sold, albeit somewhat expensively. I found them on-line for $17.95 (www.batterymart.com). Purchased a battery on Saturday, August 20, 2011 for $20.94 including shipping. The battery cost more than the radio (another example: Grundig "Transistor 301").

The battery arrived August 26, 2011 and the radio performed well on the FM band, but the sensitivity on AM and shortwave was not quite so good. It was hard to tune stations on shortwave because of the lack of a band spread adjustment. This radio might benefit from an overhaul.
1963-1964 Nordmende "Transita DeLuxe"
Rear view – one screw secures back cover
"PAL" antenna connector (European standard)
Headphone, and 9 volt sockets
Nordmende Transita DeLuxe with 1957 Mercedes-Benz Type 190 Ponton sedan (August 20, 2011)
2011 AWA "Old Equipment Contest" – from the collection of Michel Chabot (VA2DFI)
Eveready, 9 volt, No. 266 (a.k.a. PP7), NEDA 1605 battery
The outdoor photos were taken August 19, 2011 with a Nikon Coolpix 990, except where noted. The indoor photo (with orange table cloth) was taken at my behest by AWA member Joe Di Maggio (WA1HFQ) with his Canon "Powershot SD1100 IS." He then generously copied all of his AWA Conference photos from the camera to his laptop, and then onto my thumb drive. The radio was part of the 2011 AWA "Old Equipment Contest", and integrated into a display of Nordmende transistor radios owned by Michel Chabot (VA2DFI) from Quebec City.
Update / 25-apr-2012: The radio was a weak performer on AM (low volume) so I dropped it at Radio Daze. They replaced four capacitors, and then it sounded nice, with plenty of volume. The bill came to $73.66. Picked it up on 30-apr-2012.

Total cost (so far): $15 (radio) + $20.94 (battery) + $73.66 (replace capacitors) = $109.60
---
SABA "300 Automatic Stereo 11"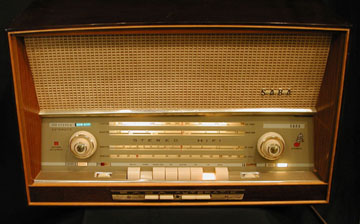 Photo: February 5, 2009 (at Radio Daze) / Nikon Coolpix 990
1961-1962 SABA (Germany) "300 Automatic Stereo 11"
Tuning Range
FM: 87 - 108 MHz
SW: 5.9 - 18.9 MHz
Marine: 1.55 - 4.3 MHz
BC (AM): 510 - 1640 kHz
Valve (tube) Line Up
EC92, EC92, ECH81, EF85, EM84,
EABC80, EABC80, ECL80, ECL86, ECL86
Full Technical Documentation (.zip)
Provenance of This Radio

I first saw this particular radio sitting next to another, identical radio at Radio Daze. A customer called Greg Gosson had dropped off both sets for servicing, and they were ready to be picked up. Mr. Gosson inherited both radios from his father in non-working condition, and Radio Daze was charged with bringing them up to snuff. I was so surprised to see two of these amazing creations together, that I hurried back home to grab my camera, tripod, and cloth backdrop. The photo shown here is from that initial encounter on February 5, 2009.

The SABA "300 Automatic Stereo 11" shown here was originally purchased in 1964 by Greg's uncle. His father and uncle were twins, and both men purchased matching radios at Ferrari's Furniture Store at 489 Chili Avenue (near Thurston Road) in Rochester. The building is still there, and they still sell furniture, but the name has changed over the years.

I contacted Greg several times between 2/2009 and 8/2011 about buying one of these radios, and he finally agreed (albeit hesitantly) to sell his late uncle's set. So, at 5:15 p.m. on August 24, 2011, we met at his workplace (Time Warner / 71 Mount Hope Avenue) to scrutinize the radio, and come to an agreement. Everything checked out, and the rest is water under the bridge. The price was $500, which was a lot of money, but the last time I checked, SABA was not making these anymore.

Here is a photo of Greg's SABA 300 (circa 2009) – originally owned by his father. Note the docked iPod Video playing through the the DIN connector input jack at the back.

Quest for Original Documentation
Please contact me if you know where I can find any/all original documentation for the SABA 300 "300 Automatic Stereo 11."

Replacing Missing Knobs and Trim

The volume control knob (left side) was missing the 16 mm Ø center trim piece. Other radios that use the same knob are: SABA "400 Automatic Stereo 11", and SABA "Meersburg Automatic Stereo 11." Fortunately, AWA member, Robert Eslinger (KR1U) of Connecticut (oldradiodoc.com) had a donor radio (SABA 400) with the correct knob. He gave it an ultrasonic cleaning, and dispatched it for $25 plus $4 shipping. I sent the funds via Paypal on August 30, 2011.

The concept of ultrasonic cleaning vintage radio parts grabbed my attention, and I discovered a nice article on the subject by AWA member, Robert Lozier (KD4HSH).

Discovered later that day that the brass trim plates for the knobs were being reproduced at Volker Friedrich's shop in Germany. He rebuilds and sells them for €2.80 ($4) each. Reference: http://shop.antikradio-restored.de. It pays to shop around.

According to Eslinger, it would take approximately 100 hours to completely refurbish one of these rare beauties. Repair costs for the Type 300 are slightly less than the Type 400. As of August 31, 2011 a complete restoration of a SABA 300 was estimated to cost between $900 and $1,200. The SABA "400 Automatic Stereo 11" would cost nearly $2,000 to completely refurbish!

The replacement knob arrived on Friday, September 2, 2011 but initially, I was a bit dubious because the metal trim looked heavily tarnished, and had a dull brown color. I guess I was expecting something more dazzling because of the ultrasonic cleaning. The ivory plastic knob was in good shape, I just had to figure out a method of cleaning the brightwork. Fortunately, an hour of polishing with Nevr-Dull [sic] Magic Wadding Polish, made it look more radiant than the one on the other side. This naturally led to another block of time spent polishing the other one.
Mr. Eslinger also said that U.S. President John F. Kennedy (JFK) had a SABA 400 in the White House, and it was subsequently purchased in an auction by a Boston lawyer for a lot of money. Eslinger restored the exact same radio around 1996, and said that there are currently only a handful of repair shops in the USA equipped to work on them. Apparently, there are some specialized tools (no further details provided).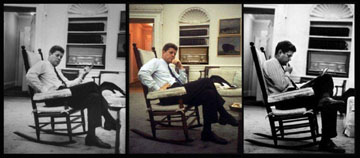 JFK in the Oval Office with the fabled 1961-1962 SABA "400 Automatic Stereo 11." It boggles the mind to speculate what he was listening to at the time. Was it one of Khrushchev's shortwave broadcasts from Radio Moscow (beginning October 27, 1962) about the Cuban Missile Crisis?
About the SABA brand (by Thomas J. Wiegand)

Schwarzwalder Apparate Bau Anstalt (SABA), or Black Forest Equipment Building Concern, was founded in Villingen, Germany, in 1839 as a maker of cuckoo clocks and music boxes. Radio production began in 1923. By the 1950s, a small line of high-quality table radios, consoles, tape recorders and television sets was produced. SABA celebrated its Jubilee Year (marking 125 years in business) in 1960.

More Information on the SABA "300 / 400 Automatic Stereo 11"

Hunting for an Über-Radio – Personal Experiences Looking for a SABA "300/400 Automatic Stereo 11"

The first SABA radio I remember seeing was at Bavarian Radio Works in Massachusetts. It was a 1961-1962 SABA "400 Automatic Stereo 11." The date was September 1, 2005 and Ross Hochstrasser (W1EKG) had the chassis mounted in a home-made jig, which facilitated access to all sides of the radio while sitting or standing. I was impressed by the set's complexity, sheer size, and the servo motors for automatic tuning. It was nothing short of a deeply moving and profound, life-changing event! OK, maybe I exaggerated.

The fall 2005 Kutztown (Pennsylvania) Radio swap meet was fun, but it seemed like there were more vendors, and a better selection of European radios at the fall 2004 swap meet. The radio that captured my imagination at the 2005 event (September 17, 2005) was a 1961-1962 "400 Automatic Stereo 11." In good working and cosmetic condition, the seller (Jeffrey Weber of Fogelsville, PA) was asking $450, which seemed excessive at the time. This was also the first time I saw the mammoth SABA radio cabinet with a working radio inside, and it was a magnificent sight. It did not include the optional stereo multiplex plug-in unit, so radio reception would have been in mono until a multiplex unit could be sourced and fitted. The radio was being demonstrated by the owner in conjunction with a portable, battery powered CD player via the DIN connector input jack at the back. The demo CD was Paul McCartney's "Flaming Pie" (1997). Note the CD played in stereo without the multiplexer in this configuration. These radios feature motorized automatic signal tuning (fascinating to watch), and are enclosed in a large, handsome wood cabinet with an attractive, and somewhat more "modern" tuning dial design – compared to other early 1960s sets. The ivory colored "piano key" style push buttons light up when depressed. Indeed, there are a lot of buttons and controls that light up on this radio!

On August 23, 2007, at the annual AWA Conference, I "temporarily" purchased a 1962 SABA "Wildbad 12" radio from Richard Modafferi (K2ICO). I loaded the radio in my car, and then realized it was meant for the European market because the FM band only went up to 100 MHz. Richard graciously returned my check ($150) when I discovered the oversight.

There was a vendor at the AWA Conference on August 18, 2011 who had a nice SABA "400 Automatic" resplendent with the plug-in stereo multiplexer, remote control cable, and some photo-copied color documentation. It appeared to be in top physical condition, but he was asking $900, and stated emphatically that he was not willing to accept any offers. He was displaying it from the back of his van in direct sunlight, which warped the plastic, rectangular "track" for positioning the sliding station markers – an unfortunate development. Even though this radio was "#1" on my wish-list, I decided to hold off because when a vendor brings a 50-year-old, used radio to a swap meet, they should be prepared to do a little negotiating.

Happy Hunting!
---
Grundig "Transistor 301"
Photo: August 4, 2012 (as found)
Grundig (Portugal) "Transistor 301"
Tuning Range
FM: 87 - 108 MHz
BC (AM): 510 - 1640 kHz
Found this radio August 4, 2012 for $3.00 at the Niagara Frontier Wireless Association (NFWA) swap meet in Amherst, NY. It was missing the tuning knob. Got a set of matching replacement knobs while visiting Ross Hochstrasser in Massachusetts (September 14, 2012).
Photos: July 24, 2013 (after refurbishing activities)
Update / June 2013: Began refurbishing. The tuning dial was nearly impossible to turn, so I carefully applied "P.B. Blaster" (penetrating lubricant) being careful to minimize over-spray inside the radio. This eventually solved the problem, but it took several months of dedicated spraying and turning to get it working. Got it all back together, rubbed out the cabinet with Novus #2 plastic polish, and it looked great. The next problem was finding a battery to fit the connector terminals, and battery compartment.

Update / July 7, 2013: The "Transistor 301" required yet another, odd size, 9 volt battery (Type IEC 6F100, PP9 [Eveready, Panasonic, etc.]). Distance between terminal snap connectors: 35 mm. Locating a vendor from the UK and/or Germany willing to ship the US was a challenge.
Bought an Eveready PP9 (9 volt battery) from UK eBay (.co.uk).
Distance between terminal connectors: 35 mm.
Price (10-jul-2013) £6.95 plus £5.99 freight for a total of £12.94 ($19.80).
Update / July 10, 2013: Bought an Eveready PP9, 9 volt battery from a UK eBay vendor. Price was £6.95 plus £5.99 freight for a total of £12.94 ($19.36). The vendor was JLS Batteries – (Mr. D Foxley / 36 Elder Drive / Apley Castle / Telford, Shropshire / TF1 6TJ / United Kingdom).
Update / July 24, 2013: The Eveready PP9 battery arrived from the U.K. The radio worked, but needed an alignment because the tuner dial was off frequency. The audio quality was good! Once again (see Nordmende "Transita DeLuxe") the battery cost more (six times more in this case) than the radio.
Possible Sources for Battery Power

Quick Reference: Distance between terminal connectors: 35 mm.
Eveready / Panasonic PP7 (a.k.a. IEC 6F100), 9 volt, 5000 mAh typical – unavailable in US. Try UK eBay vendors (ebay.co.uk).
Original style: Varta No. 439, 9 volt, 4300 mAh typical, (UK and German sites [amazon.uk / amazon.de] won't ship to USA).
Eveready No. 276, 9 volt (discontinued).
Eveready 4.5 volt, 1289 (two - with adapter may work (too large for battery compartment?) – unavailable in US.
Six AA batteries in "cube" style holder (not in-line) might work, but would need the wider (spaced 35 mm apart) 9v battery connector snaps.
AC adaptor model "TN-12A" (vintage Grundig, etc.).
Modern wall wart with 9 volt output (need European plug for radio socket).
---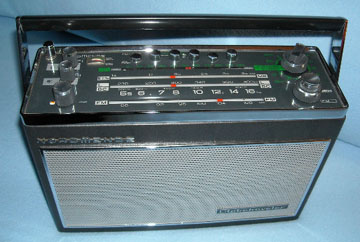 Purchased a Nordmende "Globetraveler" from eBay on August 12, 2012. The "buy it now" price was $225, plus $28 freight. Included the service manual, owner's manual, AC adapter, and a custom-made clear, plastic cover. The radio appeared to be in excellent condition. Photos and data will be posted as time permits.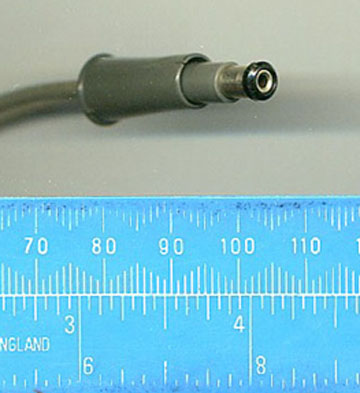 Runs on five D cells, or the optional AC adapter. AC adapter model: "TN61" 7.5-9v / 300 mA. Radio has center pin in AC adapter socket. AC adapter cord has round hold "plug" (almost a socket in itself).
---
Grundig "Locarno 3/U" stereogram
Photo: August 19, 2012 / Nikon Coolpix 990
Grundig (Germany) "Locarno 3/U" stereogram (1970)
Model No.: 2357 Locarno 3/U
Serial No.: 63944
Description
Solid-state AM, FM stereo, and shortwave radio console with four-speed record changer (16 RPM, 33 RPM, 45 RPM, 78 RPM) – Grundig record changer model "Automatic 36"
Photo: August 19, 2012 / Nikon Coolpix 990
Scans of paperwork: August 18, 2012 / Scan of schematic: August 20, 2012
Photo of documentation: August 18, 2012 / LG cell phone
Barn Find
This "stereogram" was purchased Saturday August 18, 2012 for $40 at "Barn Sale / Items of Experience" (Rte. 64 in Mendon, NY). The cabinet was covered with a thick layer of dust, but it powered up and played well, and included all factory, and original sales documentation, which revealed the sales agent and first owner. It also included extra needles and pick-up for the turntable, as well as many photo-copied pages of a vintage shortwave listening guide. Finally, there were two "Reader's Digest" 33 RPM LP records of jazz and swing music (without jackets).

Provenance
I first noticed this console in the spring of 2011 at "One Potato Two" (Routes 5&20 and 444 / Bloomfield, NY). Since it included the name and address of the original owner, I took the liberty to theorize how this set might have made it to an antique shop after a long life of service to its careful owner. A spare parts order from 1972 included the name and address of the original owner – "Niederhofer / 7289 Woolston Road / Holcomb, NY". I looked up the name, and found an obituary of Elisabeth Sofie Niederhofer (1919-2010). The story of her life seemed to correlate with someone who would be interested in a German-made shortwave set. She was married to Kurt J. Niederhofer, had a family, and was active in the German-American society "Rochester Touristen Verein" (RTV) based in Lima, NY. The RTV website said, "On the second Sunday of June each year, the RTV club hosts a large celebration of nature's reawakening, called the "Baumblüten Fest" (Blossom Festival)." This radio appeared at "One Potato Two" roughly six months after Elisabeth's passing (September 30, 2010). If you know the family, and can confirm this radio was in their home, please contact me.

Original Dealer
Eastman Music Shop
Date Purchased: April 1970
Model No.: 2357 Locarno 3/U
Serial No.: 63944

Grundig Electronic Sales Inc.
355 Lexington Ave.
New York, NY 10017

Original Owner
Niederhofer (possibly Kurt J.)
Address: 7289 Woolston Road
RD1 Holcomb, NY
315-657-7639
---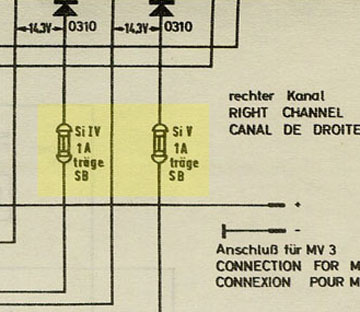 Both Sides Now
After thoroughly cleaning the cabinet, knobs, tuning dial, and replacing three dial lamps, the only remaining issue was the balance control knob, which caused distortion through the left side speakers when turned to the left-most position. I removed the chassis and used DeoxIT on the balance potentiometer, but it made no difference. The ultimate solution was to replace the blown fuse (20 mm, 1 Amp, slow blow) for the left side circuitry.

Radio Shack had the correct fuses
Description: 1.0A 250V 5 x 20 mm Slow-Blow Glass Fuse (4-Pack)
Model: 270-1063 / Catalog #: 270-1063
Price: $3.19
---
Lamp Replacement
The signal strength lamp, and two tuning dial lamps were replaced with Type 40 lamps (6.3 volts, .15 Amp, screw base).

Stereo Signal Lamp – "Unobtanium"
The "stereo" signal lamp was the only one still working when it was rescued from the barn. It was an Osram® 6 volt .3W, screw base. The schematic listed it as 6 volt, 50 mA (6 volt * 50 mA = 0.3 Watt). As long as the chassis was out of the cabinet, I wanted to replace all bulbs as a preventative measure. It was impossible to find a bulb with these specific ratings at the usual sources in the USA, but an internet search resulted in a hit from the U.K. The key was to include "0.3W" in the search.

Paydirt!
www.lampspecs.co.uk
Description: 10 mm x 28 mm 6V, 50 mA, 0.3 Watt, screw base
Price: £0.75 each, plus VAT and freight (selected non-Euro Royal mail)
Ordered six bulbs August 21, 2012
Total: £13.50 GBP ($21.31)
---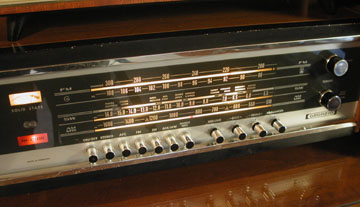 Photo: September 26, 2012 / Nikon Coolpix 990
Detail of 1969 Grundig (Germany) "RTV 320U" AM/FM/SW stereo receiver/tuner
Tuning Range:
AM: 510 kHz - 1600 kHz
FM: 87.5 MHz - 108 MHz
SW: 5.5 MHz - 16 MHz
Visited Ross Hochstrasser (formerly known as Bavarian Radio Works) on the way from Wellfleet, Massachusetts to Boston on Friday September 14, 2012 and picked up a 1969 Grundig "RTV 320U" AM/FM/SW stereo tuner/receiver. He graciously included a single matching Grundig "Box 8" speaker (the grille was slightly damaged) and a Grundig "Super Hi-Fi" speaker (slightly "crunched"), which was designed to hang from a brass hook (included). No other model number was found on the "Super Hi-Fi" speaker. The RTV 320U itself was in nice shape, with a few scuffs, but fully functional – including both dial lamps, the stereo indicator lamp, and the signal strength meter – price was $50. Although the speaker enclosures were slightly damaged, they functioned, and had the "DIN 2-pin male connectors" necessary for the radio.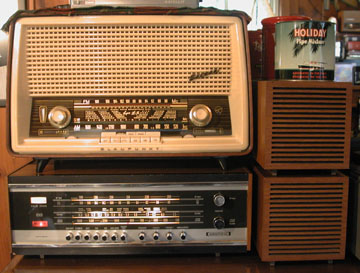 Photo: September 26, 2012 / Nikon Coolpix 990
Top: Blaupunkt (Germany) "Sultan" (Type 20203) AM/FM/SW table-top radio
Bottom: Grundig (Germany) "RTV 320U" and Grundig "Box 8" speakers (stacked on right)
A few days later (September 18, 2012) while vacationing in the Adirondacks, I also bought a nice set of matching Grundig "Box 8" speakers on eBay for $150 (see photo). In 1969 the radio was sold without speakers, so it was left to the customer to make a decision. The "Box 8" speakers are short (as tall as the radio), while there were also similarly designed Type "Box 412" loudspeakers that were taller (15"). Either one is considered "period correct."
---
Panasonic "R-70" a.k.a. "Panapet"
| | |
| --- | --- |
| | |
| Photo: September 22, 2013 / Nikon Coolpix 990 | Photo: August 15, 2017 / iPhone 7 |
Panasonic (Japan) "R-70" AM transistor radio
A new red planet? No! It's the R-70 conveniently hanging from the ceiling by its chain!
Found this icon of 1970s kitsch at the annual, town-wide flea market in Indian Lake, NY on September 19, 2013. Price was $10. Picked up a 9 volt battery (in Speculator, NY) but only got static. There was a dearth of AM stations in the area, but back in civilization, it picked up all local AM stations. This radio was also known as the "Panapet" – Pana (Panasonic) and Pet (presumably, because it's on a chain). This also opened up a new way to display radios – by suspending them from the ceiling. Note the full size components inside. This is from what I call the "pre-Walkman era" just before the personal, miniturized electronics revolution began. See Sony ICF-9550W.

Update / August 15, 2017: Cleaned the volume pot with DeoxIT.
---
Gulden's Mustard novelty AM transistor radio
October 27, 2013: Picked up this novelty AM transistor radio at the annual toy and collectible show in Buffalo, NY for $15. The on-off switch and frequency control dial are both on the bottom. The top unscrews to reveal the 9 volt battery connection.
---
RCA model "RLC 70B LT SAND" a.k.a. The Banff
1968 RCA (USA) "RLC 70B" (AM/FM stereo) receiver
Serial Number 83850215 / more photos
Photos: February 4-5, 2017 / iPhone 7
Tuning Range:
AM: 540 kHz - 1600 kHz
FM: 88 MHz - 108 MHz
January 22, 2017 (Sunday): WYSL operations manager Bob D'Angelo presented me with this 1968 RCA model "RLC 70B LT SAND" (light sand color). He got it at a garage sale, "for a couple bucks", and no longer had a need for it.

February 4, 2017 (Saturday): Had the day off from WYSL (Michael Warren Thomas was recorded), so had time to replace the stereo indicator lamp (a mini, "grain of wheat" style bulb) and clean the pots with DeoxIT.

The tuning dial appeared to have no illumination. Did the designers think radios are not used at night? Even though the back of the cabinet says, "stereo and pilot lights are soldered in place", I was unable to locate any dial lights or "pilot lights." The power cord had already been replaced by Bob. The cabinet had some cracks, and normal wear and tear (average for a 49 year old plastic exterior) but the interior was in good shape (albeit a little dusty). Reception and audio were fine on both FM and AM, and after cleaning, the pots could be adjusted without any scratchiness. See resulting YouTube video. Looking for a schematic. I'd like to encourage anyone who has one of these radios to contact me to compare notes.
---
Other Interesting Radios

Hallicrafters "SX-100"
www.universal-radio.com/CATALOG/commrxvr/sx100.html

Panasonic "RF-3100"
www.rigpix.com/nationalpanasonic/rf3100.htm

Quest For Sound "R601P"
www.questforsound.com/tuners/tuners_R601p.htm

Grundig "G2 Reporter"

Click to join the Grundig G2 Reporter Yahoo! group

Sangean "PR D2V Q"
www.universal-radio.com/catalog/spcialty/4553.html

Grundig (West Germany) "Satellit 210 / Transistor 6001"
---
Using Monaural Radios with Stereo Headsets
The standard monaural output on shortwave radios will only play through one channel of a stereo headset, unless a "Stereo-to-Mono Audio Adapter" is used. As of April 4, 2005 Radio Shack sells the needed adapter (Radio Shack part number 274-368) for $2.99. The adapter accepts a 1/8" Ø stereo phone plug (on the headset) and fits a 1/8" Ø mono phone jack (on the radio).

Radio Shack's website describes part number 274-368 as:

Use stereo headset with mono device such as scanner!
* Accepts 1/8" Ø stereo phone plug
* Fits 1/8" Ø mono phone jack
* Lets you connect stereo headphones to scanner, CB or shortwave radio, or recorder

Note that a 1/8" Ø phone jack (on US models) is the same as a 3.5mm Ø (DIN 45318) as found on German and European radios.
---
Send 1/8" Stereo Headphone Output to Your Stereo Receiver

Send 1/8" Ø stereo headphone jack output to RCA type plug inputs on your stereo receiver. Radio Shack sells an adapter (part number 42-2551) with 6 feet of cable for sending the output of your 1/8" Ø stereo headphone jack to RCA type connectors on your stereo system. This way, a portable CD player, cassette player, or portable shortwave radio can be used in conjunction with your favorite stereo amplifier and speakers, or your "alternate" stereo in your workshop, garage, etc. The official Radio Shack description of this part is, "6-Ft. Gold Series Phono-to-1/8" Y-Adapter."
---
Events (reverse chronological order)
23-aug-2013 (Friday) AWA Conference flea market – free and open to public one day only. Met Kevin (WB2QMY) at 7:30 a.m. for a few hours. Could not get time off from work to attend the entire conference – the second time since 2004. A hectic work schedule precluded volunteering at the AWA Museum this year too. Chatted with Joe (W3GMS) and gave him two sample Viking Valiant knob inserts recently purchased from McMaster-Carr. Chatted with Joe Di Maggio (WA1HFQ), Jerry (W1ZB), Bill (W2AWA) and others. Picked up a book "A Flick of the Switch 1930-1950" ($5.00) and an electric clock with wooden fireplace mantle with small bulb behind the logs ($22). Weather was fine with temperatures in the upper 70s, and clear skies.
03-aug-2013 (Saturday) Niagara Frontier Wireless Association (NFWA) swap meet. Amherst Museum / Amherst, NY / 8:00-noon. Annual summer meet. Entrance was free. Free coffee and donuts and free lunch. Museum opens at noon. I-90 west to exit 49 (Transit Rd.). North nine miles to Tonawanda Creek Rd. Turn left (west). Go two miles to the Museum. Roy (W2IT) picked me up at 0700.
24-aug-2012 (Friday) AWA Conference flea market – free and open to public one day only. Met Kevin (WB2QMY) at 7:30 a.m. for a couple hours. Could not get time off from work to attend the entire conference – the first time since 2004. A hectic work schedule precluded volunteering at the AWA Museum this year too. Met Paul Rosen of Toronto who restores radios, and is interested in German and European radios. Also discovered a shared interest in vintage Mercedes-Benz. He had a 1970 W114 250/8 (olive green w/ tobacco interior), and a 1990 W124 300E (diamond blue) daily driver. His father also drove a 1960s W111 220b, and a 220Sb, etc. We sat in my 1966 W108 250S and looked at the Becker radio schematic, etc. I picked up a box of Type 40 dial lamps and some dial cord. Weather was clear and hot (80s).
04-aug-2012 (Saturday) Niagara Frontier Wireless Association (NFWA) swap meet. Amherst Museum / Amherst, NY / 8:00-noon. Annual summer meet. Entrance was free. Free coffee and donuts and free lunch. Museum opens at noon. I-90 west to exit 49 (Transit Rd.). North nine miles to Tonawanda Creek Rd. Turn left (west). Go two miles to the Museum. Roy (W2IT) picked me up at 0615, and we met Kevin (WB2QMY) at his QTH at 0645. Weather was hot (low 90s). Only purchase was a 1967 Grundig "Transistor 301" for $3.00. Missing tuning knob. Try to follow up with Mike Zak next year as he is familiar with tube testers (including Hickok model "TV-10B/U").
05-may-2012 (Saturday): AWA Spring Meet. Cool but pleasant weather. Got two porcelain insulators for future projects ($2.00 each). The event was at the former AWA Annex building, across the street from the future museum site. Turnout was good.
16-sep-2011, 17-sep-2011 (Friday and Saturday): Kutztown vintage radio swap meet. Sponsored by the Delaware Valley Historic Radio Club (DVHRC). Kutztown, PA. Drove five hours on Thursday from Inlet, NY. It rained most of Thursday. Weather on the days of the swap meet was sunny and about 60-65°. Had not been to this event since 2006, and noticed it had grown into part of a second pavilion. Attendance was good, and there were a lot of radios, books, tubes, and ephemera to choose from. I did not buy anything because of an attempt to "control the burn" after getting the SABA "300 Automatic Stereo 11" back in August. Bumped into Brian Sargeant of Radio Daze several times at the swap meet and also at two antique malls around town during the day. Also met his wife, Glenda. Went back to the swap meet on Saturday because the indoor flea market was not open Friday.
17-19-aug-2011 (Wed - Friday): 50th annual Antique Wireless Association (AWA) Conference. Consisting of swap meet (out of doors), book fair, lectures, presentations, ample opportunity for socialization, an "old equipment contest", awards banquet, buffet dinner (with live music), auction (held Saturday August 20, 2011), and open-house at the world famous AWA Museum and Annex in Bloomfield, NY. The conference ran from Tuesday through Saturday, but I only attended Wed - Fri. On Saturday, I was on-duty at the AWA Museum with Kevin (WB2QMY). Weather was hot and sunny from Wednesday through Saturday with temperatures in the mid to upper 80s. Bought this Nordmende "Transita DeLuxe" for $15, and a 1940 book on Reginald Fessenden ("Fessenden - Builder of Tomorrows") for $40. Also picked up a really nice 1950s vintage space heater manufactured by Industrial Tool & Die Works, Inc. 2824 University Ave. Minneapolis, Minnesota. It was a 1,000 watt unit, and had the original (or period) power cord, and two toggle switches (one for the single-speed fan, and one for the heater coils) — priced right at $5.00, and it generated a lot of heat with minimal noise from the fan. The vendor included a "Realistic" (Radio Shack brand name) weather radio (with simulated wood grain, cube styling, and one-touch on-off switch) for free – it gets static, but no WX frequencies. Also scored a 9-pin socket adapter from Lynn (W2BSN).
2011 AWA Museum Guide and Volunteer Schedule: Saturday May 7 Spring Meet (9:00 a.m. - 11:00 a.m. registration desk / 1:00 p.m. - 3:00 p.m. Museum, Saturday June 25 (2:00 p.m. - 4:00 p.m. w/ Duncan K2OEQ), Saturday July 30 (2:00 p.m. - 4:00 p.m. w/ Tom (W2ODW/SK) Kevin WB2QMY), Saturday August 20 (2:00 p.m. - 4:00 p.m. w/ Kevin WB2QMY).
19-22-aug-2010 (Thursday - Sunday): 49th annual Antique Wireless Association (AWA) Conference. Consisting of swap meet (out of doors), book fair, lectures, presentations, ample opportunity for socialization, old equipment contest, awards banquet, auction, and open-house at the world famous AWA Museum and Annex. Weather was good with temperatures in the 70s and 80s. Spent time with Kevin WB2QMY at his trailer under the tent. Ended up buying his "Aqua Guide 705" Radio Direction Finder. Also found several old radio books.
2010 AWA Museum Guide and Volunteer Schedule: June 26 (Sat. 2:00 p.m. - 4:00 p.m. w/ Roy-W2IT), July 31 (Sat. 2:00 p.m. - 4:00 p.m. w/ Warren-W2ZRW), September 18 (Sat. 2:00 p.m. - 4:00 p.m. w/ Ed-K2MP). An unfortunate reality of the 2010 Museum guide schedule was that I had to work my regular job (on-call I.T. support) each of the days I was scheduled to work at the Museum.
27-mar-2010 (Saturday): Visited the Hammond Museum of Radio in Guelph, Ontario, Canada. Traveled with Lynn (W2BSN) and Kevin (WB2QMY). Kevin and I left my QTH at 0630. The temperature was a chilly 18° F. Got to Lynn's QTH at 0655. Lynn drove the whole way. It was mostly sunny, and finally got up into the mid-40s. It took about three hours to get to the museum from Penfield, NY - including one rest stop. Mapquest predicted a three hour and 40 minute journey. The museum was well worth the trip. We stayed for more than four hours and chatted with Lloyd Swackhammer, Norrie and John. Norrie is the curator and John and Lloyd are docents. John and Norrie are a married couple.
05-06-mar-2010 (Friday/Saturday): The Winter shortwave Listener Fest (SWL Fest - www.swlfest.com) at "The Inn at Towamencin" in Kulpsville, Pennsylvania. Traveled with Kevin (WB2QMY). Left Kevin's QTH in West Bloomfield, NY at 0720 on Friday March 5, 2010. We enjoyed excellent weather for traveling. Friday was sunny and in the 30s and on Sunday (the sad return trip) it was sunny and in the 40s. We stopped at the famous Fry Brother's Turkey Ranch for lunch on Sunday (19919 US Highway 15, Trout Run, Pennsylvania). The Winter SWL Fest is a conference of radio hobbyists of all stripes, from DC to daylight. Every year scores of hobbyists descend on Kulpsville, Pennsylvania, just outside Philadelphia, for a weekend of camaraderie. The Fest is sponsored by the North American Shortwave Association (NASWA), but it covers much more than just shortwave; mediumwave (AM), scanning, satellite TV, and pirate broadcasting are among the other topics that the Fest covers. Over the course of the weekend, I met "Cosmik Debris" (a.k.a. Larry) and his side-kick Jane (both of "The Lumpy Gravy" radio show on WBCQ), Tim Lemmon (another SWL and presenter from Georgia), George Zeller (until recently, a pirate radio columnist for Monitoring Times), Commander Bunny (pirate broadcaster from the "Area 51" radio show on WBCQ) and I learned more about Glenn Hauser (another shortwave columnist). Also met Michael Pool (of "Radio Kitchen" blog fame) and on Saturday night at the banquet dinner sat with David Goren (producer of NPR's "Jazz at Lincoln Center" and also www.shortwaveology.com). Also saw the infamous "Scarf Man" (Steve) who writes down serial numbers of any and all electronic equipment (primarily radios) he can find. Also met numerous others who are interested and active in the SWL community. I am hoping to get back to the SWL Fest in 2012 for their three-day 25th anniversary festival.
20-23-aug-2009 (Thursday - Sunday): 48th annual Antique Wireless Association (AWA) Conference. Consisting of swap meet (out of doors), book fair, lectures, presentations, ample opportunity for socialization, old equipment contest, awards banquet, auction, and open house at the world famous AWA Museum and Annex. On Friday, the weather was warm (77-85°) with high clouds and breaks of sun in the morning, which changed to all sun in the afternoon, which changed to heavy rain at about 6:00 p.m. Saturday was sunny and about 82°. Ended up with a nice J-38 straight key made by Lionel, a real nice Philco Tropic radio, Model B.3101 B Code 123, a metal pocket voltmeter made by Leader with original wire and connectors, probably dating from the 1920s. Also bought several antique radio books and booklets from various vendors.
2009 AWA Museum Guide and Volunteer Schedule: May 2 (Sat. 7:00 a.m. - 4:00 p.m. Spring Meet), May 17 (Sun. 2:00 p.m. - 5:00 p.m. w/ Duncan-K2OEQ), June 7 (Sun. 2:00 p.m. - 5:00 p.m. w/ Dick-WA2TLR), July 11 (Sat. 2:00 p.m. - 4:00 p.m. w/ Larry Babcock Lynn-W2BSN), August 8 (Sat. 2:00 p.m. - 4:00 p.m. w/ Tom-W2ODW/SK), September 12* (Sat. 2:00 p.m. - 4:00 p.m. solo w/ Tom-K2TDZ) *Pete-WB2UAQ shadowed me.
20-23-aug-2008 (Wednesday - Saturday): 47th annual Antique Wireless Association (AWA) Conference. Consisting of swap meet (out of doors), book fair, lectures, presentations, ample opportunity for socialization, old equipment contest, awards banquet, auction, and open house at the world famous AWA Museum and Annex. Weather was sunny and hot (about 85° each day). Flea market was smaller than previous years, but the indoor presentations and lectures were interesting and informative. The social hour and award banquet were enjoyable, and the items in the old equipment contest were great. I did not go to the auction Saturday morning, but did attend the other events.
2008 AWA Museum Guide and Volunteer Schedule: May 3 (Sat. 7:00 a.m. - 4:00 p.m. Spring Meet), June 15 (Sun. 2:00 p.m. - 5:00 p.m. w/ Lynn-W2BSN), June 29 (Sun. 2:00 p.m. - 5:00 p.m. w/ Hugo-KD2NJ), August 10 (Sun. 1:00 p.m.* - 5:00 p.m. *Started one hour earlier due to Bloomfield historic festival w/ Ron-W2FUI Alan-K6PSP), August 24 (Sun. 2:00 p.m. - 5:00 p.m. solo w/ Bob-N2EVG), September 27 (Sat. 2:00 p.m. - 4:00 p.m. w/ Tom-W2ODW/SK).
03-may-2008 (Saturday): Antique Wireless Association (AWA) Spring Meet / Bloomfield elementary school. Bloomfield, NY. I volunteered to be there all day (0700 - 1600). Actual schedule (sent 21-apr-2008 via USPS) was: 1:00-1:45 "Annex", 2:00-4:00 "Museum." Other volunteers on same schedule: Dave Atkins (N2WZS), Kevin Carey (WB2QMY), Mike Csontos (SK), Tom Slater (K2TDZ), Warren Wiedmann (W2ZRW).
02-may-2008 (Friday): Took time off work to help set up tables and chairs for the AWA Spring Meet. Met at Cheap Charlie's restaurant in Bloomfield around noon. Leisurely lunch. Could not get into the school until after students left. Done setting up by 5:00 p.m.
15-jan-2008 (Tuesday): Take the day off work to volunteer at the Antique Wireless Association (AWA) Museum Annex. Helped inventory parts, and photographed documents and photographs. Went to the RDXA (Rochester DX Association) dinner and meeting at 17:30. The program was an overview of the AWA as presented by Ed (K2MP), former curator of the AWA Museum.
04-dec-2007 (Tuesday): Take the day off work to volunteer at the Antique Wireless Association (AWA) Museum Annex. Helped inventory parts, placed radios on shelves, tried fixing the band switch on my Viking Valiant transmitter and went out to lunch with the gang. This was the same day that the F.C.C. issued my new amateur radio call sign, N2AWA.
23-nov-2007 (Friday): Volunteer at Antique Wireless Association (AWA) Museum from 11:00 - 12:00. Conduct private tour.
11-nov-2007 (Sunday): Volunteer at Antique Wireless Association (AWA) Museum from 14:30 - 15:30. Gave private tour to approximately 20 members of the "Western New York Chapter of the Wooden Canoe Heritage Association."
06-nov-2007 (Tuesday): Take the day off work to volunteer at the Antique Wireless Association (AWA) Museum Annex. Helped inventory parts and went out to lunch with the gang.
20-oct-2007 (Saturday): CC-AWA Fall swap meet / City Lake Park, Jamestown, NC. This event was near Greensboro, NC and was a small parking lot swap meet. A lot of buying/trading activity and friendly people to talk to. I purchased seven books at this event. I got there at 07:00 (still dark) and left around 09:20.
19-oct-2007 (Friday): Visited W4AFM - The Southern Appalachian Radio Museum in Asheville, NC. A nice collection in a room on the campus of the Asheville-Buncombe Technical Community College. See Links for Museum website. The museum was staffed by Norman G. Harrill (N4NH).
17-oct-2007 (Wednesday): (4:00 p.m. - 6:00 p.m.) Visited Ron (W4RON) at his home near Charlotte, North Carolina. He has a large collection of antique radios dubbed, "Radio Heaven" (See Links).
30-sep-2007 (Sunday): Volunteer at Antique Wireless Association (AWA) Museum from 2:00 p.m. - 5:00 p.m. with Mani Pires. There were about 20 visitors. Nice weather and nice turnout. This was the last day of the season for the AWA Museum. I was filling in for Lynn (W2BSN) who was on vacation.
23-aug-2007 and 24-aug-2007 (Thursday and Friday): Antique Wireless Association (AWA) annual conference and swap meet (both days). Both days were hot (near 90°) and humid. Thursday it rained several times throughout the day, but Friday remained sunny. The flea market was smaller this year, but the presentations and lectures were the usual high, well researched quality. I volunteered at the AWA Museum on Thursday night from 7:00 - 9:00 p.m. for the open house. It was a mob scene.
11-aug-2007 (Saturday): Volunteer at Antique Wireless Association (AWA) Museum from 2:00 p.m. - 4:00 p.m. with Ron (W2FUI).
07-aug-2007 (Tuesday): Take the day off work to visit the Antique Wireless Association (AWA) Museum Annex. Helped inventory parts and went out to lunch with the gang.
05-may-2007 (Saturday): Antique Wireless Association (AWA) Spring Meet / Bloomfield elementary school. Bloomfield, NY. This date kicks off the AWA Museum season too. Got a Bearcat III crystal scanner (mint condition) for $2.00, and sundry other items in the flea market.
22 and 23-sep-2006 (Friday and Saturday): Kutztown swap meet. Sponsored by the Delaware Valley Historic Radio Club (DVHRC). Kutztown, Pennsylvania. Friday was sunny and warm. Saturday was wet and cool. I discovered this year that this is a two day event. It begins in earnest on Friday. I did not buy any radios, but found a book on audio systems. See Essential Vintage Radio Books and Literature. I also saw a circa 1956 RCA "Orthophonic" phonograph similar to the one we had at home until about 1972. The vendor was asking $80. I thought about it for a while, but finally decided to pass. I managed to take some photographs of the unit, and they will be posted on this page as time permits.
24-aug-2006 and 25-aug-2006 (Thursday and Friday): Antique Wireless Association (AWA) annual conference and swap meet (both days). Thursday was sunny and warm and Friday was wet and cool. Rochester, NY. $20 annual membership fee plus $23 pre-registration fee for the conference. A nice conference, but each year there seems to be fewer vendors in the flea market.
06-may-2006: AWA Spring Meet (Saturday) / Bloomfield elementary school. Bloomfield, NY. This date kicks off the AWA Museum season too.
17-sep-2005: Kutztown swap meet (Saturday). Sponsored by the Delaware Valley Historic Radio Club (DVHRC). Kutztown, PA.
24-aug-2005: Antique Wireless Association (AWA) swap meet (Wednesday). Rochester, NY. $20 annual membership fee plus $28 registration fee for the conference.
07-may-2005: Antique Wireless Association (AWA) Spring Meet (Saturday) / Bloomfield elementary school. Bloomfield, NY.
18-sep-2004: Kutztown swap meet (Saturday). Sponsored by the Delaware Valley Historic Radio Club (DVHRC). Kutztown, PA.
09-sep-2004: Canadian Military and Communications Museum. www.c-and-e-museum.org Free admission. Informative displays and descriptive narratives of radio technology, period photographs and a few military communications vehicles. It took about an hour to go through the museum. Located on Highway 2 between Kingston and Gananoque, Ontario.
18-aug-2004: Joined the Antique Wireless Association (AWA) and went to the annual conference and swap meet (Wednesday). Rochester, NY. $20 annual membership fee plus $28 registration fee for the conference.
---
Glossary
BFO = A beat frequency oscillator or BFO in radio telegraphy, is a dedicated oscillator used to create an audio frequency signal from carrier wave transmissions to make them audible, as they are not broadcast as such. The signal from the BFO is then heterodyned with the intermediate frequency signal to create an audio frequency signal.

Ø = diameter
DX = Distant Transmitter (as in, listening to long distance broadcasts)

Some notes about reading German schematics:

amplifier = verstarker
bass = bass = B
treble = höhen = H
voltage = spannung
volume = lautstärke = lautst. = L

Ferrite: From the Latin ferrus, meaning iron. When a radio is said to have a ferrite antenna, that means it is made of iron or another ferrus material.

Telefunken: The abbreviation or trade name of the large German wireless concern, the full name of which is Gesellschaft für drahtlose Telegraphie m.b.H. The name is composed of the words "Funken," which is the German plural of "Funk", a spark, and "Tele," which has the same meaning as the English, namely "afar" (from the Greek tele).
---
Footnotes / References

1

"The Lessons of Grundig" (Dr. Sam Vaknin):

samvak.tripod.com/brief-grundig01.html 2

Grundig Historical Overview (per Wikipedia):

en.wikipedia.org/wiki/Grundig 3

Channel Master cassette recorder model "6305A" (Serial # 973931). DC operation via 5 "C" cells (7.5 volts DC). AC operation via a 120 v "wall wart" transformer. Photo Courtesy: Scott Vandusen / February 25, 2008

4

Radio-Phono Fernseh Katalog courtesy: Bob Havalack (Eager Brothers Music) August 23, 2007
---

c o n t a c t / r a d i o w o r l d
---
Hands Across the Ether
Established: August 18, 2004
© Black Sparrow Photography / Jeffrey P. Miller (N2AWA)
---