1964-1965 Grundig "2420 U"
AM/FM/SW Radio
Another Achievement from Radio Headquarters
---
---
This page chronicles repairs made to a Grundig 2420U table-top radio. It may look shabby, but it's a strong performer. A few minor tweaks were made since it arrived in April 2019. See Repair History for details.
---
Table of Contents
---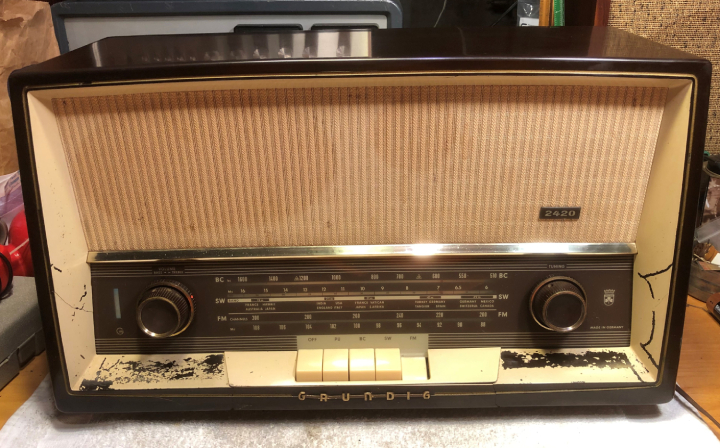 Photo: December 11, 2019 / iPhone 8

Grundig (West Germany) "2420U" / Serial № 1321601220
Tuning Range
AM (BC): 510 – 1620 kHz
FM (UHF): 88 – 108 MHz
Shortwave: 5.9 – 16 MHz*
*Includes
49 meters 5950 to 6250 kHz broadcasting
41 meters 7100 to 7300 kHz broadcasting


40 meters 7000 to 7300 kHz ham radio


31 meters 9500 to 9900 kHz broadcasting


30 meters 10100 to 10150 kHz ham radio


25 meters 11650 to 11975 kHz broadcasting
22 meters 13600 to 13800 kHz broadcasting


20 meters 14000 to 14350 kHz ham radio


19 meters 15100 to 15600 kHz broadcasting
Valve (tube) line up
ECC85, ECH81, EF89, EABC80, EL84, EM87*
*EM87 is the "magic eye" (signal strength indicator)
Dial Lamps
Type 40 (two required)
Loudspeakers
SP1 = 6" x 9" (large, mounted behind front grille)
SP2 = 3" electrostatic (small, mounted behind front grille)

Cabinet construction
wood (internal) with Bakelite exterior
Sister model
Grundig Type "2440U"
---
Provenance
This Grundig 2420U was generously donated and shipped from Afton, Virginia by Allen Dolleris, who found the Hands Across the Ether radio page, and got in touch via email. He inherited the radio from his father, and while he claimed to have no practical use for it, he thankfully chose to save it from the landfill and find it a new home. His initial contact was December 9, 2018. I must have been somewhat skeptical, and wanted some assurance that it wasn't a basket case, so at my behest, he made a video of the radio performing on the BC (AM) band. Finally, after several months of sporadic messages about shipping logistics, it arrived at WYSL (my weekend gig) on April 18, 2019.

Condition
It arrived intact, and as the photos show, there was a significant amount of patina (a.k.a. paint wear) around the dials, a few scuffs, scrapes, stains, and cracks, along with the normal accumulation of dust, grime, and other obvious signs of general neglect. Two cracks in the Bakelite cabinet are visible on the lower front panel – on either side of the world-famous G-R-U-N-D-I-G name. In other words, it was in fair condition. The good news: electrically, it functioned fine on the AM band using the internal (non-rotating) antenna, and with the FM antenna connections repaired (see Repair History) it still had good reception and audio quality on FM (VHF). Shortwave reception was untested as of this writing (November 28, 2019).

Original Documentation (including schematic)
Fortunately, the set retained its original Grundig factory information pack – including the operating instructions and schematic. Also included in the envelope was the original bill of sale from the House of Television / 2082 Main Street / Springfield, Massachusetts / RE 9-2567 (telephone) / Invoice № 13482. / A deposit (down payment) of $5.00 was made against the total price of $62.06, and the balance ($57.06) was paid in cash on 5/7/65. Note that what cost $62.06 in 1965 would cost $499.80 in 2018.


Photos: November 28, 2019 / iPhone 8

Original schematic, operating instructions, and bill of sale. Note the schematic pertains to both the 2420U and 2440U models.

Civil Defence (CD)
The Grundig 2420U was built for the 1964-1965 season, so it was interesting to see the Civil Defense (CD) symbols on the AM band, which were only required by law until 1963. CONELRAD was the emergency radio broadcast system that was supposed to provide civil defense instructions in case of a nuclear attack by tuning to 640 kHz or 1240 kHz on your AM radio dial. As if your local station would still exist after they dropped the big one. CONELRAD stood for CONtrol of ELectromagnetic RADiation. It was replaced by the Emergency Broadcast System (EBS) on August 5, 1963.
---
Repair damaged paint on front panel near tuning dials.

paint stripper
primer paint
ivory (or antique white) paint
---
Table 1
Valve ( tube ) line-up ( 6 total )
Prices per AES (www.tubesandmore.com) as of (DATE)

Tube
Cross Reference
Schematic Ref. Nr.
Type
Reference
Price
ECC85
6AQ8
Double Triode VHF-tube (FM tuner section)
www.r-type.org/exb/exb03323.htm
ECH81
6AJ8
Triode-Heptode Frequency converter controlling "mu" (Greek letter µ = symbol for amplification factor) (AM converter, and FM first IF stage)
www.r-type.org/exb/exb03328.htm
EF89
6DA6
Pentode RF/IF-tube controlling "mu" (Greek letter µ = symbol for amplification factor) IF stage (Intermediate Frequency) for both FM and AM reception. (affects audio level)
www.r-type.org/exhib/aaa0270.htm
EABC80
6AK8
Triple Diode-Triode Detector tube. Used in AM and FM detection, and the first audio amplification stage.
www.r-type.org/exb/exb03299.htm
EL84
6BQ5
Pentode Power tube (audio amplification)
www.r-type.org/exb/exb03367.htm
EM87
6HU6
Tuning indicator tube ("magic eye")
www.r-type.org/exhib/aad0128.htm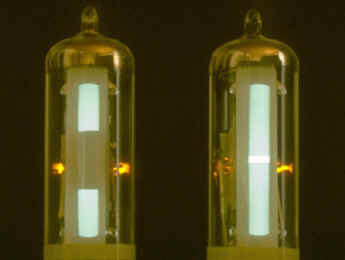 EM87 "Magic Eye" Tuning Tube
Left: quiescent state. Right: appearance when tuned to a strong signal (note slight overlap).
---
Photo: November 28, 2019 / iPhone 8
The tuning dial pilot lamps (two required) are Type 40, 6.3 V, 150 mA (0.15 A) miniature screw base, cylindrical bulb, clear glass. The dial lamps are typically sold in packs of 10 at vintage radio swap meets, and the usual online sources. See Links.
---
FM antenna connections
Photos: May 7, 2019 / iPhone 7
Problem with the FM Audio
The FM antenna leads terminate inside the cabinet at two non-insulated ring terminals screwed to a white plastic terminal strip, which is glued to the roof (see photo). Each terminal strip screw is connected to a separate sheet of conductive paper, which creates the 240 Ω FM dipole antenna on the interior walls and roof of the cabinet. Unfortunately, at some point, the terminal strip was dislodged from the roof, and the conductive paper was torn, thus breaking the continuity of the dipole. This was critical because without the antenna, no audio was being produced on the FM band. Searching online for a solution, I ordered a roll of aluminum adhesive tape, which turned out to be an inexpensive and effective solution.
Internal FM antenna connections repaired with aluminum adhesive tape. See resulting YouTube video
Photos: December 7, 2019 / iPhone 8
---
Lubricate Band Selector Switch and Repair Bakelite Cabinet
December 11, 2019 (Wednesday): Since receiving the radio in April 2019, when switching from FM to BC (AM), the FM "piano key" switch was slow to return to the raised position. The goal this evening was to clean and lubricate the band selector switches to make them function normally again. The chassis would need to be removed from the cabinet to gain access to the switch mechanism.
To remove the chassis, first, the four screws under the cabinet were removed. Next, the electrostatic (high tone) loudspeaker was simply unscrewed from the front panel and removed together with the chassis (see annotated photo). Finally, the large loudspeaker wires were unsoldered (see photos of empty cabinet).
Vacuumed out the dust, cruft, and spider webs, and utilized a variety of products to make a few minor cosmetic repairs. Started with Elmer's Glue-All to re-affix some loose corners of the original conductive paper FM dipole antenna, and a tiny bit of speaker grille cloth. Next, Loctite Super Glue Ultragel Control was used to repair a long crack in the bottom of the Bakelite cabinet (see photo). Applied Labelle 107 Lubricating Oil on the dial cord pulleys and the tuning capacitor shaft. Finally, cleaned and lubricated the band selector switches with DeoxIT D5, which achieved the desired results – i.e. the band switching mechanism worked as easily as the day it left the factory.
Photos: December 11-12, 2019 / iPhone 8
See resulting video of band selector switch operation after cleaning.
---
December 19, 2019 (Thursday): Ordered a 5 oz. can of Nevr-Dull [sic] "Magic Wadding Polish" from www.amazon.com. Price: $9.13 (shipping included) + $0.68 tax = $9.81 – <gift card balance> = Grand Total: $0.00! Arrived December 23, 2019 (Monday). Had no particular need for it on this radio, but the old can of "magic wadding" had lost its magic (it dried up). That can was purchased December 7, 2007 for cleaning/polishing the silver tank coils (L13A and L13B) on the Viking "Valiant" AM transmitter.
---
Table 2
Replacement Parts for Grundig 2420U
Compiled: xx-xxx-200x through xx-xxx-200x. Placed order: multiple days
Vendor 1: RD (Radio Daze) - www.radiosupply.com
Vendor 2 (for reference): AES (Antique Electronic Supply) - www.tubesandmore.com
Schematic part number
Original component and composition
Value (original)
Value (replacement)

Composition of new part
Vendor (Part number)
Price ($)
Quantity (actual)
Purchased / Ordered
Date
Total ($)
---
---
April 2019: Thanks to Allen Dolleris for donating this radio.
---


c o n t a c t / r a d i o w o r l d
---
1964-1965 Grundig "2420 U" AM/FM/SW Radio Restoration
Established: December 16, 2019
Last Update: November 07, 2022
© Black Sparrow Photography / Jeffrey P. Miller (N2AWA)
---