C.B. Radios / Scanners
Citizen's Band (a.k.a. C.B.) Radios and Scanners
Another Achievement from Radio Headquarters
---
---
Table of Contents
---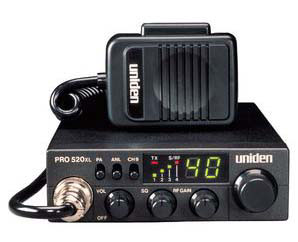 Photo 1. stock photo
This solid-state, 40 channel C.B. radio (AM transceiver) was purchased new in 1988. It was pressed into service again on July 25, 2013 after a 20+ year hiatus to begin re-exploring the 11 meter band. It worked well, and (incredibly) was still in production – 25 years after purchase.

Update / March 28, 2020:
This radio was still in production and being sold in 2020, an amazing 32 years after I purchased it. Is that some kind of a record for a C.B. radio?
Photo 2. Amazon advertisement for a new UNIDEN "PRO 520XL" / March 28, 2020
According to a 2012 Bells CB YouTube video, the newer PRO 520XL models have a MOSFET final, not a bipolar transistor anymore, which results in higher peak power. He referred to the rig as his Maytag C.B. radio (meaning it rarely needs service). He also said, "It looks small, but they sound good, and perform well for a long time."

This was the radio responsible for my discovering that two-way communication with local radio fanatics was a fun thing. In August 2013, the output power measured 4-5 watts, and the SWR with the original, Shakespeare mag-mount whip on the roof of the car was a perfect 1:1 match. Nothing fancy, but capable of providing another means of communication, information, and entertainment out on the open road.
Photo 3. Uniden "PRO 520XL" / Ser. 95006591 / Made in the Philippines / August 8, 2017 / iPhone 7
---
Photo 4. This advertisement for the TRC-205 is oddly reminiscent of Slim Pickens riding the A-bomb to oblivion in Dr. Strangelove (1964)
Introduced in the 1978 Radio Shack Catalog (page 150)
4 watt, 40 channel, Citizens Band (C.B.) walkie-talkie (with protective vinyl carry case)
Courtesy: "Frozen Bob" Graham (Prescott, Ontario, Canada) / September 6, 2007
Need to photograph this radio because it looks pretty serious!
Unfortunately, no signs of life with the eight AA cells.
---
Photo 5. 1980 Realistic "TRC-450" / August 31, 2013 / Nikon Coolpix 990

1980 Realistic "TRC-450" (Radio Shack / Fort Worth, Texas)
Made by Uniden for Radio Shack
AM / SSB Transceiver
Manufactured in Taiwan / Serial Number 93002570

Note: Realistic "TRC-450" is powered by an Astron RS-20A Supply (16 Amp Continuous)

40 Channel Transceiver for AM, Upper Side Band and Lower Side Band
Frequency Range: 26.965 MHz to 27.405 MHz
Power Requirements: 13.8 volts DC
Digital (PLL) Synthesizer
Photo 6. The TRC-450 was introduced in the 1980 Radio Shack catalog (page 81) as catalog number 21-1564.
This fine 40 channel AM/SSB C.B. radio was purchased August 27, 2013 for $65 in Pocono Summit, Pennsylvania through a Craigslist advertisement. According to the Radio Shack Catalog, the TRC-450 was introduced in 1980. This example had never been opened. Included the box, all packaging materials, documentation (instruction manual and FCC manual), microphone, brackets, hardware, and power cord. Condition was absolutely "as new." Everything functioned as designed, and there were no surprises. I took a day off work to pick it up. Round trip was about eight hours including two fuel stops.

The TRC-450 is used primarily in SSB mode with a circa 1978 Shakespeare "Big Stick" (17 foot, two-section, fiberglass vertical antenna) up about 30 feet. With the advent of the internet and cell phones, C.B. radio is no longer what it was in its heyday, but there are still a surprising number of operators who work DX in SSB mode. Channel 38 LSB is a popular meeting spot. Of course, there are a number of "lids" (less than courteous operators) on the band, who give the band the moniker, "Children's Band." Like anything in life, you get out of it what you put into it. It can be a lot of fun, especially when the skip comes rolling in.

References
---
Photo 7. Astatic "600 – RF Power Scanner" / July 17, 2017 / iPhone 7
Astatic "600 – RF Power Scanner" (SWR / RF Power / Modulation) Illuminated Meter
Astatic 600 (requires coax jumper) / Illuminated, SWR, Power, Modulation
Purchased 29-jul-2013 / $117.48 / Amazon
Astatic 600 Instruction Manual
---
Photo 8. Replaced "grain of wheat" bulb in Realistic "TRC-450"
May 2, 2016 / The TRC-450 meter went dark. Replaced the "grain of wheat" bulb with Radio Shack part number 272-1141 / Mini Lamp / 12 volts / 25 mA / included 1¾" long hookup leads. The replacement bulb was in my spare parts bin. Radio Shack had closed (forever), so it was fortunate that an extra one was readily available. Otherwise, I would have had to browse the Mouser catalog for a replacement.
---
---
EF Johnson "Messenger 4730" (1980 / Japan) / 40 channel / AM and SSB modes
EF Johnson "Messenger 4740" (1977? / Japan) / 40 channel / AM and SSB modes
Microphone has five round pins

Photo 9. EF Johnson "Messenger 4730"

EF Johnson "Messenger 4730" (1980 / Japan)
40 Channels with AM/SSB modes
4 watts AM RF power output
12 watts PEP SSB RF power output

This is an interesting radio because of the history of the EF Johnson company, which made some great AM "Viking" transmitters in the 1950s. The Messenger 4730 was their first 40 channel mobile C.B. radio.

Photo 10. Rear panel of EF Johnson "Messenger 4730"

The microphone jack is located on the back of the radio.

The Johnson Viking 4740 is listed in Sams Photofact CB Radio Series CB-212 (August 1978). As the guy (MikesRadioRepair) says in the video, "it takes time to reverse engineer a radio", so if the Sams company published the parts list, photos, and schematics in their August 1978 catalog, the radio itself may have come out in late 1977 or early 1978.
Table 1. Microphone Wirig / EF Johnson "Messenger 4730"
---
Wawasee "Catalyzer" (model JBC-1001) station monitor – made in Syracuse, Indiana
This rare, and clean looking station monitor was designed to be operated on the 11 meter band.

Features

SWR meter: forward, reverse, sensitivity control
Frequency counter range: 100 kHz - 50 MHz
Oscilloscope: observe the carrier and modulation characteristics
Wawasee "Catalyzer Model JBC-1001" Station Monitor
Made in Syracuse, Indiana
Screen captures from the June 5, 2020 YouTube video by D-lab Electronics

Photos uploaded October 7, 2020

Table 2. Wawasee "Catalyzer JBC-1001" C.B. 11 meter Station Monitor
In the video, Terry (N6TLU) (a.k.a.D-lab Electronics) demonstrates the Wawasee "Catalyzer JBC-1001" station monitor with a Johnson "Viking Ranger" AM transmitter on the 11 meter band setting. Recall the Ranger was made in 1955, several years before the 11 meter amateur band was allocated to the Citizens Band.

On 11 September 1958, CB service class D was created on 27 MHz, and this band became what is popularly known today as "Citizens Band." Only 23 channels were available at the time; the first 22 were taken from the former amateur radio service 11 meter band, and channel 23 was shared with radio-controlled devices.
Source: internet / wikipedia.org/wiki/Citizens_band_radio
---
Scanners

Photo 11. Bearcat 210 scanner Owners Manual (cover only)

The Bearcat 210 scanner belonged to my grandparents. It has a whopping 10 programmable frequencies.




Electra Bearcat III

Photo 12. Electra "Bearcat III" scanner

Electra "Bearcat III" 8-channel crystal controlled scanner. The removable power cord of the Bearcat III uses a 4-pin "Jones" plug. I got the Bearcat III scanner for $2.00 (mint condition) at the Antique Wireless Association (AWA) Spring Meet at the Bloomfield elementary school on May 5, 2007.



Uniden BCD536HP
BCD536HP (overview and specifications / radioreference.com)
Price (as of August 7, 2017) = $497 - $530 (Scanner Master, Amazon, Zip Scanners, etc.)

Whistler WS1095
WS1095 (overview and specifications / radioreference.com)
Price (August 9, 2017) = $350.00 (Amazon)


References

Radio Reference Database (RRD)
Useful site for identifying radio scanner frequencies (Fire, EMS, Volunteer Ambulance, Police, Sheriff, Towns, Highway, etc.) in the USA.
Main Page: www.radioreference.com
Database: www.radioreference.com/apps/db

Scanner frequencies / Ontario County, NY
www.radioreference.com/apps/db/?ctid=1859

Note: the Victor F.D. and Victor-Farmington Ambulance operate on the Project 25 (P25) system. The Uniden BCD536HP and Whistler WS1095, and WS1098 scanners are capable of monitoring this type of signal.

Scanner Vendors
---


c o n t a c t / r a d i o w o r l d
---
C.B. Radio and Scanners
Established: October 6, 2013
Last Update: November 07, 2022
Links Verified March 29, 2020
© Black Sparrow Photography / Jeffrey P. Miller
---