---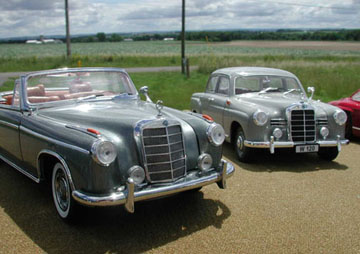 From Larry Hansen's collection: Sun Star's 1:18 scale model of the 1958 Mercedes-Benz Type W128 220SE Ponton cabriolet and Revell № 08974 (light gray) 1:18 scale die-cast model of the Type W120 180 Ponton sedan. Over time, Larry has amassed a staggering collection of Mercedes-Benz scale models, and I was able to spend an enjoyable afternoon with him (Saturday, July 2, 2005) photographing a few of them. He keeps a detailed inventory of the collection, and displays the models according to scale throughout his home.
---
Wiking (Germany) 1:87 scale plastic model of the Mercedes-Benz Type 220S Ponton sedan. Wiking model number 104 "Streifenwagen" (police car) dates from about 1965, and is 52 mm long. The gray wheels distinguish it as an earlier Wiking offering. My friend Larry Hansen paid $10 for this little beauty on August 3, 1985, at the Toy Show in Macungie, Pennsylvania. The original box was hand-colored by Larry. Photo courtesy: Jeff Miller / October 6, 2007
---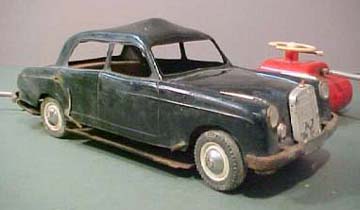 This is a remote control, 1:18 scale, tinplate model of the Mercedes-Benz Type W180 220a Ponton sedan, made by Mignon. Mignon had its origins in French occupied Germany, hence the name.  Condition of this example is poor.

February 9, 2005: Steffen Mueller (MuellerLage ]at[ aol.com / Berlin, Germany) writes,

"For years Mignon produced little railways. Later, in the early 1950s, they were taken over by R. und W. Link, Schwenningen. The new factory owners produced model cars like this nice 220a Ponton. I have seen a Mignon VW Beetle offered at 375 €! You can see all types of model cars and other toys at: www.mignonbahn.de On the left side, click on Autos."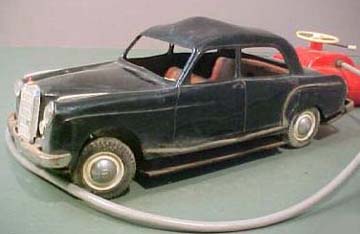 Tinplate toys are typically more robust than their plastic counterparts.  However, this model is showing obvious signs of cruelty and neglect. In most cases, the normal stress and strain of "civilized play" does not result in this much damage.  There is not a lot here for the collector, except perhaps a few spare parts to be used for the restoration of another example.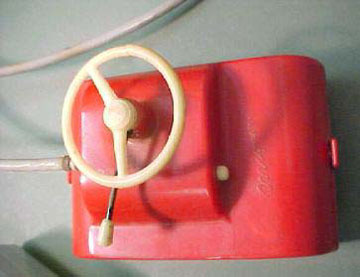 Detail of the Mignon remote control box. Good condition!
For every well preserved Ponton model found on these pages, there were probably another hundred that looked like this before they were finally consigned to the dustbin of history.  There is nothing remarkable about this toy other than it was proportioned well (quite a good likeness of the 220a Ponton sedan) and it survived far longer than its original life expectancy.  January 30, 2005
---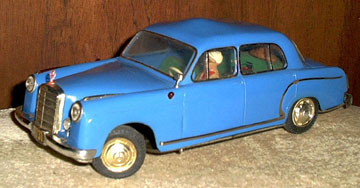 This is another remote control 1:18 scale tinplate model of the Type W180 220a Ponton sedan made by Mignon. Condition of this example is "not too bad", compared to the one above.
---
Black variation of the Type 220a Ponton sedan by Mignon. This one appears to have had a reckless driver behind the wheel. The grill star somehow remained intact.
---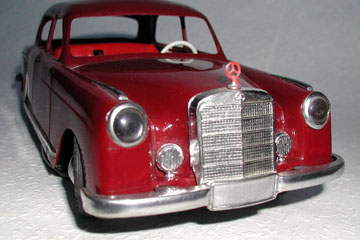 Red variation of the Mignon tinplate Type 220a Mercedes-Benz Ponton sedan.
The driver must have stepped away for a moment.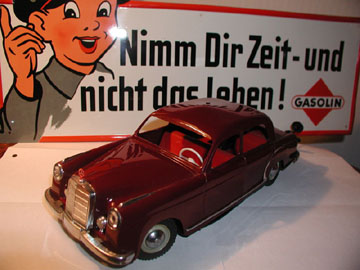 "Nimm Dir Zeit - und nicht das leben!" (Take time moving from one point to the other instead of loosing life)
Translation courtesy: Hartwig Mueller / Dortmund, Germany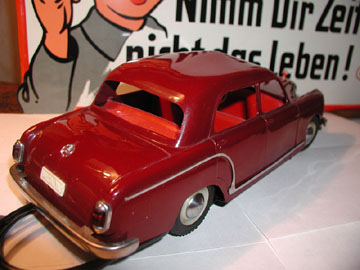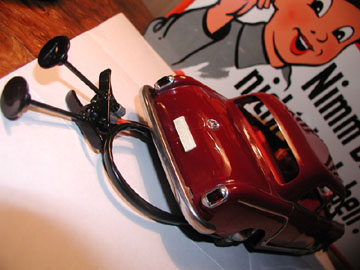 Part of the remote control cable system for the Mignon Type 220a tinplate Ponton
---
Today is the "Pinewood Derby" race for my two younger sons who are in Cub Scouts. For the uninitiated, the Pinewood Derby is a competition where the kids take a block of wood and four wheels, and with a parent's help, build a car to race down a sloped track. This year, my kids' scout pack has an "open class" race so that parents and siblings can make their own cars to race. So, while helping my kids with their car designs, I also tried my hand at carving a replica of my 1959 Mercedes-Benz 220S sedan. The rules limit the car to 7 inches by 2.75 inches, which is approximately the correct proportions for a Ponton at about 1:27 scale. Unfortunately, the required wheels are substantially bigger than that scale, so I had to enlarge the wheel wells accordingly. I also could not install a side mirror because it would make the car too wide.
The front and rear bumpers are genuine Ponton parts—both made from original 220S brake lines, which I replaced a couple of years ago. The paint is leftover from when the real car was repainted in the 1990s.

Chris Greene
Minnesota, USA
1959 220S sedan with transplanted Webasto roof
January 29, 2017
---
Tipp & Co. (a.k.a. Tippco) (Germany) № 112 – Mercedes-Benz Type 220a (W180 I) (produced: 3/54 - 4/56). 1:14 scale, tinplate. Two-tone dark grey upper with pale grey lower, plated parts, correct detailed hub caps, friction drive to rear wheels, steerable front wheels, bespectacled plastic driver figure and lithographed tinplate interior. Length 32 cm (12"). As of this writing (2017) value is difficult to determine, but since 2004, asking prices on eBay and other vendor websites have been around $2,000.

Photo on top left courtesy: Bernd D. Loosen (MBMC North-America) circa 2004.
See Community Page for MBMC website.
---
Photos uploaded December 4, 2004

Tipp & Co. (a.k.a. Tippco) (Germany) № 112 – Mercedes-Benz Type 220a (W180 I) (produced: 3/54 - 4/56). 1:14 scale, tinplate. Red and black variation with electric headlights. Battery compartment with swing out door under car. This is a particularly nice example with the windshield plastic, grille star and driver's figure (difficult to see in these photos) all intact. Tipp & Co. (TCO) was one of the largest manufacturers of tin toys in Nürnberg, Germany after 1922.
---


Original box for Tipp № TCO 112


---


Reproduction box for Tipp № TCO 112


---
AHI (Japan) Type 220S sedan (medium blue variation) with original box. There are no windows or interior in this tinplate model, but it does feature a friction motor for zooming around the kitchen floor.

Azrak-Hamway International, Inc. (AHI), was a New York toy company founded in 1964 that initially offered inexpensive novelty-type toy items. Depending on the toy you have, it could have been made by several Japanese companies. There are books to identify just about everyone of them.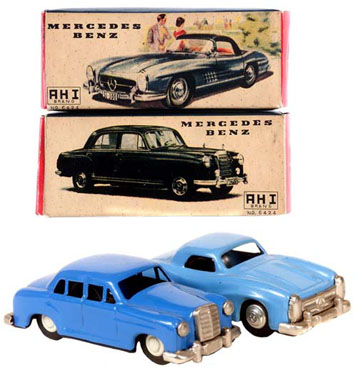 Blue variation of the AHI Type 220S along side the AHI Type 300SL roadster. 
Both original boxes are shown in this photo.
Detail of the AHI (Japan) tinplate Type 220S sedan (black variation) with friction motor.
Length is 100 mm, which makes it approximately 1:46 scale.  Photo courtesy: Jeff Miller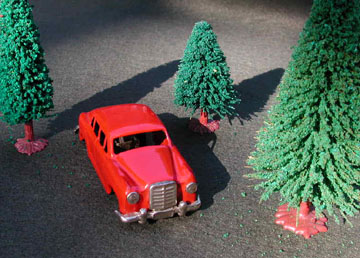 Red variation of the AHI (Japan) Mercedes-Benz Type W180 220S tinplate sedan with friction motor
Photo courtesy: Jeff Miller / August 7, 2005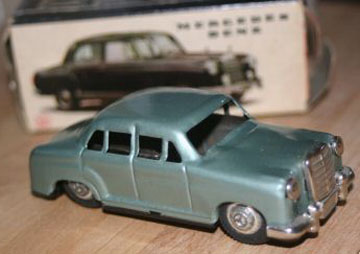 Metallic Blue variation of the AHI (Japan) Mercedes-Benz Type W180 220S tinplate sedan with friction motor and original box
---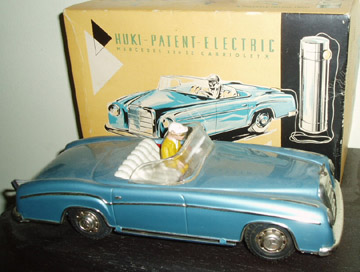 Photo of Huki 220SE model and text courtesy: Bob Berman
Huki (Germany) Patent Electric 1:18 scale tinplate model of the Mercedes-Benz Type W128 220SE cabriolet with original packaging. Located in Germany, Huki made cars and motorcycles primarily in the 1950s and 1960s. There were several other German makers who also made a nice, high quality Mercedes-Benz model during this period. These would include Gama, Seidel, Kellermann, Neuhieri, Arnold, Distler, and Tipp & Co. They tended to feature the Type 190, 220 and 300SL models. An excellent reference is Tin Dream Machines by Gerhard G. Walter (ISBN 1-8727-2713-1). The book's focus is on German tin toy cars and motorcycles from 1950s and '60s.

Bob Berman
Rose Valley Pennsylvania
July 31, 2007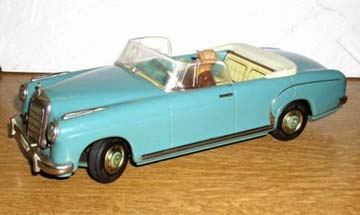 Tipp & Co. (a.k.a. Tippco) Type 220S cabriolet
This model of the Mercedes-Benz Type 220S Ponton cabriolet was made by Tipp & Co. (Germany). The differences between this and the Huki Type 220SE model (above) are subtle. Note the windshields, and the chrome over the wheel wells. The Huki model does not have a back seat, and both models have similar, but different drivers. The Huki driver has his head pointed down as if he is RACING. Huki, Tipp, and Seidel models all had similar aspects.

Bob Berman
August 1, 2007
---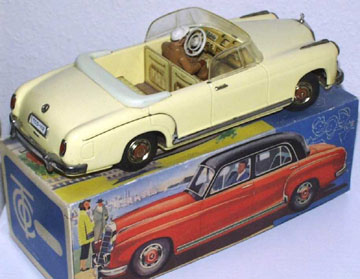 Tipp & Co. (Germany) Type 220S cabriolet with the box—in some cases more valuable than the model itself!


---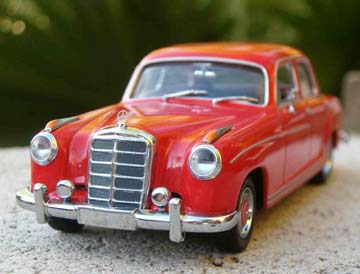 Mercedes-Benz Type 220S Ponton sedan in 1:43 scale by Minichamps
Photos courtesy: Jay Joichi / San Francisco, California / April 20, 2005
---
In the 1990s, Faller made some accurate 1:43 scale plastic models of the Ponton sedans. The series was called "Memory Cars." This promotional photo features two Type 220S sedans.
---
Faller's 1:43 scale plastic model of a Type 220S rally car – also part of the "Memory Cars" series.
---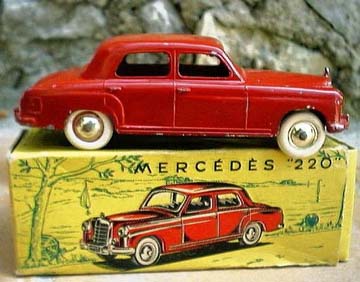 CIJ (France) № 3/12 – Mercedes-Benz Type 220a Ponton sedan
The French toy manufacturer CIJ released this 1:43 scale replica in 1959. CIJ is the acronym for "Compagnie Industrielle du Jouet" (Manufacturing Company of Toys). It was a classic French brand of diecast metal toy vehicles. Founded by Fernand Migault in Paris in 1920. Original colors of the 3/12 Mercedes-Benz 220 included red and gray. Tail lights could be either red or yellow. Unless noted, examples shown here are CIJ originals.

Sources:

Wikipedia
Classic Miniature Vehicles Made in France (Dr. Edward Force / ISBN: 0-88740-316-6)
It is rare to find old toys with original packaging, but fortunately reproductions may be available.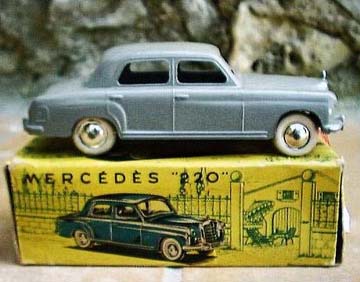 Blue variation of the CIJ 3/12 Type 220a sedan

Black variation looks good. Reproduction tires have become more common over time.
Note upside down M-B logo on trunk. Was this an incredible oversight, or a subtle political statement?
Gray variation of the CIJ (France) 3/12 Type 220a Ponton sedan
No windows or interior, just the basic Ponton shape.  Tail lights could have been red or yellow (Force).
The trunk star is upside down.
Surprising that the grill star is still intact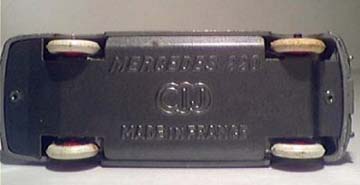 Gray variation of the CIJ (France) Type 220a sedan
---
Norev (France) bought the CIJ brand in April 2007. These two reproductions were made in China for Norev.
Photo added August 19, 2017
The reproduction boxes state that the red model is № 3/12/00, and the gray example is № 3/12/01. This must be a new numbering scheme because original boxes only showed "3/12" on them. The book Classic Miniature Vehicles Made in France (Force) – only mentions model number 3/12. Another thing about the reproduction box is that the bottom states the model is a "Mercedes-Benz 220SE", not the same model shown on the rest of the box and baseplate. These are probably "artistic license oversights."
---
Photos uploaded March 12-13, 2018



The company logo is a key. "Clé" means "key" in French.

Baseplate: "No 15 1/64 SERIE DE 25 MODELES MERCEDES - 220-S CREATION CLE MADE IN FRANCE"

Found this CLE model for 50 cents at a flea market. CLE was a French company specialising in plastic accessories. The company logo is a key. "Clé" means "key" in French. They also made toy cars for other companies as promotional items. "Pain Jacquet" (a brand of bread) is embossed on the boot of this Mercedes-Benz toy. I remember getting CLE promos in Bonux packets (a brand of washing powder) when I was a kid. Memories...

Regards,

Christophe Mallard
Singapore
March 12, 2018
---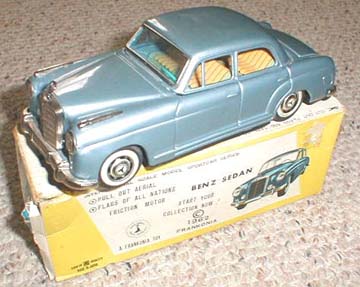 The Bandai toy company (Japan) № 732 in the "Automobiles of the World" series is a tinplate Mercedes-Benz Type 219 Ponton sedan. The model includes numerous variations, which can keep Pontonobilia collectors busy. This particular model is about 1:18 scale, and features a friction motor, and colorful plaid interior. It is highly unusual to find this model with the original box. The packaging for these inexpensive toys was probably designed to survive the trip home from the store. In most cases, the box was discarded immediately after being opened. In the realm of collecting these antiques, the original packaging can be worth as much, if not more than the item itself.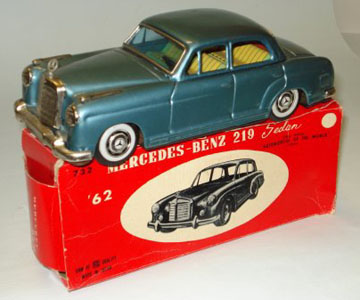 This dark blue variation of the Bandai Type 219 sedan was added to the editor's personal collection on November 15, 1998.
This black variation of Bandai model number 732 has a few dings on the roof, but is one of the few that still has the grille star.
Sun Star № 3553 (black) 1:18 scale die-cast model of 1958 Type W128 220SE cabriolet – released in 2002