Ponton Photo Gallery
Variants (4 and 6 cylinder / pick-up / wagon / ambulance / hearse)
Including models: 180 / 180a / 180b / 180c / 180D / 180Db / 180Dc / 190 / 190b / 190D / 190Db / 219 / 220S
Variant Origins and Production Data
Historical Perspective on Ponton bakkies in South Africa
---
---
1955 W120 180D Binz "bakkie" (pick-up)
The coach builder, Binz (established 1936 / Lorch, Germany near Stuttgart) produced roughly 400 of these pick-ups as an export model for the South African market only. Note the right hand steering. The South African term for pick-up is "bakkie." The German word for pick-up is "pritsche" (plank bed).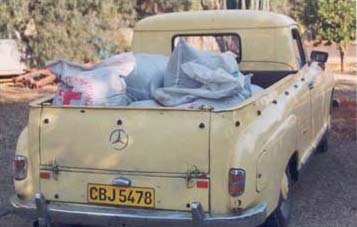 South Africa
Binz provided a second door below the main tailgate for the storage of the spare tire. The Binz bodied tail lights are mounted lower (as on the 4 cylinder sedans) than what is found on the rear of the load boxes which were produced by local South African coach builders.
---
South African definition of "bakkie"

A "bakkie" in Afrikaans, is actually a bowl to put something in. The boot (trunk) of the vehicle is called the "katte bak", meaning the "bakkie" (which is the diminutive for bak, as in "katte bak" for cats), "katte" being the word for cat. But the name " bakkie" for a pick-up truck is derived from the "bowl" (that is, a bowl without a lid) at the back of the vehicle, to put something in. It is also interesting that the small boat used to transport fish from a bigger boat to the shore is also called a "bakkie" by the Cape fishermen, meaning the "bowl" to transport or carry the fish in.

Courtesy: Johann Botha
Kroonstad, Free State, South Africa
1960 W120 180b sedan
October 7, 2004
---
1956 Type W120 180D bakkie / South African style load bin
owner: Gary Bowes / South Africa
---
Historical perspective on Mercedes-Benz Ponton bakkies (pick-ups) in South Africa
Gary Bowes / Daimler AG, South Africa / January 27, 2004
gary_george.bowes@daimler.com
The idea of producing a Type 180D Ponton pick-up originated with the six original post-World War II independent South African importers, namely, Cargo Motors (Johannesburg), NMI (Durban), Stanley Porter (Cape Town), Haaks Garage (Pretoria), Ronnie's Motors (East London) and John Williams (Bloemfontein). They were all marketing Mercedes-Benz and various other makes in the late 1950s and were looking at how they could increase their sales which were severely limited by the strict allocation of passenger car import permits, e.g. in 1955 only 100 Mercedes-Benz cars could be imported. A pick-up or "bakkie", as we call them in South Africa, was classified as a commercial vehicle which was subject to fewer import restrictions. With the co-operation of the Mercedes-Benz central office which then operated in Johannesburg, the six importers arranged with Daimler-Benz AG to import "half-cars" i.e. the built-up Type 180D but without the body section behind the "B" pillars to which they then fitted a locally made load-box. The biggest problem was to find a local coach builder capable of making a "car-quality" load-box which fitted the lines of the 180D. The work was eventually entrusted to body builders, Morewear Industries of Germiston, which after laborious efforts, a very successful result was achieved. The distributors were insistent that a high quality standard should be maintained, particularly as buyers were found to use these vehicles mostly as passenger cars. Several hundred were built between 1956 and 1958. Local assembly of Mercedes-Benz passenger vehicles started in East London in January 1958, which allowed more units to be imported and the necessity for continuing with the 180D pick-up therefore disappeared.

As far as I am aware, there are two versions of this pick-up; The South African version which is recognizable by the gap between the cab and the load-bin, the spare wheel is situated behind the left seat inside the cab. The Binz version does not have the gap between cab and load-body and the spare wheel is stored in a compartment below the tailgate. I don't know how many of the Binz versions were imported to South Africa but I have seen a few running around, but I definitely prefer the body lines of our local version.

Regards,

Gary Bowes
Daimler AG
South Africa
January 27, 2004
---
Type W120 180D bakkie (pick-up)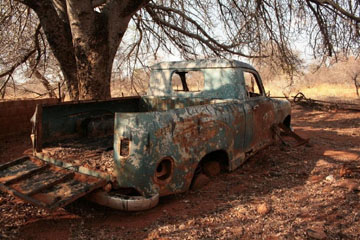 ---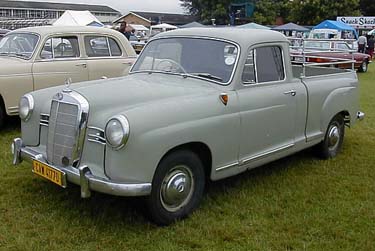 color: DB169 "Stone Gray Light"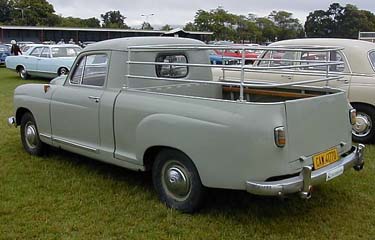 South African style load bin
This commercial vehicle was not completed by Binz, but rather, it was finished locally in South Africa. For more detail, refer to the text describing the differences between the two different styles of load carrying boxes and tailgates. Note the location of the tail lights on this box. They are higher than the Binz-built boxes. The curves of the most rear section of the fender are lost in this design, which lends to a more utilitarian appearance.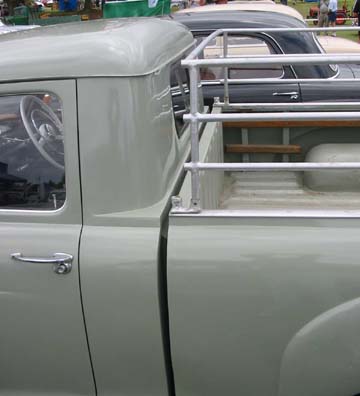 The gap between the cab and the load box is wider on the South African built bakkies than on the models Binz built.
---
1956 W120 "bakkie" (pick-up) with 190c engine
owner: Francois Perold / South Africa
more photos
---
1957 Type W120 180D bakkie / South African style load bin
owner: Francois Perold / francoisperold@gmail.com / Cape Town, South Africa
Chassis number: 18ODR12O1O1-75O1278. Engine number: OM 636.011-0801
During the late 1950s Mercedes-Benz exported Ponton "Chassis Cabs" to South Africa to boost their vehicle sales. These Chassis Cabs were finished as pick-ups known locally as "Bakkies" in South Africa and also became known as the "Stanley Porters", which was the name of the dealer network that distributed them. Some 400 were exported and sold in SA. As far as I know, only six (6) of these pick-ups survived in road-worthy condition. This one belonged to a sheep farmer in the Karoo for almost 50 years. The Type 180D (diesel) engine has done only 267,000 miles. It is very original and complete. The vehicle is in Cape Town, South Africa.
Photos submitted: June 3, 2008
---
"Mercedes-Benz in aller Welt" circa 1957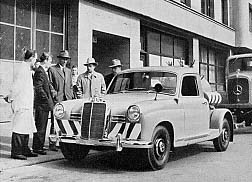 Finland: A Mercedes-Benz-Streicher trolley track greasing car is turned over to the Helsinki City Administration and the Municipal Streetcar Company by the sales manager of the Daimler-Benz General Agents, the firm of Oy Veho AB.
---
Type 180D pick-up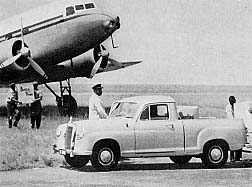 Union of South Africa / circa 1957: A 180D pick-up is loaded at the Johannesburg airport.
Note the wide gap behind B-pillar and the load carrying box. From viewing this detail alone, it is possible to say that this Ponton bakkie was fabricated locally in South Africa.
---
Type W120 180D Binz pick-up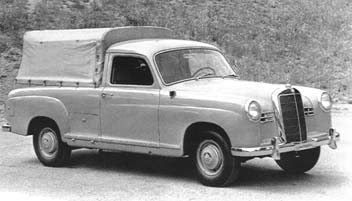 This left hand drive pick-up was presented to Daimler-Benz in Sindelfingen by Binz
Courtesy: Helu Hansen / Mercedes-Benz IG / August 2001
---
1957 W120 180D bakkie (pick-up) with South African style load bin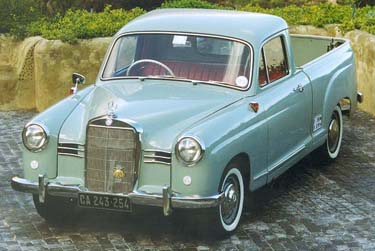 owner: Wayne de Geere III / Gerlach, Nevada USA
---
1956 W120 180D Binz kombi (wagon) with Webasto sliding sunroof
owner: Udo Goetz / Ostfriesland, Germany
more photos

Photos submitted: November 27, 2018
---
1956 Type W120 180D Binz wagon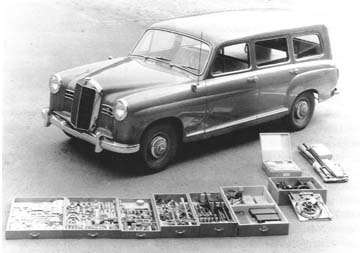 Mercedes-Benz service vehicle
Courtesy: Helu Hansen / Mercedes-Benz IG / August 2001
---
A rare Pollmann hearse in Germany
"Looking at the photo and the detail (namely the chrome piece behind the front door) I am sure that this hearse was built by Pollmann. I believe they are the largest builders of hearses in Germany. Also, I think Pollmann only builds hearses while Binz and Miesen build them as a sideline to their ambulance business. I do not know where in Germany Pollmann is located. If the owner of this hearse was to write to Daimler AG and if the chassis was shipped new to Pollmann by the factory then it could be confirmed as to who built it. This is a long shot at best. Many of the hearses in Germany were built by recycling used vehicles. This was a way to save money for the coach works. In the US most hearses were built on new chassis.

Bob Gunthorp
Chula Vista, California
August 29, 2002
---
1956 Type 190 hearse built by Stolle Coachworks of Hannover, Germany
Photo submitted: January 1, 2003
"I discovered this photo in one of the archive folders Ray Ilich sent while transferring the Ponton website to me in April 2001. It appears to be a body conversion by Binz or Pollmann, but the rear window treatment is unusual. If this is a custom job, the elevated roof line looks well conceived. Perhaps it was originally built to be a hearse. There appears to be (possibly) a fan mounted over the rear section of the body. A fresh air fan would serve little purpose in the back of a hearse, so it may have been designed to haul living passengers. Perhaps it was an ambulance. The high roof line supports this theory after comparing it to other photos of Ponton ambulances, but hearses can have similar elevated roofs. All other photos of Ponton ambulances have four doors while this wagon has only two. The air intake vents on either side of the radiator grille indicate a 4-cylinder (Type 180/190) model. Note the fog lamps and amber fender-mounted running lights (as usually reserved for the 220S/SE Ponton models). Other appointments include left and right mirrors on the front fenders, plated body molding at the base of the rear fender and dual plated accent strips (another a 220S/SE feature) along the lower portion of the body. At the rear, the doors appear to open from the center. The wheels are fitted with hubcaps, including slotted trim rings. The whole package is sitting on white wall tires that look larger than the standard (for Pontons in the USA) 13 inch specification. An interesting photograph indeed. The name of the archive folder where this photo was found indicates that it was probably being advertised on the "Pontons For Sale" page. The original file name, "56russel.jpg" hinted that someone named Russell owned it, and it was a 1956 model. No other clues existed. If you know the history of this Ponton variant, or know where it is today, please contact the editor.

Best regards,

Jeff Miller
---
Bob Gunthorp, who has a collection of Mercedes-Benz vehicles including special bodied variants, wagons, ambulances and hearses had this to say about the photo:

"Unfortunately, the photo is to small to see any real clear details of the vehicle. However, I believe it to be a hearse. The side window looks like the type used on hearses. All of the ambulances I have seen had functioning rear doors on both sides and a "C" pillar (directly behind the rear door). This vehicle does not have a "C" pillar. I can not tell if this vehicle even has a rear door. If it does have a rear (side) door it will work only as a half door. Also, there appears to be some sort of logo on the "B" pillar. Many hearses had logos there, although my 1966 Type W110 200D Rappold Karosseriewerk hearse does not. On many hearses, additional interior and exterior trim (sometimes from other models) was added by the coach builders. Again, my W110 200D hearse has the trim from a Type W112 300SE (Heckflosse). The fog lamps that were standard on the Type 220S Pontons were also available as an option to the 4 cylinder Ponton models. However, the fog lamps in this photo look to have been retro-fitted and are probably not OEM.

Hubcaps with the trim rings as one piece units were standard on all Type 220S Pontons. The hubcaps with the trim ring were optional on some 4 cylinder Pontons and the Type 219 Ponton sedan. The 190SL, 219, and the 220S used the same wheels. Some of the 4 cylinder Ponton parts books listed the trim ring for the 190SL as an option. Note the 180D and some other 4 cylinder cars had narrower wheels (4.5 inch instead of 5 inch). I do not know if trim rings were available for the 4.5 inch wheels. Also available on the Ponton as a rough road option were 15 inch wheels. I do not know if trim rings were available for these 15 inch wheels. In the early 1970s, I actually serviced a 220S Ponton that came with 15 inch wheels. My 1961 220SEb (Heckflosse) sedan came with 15 inch wheels from the factory. All the special bodied W110 and W111 chassis (Heckflosse) came with 15 inch wheels. Now to the the wheels on the mystery car. They look look the late 14 inch wheels and hubcaps.

In most of the Ponton hearse and ambulance photos I have seen, the mirrors were mounted out on the fenders. If you mount the correct mirror on the right side of any Ponton you can not see it from the driver's seat. I know because I mounted them on both my Pontons.

I hope that I have not been too "long winded" about this photo and hope some of you find this information of interest.

Sincerely,

Bob Gunthorp
January 2, 2003
---
This hearse (yes - it is!) was coachbuilt by Stolle Coachworks of Hannover, Germany. Paul Stolle opened his body shop in 1926 and specialized in hearse bodies just a few years later. Today www.stolle-karosserie.de is one of the big German hearse builders together with Pollman and Rappold.

With best regards,

Ingo Marx
German Funeral Car Archives
August 4, 2003
---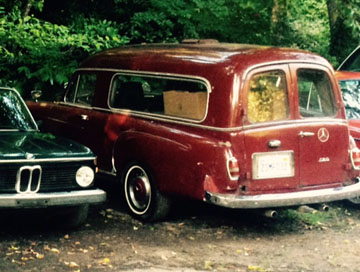 Update / June 23, 2015: Daniel Delong contacted the editor to say he bought the vehicle from Russell years ago, and was actually in the process of selling it. He verified it is a 1956 190, and that it had been modified in some way.

Update / January 7, 2016: The vehicle appeared for sale (Novato, California) on Craigslist for $650. It had been stripped of engine and running gear.
---
Type W120 180D Binz wagon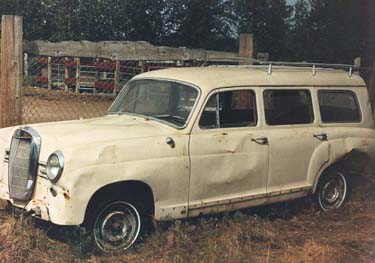 owner: John Mutch / tokens@idahovandals.com / Boise, Idaho USA
"Here is a photo of my Binz wagon as I found it in a horse pasture."
Photo submitted: August 29, 2001
---
1957 Type W121 Binz Kombi with Webasto sliding sunroof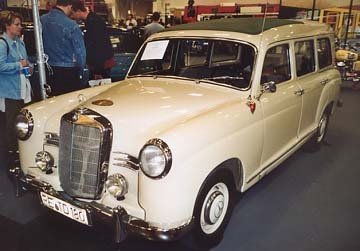 Photo added: September 6, 2002
---
1958 Type W121 190 wagon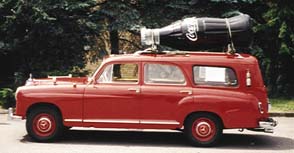 owner: K.P. Altenhenne / Waldbroel, Germany
This wagon was rebuilt at the rear doors by the owner so that he could use the doors of the Ponton sedan. Note the appearance of the rear window and roof line. These features differ from the treatment that Binz gave their wagons.
Courtesy: Helu Hansen / August and December 2001
---
1959 Type 219 kombi (wagon) – one of only three Type 219 kombis built by Binz
Photo uploaded: July 15, 2014
owner: Bruce Babcock / San Diego, California
This kombi (wagon) was completed by Binz Karosserie in 1959 at the behest of a Minneapolis stockbroker who is alive and well in southern California – as is myself, the fourth and current owner. It was built upon one of 5,667 partial bodies sent by the factory to specialized coach builders such as Binz, Miesen, Pollmann, etc. from 1953 to 1962.

Production overview: There were 4,103 Type 180, and 1,550 Type 190 special-body variants. Of the 6-cylininder models; there were only three Type 219 special-bodies, and 11 Type 220S examples. Aside from that initial rarity, I have inquired of the factory museum and several recognized experts over the past 20 years, and so far have yet to find any evidence of the other two Type 219 station wagons surviving.

Bruce Babcock, Esq. / July 2014
---

Type 219 kombi (station wagon / coach builder unknown)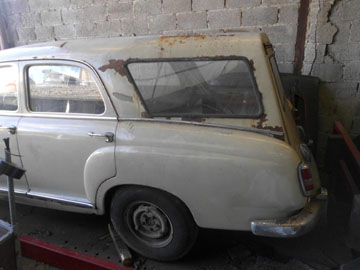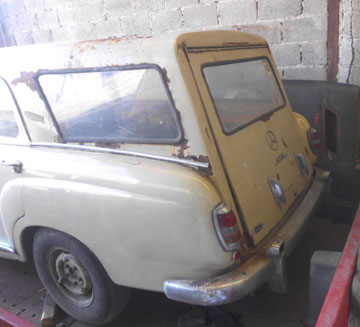 Photos (Daniel Boeve / Belgium) uploaded: August 21, 2014

---
1961 Mercedes-Benz Type 190Db two-door kombi (wagon)
chassis number 121.101-10.054912
owner: Luis Gonzalez / luigi.gonzalez@hotmail.com / Uruguay
Bob Gunthorp (Chula Vista, California) says, "The origins of this variant are unclear. It is unlikely a Binz because the rear door configuration is not the same as other Binz-bodied variants, and it has two doors, not four." Bob also says he has seen photos of similar body conversions made in South America.
The owner (Luis Gonzalez) says everything is original except the seats.
The Technical Data Manual ( TDM / see link ) shows the W121.101 two-door "partial body" was produced by the factory (as a Type 190Db) from July 1958 to August 1961 (7.58-8.61).
---
Prototype for a Type W120 Ponton cabriolet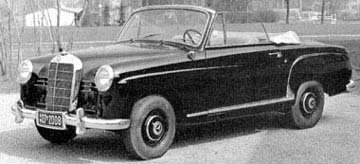 Photo from page 26 of Motor Klassik (10/1993) monthly classic car magazine published by Vereinigte Motor-Verlage GmbH, Stuttgart, Germany.

Images and text translations courtesy: Juergen / jaguare@bigfoot.com / Germany / October 19, 2004

Text from magazine reads, "After the 4 cylinder W120 180 Ponton cabriolet planning was dismissed, the large Webasto cloth sunroof was the only alternative for fresh air fans. Note the shortened wheelbase. As there were two variants developed, this is variant A-variant. The B-variant had the normal wheelbase."

Juergen writes, "One can see old black German number plates which were issued from 1948 until 1956. They say "American Zone Baden-Wuerttemberg", the latter being the state where Daimler-Benz is located (Stuttgart, capitol of BW) which are correct for 1953. Also I think one can see from the larger photo that the car is a real car, no wooden mock-up (a 1:1 or 1:5 scale model), but a real car."

Drawing from page 452 of Mercedes-Benz Personenwagen 1886-1986 by Werner Oswald published by Motorbuch Verlag, Stuttgart, Germany, 1st edition 1984, ISBN 3-87943-976-1.

Text from book reads, "Type W120 180 Ponton cabriolet-A draft 1953 (not realized). This drawing shows the above photographed cabriolet with the shortened wheelbase and a rear seat for one passenger."

Drawing from page 452 of Mercedes-Benz Personenwagen 1886-1986 by Werner Oswald published by Motorbuch Verlag, Stuttgart, Germany, 1st edition 1984, ISBN 3-87943-976-1.

Text from book reads, "This sketch (not realized) clearly shows the single back seat, where the passenger would need to sit diagonally with their legs behind the driver's seat."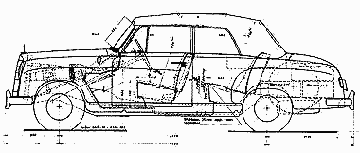 Drawing from page 452 of Mercedes-Benz Personenwagen 1886-1986 by Werner Oswald published by Motorbuch Verlag, Stuttgart, Germany, 1st edition 1984, ISBN 3-87943-976-1.

Text from book reads, "Type W120 180 Ponton cabriolet-B draft 1953 (not realized). This variant has the normal wheelbase and four seats."
---
1959 Type W121 190b "cabriolet"
chassis: A121.010.6000230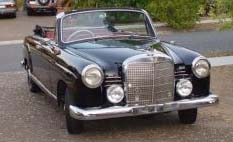 owner: unknown / Brisbane, Queensland, Australia

Here is an interesting right hand drive, 4 cylinder Ponton modification that appeared on the eBay auction site during the week of February 4, 2003.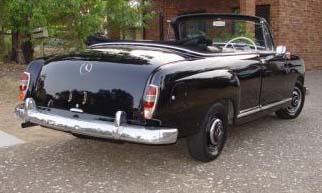 Daimler-Benz did not officially produce any 4 cylinder Ponton cabriolet variants, yet there are period photos of design studies for such an endeavor.
---
Type W120/W121 (4 cylinder) 2 door "cabriolet"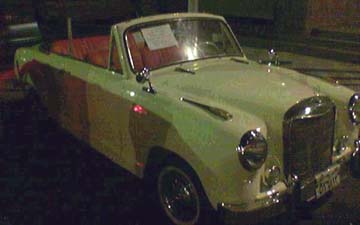 owner: unknown / Cairo, Egypt
In the spirit of trying to identify the origins and authenticity of this unusual Ponton "cabriolet", I will put forth my observations and point out some the differences this vehicle has when compared to most other 4 cylinder Ponton models I have seen. First of all, note the left hand steering. Recall that the "bakkie" pick-up was designed with right hand steering only. If this was a "bakkie" conversion, the trunk (boot) would have been added where the "load box" was previously located. A good question would be, "What was a South African bakkie doing in Egypt anyway?" Same continent, yes, but at opposite ends from each other! If this is a custom conversion, it amounts to a considerable number of sheet metal modifications to a very modest vehicle.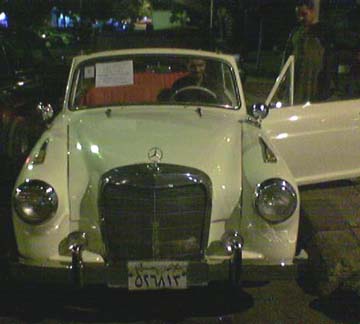 Note that the familiar air intake louvers on either side of the radiator grille have been disguised by the addition of a few extra centimeters of sheet metal at bottom edge of the hood. This was not the standard design for any of the previously known 4 or 6 cylinder Ponton models, including the variants listed on this page. Another anomaly are the external hood hinges. The narrow, fender mounted amber driving lights are standard issue for the 6 cylinder Ponton models such as the W105 219 sedan, the W180 220S and W128 220SE sedan, coupé and cabriolet. While these up-scale appointments could have been added to 4 cylinder models per the owner's request after the car left the Daimler-Benz factory grounds, these photos show that they are mounted farther back on the fender than seen on all other Ponton models. The radiator grille is the wider, Ponton "b" style (after mid-1959).

In this daylight photo, the roof is in the raised position. The bumper appears to be custom made, as it is clearly not standard Mercedes-Benz Ponton issue. The bumper guards are normally spaced farther apart so that the fog lamps are not obstructed. Also, the "b" Pontons did not typically have bumper guards in the front. The rear view mirrors are not standard.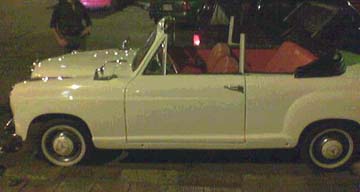 Note the treatment of the vent window frame. The originals were chromed and tapered. The way this example meets the windshield's "A-pillar" looks unrefined. Note the high window tracks where the "B-pillar" would be located on a vehicle with an enclosed cabin. The wheelbase appears to be shortened (see the "prototype" photo and sketches, above) because there is not enough room for a rear door.

Side view with the roof in the raised position. The lower rocker panel area is missing some chrome trim.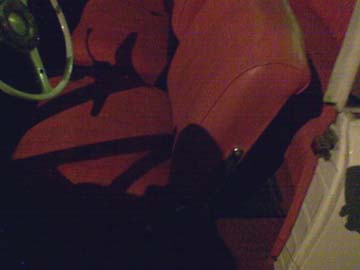 Some limited detail on the seats, the B-pillar and window track area. The seats appear to be original Ponton style.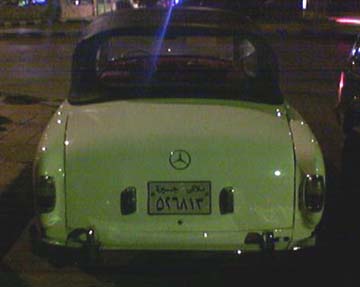 Top in the raised position. The trunk handle seems to be missing, unless the license plate lamps are the early (pre mid-1959) style which were designed to also function as trunk handles. Also note the pre mid-1959 style Ponton tail lights. The "b" models had longer lights with reflectors at the bottom. There are some real mysteries here.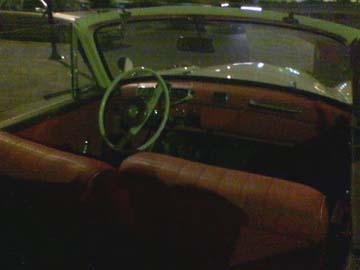 Dash area and instrument cluster seems to be standard 4 cylinder Ponton. Left hand steering wheel is the later "b" type found on the W120 and W121 sedans. Note roof latches at the top of the windshield frame.

Here is some more information from the owner (forwarded by Dave Kirkpatrick) regarding this unusual 4 cylinder Ponton cabriolet: "The car is now in the city of Cairo, Egypt. The chassis number is 27364, engine number is 27523. The registration says its a 1959 Mercedes-Benz Type 190. It has a 4 cylinder engine. I do not know if the engine is original but it is a Mercedes-Benz engine. I paid the equivalent of 7,000 USD. Its a great ride and it handles very well. On the question of it being a modification that took place after it left the factory, I do not think the previous owner had the resources or the money to invest in such a project. I probably paid him 10 times what he paid for it years ago, but he went through a lot of effort to partially restore it to be able to sell it."

Photos Courtesy: Dave Kirkpatrick / whammo77@aol.com / and the current owner: Yasser Barkoki (not sure of his name) / October 18, 2004
---
Custom Ponton pick-up
This appears to be a sedan that has been customized into a pick-up. Seen on the freeway in California by Chris Macha.
Photo submitted: December 24, 2005
---
1960 Type W120 180c Binz ambulance
owner: Bob Gunthorp / badwrench7@cox.net / Chula Vista, California USA
"I am sending you a photo of the 180c ambulance I owned twice over a twenty year period. The last buyer bought it against my advice. After two years, he gave up and sent it to scrap. I could not bring myself to do that. Also, I could not see any possibility of putting it back on the road – it is just way too rusty."
Photo submitted: December 18, 2001
---
1957 Type W120 180D kombi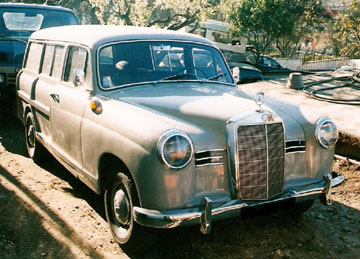 Portugal
This kombi features some custom body work. The side panels and tail lights are not original, but the cargo area is nicely finished.
Photos submitted March 25, 2009
---

Mercedes-Benz Ponton kombi made by C. Santos of Portugal




Mercedes-Benz was first represented in Portugal by the company C. Santos in 1936.
Hi!

First off all, congratulations on the website, it's fantastic!

I've been looking for Ponton kombis, but haven't found any C. Santos (Movauto) on your website. In my searches, I found one in the archive of a Portuguese C. Santos dealership that I would like to share with you. I don't have its history, nor the production numbers of this C. Santos Ponton kombi, so let the photo serve as the documentation.

Cheers,

João Rui Gomes
joaorui@hotmail.com
Lisbon, Portugal
March 22, 2019
Photo submitted March 22, 2019
---
Mercedes-Benz Ponton kombi of unknown origin
Photos submitted March 30, 2009
---
Type W121 190 Meisen ambulance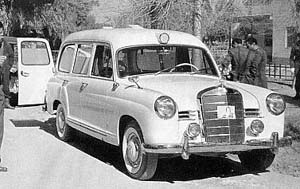 "Mercedes-Benz in aller Welt" circa 1959
---
Type W121 190Db Binz wagon
owner: Ingo Rump / Germany
Photo submitted: June 11, 2007
---
Type W121 190Db Binz wagon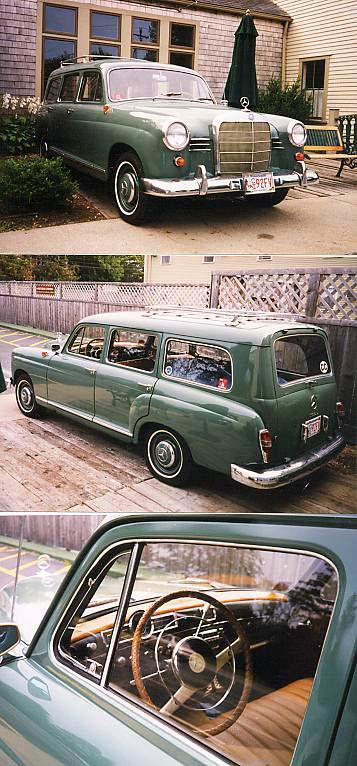 Cape Cod area, Massachusetts USA
color: DB226 "Moss Green"
Photos courtesy: Steve Yost / Lexington, Massachusetts
---

1959 Type W121 190Db Kombi with Webasto sliding sunroof




owners: Kirk Delman, Jon Pacini / Claremont, California USA

more photos

Photos uploaded August 22, 2019
---
1960 Type W121 190Db Miesen ambulance


Dortmund, Germany
This 1960 Type W121 190Db Ponton ambulance is not a Binz model, but an ambulance body produced by Christian Miesen Coachbuilders, formerly located in Bonn, Germany. You can verify this by the typical roof sideline that looks like a "double-Z" over the passenger side front window. This "double-Z" was typical of the so called Miesen "Ecoline" ambulance body which was (besides the Mercedes-Benz Ponton models) mounted on the later Mercedes-Benz "Heckflosse" series and was even used with the upcoming 1968 "/8" ("new generation") models. This Ecoline body was also mounted by C. Miesen on other ambulances like the Opel Rekord and the Ford Consul, for example. If there was a number behind the "Ecoline", such as "Ecoline 1140" for example, this number stood for the headroom of the patient compartment, measured in millimeters!

How does one determine if the ambulance body was made by Binz or Meisen? The answer is very simple. There is a small metal rain gutter directly above the side windows. If it is a Binz body, the rain gutter runs straight, all along the roof line, from the front to the rear (loading / cargo) doors at the window's upper edge. The Miesen body rain gutter does not extend all the way to the rear of the body, but curves around the rear of the last side window, downwards, and makes a quater turn at the base of this window and ends up close to the upper line of the rear fender. That is the secret !

Best greetings from the town of Schotten – located 30 miles north of Frankfurt, Germany.

Hans-Joachim Bielke
HJBielke@aol.com
September 6, 2006
---

1960 Type W121 190b ambulance (Denmark)


This vehicle was delivered to Zone Corps September 2, 1960 as a regular kombi, and after the ambulance conversion, first came into service in 1961. It is now part of the Technical and Aviation Museum (Teknisk Museum) in Denmark.

The ambulance was stationed first at the station in Aarhus and then at the station in Sæby where it served until it was phased out of service. At one point, Falck renovated the body, including the paint, which was black and white.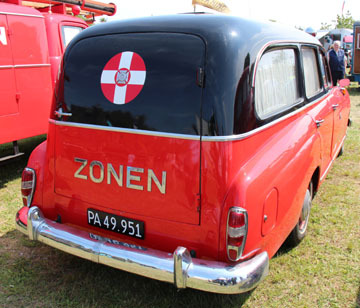 Photos uploaded June 6, 2014
---

1956 Mercedes-Benz 180a ambulance with 4-door body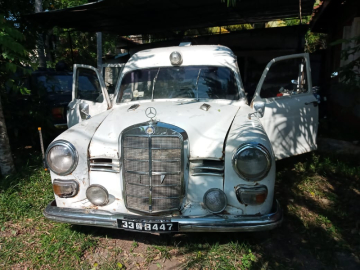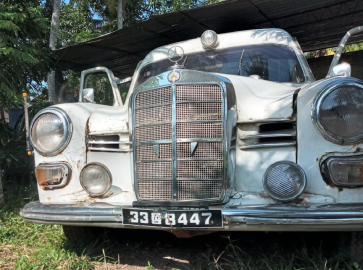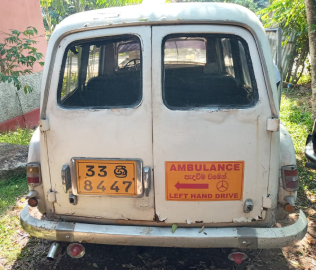 As of May 6, 2021, this vehicle was for sale in Sri Lanka.
Contact: Amila De Mel / amilademel176@gmail.com
Owner: Mr. Ajith / Sri Lanka / +94 779589319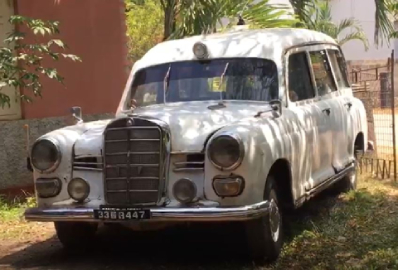 Click for video (MP4)

Photos and video uploaded May 6, 2021


---

1959 Mercedes-Benz 220S ambulance




Copenhagen Central Square / Appears to have 15" wheels / Date unknown

Photo uploaded October 26, 2014


---
1960 Type W121 190b Meisen ambulance "Hasselt"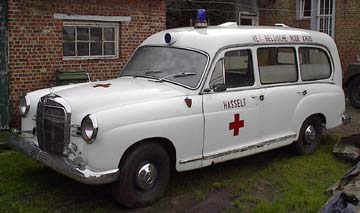 This 1960 Mercedes-Benz Type W121 190b ambulance from Belgium is equipped with a body produced by Christian Miesen Coachbuilders, and not by Binz. At the time, there were a minimum of five or six different Miesen ambulance bodies developed on the Mercedes-Benz Ponton platform. More space was needed inside the patient compartment as pre-clinical emergency care became more important in Germany. Until that time, EMS had just run with a "load and go" strategy. Now they started to give life-saving medical treatment to the patients during the transport, and that is why they suddenly needed more space. So Binz and Miesen developed - beside the traditional flat roof version - some new types, which featured raised roofs with larger and higher side windows.

October 8, 2017:
Serhat Abotay of Belgium bought the car from a garage, and is trying to contact the former owner Hans-Joachim Bielke. Please contact Serhat if you know Hans-Joachim Bielke.
serhatabotay@hotmail.com

Best greetings from the town of Schotten – 30 miles north of Frankfurt, Germany.

Hans-Joachim Bielke
HJBielke@aol.com
September 7, 2006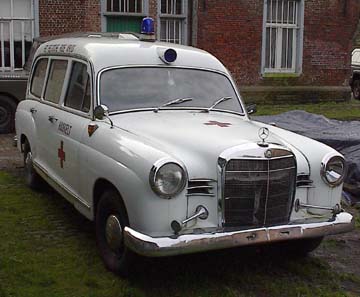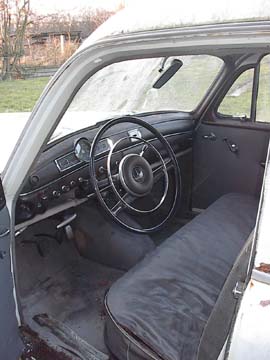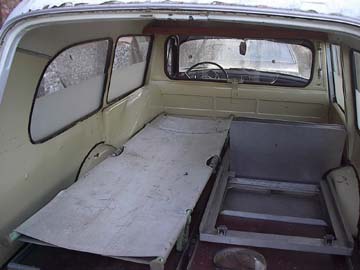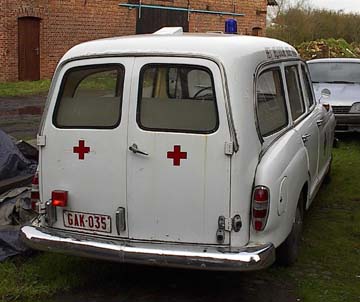 Jean-Paul Broekaert / alfatelerent@pandora.be / Belgium
Photos submitted by Jean-Paul Broekaert / March 15, 2003
---
1960 Type W121 190Db Binz wagon
owner: David Willoughby / San Diego, California USA
---
1961 Type W121 190b Binz wagon
owner: Greg Minuskin / Beverly Hills, California USA
---
1963 Type W121 190b Binz wagon
owner: Bob Gunthorp / Chula Vista, California USA
---
A Type W105 219 sedan / Antwerp, Belgium
The newspaper Gazet van Antwerpen used this vehicle with a specially designed superstructure to transport sports reporters to bicycle races, boxing matches and motoring rallies.
Courtesy: Jim Axman / Photo submitted: September 14, 2002
---
Type W120 180b sedan / modified for police duty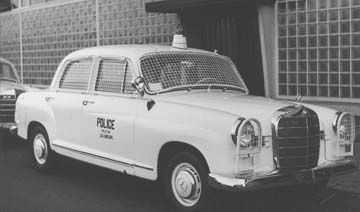 This car was delivered new to the Belgian Congo in the late 1950s to the city of Luluaburg.
Photo submitted: October 20, 2002 / Daniel Boeve / Belgium
---
Return to the Mercedes Ponton page
Return to the Ponton Photo Gallery
---