1956 Mercedes-Benz Type W120 180D Ponton "Bakkie" (pick-up)
owner: Gary Bowes / gary_george.bowes@daimler.com / South Africa
---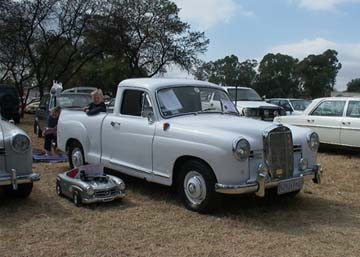 Pretoria, South Africa / August 1, 2004
Chassis number: 120-101-65-19294 / Engine number: OM 636-930-65-19010
I bought her while I was still at school in 1976, with the assistance of my father for R125-00 (not very much, even in those days, but of course it was for a schoolboy!) She was a non runner, but fairly complete and not much rust which is often the case in our hot and dry climate. During the next two years, we rebuilt her, including new pistons and rings. Only had to polish the crank, we did not know anything about pre-combustion chambers. On the first road test while grinning from ear to ear, the back wheels suddenly locked up! One of the pins in the pre-combustion chamber fell onto the top of the piston and so it was engine out again. She was then my everyday transport while I was serving my apprenticeship at the MB dealer in Port Elizabeth.
Interior is very clean. It could be 1956 again!
Here is a nice shot of the South African style load bin. Compare this to the Binz style load bin found elsewhere on the Ponton Variants Photo Gallery.
We have covered many thousands of miles together since then. She has only ever let me down again ONCE in the 28 years that I have known her, and that was when the cylinder head cracked and had to be replaced. She was built in 1956 as you can see by the chassis number and then registered in South Africa in early 1957, as far as I am aware, I am the third owner. Due to modern traffic conditions I do not drive her as frequently as I would like, but each time I do, I still recall the feeling when my father first towed her home with his W116, with me steering. I am sure the corners of my mouth were not far from my ears!!! Who says you need a 300SL to enjoy an old Mercedes-Benz? This is the first car that I ever owned and I do not foresee us ever parting in my lifetime.
Regards, Gary / February 23, 2004
---
Created: February 23, 2004 / Jeff Miller
© www.mbzponton.org
---
Return to the Variants Photo Gallery
Return to the Main Photo Gallery
---