1960 W121 190Db Binz Wagon
owner: David Willoughby / dfwilloughby@cox.net
San Diego, California USA
---
David writes: "Thanks for maintaining a lovely website. I regularly check your pages for parts. I'm still looking for a set of fog lamps, and I also browse the "Pontons for Sale" page, though I don't need any more projects at the moment. I particularly appreciate the "Ponton Variants" section. I like the unusual, and have owned a 1960 190Db Binz station wagon since 1976."

I have enclosed a couple of photos of the "Turtle," as it has been known since shortly after I purchased it from the original owner in San Francisco for $3,500 by following up on an advertisement in the back of Road and Track magazine. This gentleman was a retired army colonel who said he had bought it through a dealer in Europe while stationed there. He said it cost $800 more than an identical sedan. When I took delivery, the odometer showed 120,000 miles and it had a cracked ring and needed an engine rebuild and cosmetic reconditioning.
Photo #1 shows the car as it appeared a couple of years after I bought it. Note the curtains I had installed so I could use it as a camper. Its use as a camper was part of the reason for the name the "Turtle." I could withdraw into my shell at night. It's also green and moves rather slowly since it's a diesel. The diesel is as reliable as nails, and it has served frequently as my daily driver, and twenty six years later, it has over 470,000 miles on it. I had the engine rebuilt after I'd had it for about a year, then after a minor accident in the early 1980s, I completely reconditioned the body and interior.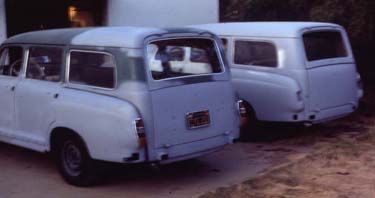 In photo #2, it's side-by-side with Bob Gunthorp's 1963 190b, the "Little Red Wagon" while both were in primer in 1986.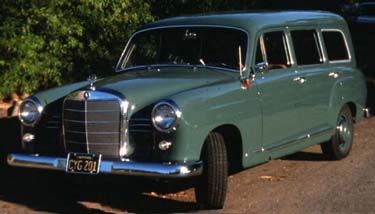 Photo #3 was taken shortly after it emerged from its restoration in 1988. It has collected a few dings and dents over the years, and now it needs to be reconditioned cosmetically again. A couple of years ago I purchased a 1969 280S (my "new" car) so I could take it out of regular service. I hope to find time to dismantle it and have it repainted in the original DB226 Moss Green ("Moose Groan") and reupholstered again this year.

I don't plan to sell it anytime soon. Awhile back, I contacted a fellow through the MB Ponton web page who was selling a 1957 220S for the original owner, his grandfather. At age 95, he had decided he was too old to keep driving a car with a manual transmission! If I make it to 95 myself (I'm 55 now) I might decide I'm too old to drive the Turtle and consider passing it on to its next caretaker.

David Willoughby / January 29, 2002
---
Created: January 29, 2002 / Jeff Miller
© www.mbzponton.org
---
Return to the Ponton Photo Gallery
---
Return to the Mercedes Ponton page
---