Mercedes-Benz Pontons (1953-1962)
www.mbzponton.org
| | | | |
| --- | --- | --- | --- |
| 4 cylinder sedan | 4 cylinder roadster | 6 cylinder sedan  | 6 cylinder cabriolet |
Willkommen! This site explores, chronicles and celebrates the unitary-construction sedans, coupés, cabriolets, roadsters, and variants built by Daimler-Benz from 1953 to 1962. It also serves as a central meeting place where Mercedes-Benz Ponton owners, friends, and associates from around the world can share their knowledge and experiences. Features include: production and technical data, resources for new and used parts and services, discussion forums, technical literature, instruction guides, photographs, and more.
---
---
S p o t l i g h t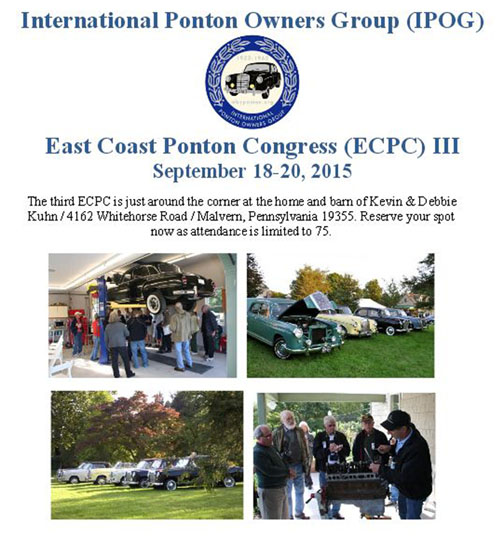 Only 63 Spaces Remaining / Click Image to Register
East Coast Ponton Congress (ECPC) III added: March 2, 2015

---
1961 Mercedes-Benz Type 190Db Binz kombi (station wagon)
owner: Angus Wylie / Everett, Washington / more photos
Dear Readers,

Happy New Year! About six years ago, I bought a 1961 190Db Binz wagon that was advertised in the Cars for Sale section of this website. Since then, I've been working on it. It's been a ground up restoration, which isn't complete yet! I bought the car sight unseen from a fellow in Alaska, and had it shipped down to my place in Everett, Washington. I took this photo January 2, 2015. I have tons more photos documenting the work in progress, and also of my 1960 190Db sedan. I'd like to send a bunch more, but for now I think you might find this one interesting.

Kind regards,
Angus Wylie
Angus Wylie's 190Db Binz kombi added: January 3, 2015
---
Principles of Pontonology
---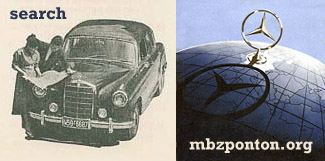 ---
Comments, Suggestions, and Corrections: editor@mbzponton.org
Comments, suggestions, and corrections are welcomed. These pages are NOT affiliated with, sponsored by, nor authorized by: Daimler AG and/or its associated companies, Mercedes-Benz USA (MBUSA), or the Mercedes-Benz Club of America (MBCA). The editor assumes NO LIABILITY based on information contained herein. No part may be published or reproduced without explicit permission from the editor.
Established: September 25, 1995
Editor/Publisher 1995-2000: Ray Ilich
Editor/Publisher 2001-2015: Jeff Miller
Copyright © www.mbzponton.org
All Rights Reserved
---