Mercedes-Benz Pontons (1953-1962)
www.mbzponton.org
| | | | |
| --- | --- | --- | --- |
| 4 cylinder sedan | 4 cylinder roadster | 6 cylinder sedan  | 6 cylinder cabriolet |
Willkommen! This site explores, chronicles and celebrates the unitary-construction sedans, coupés, cabriolets, roadsters, and variants built by Daimler-Benz from 1953 to 1962. It also serves as a central meeting place where Mercedes-Benz Ponton owners, friends, and associates from around the world can share their knowledge and experiences. Features include: production and technical data, resources for new and used parts and services, discussion forums, technical literature, instruction guides, photographs, and more.
---
---
S p o t l i g h t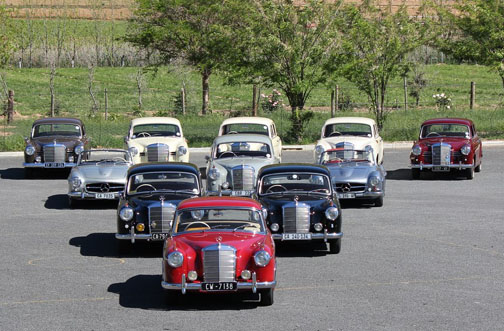 Western Cape Region of the Mercedes-Benz Club of South Africa
October 11, 2014: The club set off from Cape Town for a leisurely drive to Barrydale – some 300 km away. En route, this photo was taken in Montagu. The fleet consisted of 1 x Type 180, 3 x Type 190, 4 x Type 220S, 2 x Type 190SL, and a Type 220SE coupé. Not a single problem from any of the cars.
Spotlight updated: October 14, 2014
---
Principles of Pontonology
---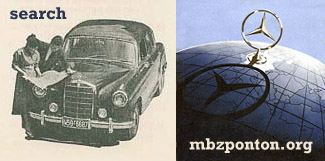 ---
Comments, Suggestions, and Corrections: editor@mbzponton.org
Comments, suggestions, and corrections are welcomed. These pages are NOT affiliated with, sponsored by, nor authorized by: Daimler AG and/or its associated companies, Mercedes-Benz USA (MBUSA), or the Mercedes-Benz Club of America (MBCA). The editor assumes NO LIABILITY based on information contained herein. No part may be published or reproduced without explicit permission from the editor.
Established: September 25, 1995
Editor/Publisher 1995-2000: Ray Ilich
Editor/Publisher 2001-2014: Jeff Miller
Copyright © www.mbzponton.org
All Rights Reserved
---