Mercedes-Benz Ponton Extra!
Annex for Articles, News, Special Events, and More

Attention Writers and Photographers: Technical Contributions
---
---
"In the minds of many people the name of Mercedes-Benz conjures up visions of stupendously fast vehicles in the ultra-high price range. Yet the firm has always been famous for the construction of hard-wearing touring cars of medium size." Autosport - May 27, 1955

"The Mercedes-Benz has not been designed for superficial appeal, to be discarded after a relatively short life when motoring fashions change, but rather sets out to provide a long-lasting means of fast personal transportation."

The Motor

- June 22, 1955

"In the family sedan field, the name Mercedes-Benz has become indelibly associated with top quality, long life and low depreciation." Road & Track - October 1957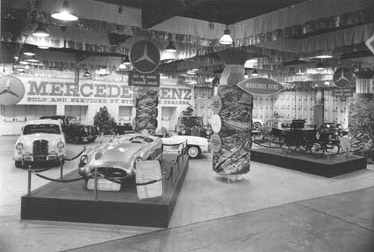 Mercedes-Benz display at the 1959 Chicago Auto Show. Note the sign reading, "Mercedes-Benz Sold and Serviced by Studebaker Dealers." Ponton sedans are shown along with the Type 300SLR, which was capable of 200 mph. Also visible is a 300SL roadster, a Type 300 "Adenauer" sedan, and an 1893 Benz Velo.
---
---
Table of Contents
---
Created: September 6, 2002 / Jeff Miller
© www.mbzponton.org
---
Return to the Mercedes Ponton page
---