Mercedes-Benz Ponton Necropolis
Boneyard, Graveyard, Abandoned, Final Resting Place, City of Dead Pontons
---
---

1959 Type 180D sedan with autumn shrubbery

Photo: Max Stemple / Colville, Washington / Autumn 2003
---
Mercedes-Benz Ponton coupé somewhere in England
---
Type 190Db sedan

Courtesy: Hal Cannon / November 29, 2004
---
Four cylinder Ponton model ("b" suffix – note wider bumper) somewhere in California / October 2005
---
Another four cylinder Ponton on a California hillside with only rudimentary protection from the elements / October 2005
---

 

Type 180b sedan – driver fell asleep at the wheel

 

 

Tough break for the Ponton, but the driver lived to tell about it

 

There is an infamous black and white photo (originally published in the May 12, 1947 issue of Life magazine) of a young, well dressed woman (Evelyn McHale) who jumped from the 86th floor observation deck of the Empire State Building (New York City) and landed on top of a dark sedan. She looked as if she was only sleeping, but the incredible damage to the roof told the real story. The roof of this Ponton is reminiscent of that photo.

---

 

Type W121 190 Ponton sedan, originally from Florida

Courtesy: Bruce Bristow / October 10, 2004
---
1959 Type 180D Ponton sedan / Chula Vista, California

Mercedes-Benz was a pioneer in the development of crumple zones for passenger safety, but the Heckflosse (Fintail) models were the first to undergo thorough testing.

Photos Courtesy: Bob Gunthorp

 

---

 

Type 180b Ponton sedan with window rain deflectors and roof rack in Lebanon

Photo Courtesy: Ramzi Saba / October 18, 2004

Ramzi writes, "This car has been sitting next to my home in Lebanon for like five or six years.  I tried to contact the owner to see if he would sell it, so I could use it for parts, but I could not contact him.  No one knew anything about the car.  It is sitting on an empty piece of land, next to a building.  The land is owned by the Maronite Church so practically nothing will be constructed on it.  The car has a lot of rust, but is fairly complete, especially the interior.  The stop lights are missing (broken and rusted) and the star is gone too." 
---
Painting of a Type 180 sedan
Courtesy: Farouk El-Khalil / Beirut, Lebanon
Farouk writes, "During the summer of 2005, whilst passing through a historical sea-side castle in Lebanon, I saw some paintings displayed by one of its walls. Something attracted my attention, and I looked through my rear view mirror to see paintings of a Ponton. Last Sunday (January 15, 2006), I was able to locate the artist who directed me to where the car was, and I drove there to take photos of it (somewhere in the middle mountain belt area)."
Type 180 Ponton sedan somewhere in Lebanon
Courtesy: Farouk El-Khalil / Beirut, Lebanon / January 26, 2006
---
Euro lamps, Webasto roof, and big toothless grin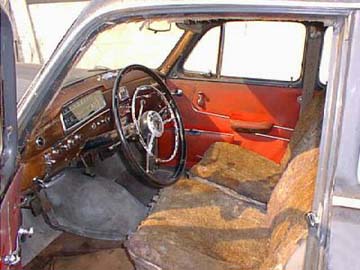 Interior all there, including the horsehair (not really) seats
---
Needs a little work to be like new again (somewhere in Germany)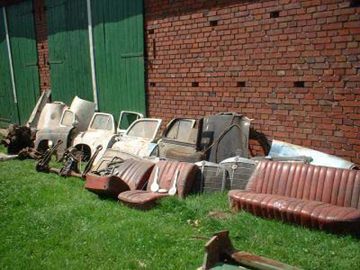 These parts have received plenty of fresh air and sunshine
---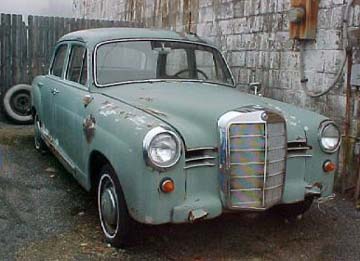 1959 Type 190 sedan / Not too far gone – tires still hold air
---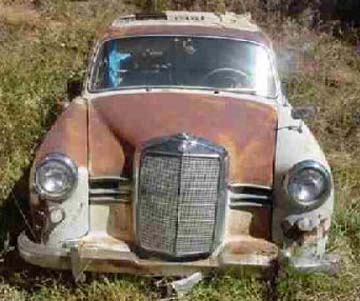 1957 Type 190D sedan / South western USA style rust on top – from heat and sun
Skeleton of the Webasto roof all there
---

This Type 180b/c or 190b "chop-top" (the roof was removed by the owner) was spotted in Izmir, Turkey on October 26, 2003 by Craig Semple. It appears to have only two doors.  This may indicate that it is a Binz body variant (a "Bakkie" or pick-up) originally destined for the South African market.  How did it find its way to Turkey?  It would have had to travel north over the length of the African continent and then across the Mediterranean Sea to get to the port city of Izmir. Or, perhaps it made its way through eastern Europe and then ended up here.  There were approximately 400 units of this Binz variant style (2 door pick-up) built.
---
Nice roof rack / "Binz" body variant / Somewhere in Greece / September 2003
---
Type 180 or 190 – window glass still looks good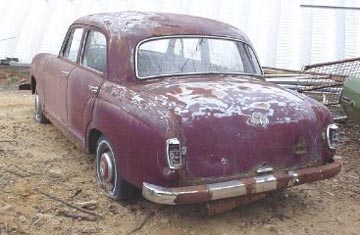 Wishful thinkers: Be the first on your block to own a Mercedes-Benz!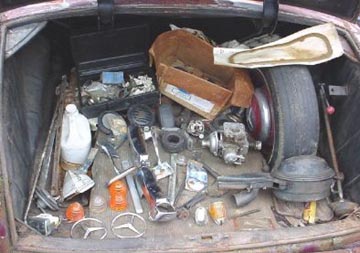 Don't forget the extra bits – they make nice ornaments
---
Sad, but true
---
Four cylinder, "b" revision Ponton – somewhere on planet Earth
---
Mother Nature's Son (found in a field of grass) / Type 219 Ponton sedan
---
Type 220S sedan somewhere in Utah
Courtesy: Hal Cannon / November 2004
---
Not "used", but rather, "pre-enjoyed" / Note the Webasto roof on this Type 220S sedan
---
Parked and forsaken until August 2002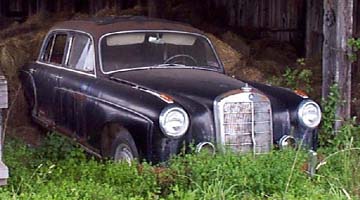 Type 220S Ponton sedan / Somewhere in the northeast USA
Hubcap conveniently located on front seat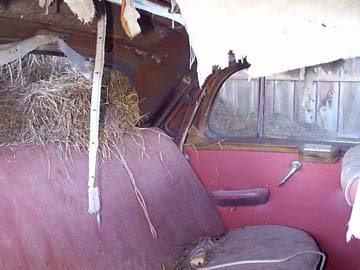 The mice are going to miss this car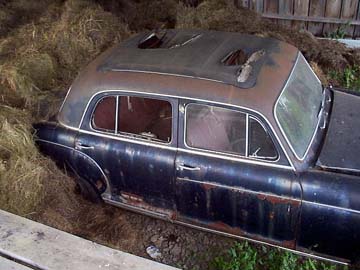 Add 15% for the Webasto sliding sunroof
Deduct 15% for not having the rear window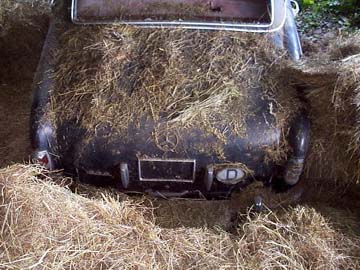 Plentiful, top quality straw
---

Shock Absorber / July 8, 1958 ( Lebanon)
It appears the Type 180/190 Mercedes-Benz Ponton absorbed the shock and reduced the damage to the Peugeot Type 203.
---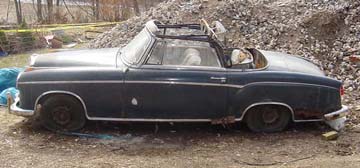 These Type 220S/SE cabriolets are worth a respectable amount when restored correctly
Note the rare Ulonite 105 reflectors
---
Stacked like camp fire wood
---
Type 219 sedan / Points off for the moss on the windshield
---
What would the original owner think?
---
Type 220S / Fender accent strips still look good
---

Somewhere in Sweden
---
The result of affixing too many grille badges
Photo Courtesy: Helu Hansen (Germany)
---
Minor stone chips do not detract from this nice 220SE cabriolet
A little Turtle Wax, and this car will be ready to go again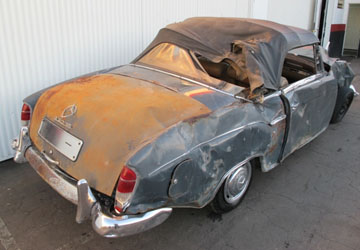 Most of this should just rub out
---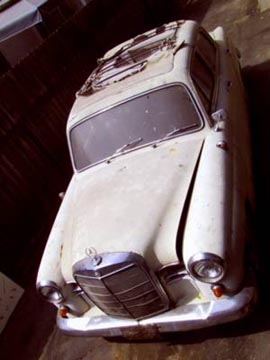 1961 Type 190b with Webasto sunroof
1961 Type 190b Ponton sedan with rare Webasto guard dog option
---
Basic shape is unmistakable
Photo: Ramzi Saba
---
Undaunted and undented / Type 219 sedan
---
Type 220a or 220S sedan – somewhere in Europe
---
Visionary: Only needs vehicle ID tag to be restored
---
Type 220SPonton sedan / Abandoned when the ashtrays became full
---
"Existence Exists" - Ayn Rand / Detail of Daniel Boeve's Mercedes-Benz collection in Belgium
---
Fallen barn reveals Type 219 sedan
---
Twin Webasto roofs — somewhere in Vermont (circa 2003) – Are those plants legal?
---
Somewhere on an undisclosed hillside in Ohio
The spirit from within these Pontons has long since been released
---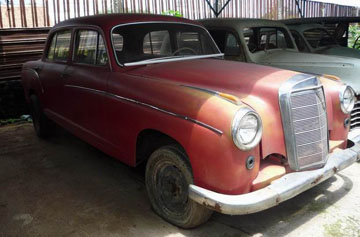 This Mercedes-Benz Ponton is located in Meruyung, Indonesia
Photos submitted November 6, 2008 by Christian Taihutu
---
Location unknown
---
Type 180 Ponton sedan in a Swiss junkyard
---
Lynn Brandhorst's Type 220S Ponton sedan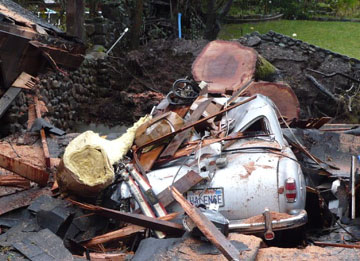 Not exactly what you want to see first thing in the morning
The day could only get better from here
---
1959 Mercedes-Benz Type 220S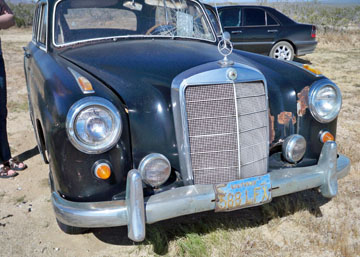 A Bushwhacking bushwhacker found this bushwhacked Mercedes-Benz Ponton sedan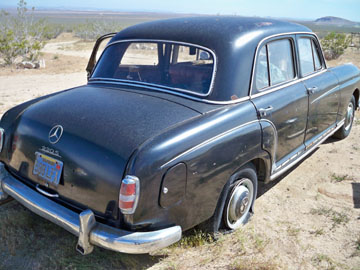 From the four corners of Boron, it sat approximately 20 miles north of Highway 58 – somewhere near the outskirts of California City
Photos submitted: May 28, 2010
---
Type W180 220S Ponton sedan in Mexico
Photo submitted December 5, 2011 by Pablo Perez Tavio
---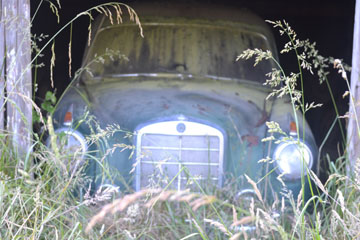 Barn find in New Zealand / Type 220S Ponton sedan

Photo submitted December 21, 2013 by Ron Bunting (Australia)


---


Type W180 series (220a or 220S/SE) in Belgium in the 1960s – crashed during a bicycle race.

Photo submitted January 22, 2014 by Anonymous (France)

---

Brisbane, Australia


Photos submitted January 2014 by Tony Basile
---

Bulgarian Salvage Yard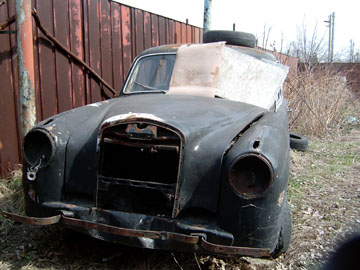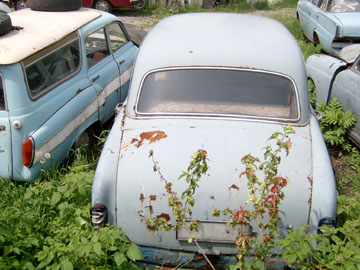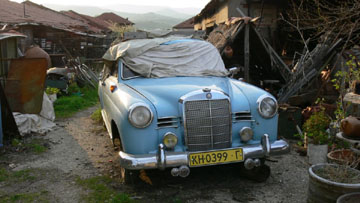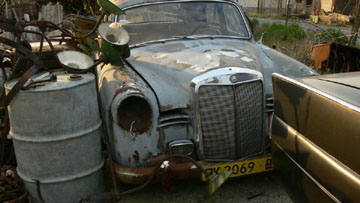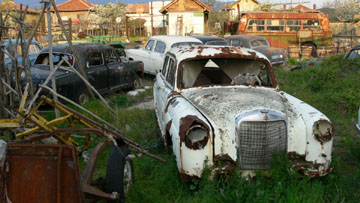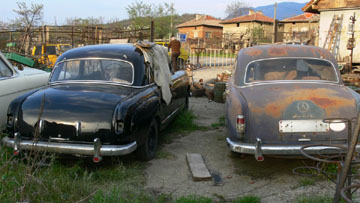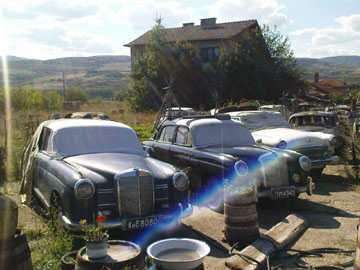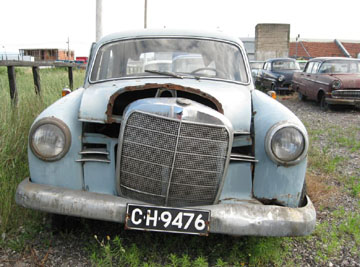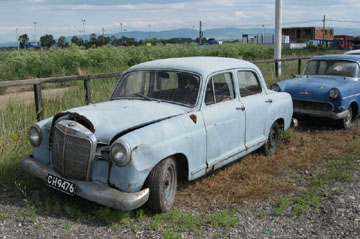 Four and six cylinder Mercedes-Benz Pontons in a Bulgarian salvage yard.

Photos submitted February 24, 2014 by Vladimir Vladimirov (Bulgaria)


---
Type 220SE coupé driven by singer Doris Nefedov (a.k.a. Alexandra) / July 31, 1969
In 1969 the 27 year old German singer Doris Nefedov (stage name: "Alexandra" [maiden name: Treitz]) had recently acquired this ivory colored Mercedes-Benz 220SE coupé. On July 31, 1969 she ran a stop sign, and was hit unrestrained by a truck hauling concrete paving slabs. The debris was thrown 20 meters into the ditch, and she was killed. Her son (Alexander – six at the time) was sleeping in the back seat and miraculously escaped with only minor injuries, but her mother (Valeska Treitz) died later in hospital. Alexandra was famous for many songs including, "Mein Freund der Baum" (My Friend the Tree).

Photo uploaded April 8, 2014
---


1954 Type 180 and 1956 Type 190 on hillside in Eikelandsosen, Norway

Photo courtesy: Thomas Helland / uploaded March 11, 2015

---
Created: October 5, 2002 / Jeff Miller
© www.mbzponton.org
---
Return to the Ponton Photo Gallery
---