Mercedes-Benz Ponton Ignition Switch Repairs
Owen (Chip) Hughes / 1958 Mercedes-Benz Type 190 / Richmond, Virginia
---
---
This article describes how to repair your Mercedes-Benz Ponton ignition switch without following the directions in the Service Manual (Job 15-21).

My switch was failing; sometimes the car would start and run normally. Other times, the generator light would barely glow, and pressing the starter button would make the light go out. The car would stall at times, and no generator light was showing. This was caused by high resistance, and slightly burned contacts in the ignition switch. The Service Manual suggested removing the whole steering column bracket and lock assembly before servicing the switch. I was able to service the switch without removing those parts.
---
IMPORTANT: Disconnect the negative battery terminal before starting work.
---
Figures 1-2. Exploded parts diagram: Table 28 / Steering / Group 46

---

Figure 3. Ignition switch cover (77) under the dash. Note: Job 15-21 refers to this as the "contact cap."
There should be a round nut (80) that keeps the cover on the back of the switch. Removing the round nut allows the cover (77) to slide rearward on the wires – providing access to the screws for the wires.
Figures 4-5. Removing the Bakelite contact cap (77)
The ignition switch retaining screw (79) is loosened with a 6 mm hex wrench. After the wires and retaining screw are loose, move the switch (76) toward the front of the car about 1/4" to clear aligning pins and engaging pin.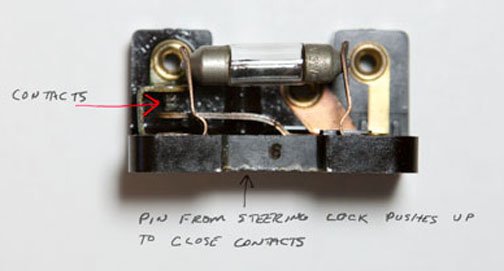 Figure 6. Ignition switch (76) contacts and tubular bulb (81)
Update: February 11, 2016: The current M-B part number for the bulb is 072601-012140. They have to be ordered, but any dealer can get them. They are stocked in the U.S.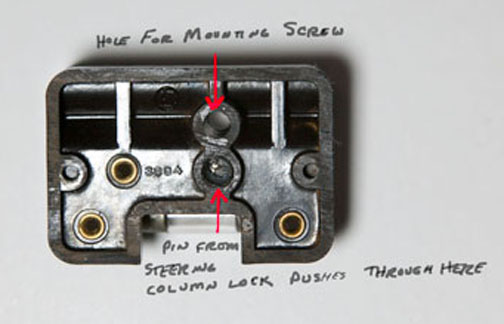 Figure 7. Ignition switch (76)
Figure 8. Ignition switch (76)
Ignition Switch Terminals
Terminal
Purpose
61
Sends 12 volts to voltage regulator to energize charging system
30
Battery voltage (hot all the time, in this case from the headlight switch)
15
Ignition (hot when the key is on, from here to ignition system and to starter button)
Table 1. Ignition switch terminals
Figure 9. Ignition switch terminals 61, 30, 15 and tubular bulb (M-B part number 072601-012140)

---
Created: June 2, 2014 / Jeff Miller
Revision B / February 11, 2016
© www.mbzponton.org
---
Return to the Ponton Workshop page
Return to the Mercedes Ponton page
---