1959 Mercedes-Benz 219 Ponton Sedan
Robert Hall / roberthallphoto@comcast.net / Placerville, California
---
---
Dear Editor,

I have enjoyed the resource that is your website for a number of years. Attached are several photos of my 1959 Mercedes-Benz Type W105 219 Ponton sedan. Included are photos of my wedding day - April 8, 1972, and three recent photos. I bought the car in 1971. I had a budget for a new Honda motorcycle when I took a spill on my 300cc Honda. Soon-to-be wife said, "four wheels not two."

I found the car at a used car lot on El Camino Real in Sunnyvale, California while shopping for a VW. The salesman said the 219 had been traded at a local Ford dealer. I think it had approximately 112,000 miles at the time. It was only 12 years old, so I think I am likely the second owner. I paid $800. With the exception of a period in the 1980s, it has been my daily driver ever since. I used it to tow a small tent trailer in the 1970s and '80s, but it lapsed into a rougher state into the '90s. It was originally DB334 "Light Blue" only. I went two-tone with DB335 "Mercedes Blue" circa 1978. The current paint was from MAACO in 2000, a close but not exact color match. The interior, and bumper chrome were re-done in 2000.

A technical note on the steering wheel. It seems only one part number is out there and available for 1959 sedans, so I ordered one with rim and horn button for about $1,200. When I went to install it on my 219 (Chassis 8506313) the ivory "neck" went too far down the column and interfered with the turn signal and shift mechanism. Well, any fool can replace OEM parts. It takes a real man to take a hack saw to an $800 piece of plastic, which I did – albeit slowly. First I removed ~1/8" from the base and tried it. Still interference, removed another ~1/8" and it cleared. Now the Soil-Your-Pants news: The taper of the column and the new wheel I.D. are not the same. Tighten down the nut, and although the square key turns the wheel OK, the wheel rocks back and forth. Happily there was an old school remedy that seems to be lasting. Using large tire weights as a source, I hammered out a piece of lead ~1/4" x 1/2". With some trial and error I made a "C" shaped shim (so to clear the square key) about 1/32" thick. I placed the shim in the I.D. of the steering wheel as I assembled the parts and the shim deformed (squished) into place as I torqued down the nut. It's been several months and it seems to be good.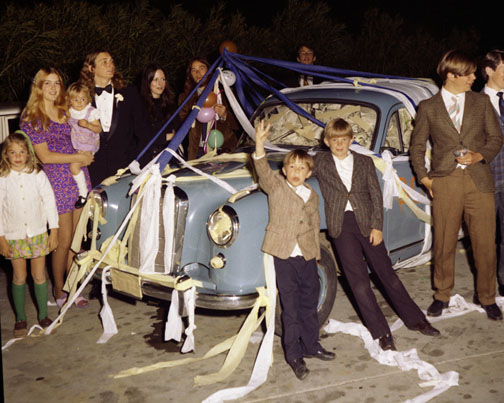 My wedding day / April 8, 1972
The Happy Couple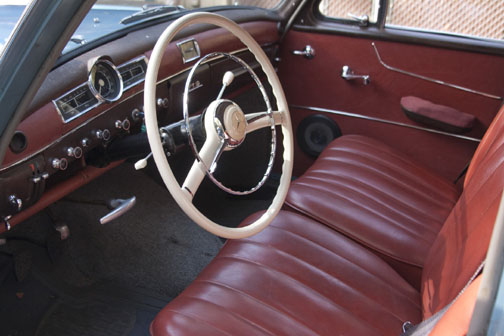 The Mercedes-Benz Type 219 Ponton sedan has a six cylinder engine, but shares the dash layout with the four cylinder Ponton models
I waited almost 20 years to find these New Old Stock (NOS) Ulonite 105 reflectors
Little by little conservation/restoration included some cheap tricks, major investments, and blind luck. Cheap tricks like heater ducts from Home Depot, major investments like a new steering wheel, horn rim and button, and blind luck like finding a pair of NOS Ulonite 105 reflectors for the back end. I see many U.S. sedans that should have those, but have had the holes filled in and painted over. I'd been "on-the-lookout" for about 20 years, so...Whooo-Hooo!

I installed a breaker-less ignition in the 1980s, so changing the plugs and oil is about all the engine needs. I currently am working with a local shop to rebuild a rear axle left over from the last junkyard swap I did a few years ago. Seems that expertise on the rear axle is hard to come by. The engine was overhauled a couple of times, and I feel comfortable working on that, but there are too many specialized tools and tricks for me to address the rear-end overhaul.

With the cost of OEM rubber floor mats, trunk pad, and sills close to $2,000 I'll not win any Concours events but it's fun to get the looks, comments and thumbs-ups every time I go to the store. I have high mileage badges for 250 km, 500 km, 750 km, and the Mercedes-Benz Classic Center sent the wrong emblem 1,000,000 miles – it should have been 1,000,000 km. I figure just keep driving.

Yours truly,
Robert and Anne Hall
roberthallphoto@comcast.net
530-621-3559
facebook.com/RobertHallPhotography
---
Update / January 28, 2014

Dear Editor,

Happy New Year! Hope all is well. I wanted to share a few new photos of my 219 for consideration. Maybe add to my gallery. An excursion from Placerville, California to Mono Lake and Bodie, California required foot-to-the-floor runs over Carson, Luther and Walker passes. The warm weather here in California means no snow to the normally closed ghost town of Bodie. The last three miles is dirt, washboard and rocks. The GPS said 7 m.p.h. as rocks were crawled over so as not to catch the oil pan.
The ranger was amazed, "You'd drive a classic like that up that road?!" If it was perfect I wouldn't. But it isn't, so I drive it wherever I want.

About seven years ago I did engine work. Mainly valve job and rings. Without measuring, I requested "just polish the crank" and I slapped in same sized-bearings. I cringed at the clatter and lack of oil pressure when I cranked it up the first time. I went down to the hardware store and bought brass stock to place behind the bearings. Still clatters but oil pressure is better. That was seven years ago, a testament to the durability of the M180 engine.
I have since bought a used crank on eBay with standard mains and first over rods in sweet condition. Also scored a NOS cylinder head for $150 (I paid ~$1,200 for one in 1982), and rod bearings for $50. I'm planning a sweet rebuild with a bargain bottom line later this year.
The one thing I'd like for hard drives like this would be another 30-40 hp – especially at altitude. I read about dual Weber conversions and dream! Ha! It'll stay stock for now.

Happy Motoring,

Robert Hall
Placerville, California
---
Update / April 28, 2015

Hi Jeff,

Here is a shot of my 219 on the Black Rock Desert in May 2015. That's the site of "Burning Man" festival, miles and miles of flat playa that you can drive out on. I ran out of gas about two miles from the town of Gerlach, Nevada about midnight the night before. That's another story. Slept on a lobby couch, got gas and went out early to get this shot.

Robert Hall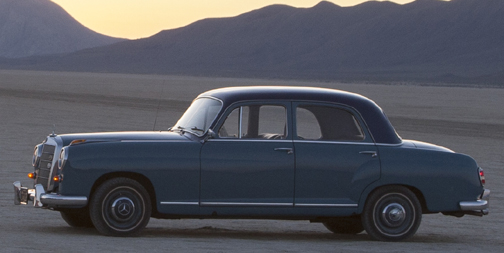 ---
Update / May 6, 2015
Balanced nickel on radiator shroud after significant amount of work
To get the nickel to balance, it took two pull-and-replacements of the engine. I replaced the crankshaft with one I got on eBay; mine was second over-sized on the rods. I had the main and rod bearings ground for first oversize and had the flywheel/crank/counterweight assembly balanced. I put everything together and started up the engine. All was fine until about 2500 RPM when it had a severe vibration from the bottom end. The crank was acting like a big tuning fork at a certain harmonic speed. After research, I determined that my counterweight was shot and should have been replaced as a matter of course. I got a new one from MBClassics. My kitchen scale maxes out at 2 kg, I measured at least a 6 oz. difference between the old and new counterweights - the old one having been lightened at least two or three times over its life. The sloppiness of the bore was also questionable. The new one required the "heat at 300 deg. F" recipe to ease it on to the crank. I reassembled and had everything rebalanced. THEN the nickle balanced! I also sprang for OEM engine mounts all around.

Thanks to Ron Bellamy c/o Pearl Machine Shop on Franklin Blvd. in Sacramento, California for computer balancing of flywheel/crank/counterweight assembly, MBClassics in Germany as parts source for NOS counter weight. SLAutohaus for OEM engine mount. My wife Anne for two months of time and grime.

Happy Motoring,

Robert
---
Created: February 18, 2012 / Jeff Miller
© www.mbzponton.org
---
Return to the Type 219 Photo Gallery
Return to the Main Photo Gallery
---