Mercedes-Benz Ponton
Wide White Wall Tires
Scott Gordon / Menlo Park, California / January 20, 2005
---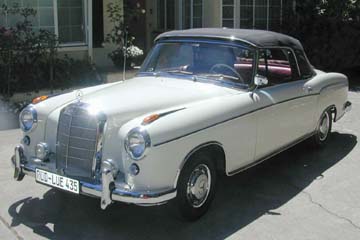 Before: "LUE" with her old black shoes
We have owned our 1957 Mercedes-Benz Type 220S cabriolet, "LUE" for about five years now. After these years and a few thousand miles (some of them at high speed) I finally got around to checking the date of manufacture of the tires. I knew I had a good set of Michelin X radials when I bought the car. A fair amount of tread, all matching, very vintage in appearance, and I was pretty sure they were old. I also knew that they contained tubes.

All tires sold in the USA have as part of their markings the week and year of manufacture, stamped into an oval near the bead on one side of the tire. When I finally checked, I found four matching tires stamped with "0680" meaning they were made in the sixth week of 1980, or were just over twenty-four years old. This is old enough, and while they were not actually losing pieces of rubber, a fingernail pressed into the shoulder showed just how hard they were getting, not really rubber-like any more, and some cracks were apparent if you looked closely. It was time to get new tires, especially since we like to travel at higher speeds. The higher speeds meant radials were the only possible tire, but I wanted wide white walls. Other "Pontificators" convinced me that I could have two of the following things:

radials
correct size
white white walls

...but not all three.

I decided for better or worse that I would take radials and wide whites and not be too particular about the size. Make a good guess and go for it. I also knew the Coker Tire people had a tire which would be good. At Laguna Seca Raceway in August, 2004, Coker had a booth and I was feeling the car thing. We had placed LUE at Concorso the day before and driven her in the Pacific Grove Rally and the performance was just flawless. She even just had a fresh forty hour detail from the SickShineShop, Steve Albrecht used Leatherique and everything else. She had never looked better and it was time for new tires.
I talked to the guy there for about five minutes, laid my hand on a sample WWW radial, asked him for the show special, which included free shipping, and gave him my credit card and quoted a tire size from memory. I walked away feeling good.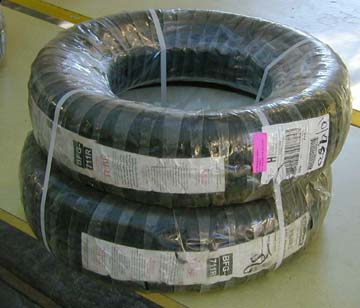 Ten days later the tires came and boy did they look good in the wrapping. I put them in my car for the drive home and the whole car smelled like fresh rubber - very invigorating!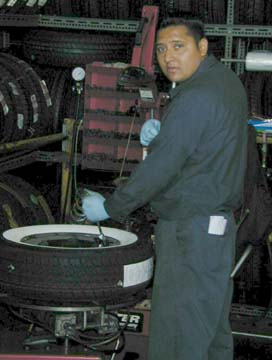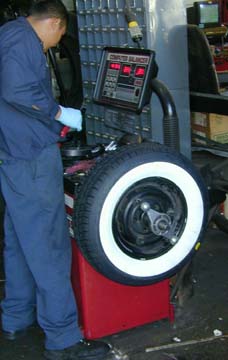 But I was not really sure that the tires fit and I don't like having a beauty like LUE at the tire shop. So I jacked her up and took off a wheel from the front and the rear of the same side and took them down to the tire store for mounting. They got mounted and spin balanced and it was a hoot. They guys at the store had never seen tires like these. The date code on my tires was probably older than the guy who did the work. He went to get one of the old guys to show him the Wide Whites and I told the kid who was getting 235R35-20s for his Escalade that that kind of thing was going out of fashion and that everyone was now getting into 80 series and wide whites. He was too busy checking out the tubes that came out of LUE's old tires to really notice my disrespect. The new tires were not mounted with tubes. All four wheels seem original judging by the manufacture date stamped into them.
Comparison
Another comparison with the 24 year old tire (with inner tube) on the left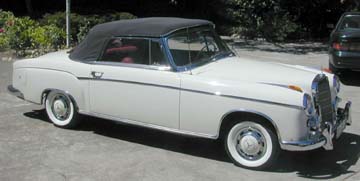 LUE is ready for more high speed driving with her new wide whitewall sneakers
I brought the new tires home on their wheels, put them on the car, and did some measuring. In particular I could not discern a difference from the center of the hubcap star to the ground. Also the car seemed very level. So I assumed rolling radius was about the same. Then I went for a drive and found no rubbing even at wheel lock and during hard cornering in both directions. So we drove back to the tire store, jacked the car up in the back, pulled off the other two wheels and had the other two tires mounted. On the way to the tire store, we drove through a downtown area with shops and their plate glass windows on both sides, so we could check out our reflection in real time with the wide whites and without. What a difference!
After getting both sets on the car, I took her for a very vigorous workout on some mountain roads near my home and found no rubbing, and very acceptable performance from the Coker radials. In particular there is not much rolling noise from them and hardly any squealing around corners. I have not had a chance to ascertain odometer or speedometer error.

In summary: I am satisfied with my Coker Radial Wide White Wall Tires!

- Scott / January 19, 2005
---
Created: January 20, 2005 / Jeff Miller
© www.mbzponton.org
---
Return to the Ponton Workshop page
---