Mercedes-Benz Ponton Grille Badge Rail
Anthony Tugwell / anthonyt@mail.com
South Australia / February 23, 2006
Grille Badge Rail for a Mercedes-Benz Type W180 Ponton with two-part front bumper assembly.
---
---
I prepared this item because I have experienced significant radiator shell damage caused by badges mounted on the (admittedly very convenient) perforated aluminum grille of the Mercedes-Benz Type W180 series. I have now seen many cases of damage both due to direct mechanical scuffing and scraping and because of the longer-term weathering effects of having part of your grille concealed behind a badge.
Basic Information

This rail, which I have detailed and dimensioned, is simple to fabricate from mild steel using a "home" welder. The steel stock should be available at any steel supplier. It needs to be fabricated carefully and care should be taken that it is accurate. I fiddled around with several different geometries and fixing methods, and found problems with all of them. The most basic issues are the following:-

· Curvature in plan view is important. When the bonnet of the car is opened it rotates the bottom point of the radiator shell forward. It must be able to clear the badge rail top edge, and the badges mounted on it.

· Spacing of the individual fixing bars is important. To obtain an easily-mounted and uniform-looking system of mounting different sized badges I adopted this particular number and spacing of bars.

Reference

Layout Drawing (details and dimensions)

Finish

I used a local powder-coater to finish the badge rail. He was able to produce an attractive satin finish in black which I thought appropriate in my case. Any satin or matt black enamel would be as good however. I would also offer the following (personal) thoughts on this:-

· The rail should not be a feature in itself or it would detract from the appearance of the car. Black, dark gray or (maybe) body colour would seem to be the only alternatives.

· I would not recommend chrome for the above reason.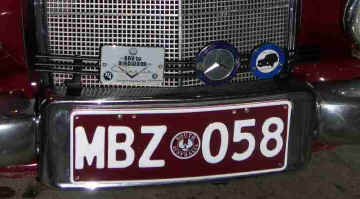 Alternatives

I expect there are as many alternative designs as there are International Ponton Owners Group (IPOG) members! However I have found this particular design to be attractive and workable, as you can see from the pictures included here. There is a final option to the rail as detailed. Since I have shown it curved you will see that certain badges, wider ones in particular, might be a bit difficult to mount since you would need extra washers to space it away from the curving rail. An alternative is to make it straight between its center-point and the rail end each side. If you do this, make sure that the clearance for the bonnet opening is sufficient and at least to the dimension detailed. You also will not be able to mount a badge directly at the center of the car but this is not a big issue.

Conclusion

When I first took off the existing badges on my car, disassembled the radiator and had the grille cleaned it took several steam baths to get it looking even half-way reasonable. Much of this chemical damage had occurred behind and around the badge locations, and in particular the accumulation of weathering on the grille side surfaces within the depth of the perforated aluminum was a real problem to remove. So look at a badge rail as a way of preserving your car's originality and avoiding extra problems, which, as all owner's know, is a distinct bonus.

Caveat (there is always one of these!)

I offer this information "as is" and ask that all owners check that it is appropriate for their own car, since there are significant design differences within the Mercedes-Benz Ponton model range. It, or something similar, might also be suitable for the Mercedes-Benz Types 180, 190, 219 Ponton series but I have not checked this. Additionally, this rail was designed for, and is mounted on, a 4-door sedan. It might not be suitable for cabriolets or coupés.

Anthony Tugwell
South Australia
February 26, 2006
---
Created: February 26, 2006 / Jeff Miller
© www.mbzponton.org
---
Return to the Ponton Workshop page
---