Mercedes-Benz Ponton
Periodic Service and Maintenance
Excerpted from "Handbook for the Mercedes-Benz 219, 220S All models 1956-1960"
by Piet Olyslager MSIA MSAE / The Sunday Times / London / 1962
---
---
From August 1958, revised service and maintenance instructions came into effect, which also applied to cars built before that date. Where the new instructions differ from those given in owner's manuals of cars delivered before August 1958, the new instructions should be followed.
Lubrication Chart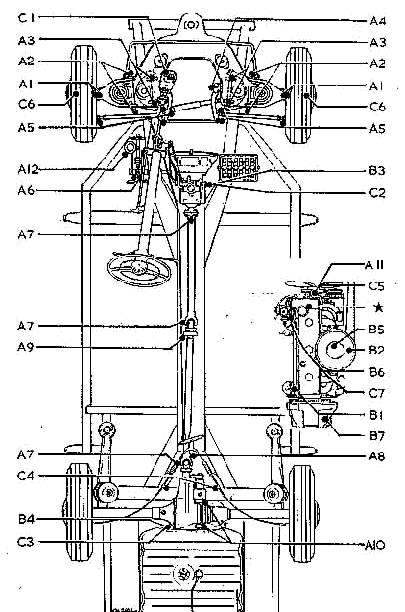 A. Every 2,000 miles

A1 to A10 (inclusive) Lubricate with Grease

A1
Upper and lower steering swivel joints and kingpins (six nipples)
A2
Upper suspension arms (four nipples)
A3
Lower suspension arms (four nipples)
A4
Steering idler arm (one nipple)
A5
Steering-rod and track-rod ball joints and steering damper joint (seven nipples)**
A6
Clutch and brake pedals (two nipples)
A7
Universal joints (two or three nipples)**
A8
Sliding joint (one nipple)**
A9
Propeller shaft centre bearing (one nipple)
A10
Rear axle fulcrum points (two nipples)
A11
Water pump: lubricate with hypoid gear oil SAE 90 EP (if nipple is fitted)
A12
Brake fluid reservoir: Check fluid level; top-up if necessary
**Not always fitted; on some cars these points do not require lubrication

Furthermore

Check level of electrolyte in battery; if necessary, top-up with distilled water
Check, and if necessary, top-up radiator and engine oil
Tighten wheel nuts
Check tyre pressures
---
B. Every 4,000 miles

As at A; furthermore

*
Engine oil: drain and refill
Bl
Oil filter: Clean metal filter element and replace paper element
B2
Air-cleaner: Clean filter element
B3
Gearbox: Check oil level; top-up if necessary
B4
Rear axle: Check oil level; top-up if necessary (see page 18)
B5
Hotspot valve: Check shaft for free movement and lubricate with graphite oil
B6
Ignition distributor: If fitted with grease cup, turn down grease cup and refill
B7
Automatic clutch (if fitted): Check fluid level (see page 19); clean cooling air screens, check and adjust free-play of clutch operating rod; check and adjust contact on rear-axle housing.

Lubricate with Engine Oil

Parking brake lever and parking brake intermediate lever
clutch pedal linkage
door checks
gearshift linkage
pedal shaft
bonnet hinges and safety catch
hinges on luggage compartment lid
governor linkage (on 220SE models).

Additional Operations

Check brake system, parking brake, fan-belt tension, wheels, tyres, clutch and electrical equipment
Check engine, gearbox, rear axle and steering gear for oil leaks
Check cooling system and vacuum system for leaks
Clean air screens for heater ventilating system
Clean rubbers on doors and rub with French chalk
Clean and re-gap spark plugs; clean and adjust breaker contacts
Adjust ignition timing
Lubricate Bowden cables on heating/ventilating system with penetrating oil
On 220SE models: Check oil level in fuel injection pump
---
C. Every 12,000 miles

As at B (except B3 and B4); furthermore

C1
Steering gear: Check oil level; top-up if necessary
C2
Gearbox: Drain and refill
C3
Rear axle: Drain and refill (see page 18)
C4
Parking brake cables: Lubricate with grease (two nipples)
C5
Water pump: Lubricate with hypoid gear oil SAE 90 EP (if no nipple is fitted)
C6
Front-wheel bearings: Renew grease in hub caps
C7
Ignition distributor:
Fill oiler with engine oil; apply three drops of engine oil to felt wick under rotor.
Fill cam follower with recommended grease (see page 18).
Carburetors (on 220S models): Fill dashpot with light engine oil; lubricate linkage with engine oil
Lubricate door hinges with grease (eight nipples)
Lubricate locks on bonnet and luggage compartment lid sparingly with grease
Check: Parking brake cables, propeller shaft flexible joints, steering column flexible joint, shock absorbers, front-wheel alignment, rear-wheel alignment, brake system (including vacuum lines and hoses of brake booster) check action of brake booster – with vacuum gauge
Check brake lining and brake drums
Check fuel system, engine compression, vacuum unit on distributor; chain tensioner
Renew air filter on brake booster
Clean holes in bottom of rear silencer
Clean sunroof rails (if fitted), sparingly lubricate with engine oil
Clean Covertex sunroof cover and rub with stearine
Check and adjust door hinges and locks. Aim headlamps
Clean fuel filter (metal type), drain water and sediment from fuel pump
Replace spark plugs
Tighten all bolts and nuts (fit new cotter pins where these have been removed)
Replace contact breaker points
On 220SE models: Replace paper fuel filter element
---
D. Every 30,000 miles

Air-cleaner: Replace paper filter element
Overhaul fuel pump (219 and 220S models); check pump capacity and pressure of fuel pump (220SE models)
Replace paper filter element in fuel filter
Tighten door hinges
Overhaul generator
Lubricate direction-indicator switch (on 219 models)
---
E. Every 60,000 miles

As at 30,000 miles; furthermore

Locating arms on rear axle tubes: Check and if necessary renew rubber brushes
On 220SE models: Replace carbon brushes in fuel pump
---
Created: September 18, 1996
Revision D / September 14, 2014
---
Return to the Ponton Workshop page
Return to the Mercedes Ponton page
---