1958 Mercedes-Benz Ponton 220SE cabriolet
Nicholas Thorpe / thorpenicholas@hotmail.com
El Puerto de Santa Maria, Cadiz, Spain
---
Nicholas writes, "Here is the car's history, as best known..."

The car was built in 1958 and apparently originally owned by a Frenchman. In the very early 1960s, the Frenchman sold the car to one of Spain's most illustrious Fashion designers. He did not drive himself, and the car was driven and looked after by a chauffeur. Some 20 years ago (for reasons unknown, but perhaps economic) the car was laid up in an underground garage in Madrid, where it remained untouched and neglected for some 17 years (see photo).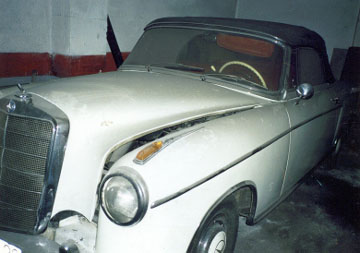 In the year 2000, around the time I moved back to Spain, I heard about the car through the owner's son. My wife arranged to inspect the car (I was working in Switzerland at the time), which had some 80,000 kilometers on the clock and, very reluctantly, the owner agreed to part with the vehicle. I had it shipped by train down to southern Spain, where we now live, and restoration started.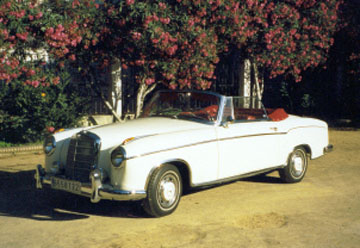 Fortunately, there are many historic car enthusiasts in our area (some have 20 or more antique cars) and thus a number of artisans exist to support their activities. My car was almost entirely rust free. The upholstery and soft top were ruined, the brakes had suffered some sort of fire and were completely burnt out, but otherwise the car was not in bad shape. The engine turned out to be in fine condition. It has not been touched and runs like a watch. It took about a year's restoration to get it on the road, including a full body repaint, and then a few follow up repairs to solve odd minor problems. Since then, the car has been driven in Italy and Portugal, as well as locally, and never let us down. It cruises very comfortably at 100 to 130 km/h, and acceleration is quite adequate for someone my age (retired). We continue to upgrade and replace odd parts, as it goes in for regular maintenance.
It gives me great pleasure driving this really astonishing "work of art." It is a privilege to own such a vehicle. That said, one is not really the owner, but more like a custodian or caretaker.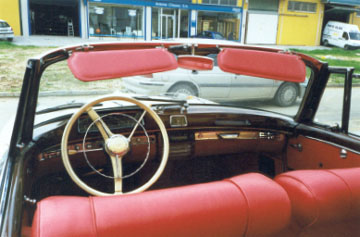 Finally, I would like to congratulate you and others who were instrumental in setting up and maintaining the PONTON website. It is splendid.

Kind regards,
Nicholas
---
Created: June 23, 2003 / Jeff Miller
www.mbzponton.org
---
Return to the Type 220SE Photo Gallery
Return to the Main Photo Gallery
---