1955 Mercedes-Benz
Type W180 220a Ponton sedan
with Webasto sliding sunroof
Bjerne von Schulman / bvs@algonet.se / Visby, Sweden

Recent photos courtesy: Ellika Lindström
---
Hello!

I am sending some photos from my recently restored Type 220a Ponton sedan.

The chassis number is 180.011-5514459, and the registration number is I7979. That number is seen on the old photo, and I have brought it back to the car after the restoration was completed. Its "proper" registration is CFW158, which is not very interesting.

Since new, this car has been on the island of Gotland (in the Baltic sea). It was purchased by a farmer on October 22, 1955. There is a photo from its first years here, above. I have had this car since the early 1980s. In 1984, I restored the engine and transmission, and since then, I have used it as my summer car. The rest of the car was in fairly good condition, especially concerning rust, so it was nice enough to drive.

During the later years, it stayed shining for only 48 hours after polishing and the primer was visible on some surfaces. So I decided it had earned a new paint job especially since it had served me so well for almost 20 summers. I did not have to buy very many new parts for the restoration, and the leather upholstery is not cracked but beautifully aged, so most parts are in original shape except for the paint. I have included a photo of the car at the paint shop as well. I hope you find this interesting and I must say your site is very nice for a "Merc-O-Maniac" such as myself.

Amber fog lamps

The perspective of this photo makes the sedan appear as a cabriolet!

The opening for the Webasto sliding sunroof is huge. The woodwork on the dashboard an window surrounds were restored by a craftsman and are in excellent condition. The outer and inner textiles in the ceiling and roof are also new, using original materials of course.

The sign says, "Mercedes Parking Only"
Note the red-white-amber tail lights and Ulonite 135 reflectors in the bumper guards
All the Best,
Bjerne von Schulman
Odalgatan 5a
62155 Visby
Sweden
August 29, 2004
---
Update: June 28, 2005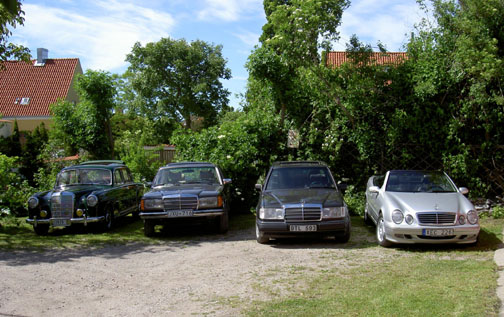 Hello!

Took this photo today (June 28, 2005) under the "Mercedes Parking Only" sign.

Left to right: 1955 220a Ponton sedan (mine), 1977 280E (my younger son's), 1993 E320 (mine), and my 2000 CLK320 cabriolet. My older son´s 1968 280SE is not shown. Thought you might find this photo interesting!

Best regards,
Bjerne von Schulman
Visby, Sweden
June 28, 2005
Photo submitted: June 28, 2005 / posted: January 14, 2012
---
Created August 29, 2004
Revision A / January 14, 2012
---
Return to the Type 220S Photo Gallery
Return to the Main Photo Gallery
---