Mercedes-Benz Type L319/L405 Photo Gallery
Type 319 (4 cylinder / pick-up / cargo van / crew van / minibus / fire truck / ambulance)
---
---
The Mercedes-Benz Type L319 was a light commercial vehicle platform manufactured by Daimler-Benz from 1955 to 1968.
The L319 name was changed to L405 in 1963.
---
1958 Mercedes-Benz Type L319 Pick-Up
owner: Bran Scanlon / Perth, Australia
---
1960 Mercedes-Benz Type L319D minibus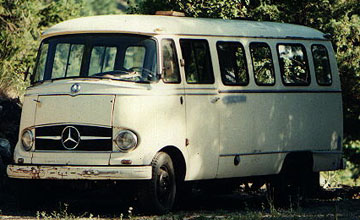 Former owner: Jim Axman / Colorado USA
Jim owned this vehicle briefly, and never actually saw it before reselling it. It was from Vancouver, BC, Canada.
---
1966 Mercedes-Benz Type O310 minibus with a Dormobile roof conversion
Former owners: Kelly and Stephanie Williams / Mount Joy, Pennsylvania USA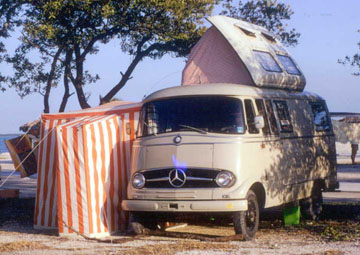 Same vehicle – in the 1970s
Kelly and Stephanie Williams bought this 1966 Type 319 in 2002, and joined IPOG on May 31, 2004. The vehicle was listed for sale on eBay at some point, and their last known email address was bouncing. If anyone knows the fate of this rare Mercedes-Benz, please contact the editor.
---
1964 Type L405 / 2.4 diesel / Vancouver, Canada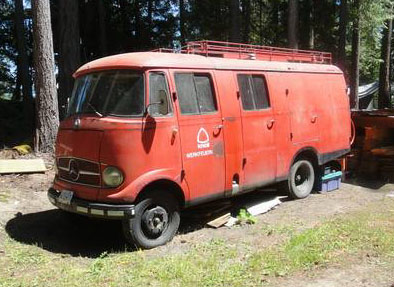 ---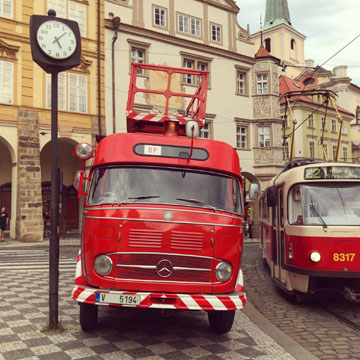 1966 Mercedes-Benz L 319 diesel
Owner: Dopravní podnik hlavního města Prahy (Prague Public Transit Company)
Decommissioned 2001
Passing: Tram Tatra T3 / Number 8317 / Year of production 1967
Operating this day on line 22, a strategic tram line connecting east and west Prague
Location: Malostranské náměstí, Prague, Czech Republic
Date: September 30th, 2016, 5:08 p.m.
Photo uploaded: October 23, 2016 / Courtesy: anonymous
---
Return to the Ponton Photo Gallery
Return to the Mercedes Ponton page
---