1960 Mercedes-Benz Type W128 220SE coupé
owner: Harris Kerr / Midland, Texas / harris@kerrfirm.com

---
Original Documentation

Data Card, European Delivery Worksheet, and Invoice (.pdf file)
Harris Kerr is the current owner (June 30, 2005) of this vehicle. He has gathered most of the original documentation which includes the Data Card (Fahrzeug-Daten), European Delivery Worksheet, and the Invoice. As is common when evaluating an antique, whether it be a motor vehicle or a set of baseball cards, something that can make the item or collection more valuable is its provenance or being able to trace its history. Having the rarest of the Ponton models (only 830 Type W128 220SE coupés were made) is nice enough but to be able to produce this type of documentation only enhances the value of the car. Thanks to Harris for providing it as a means to help other Ponton owners see what the documentation actually looks like and to view the original prices of the "extra cost options."
---
History of the 1960 W128 220SE coupé
By the previous owner: Bill Fulton / Idyllwild, California
The car was purchased in Europe from Mercedes-Benz with delivery taken at Stuttgart-Unterturkheim, Germany on 23 August 1960 by a Mr. William Sample, Jr. from San Diego, California.  As delivered, the car was a 220SE coupé with full bench rear seat, Medium Red (DB 516), 1060 leather upholstery, automatic (Hydrak) clutch, right heater blower, whitewall tires and Becker Mexico radio with Becker Reims short-wave adaptor.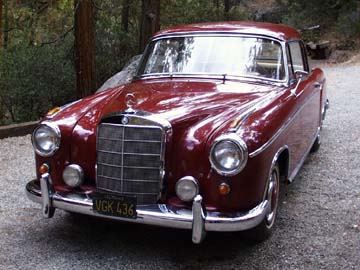 Mr. Sample drove around Europe and the car had its first inspection at Mario Morescalchi Mercedes-Benz in Rome, Italy.  The car was then delivered to Panocean Car Division, Antwerp Port for shipment to San Diego, California aboard the ship MS Hein Hoyer bound for Los Angeles to arrive on or about 13 January 1961.  All of the above arrangements were made by Peck Buick Company in San Diego for Mr. Sample and the total cost was $5,246.51.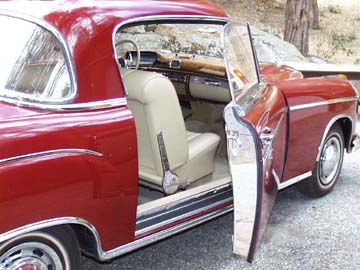 The car arrived in Los Angeles on January 20, 1961 where it cleared customs and was driven by Mr. Sample to San Diego.  Mr. Sample owned the car until he sold it to an Allan Stanger sometime in early 1970.  Mr. Stanger, a Navy person, kept the car until 1971 during which time all work on the car was done by Mike Rudin Mercedes-Benz in San Diego.  The Hydrak automatic clutch was presenting problems, so Mike Rudin removed the clutch and replaced it with a manual clutch.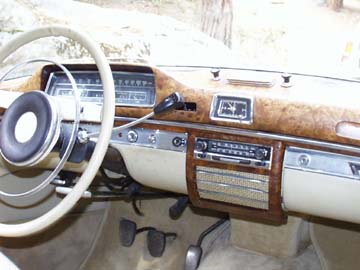 In July 1971, I purchased the car and drove it until 1985 at which time I decided do a complete restoration.  I have all of the paper work relating to the car including the original sales receipt from Peck Buick, the receipt from Mercedes-Benz in Germany, the shipping document, and the original owner's manual with the supplement for the convertible and coupé and the Catalog "A" 1958 220SE of parts.  In 1985, I removed the engine and had it rebuilt, had the fuel injectors and pump rebuilt and the clutch and transmission rebuilt.  
The wood work and interior was removed from the body and the body was completely re-worked and painted with the original Mercedes-Benz paint code "Medium Red" (DB 516).  The interior has been restored to the original leather and the wood work was re-veneered as original.

- Bill Fulton / September 5, 2002
---
Return to the Type 220SE Photo Gallery
Return to the Main Photo Gallery
---