1960 Mercedes-Benz Type 190Db Ponton
Bob Graham / bobdgraham@yahoo.com/ Ottawa, Ontario, Canada
---
Bob Graham (a.k.a. "Frozen Bob") with his 1960 Type 190Db "Fritz"
Fritz is a 1960 Mercedes-Benz Type 190Db. He is actually two cars. A 1960 190Db from Ottawa, Canada that I bought in 1995 with a rusted out body (really bad) and a really good diesel engine, and a 190b with a blown motor but an excellent body I bought in 2000 through the mbzponton.org website that had lived most of its life in Arkansas. The owner's son, Daniel Holmes, lives near Richmond, Virginia and had the car in his barn and took my word over the phone that I would take it. Then he held it for me without a deposit for over two months until I could fetch it while many others offered more than our agreed price and hounded him almost daily with promises that he would have the money in his bank account within hours.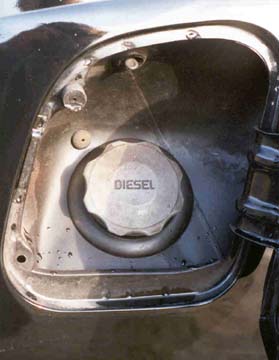 A reminder to the filling station attendant what kind of fuel this vehicle requires
I trailered it home to southern Ontario (about one hour south of Ottawa) and made one car from the two. I am a diesel freak so I wanted the "oil" motor. I changed the engine, transmission and rear end because all of the gearing is different and had the car painted by a retired body man who lives near us. The paint is pretty good but not perfect. I imagine I will have it done again after our daughter's wedding is over and all of the educations are paid off. The car runs really well, with over 400,000 miles on the engine. I replaced the worn upholstery and headliner with similar material from Custom Covers in Massachusetts. It is fun to drive but clatters as only a mechanical fuel injected 40-some-year-old car can. The injectors were re-done by First Diesel Injection Service of Belleville, Ontario. The radiator was re-cored by a friend of my Dad's near Belleville. It never overheats - $240 Canadian well spent. I drive Fritz to work in the summers and on Sunday tours, and he hibernates like a little black bear in the winter because of the snow and salt on the roads here in Canada. I first became aware of these cars at a very young age, about 5, when a man my father worked with bought a diesel Ponton new around 1960 and I remember riding in it thinking it was like a train locomotive, running on diesel fuel. I saw a 190b again when I was 17, sitting in a Dodge/Chrysler dealer's lot waiting for service and was smitten. It would be another 22 years before I would have one of my own, but tried on and off to find one over that span of time between 1973 and 1995.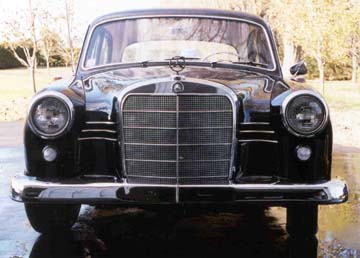 All right and tight. Looking just like a Mercedes-Benz Ponton diesel should. Note clear turn signal lenses below the headlights.
Many thanks to the good people of the International Ponton Owners Group (IPOG) for their help getting him back on the road where he belongs, and of course to Jeff "Nozzle" Miller for being the glue that holds the IPOG together. Also to Van Herpt Motors of Kingston, Ontario and Ralph and Dean of King Edward CarQuest Auto Parts of Prescott, Ontario for assistance in locating and discounting parts for the job. Finally to my wife June, who suffered long hours in the house alone while I toiled blissfully in the garage with Fritz, and who listens patiently while I endlessly extol the virtues of the revered Ponton. Would I do another Ponton? In a heart beat. Their simplistic yet brilliant quality of design and manufacture are nothing short of therapeutic.
---
Created: November 20, 2002 / Jeff Miller
Last Update: January 08, 2019
© www.mbzponton.org
---
Return to the Type 190 Photo Gallery
Return to the Main Photo Gallery
---