Fashion Island 2002
photos & text courtesy: Bob Gunthorp / badwrench7@cox.net
---
Group 1: (car #8 in show)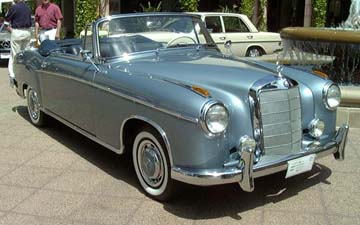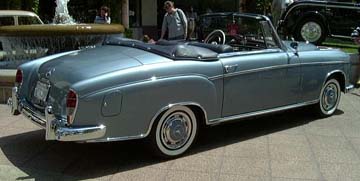 1959 220SE Cabriolet: Manfred Menz, Malibu. Mileage 9825 km since restoration. This car features Zebrano wood and fold down rear seat. A complete restoration was accomplished in Germany from 1994-1996. This beauty received First Place in its class at the 2001 Concours d'Elegance, Santa Barbara.
---
Group 2: (car #9 in show)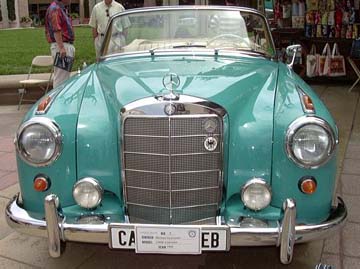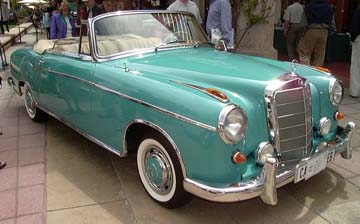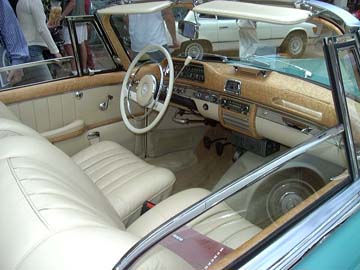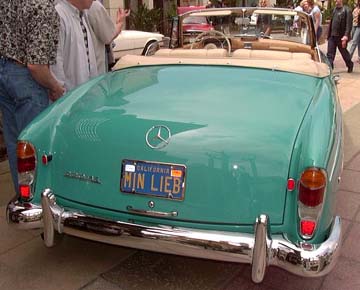 1960 220SE Cabriolet: Michael Grosvenor, Los Angles. Mileage 120,000. In 1960, numerous color combinations and contrasts were offered. This allowed for more style to go with the exceptional lines of this limited production car. The Canton Blue body, ivory interior. Birdseye Maple and Beige top are prime examples of the classic styling of this era. This one always captures attention.
---
Group 3: (Car #10 in show)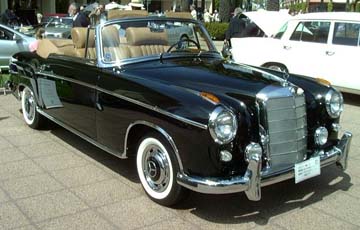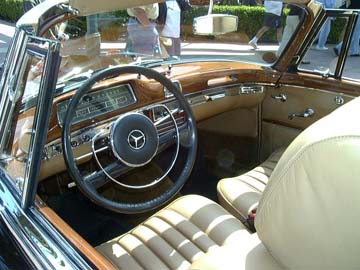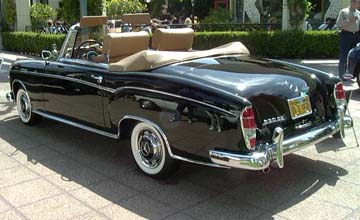 1960 220SE Cabriolet. Marcey Lipman, Beverly Hills. 44,000 miles. Both a driver and a show car since the complete 18 month restoration in 1990-91 made this car a trophy winner. It has been awarded three 2nd place and one 1st place trophies at Fullerton's Muckenthaler Concours d'Elegance. This car was previously owned by the actor Robert Mitchum.
---
Group 4: (car #22 in show)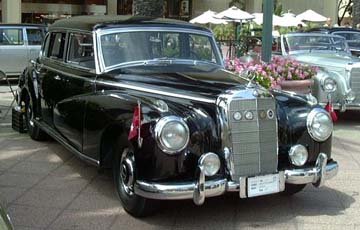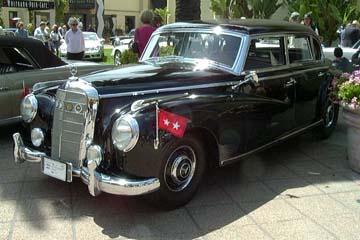 1952 300 with a divider window. Owned by Bob and Terry Gunthorp
---
Group 5: (car #24 in show)
1958 190 owned by Earl See of Lake Forest. Cost $ 4,500. Mileage 79,965. Car was previously owned by song writer Jack Norworth, who wrote "Take Me Out To The Ball Game" and "Shine On Harvest Moon." The owner purchased the car from Mr. Norworth's estate when he died in 1971. The car has won several trophies in competition because it is in original no-restoration condition.
---
Group 6: (car #25 in show)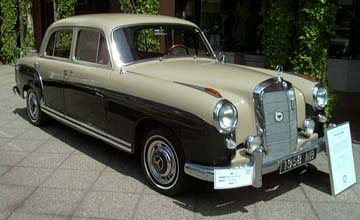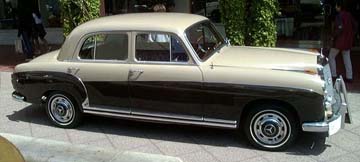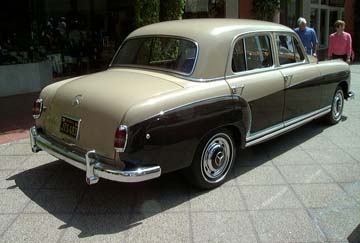 1958 220S Mary Jean Hessler Costa Mesa. Mileage 42,030. This car has provided a safe, comfortable, economical and stylish ride for over 41 years. It is equipped with a Hydrak clutch and has a steering column shifter. The car is still used as an occasional driver and has been shown at Fashion Island Exhibitions from 1995 to 2002. Mary Jean is cochairman of this year's event.
---
Group 7: (car #26 in show)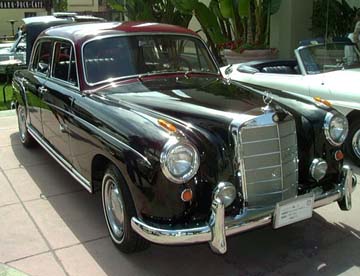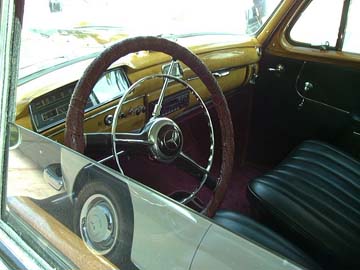 1958 220S sedan: Sam & Joyce Mathews Compton. Cost $ 5,000. Mileage 80,166. Sam and Joyce have been the proud owners of this beauty for more than 29 years. The mileage is all original. One of 20,181 built in 1958. It's powered by a 2.2 liter, overhead camshaft, 6 cylinder that produces 120 hp.
---
Group 8: (car #27 in show)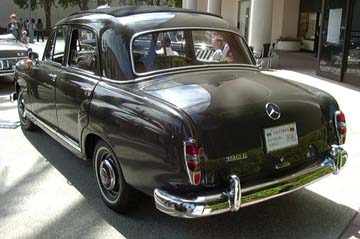 1960 190Db sedan: Robert & Phyllis Burchett, Rancho Verdes. Mileage 385,000. This car has a slide back roof, and a frame up restoration. The car was in the Fashion Island Exhibition in the early 1980s. It was also featured at the 1st Annual Mercedes-Benz "Drive for Excellence" in 1999 at the factory in Alabama.
---
Return to the Mercedes Ponton page
Return to the Main Photo Gallery
---