Alex Dearborn's Mercedes-Benz Pontons
Alex Dearborn / alex@dearbornauto.com / Kittery Point, Maine
---
1960 Mercedes-Benz Type W128 220SE Ponton cabriolet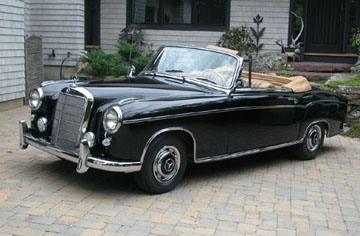 Here is my 1960 Mercedes-Benz 220SE Ponton cabriolet. Chassis number: 128.030-10-002514. Purchased from Jim Carson in 2004, "Emily" has 70,000 miles from new and is still in mostly original condition. Jim named her after Emil Jellinek but has the conviction that cars are feminine.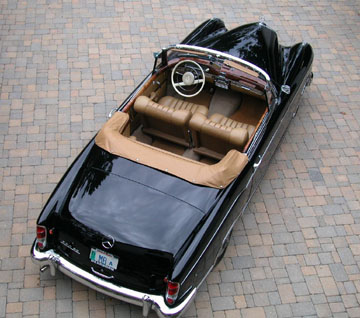 The car is no longer in the inventory at Dearborn Automobile Co., nor on its website, but is owned by Alex and Danna Dearborn personally, who will begin a lap of the USA in the fall of 2007. The plan is to start from home in Maine, and head west towards Vancouver Canada, taking in a few national parks, and then down to San Francisco. Leaving the car in the Bay Area for the winter, they will fly home, and return in spring 2008 to drive east via a southern route.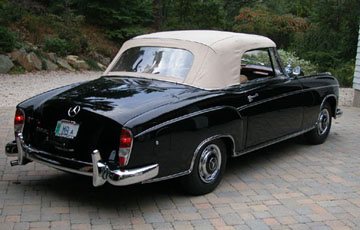 The Dearborns are hoping to stop along the way to visit a few International Ponton Owners Group (IPOG) members, and would like to include as many members' phone numbers as possible in their "glovebox list." Anyone interested to participate should email: alex@dearbornauto.com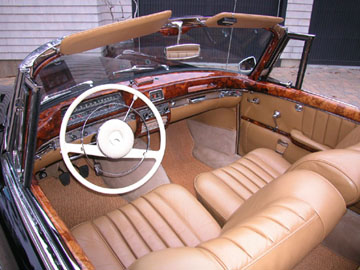 Since purchase, Emily has had a cosmetic restoration, and an engine and fuel injection overhaul in preparation for the trip. Other enhancements include replacing the 4.10:1 rear axle ratio with a 3.89:1 for more relaxed cruising at highway speeds, Koni shocks, Michelin radials, and a set of progressive rate springs from John Olson.


---

"Touring with Emily / Autumn 2007"

I have been in the business of restoring and dealing in vintage Mercedes-Benz since about 1972, but really never "owned" an old Mercedes-Benz personally with the exception of the 300SL Gullwing, which I raced. I had been after Jim Carson to sell me his 1960 fuel-injected Type 220SE cabriolet, "Emily", for a long time, as it was a well preserved, low mileage car which I thought might one day sit in my own garage without the pressure of having to market it.

By 2004, when I did finally acquire Emily, a few life events fell into place for me. One was marrying Danna, another was having a house with a garage, and finally, I was deciding that I could actually get away with taking a longish vacation. The concept of a road trip was forming, and Emily and Danna were in it. Cell phones and laptops will allow me to keep in touch with my business as we travel.

None of the established tours I know of are going where we want to go, so we are going to plan our own route and schedule. Its not yet obvious to us where that will be, although we would like to go west from Maine to Vancouver Island, Canada, then south to San Francisco, in the fall of 2007. We will fly home. In the spring of 2008, we will fly back to San Francisco, and drive east to Maine via some southerly route.

Because its always fun to talk shop with like minded enthusiasts, and because each will have tourist advice for his own region, it would be neat to have names and phone numbers for IPOG members around the country in the glove box. Of course, it is always possible that we could have a mechanical event, in which case IPOG members would know of local garages who could help.
---
1960 Mercedes-Benz Type W121 190b Ponton sedan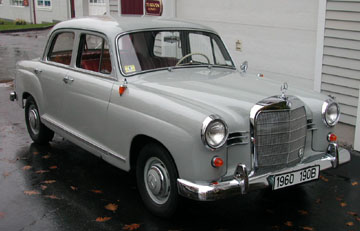 This is my 1960 Mercedes-Benz Type 190b Ponton sedan. The current plan is to enhance the car with drivability upgrades. This will of course make it too expensive to sell, so we will have to drive it for a few years. Luckily, I inherited a fabulous Roser leather interior with this car, and the rest is pretty nice, too.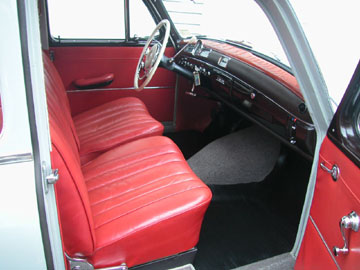 Alex Dearborn
12 Captain's Way
Kittery Point, ME 03905
Mobile: 978 590-5079
http://dearbornauto.com
---
Created: January 10, 2007 / Jeff Miller
© www.mbzponton.org
---
Return to the Type 190 Photo Gallery
Return to the Type 220SE Photo Gallery
---