1959 Mercedes-Benz Type W180 220S sedan
owners (as of March 4, 2016): Jim and Kathryn Hill / cnc_dog@yahoo.com / San Jose, California
former owner: Linda Caplinger / Los Gatos, California
---
---
Overview
There were 55,279 Type 220S sedans produced by Daimler-Benz between April 1956 and September 1959.  My car was ordered by Mr. Walter Arbanas, a US citizen, on 11 May 1959 through Tom Milam, a dealer in Palo Alto, California. Mr. Arbanas picked up the vehicle in Stuttgart, Germany on 4 August 1959 and had the vehicle shipped from Belgium to the US.

The car was delivered to the Port of San Francisco on 9 November 1959 and the customs paperwork is dated the next day, 10 November 1959. Mr. Arbanas was the sole owner of this vehicle up until my possession on 25 April 2004. The body of the car is straight, sanded, and ready for new paint. The original color was DB166 ("Blue-Grey"). I decided to have it re-painted the same color.
---
Details
| | | | | | | |
| --- | --- | --- | --- | --- | --- | --- |
| Year | Model | Body Style | Chassis Number | Engine Number | Comm Number | Engine |
| 1959 | 220S | sedan | 180.010-10-95-09717 | 180.924-10-95-07156 | 9 707 0725 | 6-cylinder gasoline, dual Solex carburetors |
---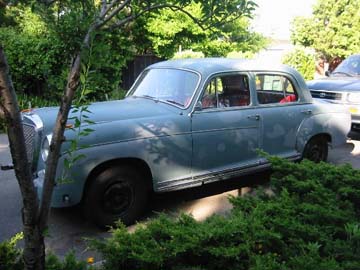 April 27, 2004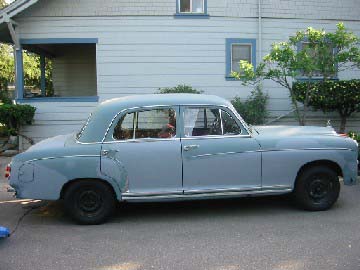 Preparing for a new paint job in the original DB166 ("Blue-Grey")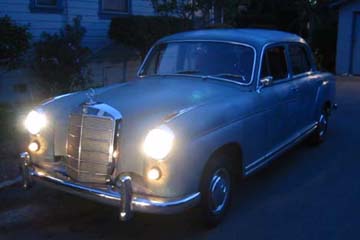 Update: May 19, 2004
Took the car out for a short drive to make sure the radiator hoses were put on tight enough. I had just enough battery in the camera to take a picture.  It is a bit blurry as I had the exposure time set to 1 second as I was shooting photos in the nightclub on Friday night and it was REALLY dark in there.


Approximately June 18, 2004
This shows the new paint job in June, 2004.  Still need to put the bumpers back on.

Summer 2004

Sometime over the summer of 2004. Michael Foster, a fellow Ponton sedan owner (Type 220SE) inspecting Linda's 220S. The car really looks nice with the bumpers and amber fog lamps back in place. Also note the huge headrests on the front seats. These are original, optional equipment.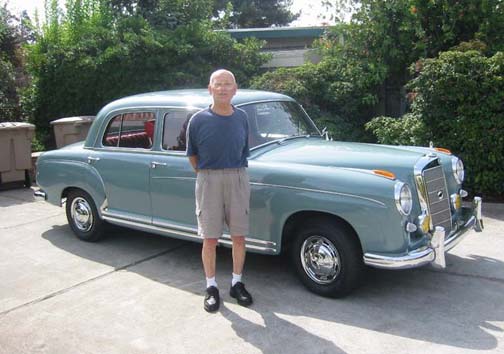 Original owner Walter Arbanas / August 2004
Here is a nice photo of the 220S after Linda had it painted the original DB166 ("Blue-Grey"). Shown here, is the car's first owner, Walter Arbanas. He picked the brand new Ponton sedan up in Germany way back on August 4, 1959.


November 17, 2004 / Villa Montalvo / Saratoga, California


November 17, 2004 / Villa Montalvo, Saratoga, California


Linda with her 1959 Type 220S / January 6, 2005

---

April 26, 2008: Attending Pat Matthews' Mercedes-Benz Gullwing party. Also shown is Linda's 1960 Type W121 190b Ponton sedan with Webasto sliding sunroof.
---
Update: December 20, 2013
Linda's new wheels – a new, 2014 Mercedes-Benz GLK250 (BlueTEC twin turbo diesel)
---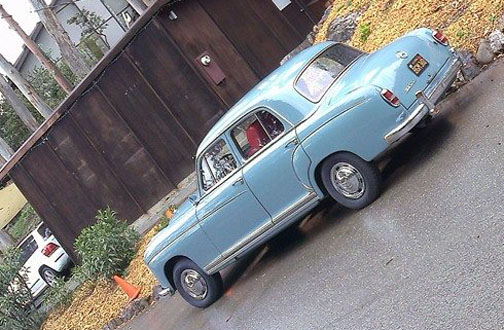 Update: March 4, 2016 / Linda's erstwhile 220S Ponton
Last photo before going to new owners – Jim and Kathryn Hill – who named her "Olive."
---
Manuals / Books / Tools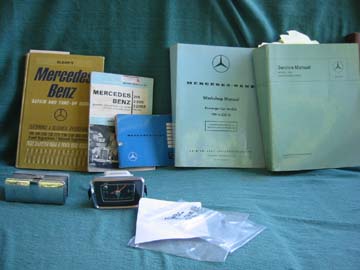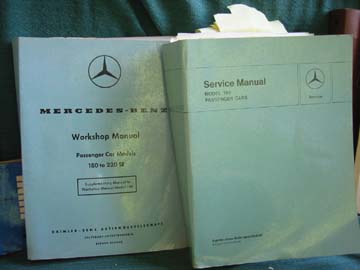 ---
Registration Chronology
4 August 1959 / Delivered to its first owner in Stuttgart, Germany
9 November 1959 / 220S arrives at Port of San Francisco
25 April 2004 / Delivered to its second owner, Linda Caplinger. Vehicle is still "PNO" status ("Planned Non Operation") which, in California, means it cannot yet be driven on public streets
4 March 2016 / Sold to new owners Jim and Kathryn Hill of San Jose, California
---
Modifications
There are three modifications that I am presently aware of that were done to this vehicle:
The trunk was outfitted to accommodate a second spare tire. A second bracket was installed to securely hold the tire.
The Becker Mexico was equipped with an optional automatic antenna that would rise when the radio was turned on.
The seats are equipped to accommodate large headrests, which are not pictured here. This was an optional item that could be ordered.
[1]
---
Invoice #0108 6495
English Inscriptions
Sealed-beam headlights
Colour: DB166 "Blue-Grey"
Upholstery: 1079 leather, red
5 tires 6.70 x 13 Continental
Special paint finish
Special parking lights
Windshield washing device
Radio Becker Mexico [2]
Automatic antenna [3]
2 reclining seats
2 headrests, leather
Charge for change of tires
One second wheel
Bracket for one second wheel
2 orthopedic seats
dual reclining front seats
Break-in of car 500 km including 1st service
Carnet de passages and customs number
Liability insurance for 1 month
Full risk insurance for 1 month
---
Footnotes
[1] Mia and Angus monkeying around in back seat of the Ponton
[2] Not presently installed
[3] Not presently working
---
Created: April 27, 2004 / Jeff Miller
© www.mbzponton.org
---
Return to the Type 220S Photo Gallery
Return to the Main Photo Gallery
---