1959 Mercedes-Benz Type 220S Ponton sedan
Owner: Phil Goschnick / Brisbane, Queensland, Australia
mercedesbenz170sd@yahoo.com.au
Related Page: History of Mercedes-Benz in Australia
See Phil's 1958 Type 190 sedan (February 2015)
---
---
The Story of an Australian-Made Ponton
| | | | | | |
| --- | --- | --- | --- | --- | --- |
| Year | Model | Body Style | Chassis Number | Body Number | Engine Number |
| 1959 | 220S | sedan | 180.010-61-95-508850 | 180.010-61-95-500592 | 180.924-21-95-02013 |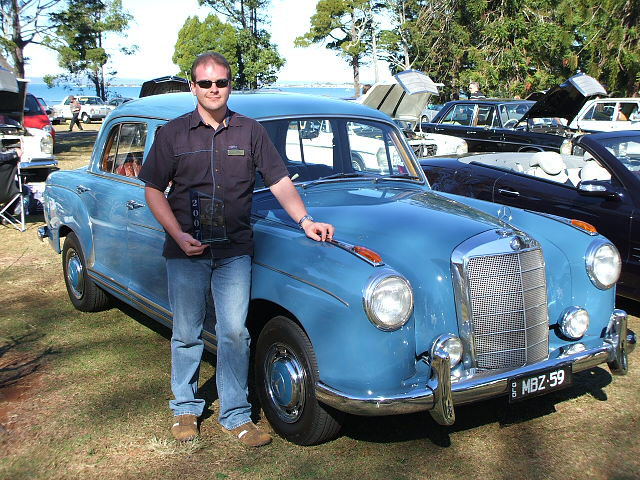 Phil Goschnick (November 2007) with his cherished "MBZ59"
Here is a little bit of history about my 1959 Mercedes-Benz 220S Ponton sedan. I first set eyes on the car in June 1999, just after a fellow Ponton owner purchased his own 1958 Mercedes-Benz 220S from the local trading-post newspaper. My 220S was first listed in the trading-post for $8,000 AUD, and frankly I thought, "This fella's dreaming!" Well, a few months passed, and the fellow owner was looking for a boot (trunk) lid for his 220S which was completely rusted away from sitting under a Mango tree for many years. Anyone who knows anything about Mango trees and fruit bats know they produce an extremely acidic by-product. The 220S I was interested in was still in the trading-post, and the fella was now asking $4,500 AUD for it (September 1999). At this point, I got to check out the car in detail for the first time. I knew nothing about "Roundies" (Australian for Pontons and "Finnies" are Aussie for the "Fintail" Mercedes) except what I had begun learning through finding parts for the other car. The car had crazed paint and other things that drew my attention, but essentially, it was not a bad example for the age and price. But I thought, "Nah, he's dreaming ... still too much!" Another month passed and then an advertisement in the major newspaper for Queensland, "The Courier Mail", came up one Saturday morning when I was having a weekend on the Sunshine Coast Hinterland. I sauntered into a café for a brunch menu and sat down to read the daily news. Being a news hound, the first page I flipped to was for the collector cars. Looking, looking, looking ... "HOLY SH**!" With my breakfast being served, and my girlfriend looking strangely confused, I bolted out of my seat and ran out the café door with the newspaper, and across the road to the pay-phone. I called my friend and he said, "Gidday Phil, how are ya? Did you see the paper? I went around this morning and left a $500 deposit for you on your behalf, I figured you'd be interested." Other banter ensued, and I walked back to my now cold breakfast in the café.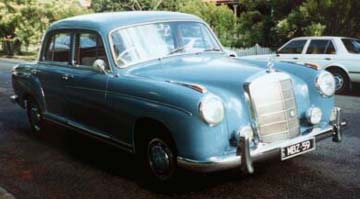 The first week I had her new MBZ59 plates on!
The deal progressed and I test drove it and finalized the price for a registered, roadworthy drive away price on the car, which was good for a registered, roadworthy 220S. The owner was a Mr. Allan Nitz, of 50 Navua Avenue, Aspley. After the deal, the previous owner informed me of the purchase price he made of my car and another off of its previous owner on the Gold Coast Hinterland, South of Brisbane. This owner had two. He used one for a parts car and mine as a daily driver. On his farm, when he got older, he upgraded his Mercedes to a newer model and couldn't sell or get a good trade-in price for the Ponton, so as all good Aussies faced with this problem would do, he said "Bugger it then, I'll use her on the farm." Apparently she did a good 10 years of service as the farm vehicle getting about the property inspecting all things that need inspecting on a farm. Allan Nitz bought the cars from this fella for $1 AUD Each! 4,000% profit on one car is good. He sold the other car as well for $2,000 as parts. The registration number when I bought it was 950DMV. The next day I ordered a personalized number plate with the registration number MBZ59, in honor of its build year.
Original paint after 40 years. Color: DB334 Light Blue

The first drama I had with the car happened on the first weekend that I had the vehicle. The car was traveling fine one Saturday night with a friend from Canada on board when, "THWACK! CLUTTER! CLUTTER! CLANG!" I pulled over and turned the engine off. Explored the problem. The radiator fan had thrown a blade and gone straight through the 4-core radiator. Bugger! We were not far from home, so we walked back and then towed it home with my mate's trusty Holden Commodore. He loved that one. "Shoulda bought an old Holden! Old Holdens go forever...Holdens are...blah, blah, blah!" So I made some enquiries with the Mercedes-Benz club and got another fan (through the then club president) which was totally different from the old one, still on the car. So out came the books and research ensued. Someone in the car's past had fitted a Finnie water pump to the car. When they did this, the old fan blade assembly did not fit between the radiator core and the water pump. They had put a fan blade assembly from a late 1960s Mercedes-Benz to make it fit. I still curse the previous owner for this. I suspect he's to blame. So I set about fixing the radiator first. Went to the local radiator repair shop in the suburb of Wilston, Brisbane. "Geese mate, dunno if were gonna be able to find anything to fix that! Mercedes-Benz and all, and what year did you say?" Hmmmm, why did I buy this thing again? Two hours later, I get a phone call from the radiator shop and the fella was all excited. "Mate, this is an easy fix! This is the same radiator core as they have in Toyota FJ45 Landcruisers. Got one on the shelf, have it done by 4pm." Thought, "That'll do." A very Australian thing: fix anything with string, wire and a bit of know-how. So I set about finding the radiator fan for the girl, and began thinking outside the Mercedes family for a second. Much to my sorrow, I had recently parted with a 1959 Hillman Minx. It was my great-grandfather's and it got nicked and crashed by joy riders. I still had a shed full of parts for the suckers. The Hillman cooling fan is narrow and high pitched for tropical climates. Reckon I'll look into that. Minor modifications and the sucker was fitted. At 7:00 P.M. that night, the Mercedes-Benz was running like a charm again. I am still on the lookout for a genuine water pump and pump housing.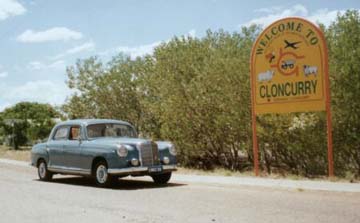 Trip to the next town from Mount Isa, Outback Queensland. Cloncurry is 124 km away!
One week later, my girlfriend (a teacher) got transferred in her job to Mount Isa, Outback Queensland which is 2000 kilometers northwest of Brisbane. Well the 220S just couldn't stay home. "Gonna take her", they heard me say. Trucked the car out and turned a few heads in this outback town (January, 2000).

Well not much else happen for over a year. Used the car for a daily driver most of the time until I got a company car. Then in March 2001, I decided to repaint her. The paint work was crazed still and she needed a going over. I negotiated a bare metal re-spray for $4,000 AUD. Set about ordering parts from the Classic Centre in Stuttgart and went forth into unknown territory. The panel shop did the work as a backburner job to keep my costs down. The only damage they found to the car's body was it had had an accident repaired a very long time ago to the RHR door. The floor had some damage but it had a very good repair job and the door was second hand with minor rust perforation. Otherwise the car was straight as a die. Did a lot of the body trim myself as I drove the car (sitting on a milk crate!) to the panel shop as a drivable shell. Had her painted in DB335 Mercedes Blue
, a shade darker than what I thought was its original colour (not so yucky a blue I thought). Got it all back together for the Mount Isa high school graduation ceremony, in early December, 2001. The kids all come in their limos, or hotted up Utes (pick-ups). I took four teachers in style and surprised all the kids with the cool car. A lot of "Cool car, Miss!" went on that night.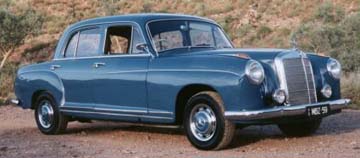 After the paint job. The new color is DB335 Mercedes Blue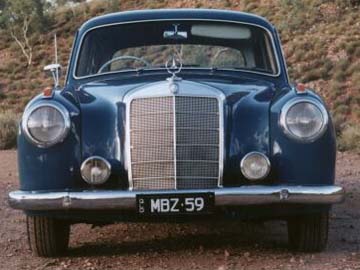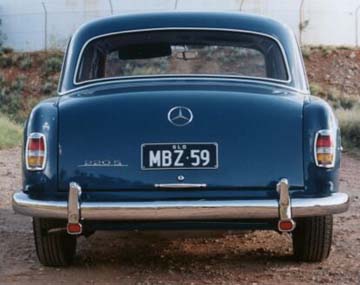 Well, curiosity got the better of me, and I thought that I would write to the Mercedes-Benz Classic Centre of Stuttgart, Deutschland for the data card on my 220S, and did so in late February, 2002. In hindsight, I should have done this before doing over the car, but honestly didn't know of the available service. I sent my details and thought not much else of it. Two weeks later I get this letter back, and just about died when I read it.

"Dear Mr. Goschnick, Your car is a CKD (complete knock down) and because of this, there is no special data card for your car. Your car was sent to Australia in parts, together with other cars of this type, to be completely assembled in Australia."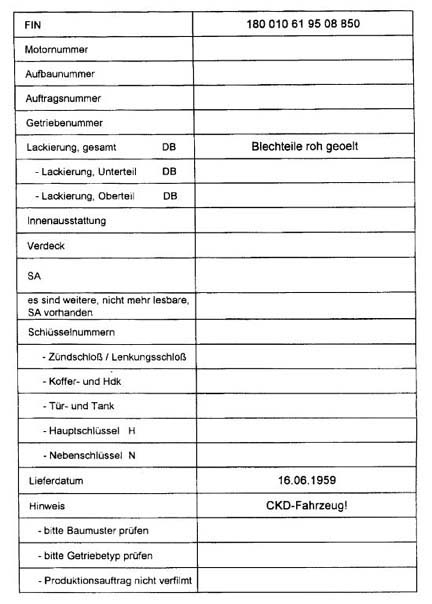 German data from Stuttgart
WOW! An Australian made Mercedes-Benz. I had never heard of such a thing, and my mind was spinning at a million miles. Apparently it was a common thing in this era for different manufacturers to send CKDs (complete knock downs) to Australia (unbeknownst to me, and so I found out later). In 1953, the Commonwealth Government of Australia imposed import tariffs on all cars entering Australia in order to protect the new Australian General Motors car, the Holden. Import tariffs nearly crippled many makes, including Mercedes-Benz. The need arose to manufacture in Australia to avoid the costly tariffs to remain viable. No manufacturer would agree to support the project for the licensed franchisees of the time. Not until 1958 did an agreement arise with the new company of Mercedes-Benz Australia Pty. Ltd. I just needed to know more! I wrote immediately to DaimlerChrysler Australia, "Where? How? What? Why?"

Daimler AG Australia is not as organized as their German parent company but very efficient as it turns out. Two and a half weeks after I wrote a letter to Melbourne, Australia, (remember it took two weeks to receive an international reply from the Classic Centre in Stuttgart, Germany) Mercedes-Benz of Australia replied to my request for information on my car and its arrival in Australia. Mercedes-Benz of Australia sent a letter informing me of the manufacture process of the car when it arrived in Australia. Also, at no expense, they sent me a copy of the book "Southern Star / Mercedes-Benz in Australia / a History of Mercedes-Benz in Australia" by former employee, Paul Roleff.

My car was part of a series of original orders placed by the newly formed company of
Mercedes-Benz of Australia (MBAU) for CKD cars. The 100% CKD car was shipped with 10 other CKD cars and two SKD (semi knocked down) cars together with 12 engines, 12 transmissions, 4 Hydrak semi-automatic clutch systems, 12 rear differentials, 12 steering boxes, and 12 front axel assemblies from the Sindelfingen plant in Germany on the 16th June, 1959. The cars had consecutive VINs from 180 010 61 95 08 841 to mine 850. The SKD cars had the last 5 digit VINs 00 583 and 00 584. The SKDs and the CKDs were shipped from Europe via the Port of Rotterdam, Holland to the Port of Melbourne, Australia. The end customer being Mercedes-Benz Australia Pty. Ltd. The construction of the cars were contracted at the time to the Standard Motor Products Pty. Ltd. of Australia (until 1958) becoming Australian Motor Industries in January, 1959. AMI is now Toyota Australia. AMI constructed in this era the Standard Vanguard, Triumph, and Toyota vehicles, to name a few makes. The vehicle was constructed at the AMI plant at the Port of Melbourne, Australia, being completed 20th August, 1959 and then shipped to the AMI (Toyota Australia) and Mercedes-Benz Dealership of Lanes in Sydney, Australia, via rail. The chassis number of the vehicle is recorded by Mercedes-Benz of Stuttgart as 180.010-61-95-08-850 shipped in bare metal and parts. The 61 on the vehicle identification number being for the country of assembly. The AMI data card for Mercedes-Benz of Australia records a separate body number of 180.010-61-59-00-592. Why? Unknown. The engine number recorded by AMI for the car is still the original one in the vehicle. The engine however was not shipped in the same shipment of parts as the CKD cars. Why? Unknown. Another note on the car is that a separate plate is affixed to the LHF inner guard near the heater box (passenger side, remember RHD cars in Australia) noting that this was body 292, being the 292nd body assembled by AMI for Mercedes-Benz Australia. The car was originally painted in DB334 Light Blue (per the data card). Further investigation has exposed that the car was sprayed in the same blue as Toyota Coronas of the age. Mercedes-Benz paint code DB334 Light Blue. The car was then sold sometime in September, 1959 by Mercedes-Benz Sales of Sydney, (now York Motors) to a Mr. A.E. Wilton, of Sanhurst on Old Northern Road, Castle Hill, New South Wales. This owner must have been an estate or larger property owner on the then outskirts of Sydney (now more like an inner city suburb).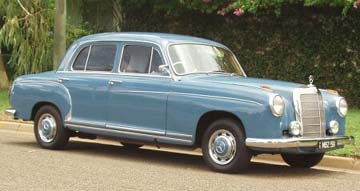 Original Mercedes-Benz paint code DB334 Light Blue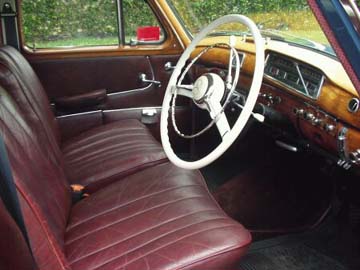 Red leather interior from another car (according to the data card)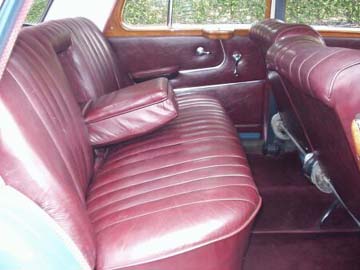 At this point I don't know any thing more of the car's history until the previous owner had it on the Gold Coast. I feel like a dill now that I know that the original paint colour was a Toyota colour and that I should have restored it to this. Also I have found out that Australian made Pontons did not come with an exterior rear view mirror. I ordered one from the Classic Centre and fitted it. Hey, its on now, and done. An after market radio has been fitted at some stage. The original trim for the interior is marked as "GREY" on the Australian data card. This means that the interior was swapped from the parts car at some point as the interior trim is now red leather. The rear seat has a folding armrest, a rare option too. I don't yet know any history of the car after its original owner until the Gold Coast owner 30 years later.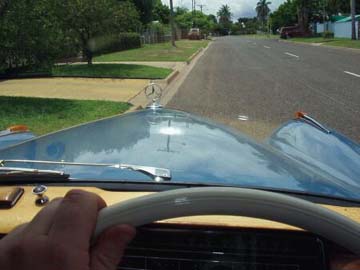 Although my car is nothing special, I guess that it does occupy a special part of history for Mercedes-Benz Australia and Mercedes-Benz with CKD manufacture here. Only true Australian made Pontons and Fintails were painted in the rather drab colours of Black (DB40), Graphite Grey (DB190), Light Grey (DB140), White Grey (DB158), Green Grey, and Light Blue (DB334). As the Australian production of Pontons was only for one or two years, there can not be many that were made in this fashion. I know that manufacture or assembly of semi knock down kits (SKD) did occur at least in 1958 as my father-in-law has two cars with plaques from the Standard Motor Products on them to attest to this. I could not tell you exactly how many were produced this way, or the total CKD content of Pontons made in Australia, but with small shipments of possibly only 10 cars at a time, it may not have been that many. Maybe my shipment was a small one, but if my car was the 292nd Mercedes-Benz car built since January 1959 by AMI, then AMI was building an average of about one vehicle a day this way for Mercedes-Benz Australia. Not bad production in a unionized Australia with lots of public holidays.
---
Created June 3, 2002 / Jeff Miller
© www.mbzponton.org
Revision A / November 20, 2007
---
Return to the Type 220S Photo Gallery
Return to the Main Photo Gallery
---