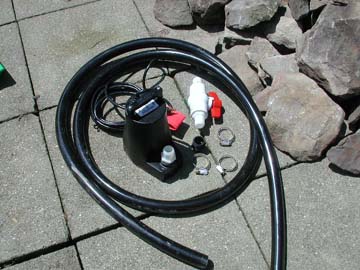 A pump for general circulation (used later, on the waterfall), 10 feet of 1" diameter hose, a ball valve to adjust the flow, and three hose clamps.
A few plants taken from the old pond, a few new stones, and you have an island in the sun. See Cooter swimming on the left.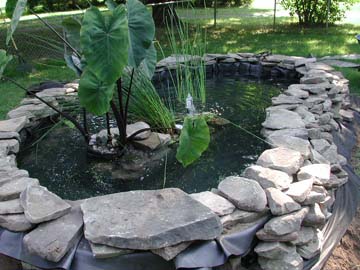 Last photo of Day 4 (July 11, 2004):
A few more plants added (cattail, water poppies and duckweed from the pond store), some water flow, and some of that "ground cover material to prevent weeds from growing." We wanted to finish the basic setup that weekend, but there comes a time when you just can't lift another stone.
Day 5 (July 17, 2004):
We finished placing the rocks along the edge of the base of the pond, and covered the area near the grass with mulch.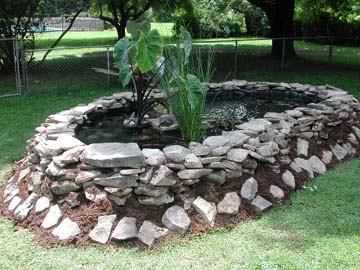 We finished laying the ultimate dosage of stones and mulch by mid afternoon, but discovered that we needed about 25 more field stones to complete the south side (not visible in this photo). We went back to the pond store for them. See Cooter basking on the island in the center.
This was the view looking east. Note how shady it got by 2:30 p.m. The trees were pruned back a little, so direct sunlight was available throughout the afternoon hours. Power for the water pump was coming from an extension cord (visible in the photo).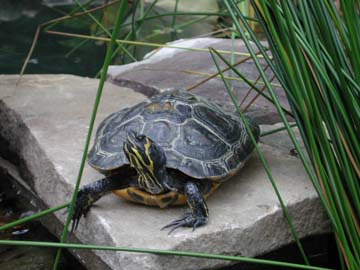 Cooter enjoying his new luxury home.
When the basic setup was completed, we focused on pruning the trees, and adding more plants and other livestock (gold fish, and another turtle).

Update: July 24, 2004:
One of Cooter's more awkward basking positions in the new pond, wedging himself between two plants.
---
Update / August 15, 2004:

Bought what appeared to be a male Midland Painted turtle (Chrysemys picta marginata) from "The Fish Place" at 141 Robinson Street, North Tonawanda, NY. This is the best tropical fish store in all of western NY state.
These photos were taken August 18, 2004. This was one of the first times I was able to grab him from the pond for a photo shoot. He was not relaxed at all. When I went into the back yard, if he was basking, he darted off the rocks immediately, and swam for cover. His name was "Shel" (after Shel Silverstein).