---

---
Goliath 1100 sedan / circa 1959 / Charlotte, North Carolina, USA / 1998
Color photos courtesy: Dennis Schauber (North Carolina, USA)
Black and white photos courtesy: Pasi Salomki (Finland)
---
Goliath 1100 kombi / circa 1959 / Charlotte, North Carolina, USA / 1999
Color photos courtesy: Dennis Schauber
Black and white photo courtesy: Pasi Salomki (Finland)
---
1959 Goliath 1100 kombi / Charlotte, North Carolina, USA / 2000
Photos courtesy: Dennis Schauber
March 17, 2001: This red, Type 1100 wagon was for sale in Charlotte, North Carolina USA. The name and phone number of the owner was listed in the World Of Goliath, Borgward, & Lloyd message board. The car spent many years in an Indiana museum, and was all original, except for the paint.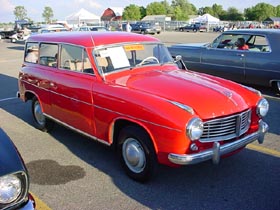 March 25, 2002: The Goliath wagon was sold at auction in Auburn, Indiana between August 30 and September 3, 2001. There was no information available on who bought it. It apparently had 40,000 miles and was believed to be the best example in existence. Thanks to David Gladkosky of the Hansa Message Board for the update.

From rickcarey.com / eBay / Kruse Fall Auburn 2001
Lot # 365 1959 Goliath 1100 Station Wagon; S/N 320413645; Red/Black, Tan; Visually maintained, largely original, 3- condition; Hammered Sold at $3,200 plus commission of 6.00%; Final Price: $3,392 -- Poor repaint, worn original interior, cracked left front marker light lens. Appears to be missing its front shock absorbers. Looks real, and original; 40,163 miles on the odometer could be correct. The price of exclusivity just went way down although, admittedly, "Goliath" exclusivity isn't "Duesenberg" exclusivity. However its cost is about the same as the add-on for some trim options packages on a Tahoe or Explorer and it will be easy to find in the Home Depot parking lot. -- eBay/Kruse, Auburn, 9/1/2001.
---
This Goliath Tiger was spotted by Dennis Schauber in North Carolina in July 2006. Photos uploaded August 22, 2006.
---
Alien Family Outing / David Gladkosky / January 25, 2009
---

---